This edition covers:
---
This week's Insider highlight with Rhona Macdonald
---
Sustainability in the spotlight: 2023 IAPH Awards
As our technical director Antonis Michail comments in his short 'how to' video above: "for all of us at IAPH, this exciting time of the year has come!" We invite IAPH regular as well as associate members working in partnership with member ports to submit their latest sustainability projects to us online by 26 May. By so doing your project will qualify automatically for the IAPH 2023 Sustainability Awards, with winners to be announced at the prestigious gala awards dinner to be held at this year's IAPH World Ports Conference in Abu Dhabi on 1 November 2023. All approved projects will join the IAPH World Ports Sustainability online database of 237 projects from 109 ports in 47 different countries. They will also be showcased on IAPH's social media channels and endorsed infographics will be shared with candidates for their own newsletters, social channels and websites. This year, there will be six categories, judged by an independent committee of industry experts. The 18 finalists will then be submitted to the public for a vote. For more information check the front page of the WPSP website. Good luck!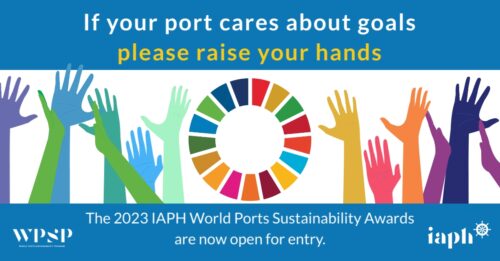 ---
Report from IMO FAL 47: MSW implementation
Last week, the 47th meeting of the IMO's Facilitation Committee (FAL 47) took place which held further discussions on the implementation of the Maritime Single Window (MSW). IAPH had two joint submissions on this item, including a document submitted together with BIMCO inviting the Committee to note the outcomes of the joint IMO-BIMCO-IAPH Maritime Single Window symposium that was held on 18 and 19 January this year. IAPH introduced the paper to plenary and the outcomes were noted by the Committee and referenced in the final report. Furthermore, IAPH together with numerous Member States and the International Port Community Systems Association (IPCSA), submitted a proposal for a FAL resolution outlining the available resources relevant to the effective implementation of an MSW to assist Member States in fulfilling their regulatory requirements. There was general support for such a resolution which the Committee noted, and the revised draft was adopted. In response to a proposal made by China, the Committee also agreed to further amendments to the IMO's MSW Guidelines to include in the single window system a function to provide feedback on port logistics information to the shipping industry. This document also encourages the reuse of available data via a MSW to improve efficiency. This amendment was agreed by the Committee, although delegations emphasised that such a feedback function should remain voluntary in nature. Finally, the parallel Working Group on Electronic Business finalised the Guidelines for harmonised communication and electronic exchange of operational data for port calls and prepared terms of reference for the re-establishment of the Correspondence Group to finalise the Guidelines on Port Community Systems for approval at FAL 48, which will be held from 8 to 12 April next year.
---
IAPH presented MSW at the InterPortPolice symposium
Coinciding with IMO FAL, the InterPortPolice organisation held a symposium at the IMO headquarters last week, addressing law enforcement challenges in the maritime supply chain. This session was attended by numerous IMO Member States and international organisations, including IAPH, the Maritime Anti-Corruption Network and WWF-UK. Rhona Macdonald, IAPH's policy and IMO liaison officer, presented the outcomes of the joint IMO-BIMCO-IAPH Maritime Single Window symposium held last January, encouraging contracting governments to the FAL Convention to begin developing and implementing a maritime single window before it becomes a mandatory requirement as of 1 January 2024. Rhona emphasised the need for a sound legal framework and interoperability through adhering to robust international standards, as well as, public-private collaboration, as key success factors to effectively implement a maritime single window. InterPortPolice is a specialised organisation established in 1969 to work collaboratively on an intergovernmental authority basis addressing serious transnational crime, public safety, critical infrastructure, the supply chain, and related border issues essential to the protecting the world's seaport and airport communities and transportation systems.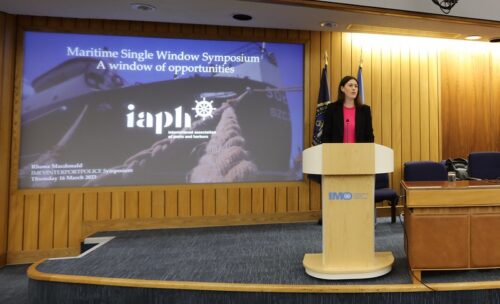 Rhona Macdonald presenting at the InterPortPolice symposium in London
---
IMO maps out regulatory needs of alternative fuels
Ammonia, hydrogen, ethane and dimethyl ether are among the alternative marine fuels which may need future regulatory work. This assessment is the result of a regulatory mapping exercise conducted by the alternative low- and zero-carbon fuels workstream of the IMO GreenVoyage2050 Global Industry Alliance to Support Low Carbon Shipping (Low Carbon GIA), with inputs and contributions from the International Chamber of Shipping (ICS). The outcome of the mapping exercise can be found on the GreenVoyage2050 website in a tabular format using a traffic light colour coding system that depicts the current regulatory readiness levels categorised as Low, Medium, and High. Principal IMO Conventions examined included the International Convention for the Safety of Life at Sea (SOLAS), the International Convention for the Prevention of Pollution from Ships (MARPOL), the International Bulk Chemical Code (IBC Code), the International Code of Safety for Ships using Gases or other Low-flashpoint Fuels (IGF Code) and the International Code for the Construction and Equipment of Ships Carrying Liquefied Gases in Bulk (IGC Code). This mapping exercise has identified some areas where further regulatory work may be required by IMO, but potentially also by other standardisation and certification organisations. Some of these areas include the further development of safety guidelines for on-board use of alternative fuels, matters related to quality of alternative fuels, lifecycle GHG emissions and development of engine standards and assessing the possible impacts and risks of spills of alternative marine fuels. It should be noted that the identification of a low regulatory readiness level for a particular fuel does not necessarily indicate a potential barrier for the uptake of the fuel, but simply identifies scope for future work to be done by IMO and other stakeholders as appropriate. In the context of the recently launched future fuels and technology for low- and zero-carbon shipping project, IMO is addressing a number of the identified regulatory gaps in support of discussions in IMO's regulatory committees.
---
IAPH attends Clean Energy Ministerial meeting in Rio
The Brazilian government has been hosting the 2023 senior officials' meeting of the Clean Energy Ministerial (CEM) in Rio de Janeiro this week. The meeting has brought together CEM's senior government officials from around the world and partners for a full agenda of events. International Chamber of Shipping (ICS) presented governments with a proposal to further develop the Clean Energy Marine Hubs (CEM-Hubs) Initiative, which is a cooperative alliance with IAPH and other partners to de-risk investments in the coastal production and seaborne transportation of zero emission fuels. IAPH vice-president José Firmo (Porto do Açu) attended the plenary meeting in Rio on Monday and joined the ICS team in a side event dedicated to the CEM-Hubs Initiative. With the backing of five countries already – the UAE, Canada, Norway, Uruguay and Panama – the positive response from other countries in Rio to the initiative will create further momentum ahead of its formal launch at the 14th Clean Energy Ministerial in Goa, India, this summer.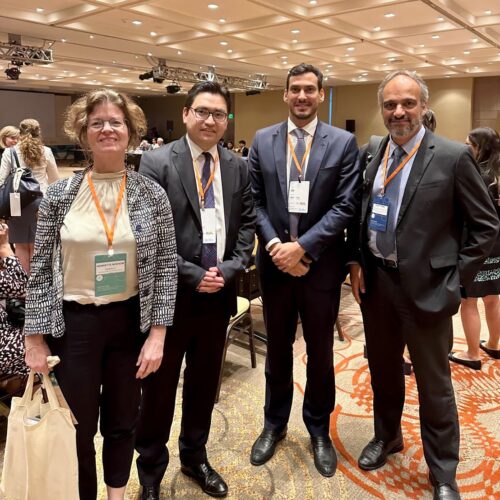 Meeting at CEM in Rio de Janeiro: Henriette Nesheim (Ministry of Petroleum and Energy, Norway),
Nelson Mojarro (ICS), Thiago Barral (Ministry of Mines and Energy, Brazil) and José Firmo (IAPH)
---
IAPH joins UNCTAD TrainForTrade events in Argentina
IAPH technical director Antonis Michail attended the UNCTAD TrainForTrade conference on Energy Challenges and Digital Transformation of Ports, held in Buenos Aires Argentina on 20 and 21 March. The conference was co-organised and hosted by the Administración General de Puertos and the Argentinian Ministry of Transport and attracted more than 150 port professionals from Argentina, Bolivia, Brazil, Uruguay, Paraguay and Spain. Day one focused on energy transition and decarbonisation for ports while day two concentrated on digital transformation and innovation. Antonis gave presentations on both days (available in Spanish here and here), highlighting the key IAPH initiatives and approach on these strategic focus areas for world ports. The conference and overall debate benefited greatly by the presence and reflections of the leaders of the Spanish ports of Valencia, Gijon, Santander and Las Palmas, and Puertos del Estado, all key supporters of the Spanish-speaking network of the UNCTAD TrainForTrade program. On the closing of day one, Antonis moderated the debate on energy transition and decarbonisation to discuss the current respective policy developments both at EU and IMO level and the viable options for ports going forward. Among those participating were the presidents of the ports of Gijón, Laureano Lourido; Santander, Francisco Martín; and Valencia, Aurelio Martínez. The director general of the port of Las Palmas, Francisco Javier Trujillo and the director of planning and development of Puertos del Estado, Manuel Arana also took part in the session.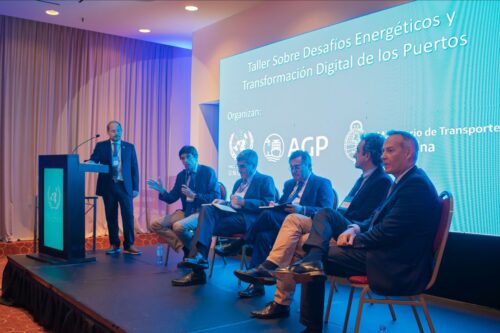 Antonis Michail moderating the debate on energy transition and decarbonisation in Buenos Aires
---
IAPH presented at MARLOG 12 conference
IAPH technical director Antonis Michail took part online in the 12th International Maritime Transport and Logistics Conference (MARLOG 12) on Sustainable & Innovative Technologies Towards a Resilient Future that took place in Alexandria, Egypt from 12 to 14 March. The conference was organised by IAPH associate member, the Port Training Institute of the Arab Academy for Science, Technology and Maritime Transport (AASTMT). The event attracted many ports and port stakeholders from Africa, Europe and Middle East. Antonis gave a virtual presentation on the key challenges for the sustainable development of ports while highlighting the IAPH perspective and ongoing work. He went through the key considerations for ports when it comes to energy transition, digital transformation and risk and resilience, and explained the main IAPH initiatives and recent publications in these fields. Antonis further presented the overall IAPH approach on sustainability under the World Port Sustainability Program and invited participating ports to join and contribute to this effort.
---
Port of Tacoma met with IAPH in Antwerp
Last week, a delegation of the Port of Tacoma undertook a study tour of the ports of Antwerp-Bruges and Rotterdam. On this occasion, they also met with IAPH managing director Patrick Verhoeven at the headquarters of Port of Antwerp-Bruges for a discussion about IAPH's work programme and strategic priorities. The delegation consisted of the port's executive director Eric Johnson, port commissioners Deanna Keller and John McCarthy, as well as Pierce County economic development director Betty Capestany and Gittes Global president Sam Kaplan. The cargo handling operations of the Port of Tacoma and Seattle are managed by the Northwest Seaport Alliance, the fifth-largest port complex in the United States, which is a regular member of IAPH.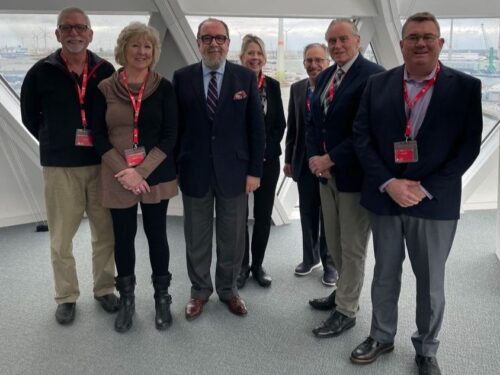 Patrick Verhoeven with the Port of Tacoma delegation at the Antwerp Port House
---
Next Africa-Europe Harbor Café on 25 April
The second IAPH Regional Café of 2023 will be hosted by IAPH vice-presidents Michael Luguje (Ghana Ports & Harbours Authority) and Jens Meier (Hamburg Port Authority) on 25 April at 09.00 AM CEST and will be an interactive conversation on how to deploy practical tools to ease long-term port congestion and emissions. Speakers will include the chairman of the International Taskforce Port Call Optimization, Capt. Ben Van Scherpenzeel, Hamburg Port Authority and other members. For IAPH regular and associate members interested in taking part from outside these two regions, please email ingrid.boque@hpa.hamburg.de.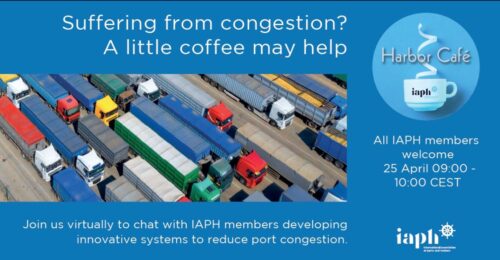 ---
Registration 2023 World Ports Conference opens 3 April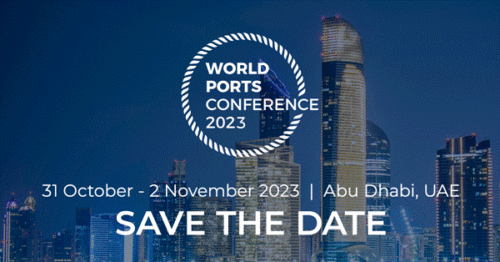 ---
IAPH, APEC and C-MAT hold third port strategy course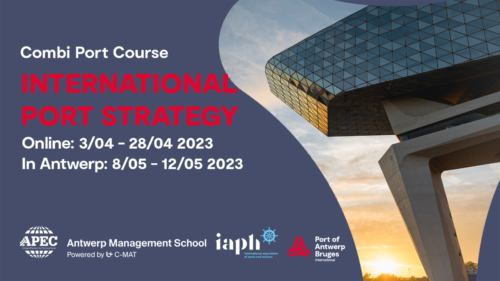 ---
CMI to hold 2023 conference in Montréal this June
The Comité Maritime International (CMI) is holding its 2023 assembly, working group and committee meetings as well as a colloquium from 13 to 16 June in Montréal, Canada. The conference work programme includes an address by Omar Alghabra, Canada's minister of transportation, and Sean J. Harrington, former judge of the Federal Court of Canada, who is also a CMI titulary member. There will be sessions on the Convention on the International Effects of Judicial Sales of Ships, climate change, ethics and diversity, maritime autonomous surface ships, mobile offshore renewable units, Arctic shipping, harmonising limitation of liability conventions, Lex Maritima, cyber treats, Collision Convention and the master of the ship as well as a presentation of the yCMI and IMLI Essay Prize to winners of the competition. The event website has the current programme with details of the sessions and speakers. Registration is now open and delegates can register and book hotel accommodation. The Comité Maritime International is a non-governmental, not-for-profit international organisation established in Antwerp in 1897, the object of which is to contribute by all appropriate means and activities to the unification of maritime law in all its aspects. It supports the IMO in the preparation of international conventions and other regulatory instruments. IAPH is a consultative member of CMI.
---
Member Port News
In this edition's round up of member port news, you will find stories from the following IAPH members:
Africa and Europe region: Autoritat Portuària de Barcelona, Port Autonome de Cotonou, bremenports, HAROPA Port, Baku International Sea Trade Port, Oslo Port Authority, Ports of Cabo Verde, Administração dos Portos de Sines e do Algarve, Autoridad Portuaria de Santa Cruz de Tenerife, Hamburg Port Authority, Nigerian Ports Authority, North Tyrrhenian Port Network Authority, Port Autonome de San Pedro, Port of Rotterdam Authority, Freeport of Riga Authority, Kenya Ports Authority, Autoridad Portuaria de Huelva, Port Authority of the Cayman Islands, Port of Bergen, Port of Helsinki, Port of London Authority, Autoridad Portuaria de Valencia, Port of Amsterdam, Port Authority of Vigo, Port of Göteborg
America region: Port of Hueneme, Companhia de Intergração do Complexo Portuário do Pecém, Autoridad Marítima de Panamá, Port of Los Angeles, Port of Long Beach, Georgia Ports Authority, National Ports Administration Uruguay, Port Saint John
Asia and Oceania region: Nagoya Port Authority, China Merchants Port Holdings, Incheon Port Authority, Port & Harbour Bureau Shimonoseki City Government, PT Pelabuhan Indonesia, Solomon Islands Ports Authority, Westports Malaysia, DP World, Taiwan International Ports Corporation, Yeosu Gwangyang Port Authority, Gladstone Ports Corporation, Marine and Water Bureau, Government of Macau, PSA International, Port of Brisbane, Busan Regional Office of Oceans and Fisheries, NSW Ports, Busan Port Authority, Subic Bay Metropolitan Authority, Tomakomai Port Authority
Check out the full line up on our Member Port News page.
---
World Maritime News
These maritime news stories made the headlines over the past two weeks:
Service modifications of shipping lines
Topics on new container ships
Chinese ports group rebrands amid consolidation drive
Ports of Los Angeles, Tokyo, and Yokohama agree on green shipping corridor deal
Carrier customers seek reliability to reduce inventory costs
Inventory levels point to slow container demand recovery
Shippers unite in push for carriers to scale up use of zero-carbon fuel
Visibility providers target challenges of container terminal milestone data
Drayage tech provider PortPro targeting shippers with new tracking tools
For details of each story, please visit the World Maritime News section on our website.
---
Calendar of Events
IAPH events and events where IAPH is represented
20-24 March – IMO Intersessional Working Group GHG (ISWG-GHG 14) – London
27-31 March – IMO Legal Committee (LEG 110)
3 April-12 May – APEC C-MAT IAPH International Port Strategy Course
18-20 April – IAPH Technical Committee Days – London
24-28 April – Singapore Maritime Week – Singapore
24-28 April – IMO Subcommittee Pollution, Prevention, Response (PPR 10) – London
25 April – IAPH Africa Europe Harbor Café (online)
4-5 May – UNCTAD TrainForTrade Port Endeavor – Callao
26-30 June – IMO Intersessional Working Group GHG (ISWG-GHG 15) – London
3-7 July – IMO Marine Environment Protection Committee (MEPC 80) – London
31 October-2 November 2023 – IAPH 2023 World Ports Conference – Abu Dhabi