The IAPH port industry incentive scheme – ESI
Since 2011, the IAPH Environmental Ship Index (ESI) has been providing the shipping industry with the measurements on the environmental footprint of merchant vessels so that ports can serve as incentive providers to reward vessels demonstrating clear improvements in emission performance. The Index has become the industry standard tool, with over 6,700 cargo and passenger ships registered on the scheme together with 60 incentive providers around the world.
The further professionalisation of the IAPH Environmental Ship Index has been implemented with ESI formally becoming a subsidiary body of IAPH. The administration of the index has been externalised to the Green Award Foundation(GAF) and also now includes a professional onboard verification scheme with shipping companies now paying a fee for registering their ships on the ESI. The following further development of ESI will be discussed in the future.
A new fully-integrated calculation of greenhouse gas emissions performance in line with the recent IMO adopted tools (EEXI, CII ratings)
Looking at rewarding zero emissions technics beyond onshore power supply (e.g. batteries, fuel cells, wind sails)
Enhancements of the noise emission module
A new ESI "at berth" module to measure the emissions performance of a given vessel port call, is under evaluation, starting with the cruise industry. Connected with this, the IAPH Cruise Emissions at Berth Project Group consisting of representatives of several IAPH cruise ports, in collaboration with the Cruise Lines International Association(CLIA), have further worked on mapping out a plan for data reporting. The Group is now looking into the potential design, development and implementation of the system which will take advantages of the synergies offered by the IAPH Environmental Ship Index system.
ESI registered Ships (as of October, 2023)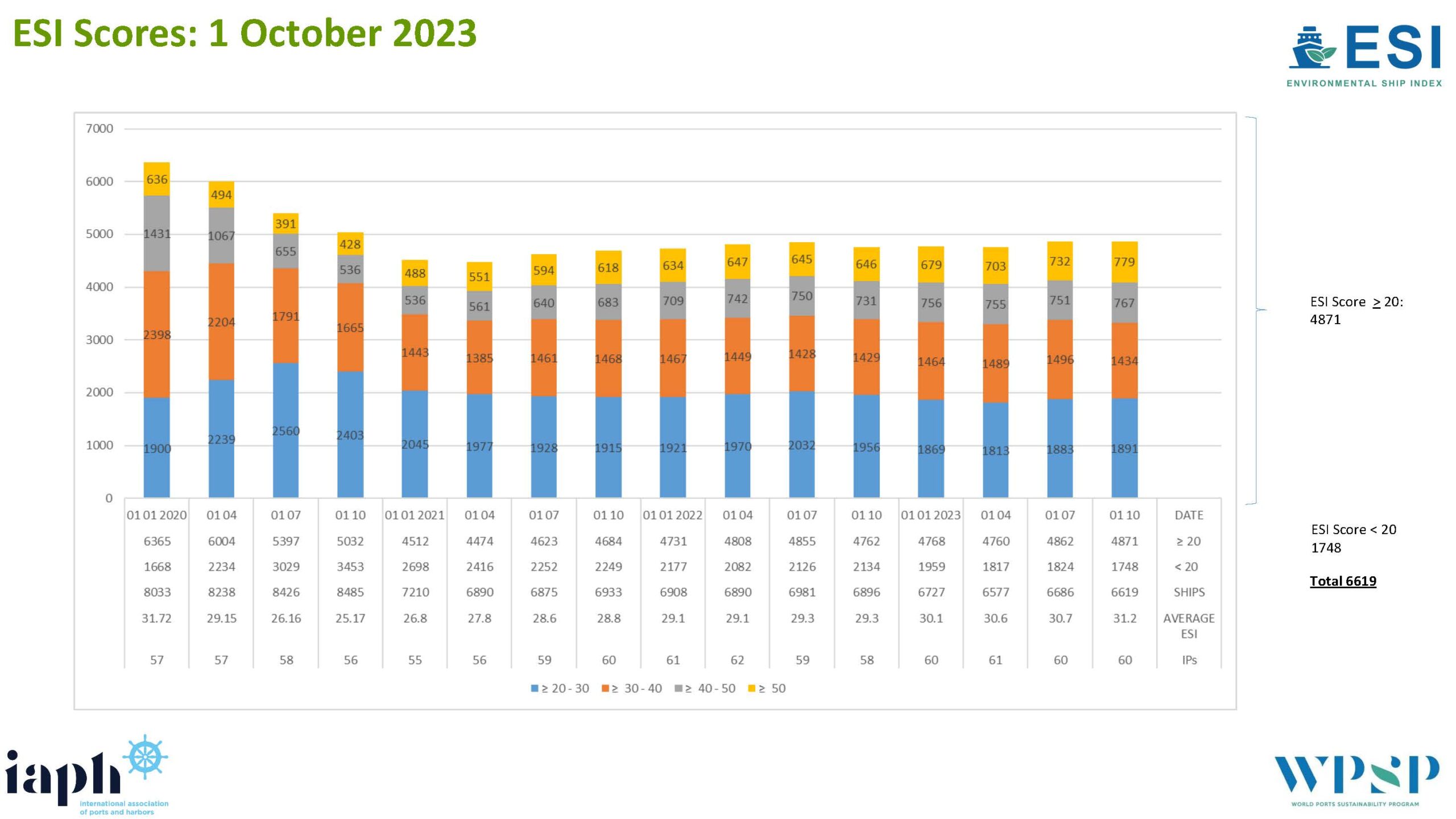 ESI Incentive Provider ports