On an annual basis, IAPH meets in a port city where our member port resides for its annual conference more commonly known as IAPH World Ports Conference. The Conference is a world-class virtual event assessing the indispensable role of ports in global maritime trade and brings together key industry stakeholders for learning, information sharing, networking and collaboration.
The Annual General Meeting is held during IAPH World Ports Conference, and is a plenary meeting where all IAPH members, both Regular and Associate, may attend.
The emergence of second and third waves of the global COVID19 pandemic with corresponding restrictions on travel and border controls resulted in the decision being taken in early 2021 to proceed with a full online event experience for the IAPH 2021 World Ports Conference.
With an extraordinary roster of 120 top level speakers and moderators from the port, maritime, logistics, energy, technology, governmental and regulatory communities, the conference was transmitted live as an effective private television channel containing pre-recorded, recorded and live content to over 600 attendees, which exceeded the number originally booked for the face-to-face event in Antwerp.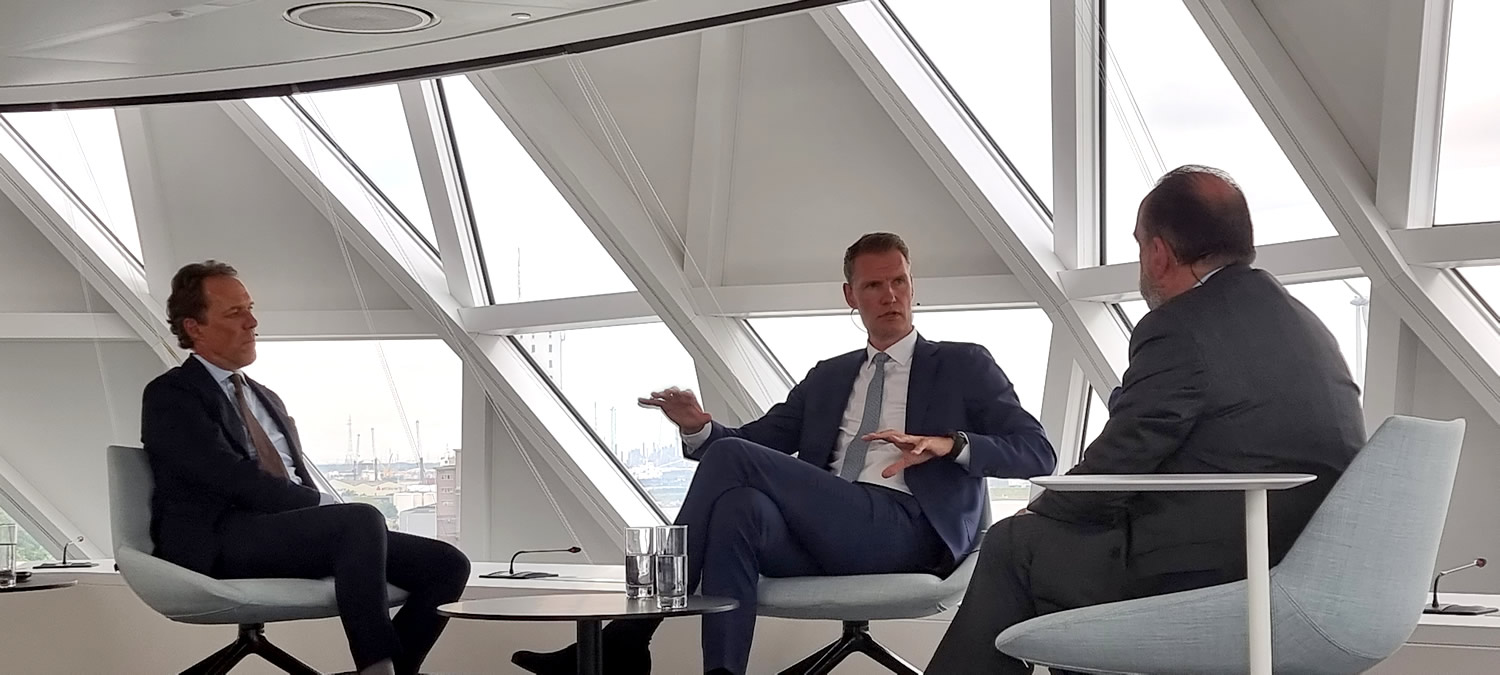 For some highlights of the event you view the interventions of the CEOs of MSC, CMA-CGM, Hosts Port of Antwerp and the President of CLIA here.
The whole conference was broadcast from a studio in the Antwerp Expo and a pop-up studio in the heart of the iconic Port of Antwerp Havenhuis headquarters over five days. The conference offered participants over fifty sessions of panel discussions, debates, interviews and audio-visual screenings with daily introductions and wrap-ups from leading Antwerp politicians and VIPs and a daily "Harbour life" interview with local Antwerp port community characters to bring the port city into viewers' offices and homes.
We are delighted to announce that the IAPH 2022 World Ports Conference will be taking place live and in-person in Vancouver, Canada at the Vancouver Convention Centre, a beautiful, inspiring event space in downtown Vancouver with an unbeatable waterfront location. It will take place between 16th and 18th May 2022.
The ongoing supply chain crunch has exposed structural weaknesses in various components of maritime supply chains, including ports. #IAPH2022will bring together leading port stakeholders to #ClosetheGaps in global seaport competitiveness, setting an agenda to raise the performance of the world's major port regions.
You can sign up to receive updates and information about the conference, including information about registration, sponsorship opportunities, updates to the agenda and speakers.
History of IAPH World Ports Conference
| | | | |
| --- | --- | --- | --- |
| No. | Year | Host Port/City | Country |
| Preparatory | October 9-11, 1952 | Kobe | Japan |
| 1 | November 7-10, 1955 | Los Angeles | USA |
| 2 | June 22-25, 1959 | Mexico City | Mexico |
| 3 | May 1-4, 1963 | New Orleans | USA |
| 4 | May 10-14, 1965 | London | UK |
| 5 | May 8-13, 1967 | Tokyo | Japan |
| 6 | March 3-8, 1969 | Melbourne | Australia |
| 7 | June 6-12, 1971 | Montreal | Canada |
| 8 | May 6-12, 1973 | Amsterdam/ Rotterdam | Netherlands |
| 9 | March 8-15, 1975 | Singapore | Singapore |
| 10 | April 24-30, 1977 | Houston | USA |
| 11 | May 12-19, 1979 | Deauville/ Le Havre | France |
| 12 | May 23-30, 1981 | Nagoya | Japan |
| 13 | June 4-11, 1983 | Vancouver | Canada |
| 14 | May 4-10, 1985 | Hamburg | Germany |
| 15 | April 25-May 1, 1987 | Seoul | Korea |
| 16 | April 22-28, 1989 | Miami | USA |
| 17 | May 5-11, 1991 | Barcelona | Spain |
| 18 | April 17-23, 1993 | Sydney | Australia |
| 19 | June 10-16, 1995 | Seattle/Tacoma | USA |
| 20 | May 31-June 6, 1997 | London | UK |
| 21 | May 15-21, 1999 | Kuala Lumpur | Malaysia |
| 22 | May 19-26, 2001 | Montreal | Canada |
| 23 | May 24-30, 2003 | Durban | South Africa |
| 24 | May 21-27, 2005 | Shanghai | China |
| 25 | April 27-May 4, 2007 | Houston | USA |
| 26 | May 25-29, 2009 | Genoa | Italy |
| 27 | May 23-27, 2011 | Busan | Korea |
| 28 | May 6-10, 2013 | Los Angeles | USA |
| 29 | June 1-5, 2015 | Hamburg | Germany |
| 30 | May 7-12, 2017 | Bali | Indonesia |
| 31 | May 6-10, 2019 | Guangzhou | China |
| 32 | June 21-25, 2021 | Antwerp | Belgium |
| 33 | My 16-18, 2022 | Vancouver | Canada |
History of IAPH Mid-term Conference
| | | | |
| --- | --- | --- | --- |
| No. | Year | Host Port/City | Country |
| 1 | May 19-20, 1960 | Honolulu | USA |
| 2 | 7-Mar-62 | Taipei | China |
| 3 | May 26-27, 1964 | San Francisco | USA |
| 4 | February 13-16, 1966 | Los Angeles | USA |
| 5 | January 16-20, 1968 | New Orleans | USA |
| 6 | February 10-12, 1970 | Singapore | Singapore |
| 7 | May 2-5, 1972 | Lisbon | Portugal |
| 8 | March 27-28, 1974 | Auckland | New Zealand |
| 9 | April 25-27, 1976 | Curaçao | Netherlands |
| 10 | April 6-7, 1978 | Mombasa | Kenya |
| 11 | April 21-22, 1980 | Brisbane | Australia |
| 12 | May 3-5, 1982 | Aruba | Netherlands |
| 13 | May 22-24, 1984 | Glasgow | UK |
| 14 | April 9-10, 1986 | Auckland | New Zealand |
| 15 | April 25-29, 1988 | Abidjan | Ivory Coast |
| 16 | May 6-11, 1990 | Fremantle | Australia |
| 17 | May 7-8, 1992 | Charleston | USA |
| 18 | June 1-3, 1994 | Copenhagen | Denmark |
| 19 | April 22-24, 1996 | Bali | Indonesia |
| 20 | April 27 May 1, 1998 | New Orleans | USA |
| 21 | October 25-28, 1999 | Montreal | Canada |
| 22 | May 12-18, 2000 | Marseilles* | France |
| 23 | October 23-26, 2000 | Tokyo | Japan |
| 24 | October 25-27, 2001 | Auckland | New Zealand |
| 25 | April 19-25, 2002 | Abu Dhabi* | UAE |
| 26 | October 15-18, 2002 | Kobe | Japan |
| 27 | October 27-30, 2003 | Rotterdam | Netherlands |
| 28 | April 25-28, 2004 | Charleston* | USA |
| 29 | January 10-13, 2005 | Yokohama | Japan |
| 30 | October 4-7, 2005 | Los Angeles | USA |
| 31 | April 9-12, 2006 | Mumbai* | India |
| 32 | October 9-12, 2006 | Shimizu/Shizuoka | Japan |
| 33 | October 22-15, 2007 | Kuala Lumpur | Malaysia |
| 34 | April 14-17, 2008 | Dunkirk* | France |
| 35 | June 7-9, 2010 | Savannah* | USA |
| 36 | May 21-24, 2012 | Jerusalem* | Israel |
| 37 | April 6-10, 2014 | Sydney* | Australia |
| 38 | May 10-13, 2016 | Panama* | Panama |
| 39 | May 8-11, 2018 | Baku* | Azerbaijan |
| 40 | March 17-19, 2020 | Antwerp (cancelled due to COVID-19) | Belgium |