On an annual basis, IAPH meets in a port city where our member port resides for its annual conference more commonly known as IAPH World Ports Conference. The Conference is a world-class event assessing the indispensable role of ports in global maritime trade and brings together key industry stakeholders for learning, information sharing, networking and collaboration.
The Annual General Meeting is held during IAPH World Ports Conference, and is a plenary meeting where all IAPH members, both Regular and Associate, may attend.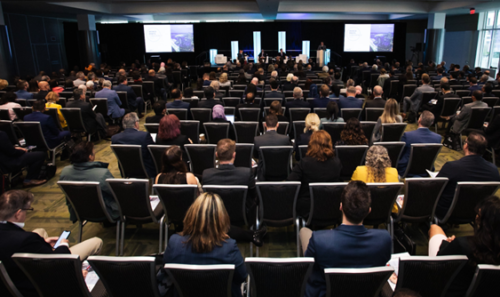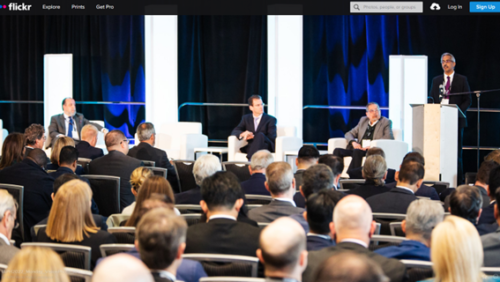 The 2022 IAPH World Ports Conference
The 2022 IAPH World Ports Conference was held from 16 to 18 May 2022 at the Vancouver Convention Center in Vancouver, Canada, in collaboration with the Vancouver Fraser Port Authority. The Conference was held in person for the first time in three years since the Conference 2019 in Guangzhou, China, before the Covid-19 pandemic. Nearly 500 delegates from over 40 countries participated in the Conference. Under the theme #ClosetheGaps, participants discussed the generational challenges that affect every port today: resilience, digital transformation, and energy transition. Regional breakfast sessions, meetings of the IAPH technical committees, and IAPH's annual general meeting complemented the main conference session. In addition, the IAPH Sustainability Awards ceremony was held at the gala dinner on 17 May.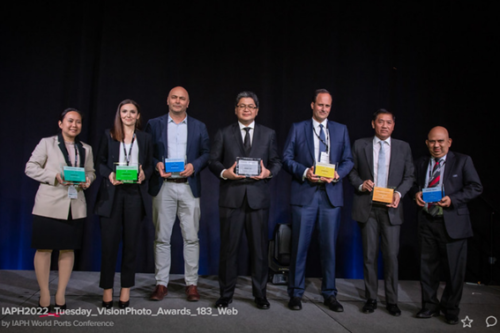 The 2023 IAPH World Ports Conferece
The 2023 IAPH World Ports Conference will be held in Abu Dhabi, UAE, from 31 October till 2 November this year. Registration will be open 3 April at which time the preliminary conference programme will become available. Organised in partnership with S&P Global and host sponsor AD Ports Group, the conference will focus this year on the theme #ReinventingPorts. Ports have reached a pivotal stage in their evolution. Operating purely as landlords of terminal and industrial concessions is no longer a guarantee of economic growth and prosperity. They must evolve and adapt to remain relevant. End-to-end maritime supply chain conglomerates are emerging with no fixed ports of call. Record profits for oil and gas majors, shipowners, terminal operators, and overland logistics players combined with weakening global demand means that port authorities can no longer negotiate their interests from a point of strength. Importers and exporters are demanding better cargo visibility from ports. Digitalisation is accelerating to a point where if ports remain unengaged, their role in the supply chain will dwindle. Ports will only become part of the maritime energy transition if they can attract the public-private investments needed to create the infrastructure for zero carbon fuels, most of which will need to be transported by ship from the new exporting countries to consumers. These changes are set to transform global energy trading routes with new innovation-led ports challenging the old guard. Future port energy hubs cannot afford to lose the competition to other land-based centres for producing and disturbing these new energies, otherwise shipping itself will lose access to these fuels and with it a golden opportunity to decarbonise and reduce its share of emissions. And with ports facing geo-political instability, natural disasters, cyber-attacks and ever-more extreme swings in demand and supply, they must become more resilient and prepared to overcome whatever nature and man throws at them next. At the 2023 IAPH World Ports Conference you will learn from thought leaders in the industry on how ports are not only meeting these challenges, but turning many of these tough situations into genuine business opportunities through reinvention, open collaboration, community building and talent attraction. Awaiting the opening of registration on 3 April, you can already sign up here for news and updates.
History of IAPH World Ports Conference
| | | | |
| --- | --- | --- | --- |
| No. | Year | Host Port/City | Country |
| Preparatory | October 9-11, 1952 | Kobe | Japan |
| 1 | November 7-10, 1955 | Los Angeles | USA |
| 2 | June 22-25, 1959 | Mexico City | Mexico |
| 3 | May 1-4, 1963 | New Orleans | USA |
| 4 | May 10-14, 1965 | London | UK |
| 5 | May 8-13, 1967 | Tokyo | Japan |
| 6 | March 3-8, 1969 | Melbourne | Australia |
| 7 | June 6-12, 1971 | Montreal | Canada |
| 8 | May 6-12, 1973 | Amsterdam/ Rotterdam | Netherlands |
| 9 | March 8-15, 1975 | Singapore | Singapore |
| 10 | April 24-30, 1977 | Houston | USA |
| 11 | May 12-19, 1979 | Deauville/ Le Havre | France |
| 12 | May 23-30, 1981 | Nagoya | Japan |
| 13 | June 4-11, 1983 | Vancouver | Canada |
| 14 | May 4-10, 1985 | Hamburg | Germany |
| 15 | April 25-May 1, 1987 | Seoul | Korea |
| 16 | April 22-28, 1989 | Miami | USA |
| 17 | May 5-11, 1991 | Barcelona | Spain |
| 18 | April 17-23, 1993 | Sydney | Australia |
| 19 | June 10-16, 1995 | Seattle/Tacoma | USA |
| 20 | May 31-June 6, 1997 | London | UK |
| 21 | May 15-21, 1999 | Kuala Lumpur | Malaysia |
| 22 | May 19-26, 2001 | Montreal | Canada |
| 23 | May 24-30, 2003 | Durban | South Africa |
| 24 | May 21-27, 2005 | Shanghai | China |
| 25 | April 27-May 4, 2007 | Houston | USA |
| 26 | May 25-29, 2009 | Genoa | Italy |
| 27 | May 23-27, 2011 | Busan | Korea |
| 28 | May 6-10, 2013 | Los Angeles | USA |
| 29 | June 1-5, 2015 | Hamburg | Germany |
| 30 | May 7-12, 2017 | Bali | Indonesia |
| 31 | May 6-10, 2019 | Guangzhou | China |
| 32 | June 21-25, 2021 | Antwerp | Belgium |
| 33 | My 16-18, 2022 | Vancouver | Canada |
History of IAPH Mid-term Conference
| | | | |
| --- | --- | --- | --- |
| No. | Year | Host Port/City | Country |
| 1 | May 19-20, 1960 | Honolulu | USA |
| 2 | 7-Mar-62 | Taipei | China |
| 3 | May 26-27, 1964 | San Francisco | USA |
| 4 | February 13-16, 1966 | Los Angeles | USA |
| 5 | January 16-20, 1968 | New Orleans | USA |
| 6 | February 10-12, 1970 | Singapore | Singapore |
| 7 | May 2-5, 1972 | Lisbon | Portugal |
| 8 | March 27-28, 1974 | Auckland | New Zealand |
| 9 | April 25-27, 1976 | Curaçao | Netherlands |
| 10 | April 6-7, 1978 | Mombasa | Kenya |
| 11 | April 21-22, 1980 | Brisbane | Australia |
| 12 | May 3-5, 1982 | Aruba | Netherlands |
| 13 | May 22-24, 1984 | Glasgow | UK |
| 14 | April 9-10, 1986 | Auckland | New Zealand |
| 15 | April 25-29, 1988 | Abidjan | Ivory Coast |
| 16 | May 6-11, 1990 | Fremantle | Australia |
| 17 | May 7-8, 1992 | Charleston | USA |
| 18 | June 1-3, 1994 | Copenhagen | Denmark |
| 19 | April 22-24, 1996 | Bali | Indonesia |
| 20 | April 27 May 1, 1998 | New Orleans | USA |
| 21 | October 25-28, 1999 | Montreal | Canada |
| 22 | May 12-18, 2000 | Marseilles* | France |
| 23 | October 23-26, 2000 | Tokyo | Japan |
| 24 | October 25-27, 2001 | Auckland | New Zealand |
| 25 | April 19-25, 2002 | Abu Dhabi* | UAE |
| 26 | October 15-18, 2002 | Kobe | Japan |
| 27 | October 27-30, 2003 | Rotterdam | Netherlands |
| 28 | April 25-28, 2004 | Charleston* | USA |
| 29 | January 10-13, 2005 | Yokohama | Japan |
| 30 | October 4-7, 2005 | Los Angeles | USA |
| 31 | April 9-12, 2006 | Mumbai* | India |
| 32 | October 9-12, 2006 | Shimizu/Shizuoka | Japan |
| 33 | October 22-15, 2007 | Kuala Lumpur | Malaysia |
| 34 | April 14-17, 2008 | Dunkirk* | France |
| 35 | June 7-9, 2010 | Savannah* | USA |
| 36 | May 21-24, 2012 | Jerusalem* | Israel |
| 37 | April 6-10, 2014 | Sydney* | Australia |
| 38 | May 10-13, 2016 | Panama* | Panama |
| 39 | May 8-11, 2018 | Baku* | Azerbaijan |
| 40 | March 17-19, 2020 | Antwerp (cancelled due to COVID-19) | Belgium |