This edition of IAPH Insider covers:
---
This week's Insider highlights with MD Patrick Verhoeven
---
Ukrainian port attacks intensify: support our campaign
Recent attacks on Odesa demonstrate intensified Russian aggression against Ukrainian port cities. Port workers remain more than ever in the frontline of the war, with their families dispersed throughout the country and abroad, badly needing assistance. The emergency appeal to support Ukrainian port workers initiated by IAPH and The Seafarers' Charity has yielded USD 18,877.50 so far. This initial sum has been made available to the Maritime Transport Workers Trade Union of Ukraine (MTWTU) and its welfare fund Mortrans to provide relief to port workers and their families. The port sector can do more and we therefore strongly encourage IAPH members that have not contributed to the initiative yet, to donate generously on a corporate and/or personal basis. Donations will be administered and overseen at no cost by The Seafarers' Charity (formerly Seafarers UK), a grant funder which has embedded and well-established governance mechanisms and processes for monitoring and evaluation to ensure efficiency and transparency. All donors will receive a copy of the impact report produced at the end of the year to show where the funds have been spent. Details on how to make a donation can be found here. The Maritime Transport Workers Trade Union of Ukraine is a member of the International Transport Workers' Federation (ITF) and its chairman, Oleg Grygoriuk, is an IMO Goodwill Ambassador. The trade union recently published reports on 100 days of war in Ukraine and the union's activities under martial law.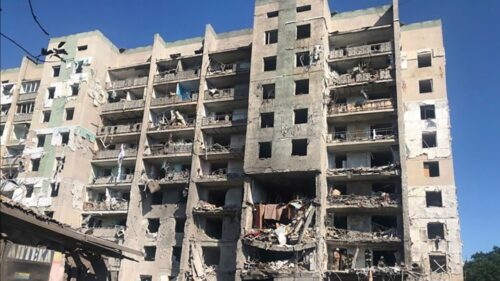 On 1 July, Russian missiles hit a residential building and a resort near the port of Odesa, killing 19 people.
(Photo: Odesa Regional Prosecutor's Office)
---
Fight against piracy in Gulf of Guinea makes progress
Following an initiative of BIMCO, IAPH joined a taskforce of stakeholders across the shipping industry one year ago to draft the Gulf of Guinea Declaration on Suppression of Piracy. The declaration came in response to the increasing attacks on vessels in the region and the resulting threat to the safety and wellbeing of seafarers. BIMCO has now produced a status report on the implementation of the declaration, which summarises some of the developments seen over the past twelve months. The report notably shows that the fight against piracy in the region seems to be progressing well, with no kidnappings and an 89% reduction in attacks. The report however concludes that it is important not to lower the guard and that industry should continue to advocate for non-regional anti-piracy deployments with clear rules of engagement to disrupt pirate attacks and with improved communication with regional states when law enforcement action is initiated. The report also emphasises the need to minimise the risk of conflicts of interest between law enforcement and commercial protection businesses, the importance of information sharing between law enforcement and industry, and the effective and full deployment of Deep Blue assets on anti-piracy tasking.
---
IMO guidelines on Places of Refuge have been updated
The IMO guidelines on Places of Refuge have been updated adding clarity and the necessary common framework where more than one coastal state is involved. The updated guidelines are expected to be approved at the IMO Maritime Safety Committee and then adopted at the IMO Assembly later this year. The IMO guidelines on Places of Refuge recognise that when a ship has suffered an incident, the best way of preventing damage or pollution is to transfer its cargo and bunkers, and to repair the ship in a so-called place of refuge. Such an operation may endanger the coastal or port state, both economically and from an environmental point of view, and local authorities will have to be involved and approve such an operation. In 2019, IAPH supported a government and industry submission to IMO's Maritime Safety Committee to revise of the guidelines on places of refuge for ships in need of assistance. The new update in 2022 has been made more practical, giving guidance to coastal states, salvors, shipowners, flag states and other entities that will be involved in such an incident. The IMO has had such guidelines in place since 2003. However, over time, complex situations have been encountered, for example, when a ship suffers a break down outside the jurisdiction of any coastal state, or when more than one coastal state is involved. It was felt that further clarification and a common framework were needed to assist coastal states in determining places of refuge. The updated guidelines not only clarify the above-mentioned situations, but also have been drafted keeping the different parties involved and addressing them directly. The updated guidelines will be sent to the Marine Safety Committee (MSC) 106 which meets in November this year for subsequent approval and adoption by the Assembly.
---
IMO port and ship emission toolkits available in Spanish
The IMO-Norway GreenVoyage2050 Project has published its port and ship emissions toolkits in Spanish. The free resources, which are also available in English, provide structured frameworks as well as decision support tools for evaluating emissions reduction opportunities in maritime transport. The Port Emissions Toolkit (PET) offers guidance for port authorities to assess air pollutant emissions from port-related sources and develop a port emissions reduction strategy. It contains two individual guides. The first guide serves as a resource guide for ports intending to develop or improve their air pollutant and/or GHG emissions assessments. The second guide builds on the first one and describes the approaches and methods that can be used by ports to develop, evaluate, implement, and track voluntary emissions control measures that go beyond regulatory requirements. The Ship Emissions Toolkit (SET) offers guidance to countries seeking to develop and strengthen national policy and regulatory frameworks related to the prevention of air pollution and the reduction of greenhouse gas (GHG) emissions from ships. It includes three guides that can be used independently or in conjunction with each other. These toolkits were developed by the GEF-UNDP-IMO Global Maritime Energy Efficiency Partnerships (GloMEEP) Project. IAPH was a strategic partner in the project, together with the Institute of Marine Engineering, Science and Technology (IMarEST). The toolkits are now hosted by the IMO-Norway GreenVoyage2050 Project which builds on the work of the GloMEEP Project.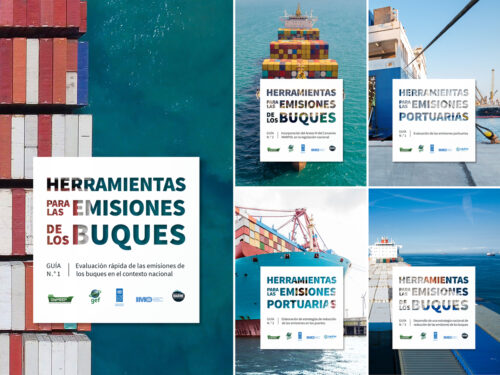 ---
IMO World Maritime Day to celebrate MARPOL
The IMO Council has selected 'MARPOL at 50 – Our commitment goes on' as its 2023 theme, which will culminate in the World Maritime Day celebration on 28 September next year. The theme reflects the organisation's long history of protecting the environment from the impact of shipping via a robust regulatory framework and emphasises its ongoing commitment to this important work. The theme spotlights the International Convention for the Prevention of Pollution from Ships (MARPOL), which covers prevention of pollution of the marine environment by ships from operational or accidental causes. The theme, which promotes discussions on the next phase of IMO's work to further protect the planet and the oceans, is also linked to the UN 2030 Agenda for Sustainable Development and the 17 Sustainable Development Goals (SDGs).
---
Welcome to the Italian Shipping Academy
We are pleased to announce that the Fondazione Accademia Italiana della Marina Mercantile has joined IAPH as an associate member. The Italian Shipping Academy was established in 2005 in Genoa. It is a public institution that issues degrees from the Italian Ministry of Education, University and Research in the field of non-university tertiary education, carrying out its activities through public and private funding and without lucrative purposes. Its mission is to provide specialised training aimed at occupations with high professional and technological content based on the needs of companies in the sectors concerned, particularly in the strategic areas of maritime and logistics.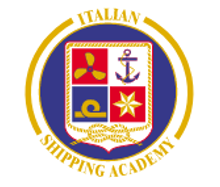 ---
IAPH president addressed UNCTAD expert meeting
Transport and logistics are facing multiple imperatives spanning digitalisation, climate change mitigation and adaptation, transition to low carbon fuels, environmental sustainability, and energy and food security. Held 12-14 July, the ninth session of the UNCTAD Multi-year Expert Meeting on Transport, Trade Logistics and Trade Facilitation provided a timely opportunity to reflect on the key issues at stake for the sector and provide recommendations on the best way forward, identify priority action areas, in particular for the most vulnerable group of countries. The session also sought to define the role of relevant stakeholders, including from industry, government, the public and private sectors and development partners and financial institutions. IAPH president Capt. K. Subramaniam was invited to contribute to the expert meeting, which was held in hybrid format. Joining the meeting online, Capt Subra presented how IAPH addresses the three generational challenges that affect ports worldwide: resilience, data collaboration and energy transition. He also raised a number of questions and food for thought regarding the current business models of shipping and ports. You can download Capt Subra's presentation here. All other presentations are available from the UNCTAD website.
---
IAPH managing director spoke at MEDports forum
The MEDports Association groups 23 ports on the northern, eastern and southern shores of the Mediterranean Sea. On 7-8 July, the association held an international forum in Civitavecchia, Italy, to discuss the challenges of digitalisation for Mediterranean ports. IAPH managing director Patrick Verhoeven delivered the opening keynote address, in which he presented the course IAPH set in 2020 to accelerate digitalisation in the port sector, discussing subsequent initiatives to stimulate data collaboration. Taking the progress made with port call optimisation as an illustration of how challenges in terms of complexity of processes, trust between stakeholders and international data standards can be overcome, Patrick referred to the need to start similar processes on port-cargo and port-hinterland interfaces to arrive at supply chain optimisation, meeting the needs of cargo owners, the ultimate customers of ports. You can download Patrick's presentation here. If you are interested to obtain the other presentations given at the two-day forum, contact the MEDports secretariat.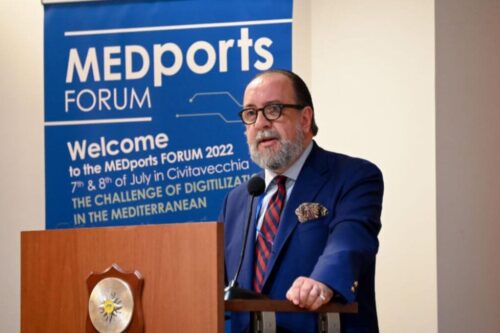 ---
Port Endeavor gameplay in Antwerp, Vigo and Valencia
Between 4 and 8 July a delegation of young Indian MBA candidate professionals coordinated by the Indian Institute of Foreign Trade took part in a tailor-made APEC study tour on port operations, cargo, safety and sustainability in Antwerp, playing eight rounds of the IAPH sustainability game Port Endeavor on their penultimate afternoon, supported by IAPH communications director Victor Shieh. The players came from a variety of multinational backgrounds in the finance, software, consultancy and manufacturing industries including automotive and telecommunications. For many it was their first encounter with the port sector, and they provided valuable feedback on positive aspects of their learnings as well as excellent proposed enhancements to the game. Last week, IAPH policy and IMO officer Rhona Macdonald attended a regional workshop as part of the Blue Ports Initiative (BPI) organised by the UN Food and Agriculture Organization (FAO) and hosted by the Port of Vigo in Spain. The BPI enables commercial and fishing ports to enhance their blue credentials and promote sustainable development in their regions. With representatives from port authorities from across Africa, Vietnam, and Latin America in attendance, this was the perfect opportunity for Rhona to host a Port Endeavor session to showcase how ports can contribute to the UN Sustainable Development Goals and how these can impact their actions and decisions. Overall, there was strong engagement from attendees, and playing from the perspective of blue ports and fisheries added a new dimension to the game which provided food for thought to take forward when developing new material. Finally, another Port Endeavor training session is taking place on 21 July in Valencia as part of the UNCTAD TrainForTrade Port Management Programme and the dedicated Training of Trainers (ToT) Workshop for the Spanish-speaking network that will bring together 24 port professionals from Latin American and Caribbean ports. IAPH technical director Antonis Michail will be running the training session together with the UNCTAD TFT team and exchanging with the participants on their experience and lessons learned while playing the game. The feedback received at these, and other sessions played earlier this year will be discussed with our partners APEC Port Training and UNCTAD TrainForTrade this autumn. Port Endeavor is currently available in English, French and Spanish. If you are interested in learning more about the world's only port sustainability game, you can get in touch with Antonis Michail.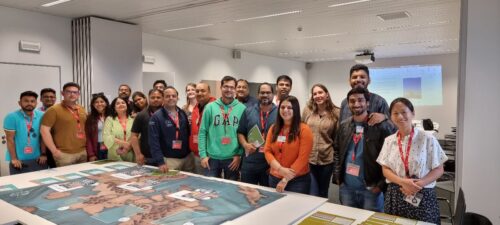 ---
Next P&H poll: river transport to alleviate congestion
One of the solutions hailed – and now tested – to reduce emissions and relieve congestion in ports, is to make more use of transhipment and countries' river networks. In China, this recently helped to ease the burden on Shanghai's port while being in lockdown. In turn, this was an economic boost for smaller river ports further inlands that benefited from the rerouted cargo. In Europe, river networks are constantly expanded to increase the amount of barge transport. Also, the smaller ships used for this are ideal candidates to trial alternative fuel solutions. However, without the appropriate upgrade of infrastructure – such as dredged waterways – this will not be a sustainable solution to reduce emissions but could further clog river arteries. This was recently seen in the Danube river around Romania to get grain shipments out of the war-blocked Ukraine. So, do ports support this side-arm of maritime transport enough or should they look further inland to build capacity of river ports? Have your say here.
---
IAPH Insider takes a break
This is the last issue of IAPH Insider before we break for summer, recharging our batteries for what promises to be a busy fall. You can expect the next issue of IAPH Insider in your mailbox on 1 September. We wish our readers in both the northern and southern hemisphere a relaxing time ahead.
---
Member Port News
In this edition's round up of member port news, you will find stories from the following IAPH members:
Europe and Africa Region: Autoridad Portuaria de Bilbao, Bulgarian Ports Infrastructure Company, HAROPA Port, Nigerian Ports Authority, Port Autonome de Dakar, Administração dos Portos de Sines e do Algarve, Port of Bergen, Port of Rotterdam Authority, Baku International Sea Trade Port, bremenports, Cyprus Ports Authority, Port Autonome d' Abidjan, Port of Amsterdam, Autoridad Portuaria de Huelva, Oslo Port Authority, Port Authority of Genoa, North Sea Port, Ports of Cabo Verde, Autoridad Portuaria de Sevilla, Autoridad Portuaria de Santa Cruz de Tenerife, Autoridad Portuaria de Valencia, Freeport of Riga Authority, Grand Port Maritime de Marseille, Port Authority of Vigo, Port of London Authority, Antwerp-Bruges Port Authority, Hamburg Port Authority, JadeWeserPort, Belfast Harbour Commissioners, Port of Helsinki
America Region: Halifax Port Authority, National Port Administration Uruguay, Port of Los Angeles, Panama Maritime Authority, Canaveral Port Authority, Port Saint John, Port of Seattle, Port of Long Beach, Port of San Diego, Companhia de Desenvolvimento do Complexo Industrial e Portuário do Pecém
Asia and Oceania Region: Marine and Water Bureau Government of Macau, Taiwan International Ports Corporation, Yokohama Port Corporation, Guangzhou Port Authority, Sri Lanka Ports Authority, Philippine Ports Authority, Subic Bay Metropolitan Authority, Ports and Maritime Organization Iran, Maritime and Port Authority of Singapore, DP World, Ulsan Port Authority, Busan Port Authority, Gladstone Ports Corporation, NSW Ports, Yeosu Gwangyang Port Authority
Check out the full line up on our Member Port News page.
---
World Maritime News
These maritime news stories made the headlines over the past two weeks:
Congested US rail system threatens 'nationwide logjam'
European ports facing multiple challenges
Container equipment market faces 6m teu surplus
China port congestion risks further disruption
US containerized imports at record highs
Regulations threaten to reduce containership capacity further
Hapag-Lloyd and DHL join forces on biofuels
The US tops the league table for detention and demurrage fees
US government faces call to support west coast labor negotiations
For details of each story, please visit the World Maritime News section on our website.
---
Calendar of Events
IAPH events and events where IAPH is represented
21 July – UNCTAD Train For Trade Management Programme – Valencia
24-25 August – Norwegian Ports Conference – Kristiansand
30 August-1 September – Ports Australia Conference – Brisbane
28-29 September – UfM Port-City Transformation Conference – Barcelona
12 October (4-6 PM CEST) – IAPH Risk and Resilience Committee (online)
18-20 October – GreenPort Congress & Cruise – Bruges
18-20 October – TOC Americas – Lima
2-11 November – IMO MSC 106 – London
3 November (12-2 PM CEST) – IAPH Data Collaboration Committee (online)
10 November (4-6 PM CEST) – IAPH Climate and Energy Committee (online)
12-16 December – IMO MEPC 79 – London