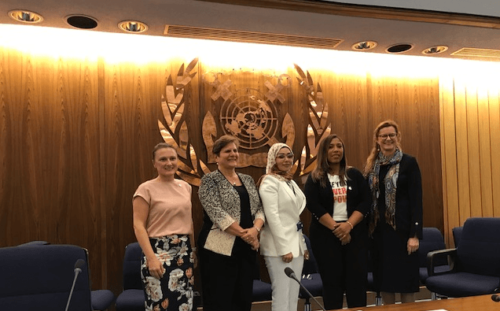 Women working in Harbour Master Divisions at the world's ports are now being offered the opportunity to be mentored by some of the industry's most experienced male and female professionals thanks to the International Harbour Masters Association (IHMA) now joining the IAPH World Ports Sustainability Program as Partner. IHMA has already reported interest from women members and are in the process of matching them with senior mentors, including members of their own Executive Committee.
The IAPH Women's Forum, due to meet with representatives from member ports at the IAPH World Ports Conference next March in Antwerp, established the Women in Ports Mentoring Program last May.
Jeanine Drummond (pictured above, first left), Harbour Master – Newcastle & Yamba, Port Authority of New South Wales and Chair – IAPH Women's Forum, introduced the Mentorloop system at a special event held at the IMO FAL 43rd Session in London earlier this year. The system connects women port professionals online with both male and female mentors who are principally involved in port operations.
Jeanine commented: "The Women in Ports Mentoring Program sets out to empower high-potential women port professionals by linking them to expert mentors to expand their knowledge base and prepare them to take up operational roles in the smart ports of the future."