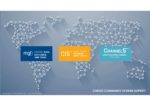 Ports & Harbors March/April 2016 issue published. In this issue, cover stories focus on "APAC regional focus" such as 'China clears the air with ECAs' that looks at Mainland ports following Hong Kong's lead in implementing emission controls. Stories of Vessel Traffic Management, Port Design and Planning are also included. In Open Forum 'Why weight?', freight transport insurance specialist Peregrine Storrs-Fox of TT Club warns that the clock is ticking on verification of cargo weights with an amendment to SOLAS coming into effect on July 1.
Members can see the digital version online at Library Page. If you are not an IAPH Member, please click here for subscription order form (printed version).
P&H is always welcoming articles or ideas for articles from members as well as comments on the magazine at ph@iaphworldports.org
If you are interested in advertisement, please contact us. IAPH members can place an ad with a 20% discount. Please click here to see the 2016 feature list.