This edition covers:
---
IAPH Insider highlight with Patrick Verhoeven
The 2023 World Ports Conference was held over three days last week at the Abu Dhabi National Exhibition Centre (ADNEC). Over 650 registered delegates took part in the conference sessions, social events and a technical visit to Khalifa port. Organised in partnership with host sponsor AD Ports Group and S&P Global, the 2023 World Ports Conference highlighted the leadership role of port authorities in preparing for a zero carbon, digital and resilient future. In the video above, IAPH managing director Patrick Verhoeven reflects on the proceedings of the event during the second day of the conference. The official pictures taken at the 2023 World Ports Conference can be found here. Presentations which have been made available can be found here.
---
Winners IAPH Sustainability Awards announced
The winners of the 2023 IAPH Sustainability Awards were announced during the official gala dinner of last week's World Ports Conference. Port Authority of Santa Cruz de Tenerife won the award in the category 'Climate and Energy' with the Port ZERO project. Puerto Dock Sud was the winner in the category 'Community Building' with its Gender Equality Train for Work programme. In the category 'Digitalisation' the award went to Halifax Port Authority for its DEF2 project. Yeosu Gwangyang Port Authority took home both the 'Environmental Care' and 'Health, Safety and Security' awards, respectively for its Marine Plastic Collection and Utilisation network and its Keeping Port Workers Healthy project. Finally, Busan Port Authority won the award in the category 'Infrastructure' with its Recycling of Aggregates for Construction project. At the gala dinner, IAPH also presented the Akiyama Award which is in memory of one of IAPH's founding fathers, Toru Akiyama, who was secretary-general of IAPH from 1967 to 1973. This award goes to the highest placed IAPH Sustainability Awards finalist runner-up from a Least Developed Country, a Landlocked Developing Country or a Small Island Developing State. It was won by Fiji Ports for its project 'Pathway Towards a Smart and Green Port'. You can find out full details about the winning projects on the IAPH World Ports Sustainability Program website.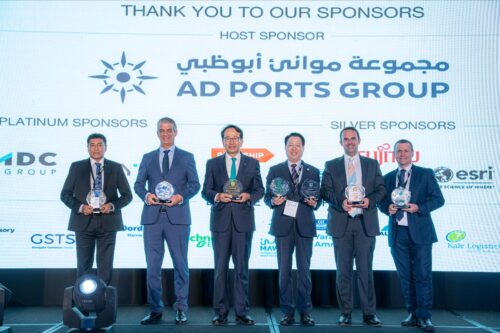 2023 IAPH Sustainability Awards winners Vajira Piyasena (Fiji Ports), Santiago Yanes Díaz (Port Authority of Santa Cruz de Tenerife), Joon-suk Kang (Busan Port Authority),
Sung Hyeon Park (Yeosu Gwangyang Port Authority), Juan Ignacio Díaz (rep. Puerto Dock Sud) and Allan Gray (Halifax Port Authority)
---
IAPH honoured three distinguished personalities
Last week three distinguished personalities received recognition for their outstanding contributions to IAPH and were granted lifelong Honorary Membership of the association. The first was for Kitack Lim, outgoing secretary-general of the IMO. The IMO's increased collaboration with IAPH under his leadership has brought ports closer to shipping and the IMO member states, which culminated in the signing of a Memorandum of Understanding between the IMO and IAPH last July. The second was for outgoing IAPH president Captain K. Subramaniam. He presided over the association during which time the IAPH-WPSP COVID19 Taskforce continued supporting ports around the world, and during which time the technical committees introduced key submissions to the IMO relating to the role ports play in maritime decarbonisation and digitalisation. During his tenure, IAPH has made significant steps forward in collaborating beyond the ports membership with shipping, regulators, UN agencies and development banks. The third was for Robin Silvester, the outgoing IAPH vice-president for North America and former CEO of Vancouver Fraser Port Authority, who played an active part in the IAPH Board, supporting the transformation of the organisation, and who hosted the IAPH World Ports Conference last year in Vancouver.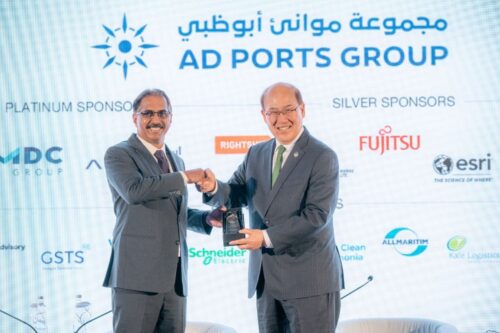 Capt. K. Subramaniam presenting the IAPH Honorary Membership to IMO secretary-general Kitack Lim.
---
New IAPH Board and staff organigram presented
At the Annual General Meeting (AGM) which was held immediately after the closure of the 2023 World Ports Conference, IAPH regular and honorary members endorsed the new Board. It is formed by the president and six vice-presidents, and has general authority to establish broad principles and objectives of IAPH and to make decisions regarding its operation, financing and structure. Members endorsed the election of president Jens Meier (Hamburg Port Authority), who succeeds Capt. K. Subramaniam (Port Klang Authority) in the role, as well as vice-presidents Stéphane Raison (Europe – HAROPA Port), Michael Luguje (Africa – Ghana Ports and Harbours Authority), Gene Seroka (North America – Port of Los Angeles), José Firmo (Central and South America – Porto do Açu), Masaharu Shinohara (Asia South/West, East & Middle East – Kobe Osaka International Port Corporation) and Eranda Kotelawela (Southeast Asia and Oceania – Solomon Islands Port Authority). The mandate of the new Board runs until the AGM held in conjunction with the 2025 World Ports Conference. At the AGM, members were also presented with a new organisation chart that was introduced following a benchmark review to further integrate functions to meet the needs of a growing membership base and ambitious work plan. Under the co-leadership of managing director Patrick Verhoeven and secretary-general Masahiko Furuichi, IAPH staff are responsible for technical and policy matters, communications and marketing, membership engagement, as well as finance, legal, and IT. Operational staff are deployed in London, Antwerp and Athens, administrative staff work from the IAPH head office in Tokyo. You can view the organisation chart here.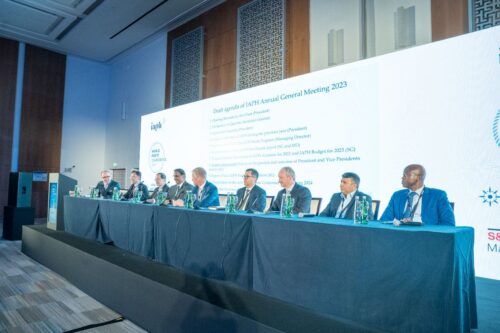 The IAPH leadership team at the 2023 Annual General Meeting in Abu Dhabi.
---
New IAPH publications introduced in Abu Dhabi
In Abu Dhabi, two new publications were introduced, the result of intense collaboration between IAPH and its institutional partners. On the first conference day, the Guidelines on Cooperation between Customs and Port Authorities were presented, a joint product of the World Customs Organization and IAPH. The guidelines provide clear and practical guidance on how both parties can better work together in order to improve the speed and predictability of trade flows, while ensuring the security and integrity of global supply chains. A practical approach has been taken with a variety of best practices covering advanced, emerging and developing countries with specific attention being paid to Small Island States to review their journey in the field of cooperation to accelerate digitalisation and sustainability. The case studies include inspiring examples from ports and customs authorities from Australia, Bulgaria, China, Germany, Guatemala, Italy, Indonesia, Jamaica, Morocco and the United States. You can view or download the WCO-IAPH guidelines here. The second publication was presented on Wednesday. Following 24 months of effort from 88 contributors, the World Bank and IAPH released the executive summary of Port Community Systems – Lessons from Global Experience. The report offers port communities a step-by-step guide to implementing a port community system (PCS) and explains its advantages for developing countries. The report is aimed at reducing the digital divide, with practical advice combined with concrete case studies of implementation in a diverse range of countries. It provides insights for policymakers, port authorities, and logistics providers on how to enhance PCS adoption and leverage its benefits. The study also clearly identifies where the gaps are in adoption, by examining PCS implementation in over 897 ports based on UNCTAD's top ports listed in the Liner Shipping Connectivity Index covering 201 countries and territories. The report can be downloaded from the World Bank publication homepage. An introductory video is available here.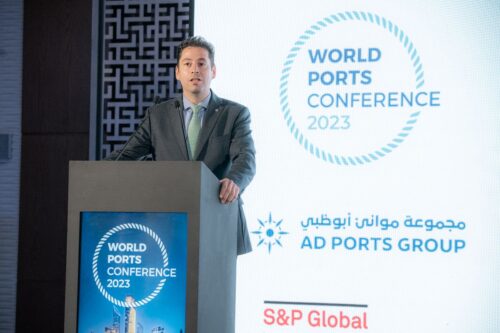 WCO deputy secretary-general Ricardo Treviño Chapa introducing the Port-Customs guidelines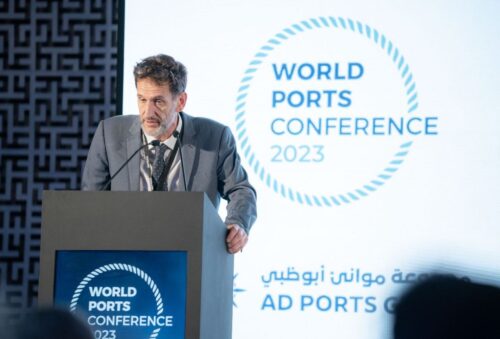 World Bank Global Trade & Regional Integration manager Sebastien Dessus presenting the PCS report.
---
International maritime media attended #IAPH2023
During the #IAPH2023 conference, a number of speakers who took part were also interviewed either face-to-face or together in a group mini press conference. This included the secretary general of the IMO, deputy secretary general of the WCO, the World Bank trade facilitation team, and the Chairman of ICS as well as many IAPH regular members. For all those who took part, many thanks, and also a thank you to the editors and publishers from Lloyds List, ITJ, Riviera Maritime Media, Mercator Media and Mundomarìtimo who got through a really busy schedule combined with the main program, during which many of them moderated.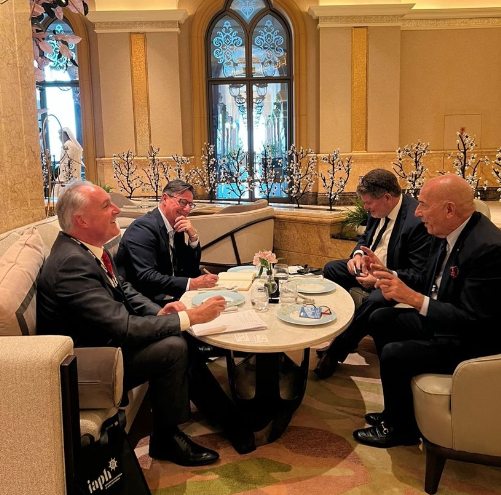 ICS chairman Emanuele Grimaldi (far right) and ICS communications and strategy director Stuart Neil interviewed by Christian Doepgen of ITJ (far left) and James Baker of Lloyds List (second left).
---
#IAPH2024 to be held in Hamburg 8-10 October 2024
At the conclusion of the 2023 World Ports Conference, incoming IAPH president Jens Meier announced that Hamburg Port Authority will be the host sponsor of next year's IAPH conference. The dates have been confirmed for 8-10 October and the event is due to be held in the Congress Center Hamburg (CCH). This will be the first conference that IAPH is organising in partnership with Mercator Media, following the termination of the events and media contract with S&P Global. Mercator Media is a UK-based company which has a long standing understanding of the ports and terminals sector through publishing the highly respected Port Strategy magazine, producing GreenPort Congress, GreenPort Oceania as well as experience running very large events, both as Mercator and working with partners. The partnership includes the organisation of the 2024, 2025, and 2026 World Ports Conferences. Apart from Hamburg in 2024, the 2025 World Ports Conference has already been decided to be held in Kobe, Japan, to mark the 70th anniversary of IAPH. Mercator Media will also be taking over the publication of the Ports & Harbors magazine, starting in spring next year.
---
The November-December issue of Ports & Harbors is out
The cover interview of the November-December edition of Ports & Harbors, features newly-appointed IAPH president Jens Meier, CEO of Hamburg Port Authority. Ahead of the start of his term, Jens talked to IAPH managing director Patrick Verhoeven about his wish for the association to help align standards in maritime digitalisation and decarbonisation. He also looks ahead to the 2024 World Ports Conference which will take place in Hamburg between 8-10 October next year. Also featuring in this edition: we have data insights from the UNCTAD Review of Maritime Transport, and we interview Elisabeth Cosmatos who has been elected president of The Heavy Lift Group, an international association for specialised heavy-transport companies. We get perspectives on joint thinking on ship and port automation from Sinnika Hartonen from One Sea and the impact of cybercrime and climate crisis on port insurance from Edward McNamara, CEO of port insurance broker Armada Risk Partners. We have in-depth pieces on Somali port infrastructure and the historically-important trans-Caspian routes as well as our regular features. Also the newly-elected IAPH regional vice president for Europe Stéphane Raison discusses the challenges European ports face and where his focus lies in his new role.
---
Welcome to five new associate members
We are delighted to announce that over the past few weeks, five new associate members have joined IAPH, from Belgium, Denmark, Mauritania, India and Germany.
Officers On Watch
is a non-profit organization with a strong commitment to enhancing the auditing and quality control of Vessel Traffic Service (VTS) infrastructure and ensuring compliance with regulations of the International Association of Lighthouse Authorities (IALA). Their mission encompasses advising ports on operational excellence, collaborating with the Antwerp Maritime Academy to provide comprehensive VTS training, and specialising in critical areas such as maritime domain awareness, port security, radar and VHF technology, AIS, surveillance systems, and risk assessments, all aligned with the highest standards set forth by the IALA.
Portchain
is a start-up headquartered in Copenhagen. The company was founded in 2017 by three McKinsey project managers who believed that the enormous advances in processing power and algorithms could be used to help carrier and terminal planners find optimal solutions to the toughest problems in the shipping industry. Combining simple and intuitive UX design with advanced mathematics and cutting-edge web technologies, Portchain unleashes the power of AI to create a step change in operational performance for shipping companies.
Shiplog Mauritania
, founded in 2017, specialises in stevedoring and ship agency. It also provides various services, including IT solutions. The company is proud of a well-trained team with good knowledge and long experience in forwarding and port operations.
The Federation of Freight Forwarders' Association of India (FFFAI),
founded in 1962 is the apex body and the sole representative of 24 member associations from all over India, representing 5,000 custom brokers and freight forwarders and controlling 90% of India's international logistics trade today. The main objectives of FFFAI are to organise united action to project and promote professional interests at the national level and, for that purpose, to coordinate the activities of the customs house agents' associations and their members and to collect and disseminate information to members on the subject of common interest.
Klaus Faber
is a specialist wholesaler of cables and wires and port technology MRO (Maintenance, Repair, Operation) supplier for port electrification.
As a full-range trader, it offers classic electrical wires and cables in various profiles, which include power cables, medium voltage cables and wires, halogen-free safety cables and wires, installation wires, communication cables and wires, control cables, data and electronic cables, fiber-optic cables, bus lines and drag chain cables.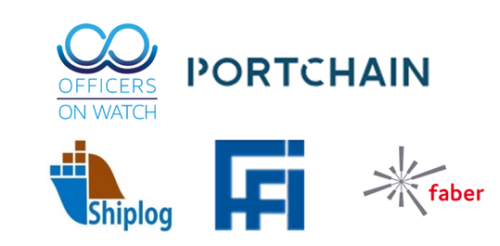 ---
Member Port News
In this edition's round up of member port news, you will find stories from the following IAPH members:
Africa and Europe region: Port Autonome de Kribi, Port of Helsinki Ltd, Autoritat Portuària de Barcelona, Hamburg Port Authority, North Sea Port, North Tyrrhenian Port Network Authority, Port Autonome de Conakry, Autoridad Portuaria de Bilbao, Autoridad Portuaria de Huelva, Freeport of Riga Authority, Port Autonome de Lomé, Transnet National Ports Authority, South Africa, APS- Administração dos Portos de Sines e do Algarve, SA, Autoridad Portuaria de la Bahìa de Algeciras, Autorità Portuale di Genova (Port Authority of Genoa), Cartagena Port Authority, Port of Amsterdam, Port Authority of Vigo, Port of London Authority, Port of Antwerp-Bruges, Autoridad Portuaria de Valencia (Port Authority of Valencia), Ports of Cabo Verde, Port of Rotterdam Authority (Havenbedrijf Rotterdam N.V.), Autoridad Portuaria de Sevilla, Autoridad Portuaria de Santa Cruz de Tenerife (Ports of Tenerife), bremenports GmbH & Co. KG, Oslo Port Authority, Port of Bergen, HAROPA PORT, Kenya Ports Authority, Port of Beirut, Baku International Sea Trade Port, Port of Göteborg AB
America region: Northwest Seaport Alliance, Port of Oakland, Vancouver Fraser Port Authority, Port of Los Angeles, Port of Long Beach, Canaveral Port Authority, Port of Seattle, National Ports Administration, Uruguay, Georgia Ports Authority (GPA), Montreal Port Authority
Asia and Oceania region: Westports Malaysia Sdn. Bhd., Maldives Ports Limited, Yeosu Gwangyang Port Authority (YGPA), Philippine Ports Authority (PPA), Lyttelton Port Company Ltd., Maritime and Port Authority of Singapore (MPA), Port of Hakata (Port & Airport Bureau, City of Fukuoka), PSA International Pte Ltd, Yokohama Port Corporation, Nagoya Port Authority, Incheon Port Authority, Port Klang Authority, PT Pelabuhan Indonesia (Persero), Sri Lanka Ports Authority, Ministry of Oceans and Fisheries, Korea, South Port New Zealand Ltd., AD Ports Group, Incheon Regional Office of Oceans and Fisheries, Abu Dhabi Ports, Marine and Water Bureau, Government of Macau, SAR, Taiwan International Ports Corp., Ltd., Busan Port Authority, Ministry of Oceans and Fisheries, Korea, NSW Ports, Subic Bay Metropolitan Authority (SBMA), Kuantan Port Authority
---
World Maritime News
These maritime news stories made the headlines over the past two weeks:
Maersk cuts workforce by 10,000 as earnings turn negative
EU ETS to include calls at Tanger Med and East Port Said
Box terminal giants join up to push electrification agenda
Southeast Asia LNG bunkering picks up on lower prices, says analyst
Shipowners shift antitrust campaign to UK after EU loss
Shipping emissions data-sharing initiative launched by DNV, GSBN
For details of each story, please visit the World Maritime News section on our website.
---
Calendar of Events
IAPH events and events where IAPH is represented

28 November – Kick-off Event APEC Alumni Community (online)
1 December – IAPH MEDPorts seminar on ESI – Barcelona
7 December – IAPH Data Collaboration Committee – online
9-10 December – ICS conference and CEM Hubs summit at COP 28 – Dubai
13 December – MEDPorts seminar in collaboration with Agence Nationale des Ports – Casablanca, Morocco
20 December – Risk and Resilience committee, virtually
11-15 March 2024 – IMO GHG Intersessional WG (ISWG-GHG 16) – London
18-22 March 2024 – IMO Marine Environment Protection Cttee (MEPC 81) – London
25-27 March 2024 – IAPH Technical Committee Days – London
8-12 April 2024 – IMO Facilitation Committee (FAL 48) – London
22-26 April 2024 – IMO Legal Committee (LEG 111) – London
13-24 May 2024 – IMO Maritime Safety Committee (MSC 108) – London