This edition covers:
---
This week's Insider highlight with Antonis Michail
---
Get ready for the #IAPH2023 World Ports Conference
With just under two weeks to go, we look forward to meeting with over 450 registered attendees so far in Abu Dhabi at the #IAPH2023 World Ports Conference. With over 35 different sessions held over three days involving well over 100 speakers, many of whom are senior representatives from our membership, we have a few tips on making the most out of your attendance. The mornings and late afternoons will cover the high-level strategic themes with plenary keynote speeches and top-level panels, covering the key themes of energy transition, data collaboration and resilience, with innovation as the link between the three. Mid-mornings to mid-afternoons will be covered with parallel breakout sessions on these three topics, featuring tools, knowledge and advice for ports developed by IAPH and its partners to close the gaps in physical and digital infrastructure. There will be time to network too over IAPH regional lunches that join Europe-Africa, the Americas and Asia, as well as a desert safari on day one, the port tour on day three and the prestigious IAPH Sustainability Awards Gala dinner on day two. There are exclusive Port Innovation Roundtable breakfasts for regular members on all three days, plus the IAPH Annual General Meeting after the closing ceremony. A mail has been sent to attendees with a link to download the Conference app, and further information and full agenda can be found on the conference website. See you in Abu Dhabi!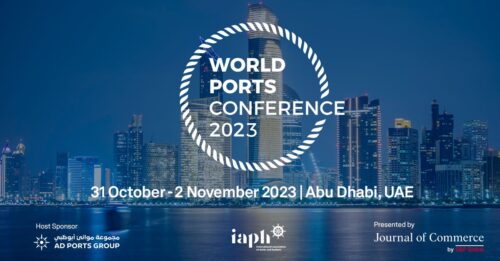 ---
IAPH and IMO held decarbonisation workshop in Mumbai
Last week, IAPH and IMO organised a joint workshop on port actions for greener shipping, in the context of the IMO Norway GreenVoyage2050 project, of which IAPH is a partner. The workshop attracted more than fifty port and maritime industry professionals from India and GreenVoyage2050 client countries including Azerbaijan, Belize, China, Kenya, Malaysia, Solomon Islands, South Africa and Sri Lanka. Over the three days the participants became familiar with the actions that ports can take to facilitate the decarbonisation of maritime transport, as listed in the revised IMO Port Resolution of 16 December 2022. Particular attention was placed on the provision of onshore power supply from renewable energy sources and on preparing ports to accommodate or bunker ships sailing on low- and zero-carbon fuels. IAPH was represented by its associate member Bruce Anderson (Starcrest), who acted as the main trainer under the OPS stream, and IAPH Clean Marine Fuels working group chair, Peter Alkema, who led the alternative fuels stream. Furthermore, IAPH managing director Patrick Verhoeven gave an opening welcome speech and IAPH's India representative, Ennarasu Karunesan, discussed efforts of Indian ports to support shipping's decarbonisation. IAPH technical director Antonis Michail presented best practice examples from the IAPH World Ports Sustainability Program addressing both the provision of onshore power supply and alternative low- and zero-carbon fuels. IAPH will continue working with IMO and Norway under the GreenVoyage 2050 framework to build capacity in the world ports community on decarbonisation of ports and shipping.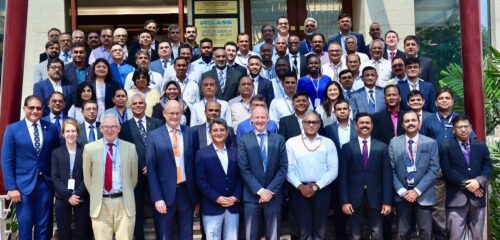 ---
Norway injects new funding in GreenVoyage2050
The government of Norway has confirmed 19.4 million USD of funds for the second phase of the IMO GreenVoyage2050 project, in an agreement between Norway and IMO that was signed on 28 September. The project has been implemented by since 2019 and IMO has been working with selected developing countries around the world and partnering with maritime-related international associations, including IAPH, other UN organisations, and the industry, to reduce greenhouse gas emissions from shipping. Under phase two, the project will continue to provide support to developing countries, to help them to meet their commitments to climate change and ship energy efficiency goals, in line with the levels of ambition set out in the IMO GHG strategy.
---
IAPH C&E Committee discussed clean marine fuels
The IAPH Climate and Energy Committee met virtually on 5 October. The meeting, which was well attended by over thirty participants, concluded the autumn round of meetings of the three main IAPH technical committees. A new format, which devotes more time for in-depth discussions and exchange between members on a limited number of key selected topics was successfully tested across the three committees. The main agenda item of the Climate and Energy Committee was the joint development by IAPH and the World Ports Climate Action Program (WPCAP) of a tool to self-evaluate, develop and communicate the readiness of world ports to provide low- and zero-carbon fuels to shipping, the so-called 'Port Readiness Level for Clean Marine Fuel Bunkering' project (PRL MF). Following a presentation on the current status of the PRL MF checklist, committee members endorsed the checklist in principle while acknowledging that it will be further developed, integrating port users' experience and respective lessons learned. Regarding follow-up steps, the committee recommended working closely with WPCAP and any third partes, in defining a suitable governance and business development model for the full roll-out of the PRL MF toolkit to the world ports community. Other topics discussed included progress with the development of ESI version 2.0 which is expected to become operational by January 2025, and the initial launch of the embedded ESI-at-berth module that is now open for registration by cruise ports and lines via the current ESI website. In addition, the committee discussed the collaborative initiative led by APM Terminals to achieve cost parity for battery-electric container handling equipment. A respective white paper will be launched at the end of October and interested ports were encouraged to follow-up with APM Terminals to endorse it. The initiative will be further discussed in a dedicated session at the forthcoming World Ports Conference in Abu Dhabi. The next meeting of the Climate and Energy Committee will be taking place early January and focus on discussing the IAPH input to the next session of the IMO Marine Environment Protection Committee (MEPC 81), which will be held from 18 to 22 March next year.
---
Next IAPH Technical Committee Days: 25-27 March 2024
Building on the successful first edition of the IAPH Technical Committee Days held last spring, we are pleased to announce that the next edition will take place 25-27 March in London. The days will be held in between the next IMO Marine Environment Protection (MEPC 81) and Facilitation (FAL 48) Committee meetings. Details on the actual venue and agenda will be announced in due course, but we invite members of the Technical Committees to already save the dates.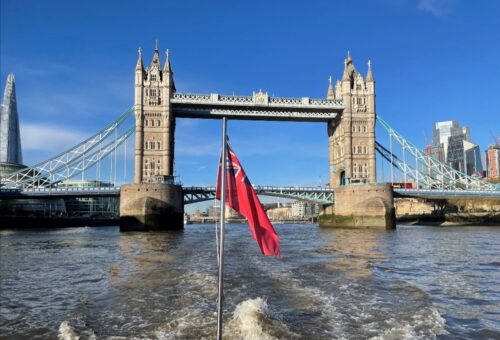 ---
IAPH and chainPORT partner on digital port infrastructure
IAPH has teamed up with chainPORT, a multilateral partnership of the world's leading 'smart ports', on a project to develop a common understanding on critical components of digital port infrastructure that fosters the harmonisation of data throughout the maritime supply chain. Port authorities have leveraged their neutral role to strengthen the cooperation on information exchange between shipping lines, terminal operators and port community systems. The project further involves the Digital Container Shipping Association (DCSA), the Terminal Industry Committee 4.0 (TIC 4.0) and the International Port Community System Association (IPCSA). Building on existing results in harmonisation and standardisation of participating parties, the standard processes and terminology associated with time stamps in the port call process will be brought together, to ensure high data quality, standardisation, and smooth information flow through real-time communication channels. Furthermore, the project prioritises meeting the evolving needs of Beneficial Cargo Owners (BCOs), who, in the post-pandemic era, seek heightened control and visibility across their supply chains. Through diligent collaboration and coordination with all relevant stakeholders, chainPORT and IAPH are committed to enhancing supply chain resilience in ports. chainPORT was initiated in 2016 by the port authorities of Hamburg and Los Angeles in collaboration with the Global Institute of Logistics. The initiative is supported by the ports of Antwerp-Bruges, Barcelona, Busan, Felixstowe, Gothenburg, Indonesia, Montreal, Panama, Rotterdam, Singapore, Shanghai, Shenzhen, and Tanger Med.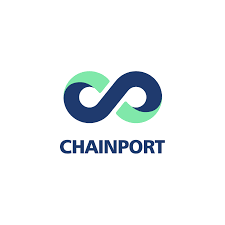 ---
Next IAPH Insider on 9 November
With the IAPH World Ports Conference taking place in ten days, the next edition of IAPH Insider will appear on Thursday 9 November. This will allow us to report in full on the outcomes of the world's prime port event. This shouldn't stop you from registering for the conference though, there is still room! Check out the conference agenda and all other details
on the #IAPH2023 website
.
---
Member Port News
In this edition's round up of member port news, you will find stories from the following IAPH members:
Africa and Europe region: Autorità Portuale di Genova (Port Authority of Genoa), The National Ports Agency, Morocco, Autoridad Portuaria de Bilbao, Port of Antwerp-Bruges, Ports of Cabo Verde, Autoridad Portuaria de Sevilla, Autoridad Portuaria de Santa Cruz de Tenerife (Ports of Tenerife), Hamburg Port Authority, North Sea Port, Port Autonome d' Abidjan (Abidjan Port Authority), Port Autonome de San Pedro, Port of Amsterdam, Freeport of Riga Authority, Port of Göteborg AB, Port of Rotterdam Authority (Havenbedrijf Rotterdam N.V.), Autoridad Portuaria de Valencia (Port Authority of Valencia), bremenports GmbH & Co. KG, Autoritat Portuària de Barcelona, Port of Helsinki Ltd, Autoridad Portuaria de Huelva, Baku International Sea Trade Port, Cyprus Ports Authority, Oslo Port Authority, APS- Administração dos Portos de Sines e do Algarve, SA, Cartagena Port Authority, Port of London Authority, Port of Bergen, Autoridad Portuaria de la Bahìa de Algeciras
America region: The Port of Stockton, California, Port of Seattle, Montreal Port Authority, Port of Long Beach, Companhia de Intergração do Complexo Portuário do Pecém – CIPP, Port of San Diego, Georgia Ports Authority (GPA), Port of Los Angeles, Port of Oakland, Port Saint John, National Ports Administration, Uruguay, Northwest Seaport Alliance
Asia and Oceania region: PT Pelabuhan Indonesia (Persero), DP World, Penang Port Sdn Bhd, Port of Brisbane Pty Ltd, Philippine Ports Authority (PPA), Port of Hakata (Port & Airport Bureau, City of Fukuoka), Port Nelson Limited, Maritime and Port Authority of Singapore (MPA), Yeosu Gwangyang Port Authority (YGPA), Maldives Ports Limited, Marine and Water Bureau, Government of Macau, SAR, Sri Lanka Ports Authority, Incheon Port Authority, Taiwan International Ports Corp., Ltd., Westports Malaysia Sdn. Bhd., PSA International Pte Ltd, Busan Port Authority, Busan Regional Office of Oceans and Fisheries, Ministry of Oceans and Fisheries, Korea
---
World Maritime News
These maritime news stories made the headlines over the past two weeks:
Carriers lose fight to keep consortia block exemption regulation
Fears of unintended consequences from removal of block exemption
CMA CGM releases ETS surcharge estimate
Container imbalances remain a key issue for box trade
Equipment manufacturers look outside the box
For details of each story, please visit the World Maritime News section on our website.
---
Calendar of Events
IAPH events and events where IAPH is represented
17-19 October – British Ports Association Conference – London
18-20 October – GreenPort Congress & Cruise – Lisbon
26-28 October – IAPH Clean Marine Fuels Working Group – Abu Dhabi
30 October – IAPH Board and Council meetings – Abu Dhabi
31 October-2 November – IAPH 2023 World Ports Conference – Abu Dhabi
1 December – IAPH MEDPorts seminar on ESI – Barcelona
7 December – IAPH Data Collaboration Committee – online
9-10 December – ICS conference and CEM Hubs summit at COP 28 – Dubai
11-15 March 2024 – IMO GHG Intersessional WG (ISWG-GHG 16) – London
18-22 March 2024 – IMO Marine Environment Protection Cttee (MEPC 81) – London
25-27 March 2024 – IAPH Technical Committee Days – London
8-12 April 2024 – IMO Facilitation Committee (FAL 48) – London
22-26 April 2024 – IMO Legal Committee (LEG 111) – London
13-24 May 2024 – IMO Maritime Safety Committee (MSC 108) – London