This edition covers:
---
This week's Insider highlight with Rhona Macdonald
---
Invitation to #IAPH2023 Roundtables
As a new addition to this year's #IAPH2023 World Ports Conference, three breakfast roundtables have been included in the schedule prior to the main plenaries taking place on 31 October, 1 and 2 November. The aim of these closed-door, Chatham House rule roundtables is for an organisation to demonstrate a port industry innovation to IAPH regular members. Leading infrastructure operator Van Oord will kick off the roundtable on day one to explain its highly innovative approach to long-term co-ownership models with its port operator clients which goes beyond a supplier-client relationship. On day two, GSTS will showcase its advanced work on port call, vessel and terminal optimisation and on day three, IBM will provide an overview of the highly advanced cyber resilience center it has co-developed with the Port of Los Angeles. These roundtables will be invitation-only and exclusive to IAPH regular members. For further information, please contact fabienne.vanloo@iaphworldports.org. In addition, at the lunchtime Harbor Café on day one, IAPH associate member RightShip will be showcasing its innovative risk management PortRisk solution for ports and terminals, designed to improve the way ports navigate the challenges of vessel pre-arrival preparations. Harbor Cafés are still available on day one and two for associate members interested in showcasing innovations with concrete port projects. For more information, contact John Knowles at our events partner S&P Global: john.knowles@spglobal.com.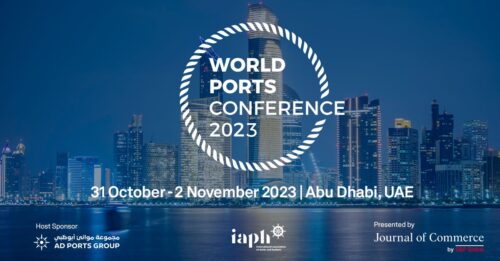 ---
#IAPH2023 Energy Transition preview at Harbor Café
Last Friday over fifty IAPH members from around the world gathered online to preview the upcoming focus on key energy transition challenges faced by the maritime industry, which will be discussed in depth as one of the key themes of the IAPH World Ports Conference. The Harbor Café session included an intervention by Nelson Mojarro of the International Chamber of Shipping (ICS) who explained the concept of the join ICS-IAPH Clean Energy Marine (CEM) Hubs initiative, with the CEOs from Hamburg, Halifax and NAMPORT authorities revealing their plans. Attendees were also given updates on the safety tools developed for ports by the IAPH Clean Marine Fuels Working Group and a preview was given of the upcoming Port Readiness Tool (PRL) being co-developed with WPCAP which will be given a first review at the Climate and Energy Committee meeting today. You can watch the recording of Harbor Café in the video below.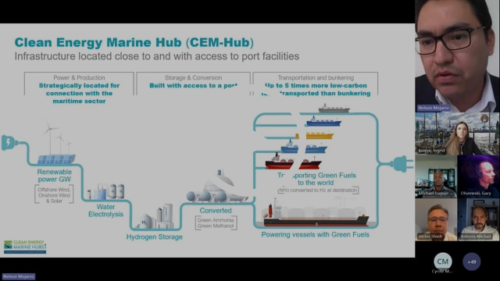 ---
Port Endeavor partners met in Geneva
This year's annual meeting review of the Port Endeavor sustainability game took place at the UNCTAD headquarters in Geneva, with representatives from APEC Antwerp-Flanders Port Training and IAPH being hosted by UNCTAD TrainforTrade (TfT) team for two days of strategic planning and discussions on enhancements in game dynamics and content. The team reviewed the new hybrid format that was successfully used in over thirty gameplays this year by the three partners in Europe and Latin America in English French and Spanish, and formulated ideas on how to meet increasing requests to take the game to many parts of the world. The partners got an update on the UN Sustainable Development Goals and their overall status following the General Assembly in New York by the Geneva-based public information officer Miladin Bogetic. The communications director for UNOG, Alessandra Vellucci, was invited to give the partners options on how to communicate about Port Endeavor to a wider audience. The meeting was an excellent chance to catch up and our hospitable colleagues at TfT kindly showed guests around the impressive Palais des Nations after the meeting which was in session with the Human Rights Council.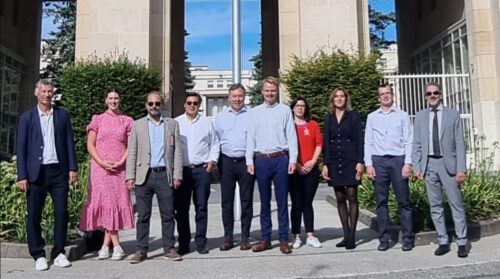 ---
UNCTAD Smart Sustainable Ports project launched
The day before the Port Endeavor meeting, IAPH communications director Victor Shieh joined fellow IAPH members Ghana Ports and Harbors Authority's Daniel Asare (3rd from left) and Mauritius Ports Authority's Kailash B. Dhunnoo (1st from left) in person at an expert group meeting to review and refine the methodology to assess and determine the Smart and Sustainable (SSP) status of ports, a project launched by UNCTAD with UN funding over the next two years. The two IAPH members have joined Tanger Med Port Authority as three pilots to analyse future renewable energy needs and opportunities for ports in developing countries. The consultancy STP is planning to develop a port energy transition scorecard which could be widely applicable to developing countries in the future. IAPH provided their inputs alongside several other NGOs and the IMO and we will follow the project's progress. We thank UNCTAD's Economic Affairs Officer Luisa Antonia Rodriguez Ortega (2nd from right) and Chief of Transport Section Frida Youssef (2nd from left) for hosting the meeting and inviting IAPH to take part.
---
UNCTAD presents Review of Maritime Transport 2023
Hosted by the IMO at their headquarters in London, UNCTAD launched its Review of Maritime Transport 2023 report last week, which is the maritime industry's global reference on latest developments in the sector. In this edition, on the section regarding optimising port operations, its authors call upon (1) ports to fast-track digitalisation and invest more in advanced technologies like AI and blockchain and single windows systems, (2) the global community to support developing countries to adopt smart maritime logistics and accelerate trade facilitation reforms, (3) African countries and SIDS to enhance port productivity by, for example, upgrading capacity and strengthening regional transport connections and (4) ports and international organisations to cooperate in generating data and indicators for port performance and trade facilitation reforms. To download this publicly available report, visit the UNCTAD RMT home page. Jan Hoffmann, head of trade logistics at UNCTAD will discuss these issues at the IAPH World Ports Conference in one month's time in Abu Dhabi during the IAPH World Ports Tracker breakout session.
---
ESI Advisory Group met in Le Havre
Hosted by HAROPA PORT, the IAPH Environmental Ship Index (ESI) Advisory Group met in Le Havre last week. Thirteen experts, including chairman Bruce Anderson (Starcrest), and members from the ports of Amsterdam, Antwerp-Bruges, Hamburg, HAROPA, Los Angeles, Long Beach as well as the ESI administration (Green Award Foundation) and IAPH had a fruitful discussion on the future development of ESI (ESI 2.0), with the assistance of Panthalassa, a consultant company which IAPH has contracted this work to. The discussed details, which will raise the bar for shipping, will be worked out into a proposal for discussion at the ESI Stakeholder Assembly in Barcelona on 1 December. The current target date of the launch of ESI 2.0 is set to 1 January 2025. This will be preceded by a series of consultation and promotional activities while the ships collect and register the data necessary for the new version of ESI scores throughout 2024. The next ESI Advisory Group meeting will be held on 26 and 27 February 2024, in London.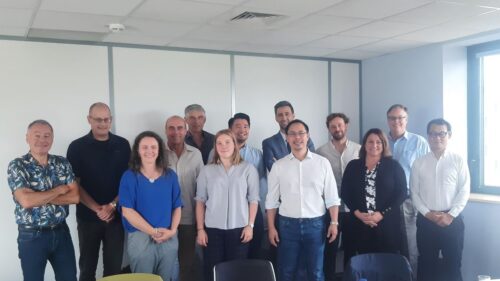 ---
October ESI scores published
The latest scores of the IAPH Environmental Ship Index (ESI) project were published on 1 October. The number of vessels with an ESI score above 20 is at 4,871, whereas the total number of vessels in the ESI database is at 6,619. Compared to July the average ESI score increased slightly to 31,2. The number of incentive providers is at 60. Is your port already part of the ESI programme? If not, find out more on the ESI website or contact Takeshi Suzuki at : t_suzuki@iaphworldports.org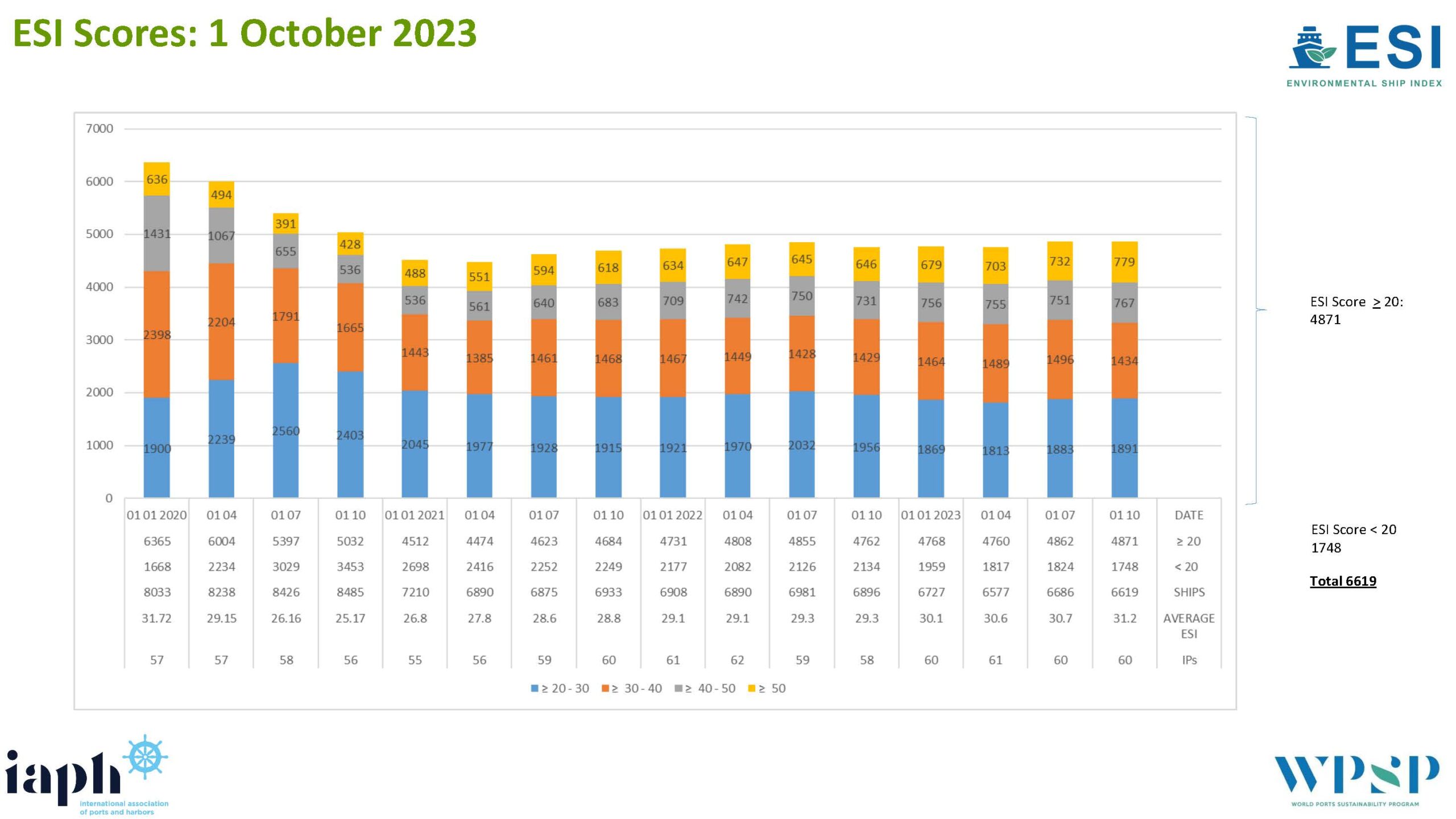 ---
IMO continues work on safe use of alternative fuels
The ninth session of the IMO Sub-Committee on the Carriage of Cargoes and Containers (CCC9) was held last week. This Sub-Committee is where all matters related to the carriage of packaged dangerous goods, solid bulk cargoes, bulk gas cargoes, containers, and zero and low-carbon fuels are discussed. Last week's session was centered around the development of guidelines related to alternative fuels as part of the next phase of the International Code of Safety for Ships Using Gases or Other Low-Flashpoint Fuels (IGF Code) to support the reduction of greenhouse gas (GHG) emissions from ships using new technologies and alternative fuels. Notable agenda items included "Amendments to the IGF Code and development of Guidelines for low-flashpoint fuels and related technologies" and "Revision of the interim recommendations for carriage of liquefied hydrogen in bulk." A Correspondence Group was re-established to make progress in the development of draft interim guidelines for the safety of ships using hydrogen as fuel. The Sub-Committee also approved the development of draft interim guidelines for ships using ammonia as fuel, but emphasised a conservative approach due to concerns about toxicity and corrosivity. Both sets of guidelines are goal-based and focus on machinery, equipment, and systems using hydrogen or ammonia to minimise risks to the ship, crew, and the environment. There was encouragement for the further development of draft interim guidelines for the safety of ships using low-flashpoint oil fuels to expand fuel options for safe use in marine applications. CCC9 agreed to re-establish a Correspondence Group to continue developing these guidelines and to report back at CCC10 in September 2024. In addition, an Intersessional Working Group will be established to further develop hydrogen and ammonia guidelines before MSC 109 in December 2024. Finally, a Drafting Group was established to finalise interim recommendations for the safe, long-distance overseas carriage of liquefied hydrogen in bulk, with the aim of submitting them to MSC 108 for approval.
---
CLIA publishes annual environmental report
Last month, the Cruise Lines International Association (CLIA) released its 2023 Global Cruise Industry Environmental Technologies and Practices Report, showing concrete progress by the sector in advancing its environmental and sustainability agenda. The 2023 order book data shows that cruise lines continue investment in new vessels with 44 new ships on order during the next five years, representing an investment of USD 62 billion since 2019. Of these new ships, 25 will be LNG-powered and seven will be either methanol-ready on delivery, or methanol-capable, representing an investment in new engine technologies that will accelerate the maritime transition towards a future of low to zero carbon fuels. Examples of progress cited include the number of alternative fuels pilot programs and trials currently in place with cruise ships. In addition, an increasing number of vessels sailing and launching over the next five years will either use alternative fuels or will be able to incorporate zero carbon fuels when they become available. The 2023 report also demonstrates other significant investments cruise lines are making to reduce emissions at berth and at sea, such as shoreside electricity. More cruise lines are diversifying energy solutions by incorporating multi-fuel engines, trialling fuel cell technology, wind technology, as well as photovoltaic solutions and battery storage for power shaving. Efficiency tracking systems are now in use on 171 CLIA-member ships, representing 60% of the global fleet, with many more systems planned. In addition, cruise lines are pursuing fuel flexibility, investing today in propulsion technologies with conversion capabilities for the future with 32 pilot projects and collaborative initiatives underway with sustainable fuel producers and engine companies.
---
Welcome to new members from Malaysia and India
This week we are pleased to welcome two new regular members from Penang Port, Malaysia, and one new associate member from India. Penang Port is an international port strategically located in the Straits of Malacca on the northwest coast of peninsular Malaysia. Penang Port offers a variety of facilities and modern equipment to handle containers, liquid bulk cargo, dry bulk cargo, and general cargo. Penang Port Commission (PPC) was established on 1 January 1956 and is a statutory body under the purview of the Ministry of Transport. After the amendments of the related acts, the PPC currently acts as a port authority and a regulatory authority for port privatisation, as well as a port resource centre for the northern region, and the administrator of the Free Commercial Zone. In addition, PPC also acts as a trade facilitator, mediator, and promoter of Penang Port to be the hub port for the Indonesia-Malaysia-Thailand Growth Triangle and the Bay of Bengal. Penang Port Sdn Bhd was established in January 1994 and privatised in 2014. It operates and provides port services at Penang Port, including cargo handling, marine services, ferry and cruise services, and auxiliary services, including security, firefighting, rescue, anti-pollution. Indomer Coastal Hydraulics (P) Ltd., established in 1998, is a leading ocean engineering and consultancy company offering full-fledged multi-disciplinary oceanographic services under one roof. It undertakes oceanographic measurements, seabed investigations, offshore engineering and design, mathematical modeling, EIA studies for statutory clearances, data collection and interpretation, project planning and management, among others. It has provided expertise to various governmental and private sector projects in India and abroad and carried out most of the port development projects in India.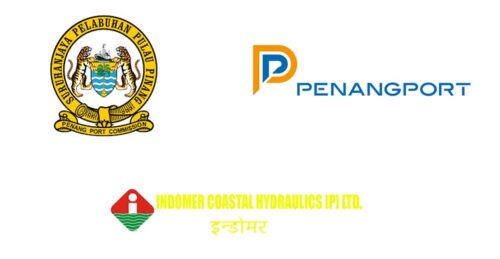 ---
IAPH took part in World Maritime Day celebration
This year's World Maritime Day was celebrated at the IMO headquarters in London under the theme 'MARPOL at 50 – Our commitment goes on', commemorating the 50th anniversary of the adoption of the International Convention for the Prevention of Pollution from Ships (MARPOL), which covers prevention of pollution of the marine environment by ships from operational or accidental causes. IAPH managing director Patrick Verhoeven and IMO liaison and policy officer Rhona Macdonald joined the celebration at the IMO headquarters and Patrick also participated to a cruise on the River Thames that the Port of London Authority (PLA) organised the day after for national delegates and the secretariat of IMO. During the journey informative presentations were shared about how the London port community prepares for a zero carbon future and how the PLA plays its role as community builder, bringing stakeholders together behind a shared ThamesVision for 2050.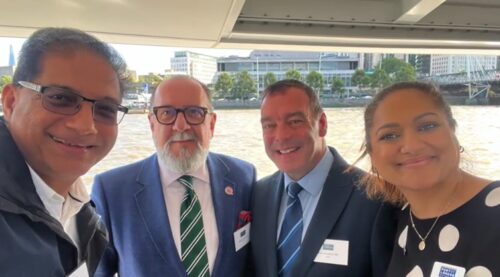 Celebrating 2023 World Maritime Day on the River Thames: Jose Matheickal (IMO), Patrick Verhoeven,
Alexander Campbell (QVSR Seafarers Centers) and Raj Kehal (Port of London Authority)
---
IAPH spoke at TOC Africa
The second TOC Africa conference was held in Tanger Med, Morocco, on 20 and 21 September. Pascal Ollivier, chairman of IAPH's Data Collaboration Committee and president of Maritime Street, moderated a panel on digitalising maritime and logistics in Africa. Pascal emphasised the approaching IMO deadline for member states to install a Maritime Single Window and recalled the five take aways that came from the symposium that IAPH organised with BIMCO and IMO on the subject at the beginning of this year: (1) focus on the legal framework from day one; (2) the importance of coordinated border management, (3) principles of public-private data collaboration, (4) the roadmap from MSW to the port call process and, (5) technical assistance from IMO and partners such as the World Bank. Pascal also referred to the publications that IAPH prepared with the World Customs Organization and the World Bank, which will be presented at the forthcoming IAPH World Ports Conference in Abu Dhabi. The panel included Tarik Maaouni (National Port Agency of Morocco), Chawki Benouarrek (Tanger Med Group), Nabil Boumezzough (Tanger Alliance), Gabriel Ferrús (SEAPort Solutions / Valenciaport Foundation) and Raoul Tan (Port of Rotterdam).
Tarik Maaouni, Chawki Benouarrek, Pascal Ollivier, Nabil Boumezzough, Gabriel Ferrús and Raoul Tan
---
IAPH joined Trade Facilitation Innovation Days
Trade facilitation experts, including government officials, policymakers, logistics providers, business leaders, entrepreneurs, software developers, academics, and other stakeholders, gathered online 19 and 20 September Trade Facilitation Innovation Days 2023, to share innovative proposals on streamlining trade. The two-day online event, hosted by UNCTAD and the Global Alliance for Trade Facilitation focused attention on some of the hottest topics in world trade, including harnessing technology to further streamline processes, reinforcing supply chain sustainability, advancing e-Commerce, improving risk management and transitioning to clean energy. The chairman and vice-chairman of the IAPH Data Collaboration Committee, Pascal Ollivier (Maritime Street) and Gadi Benmoshe (Marinnovators) participated in the online event, respectively discussing smart trade facilitation and how technology can reinforce resilience and drive greater efficiencies.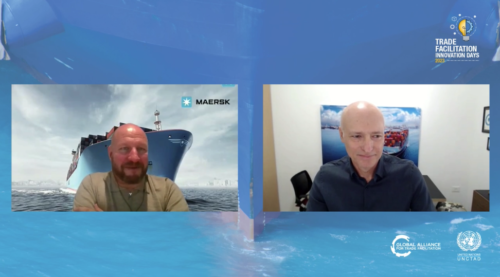 Gadi Benmoshe (right) in discussion with Lars Karlsson (Maersk)
---
Member Port News
In this edition's round up of member port news, you will find stories from the following IAPH members:
Africa and Europe region: Port Autonome d' Abidjan (Abidjan Port Authority), Belfast Harbour Commissioners, North Sea Port, Port of Antwerp-Bruges, Autoridad Portuaria de Valencia (Port Authority of Valencia), Cartagena Port Authority, Grand Port Maritime de Marseille-GPMM (Marseille Fos Port Authority), HAROPA PORT, Port of Amsterdam, North Tyrrhenian Port Network Authority, bremenports GmbH & Co. KG, Port Authority of Vigo, Oslo Port Authority, Autoridad Portuaria de Bilbao, Cyprus Ports Authority, Gibraltar Port Authority, Port of Rotterdam Authority (Havenbedrijf Rotterdam N.V.), Autoritat Portuària de Barcelona, Autoridad Portuaria de Huelva, Autoridad Portuaria de Santa Cruz de Tenerife (Ports of Tenerife), Baku International Sea Trade Port, Port of London Authority, Freeport of Riga Authority, Autorità Portuale di Genova (Port Authority of Genoa), Ports of Cabo Verde, Port of Bergen, The National Ports Agency, Morocco
America region: Montreal Port Authority, National Ports Administration, Uruguay, Autoridad Marítima de Panamá (Panama Maritime Authority), Georgia Ports Authority (GPA), Port Saint John, Northwest Seaport Alliance, Port of Los Angeles, Port of Portland, Canaveral Port Authority, Port of San Diego, Vancouver Fraser Port Authority, Port of Long Beach, Porto do Açu S.A., Port of Oakland, Port of Seattle, Port of Hueneme
Asia and Oceania region: Busan Regional Office of Oceans and Fisheries, Marine and Water Bureau, Government of Macau, SAR, PT Pelabuhan Indonesia (Persero), Incheon Regional Office of Oceans and Fisheries, PSA International Pte Ltd, Port Klang Authority, Incheon Port Authority, Ministry of Oceans and Fisheries, Korea, Philippine Ports Authority (PPA), Subic Bay Metropolitan Authority (SBMA), Tokyo Metropolitan Government (Port of Tokyo), Busan Port Authority, Port of Brisbane Pty Ltd, Marine Department, HKSAR, Taiwan International Ports Corp., Ltd., Lyttelton Port Company Ltd., Maritime and Port Authority of Singapore (MPA), Port of Hakata (Port & Airport Bureau, City of Fukuoka)
Check out the full line up on our
Member Port News
page.
---
World Maritime News
These maritime news stories made the headlines over the past two weeks:
Topics on the Green Corridor
CMA CGM teams up with Maersk to scale up green efforts
Japan's three shipping giants team up to carry liquefied hydrogen
Seaspan's ammonia-fuelled ULCS concept advances
Topics on EU's emissions trading system surcharges
Box spot rates slump as Golden Week begins
Maritime trade sees slow recovery but faces decarbonization challenges
China leading global clean hydrogen capacity: IEA
West coast dockworkers union files for bankruptcy protection
For details of each story, please visit the World Maritime News section on our website.
---
Calendar of Events
IAPH events and events where IAPH is represented