This edition covers:
---
This week's Insider highlight with Patrick Verhoeven
---
Eight weeks to go till #IAPH2023 World Ports Conference
In less than two months the global port community will gather in Abu Dhabi for the 2023 IAPH World Ports Conference. 300 people have already registered their participation and there is plenty of room for more. An exciting programme awaits you, which is focused on the transformation of the maritime industry and the role that port authorities play as catalysers of change. With COP 28 taking place in Dubai at the end of this year, there is a strong emphasis on energy transition, with high level discussions on global trade flows, de-risking of investments and the establishment of clean energy marine hubs, alternating with hands-on sessions on practical tools and solutions that port authorities can apply to facilitate decarbonisation. Under the data collaboration theme, two new publications will be presented, the guidelines on port-customs collaboration, which we developed together with the World Customs Organization (WCO), and a World Bank report on port community systems, which was produced with active involvement of IAPH. We will take stock of the IMO requirement to have maritime single windows in place by 1 January next year and get first-hand experience on the implementation of innovative technologies such as digital twins. For the first time, the conference agenda features a dedicated session on the breakbulk market, which complements market outlooks on cruise and containers. Also new is a discussion on the leadership skills that are required for contemporary port executives and a series of invite-only roundtables exclusive for IAPH regular members on innovations in marine contracting, trade single windows and cyber resilience. With over eighty speakers joining us in Abu Dhabi this is just a sample of what lies in store for you. Check out the latest agenda here and register now.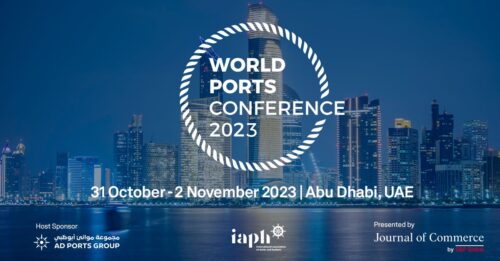 ---
Vote for your favourite #IAPH2023 sustainability projects
We are delighted to announce the opening of public voting for the finalists of this year's IAPH Sustainability Awards. The expert jury have made the tough choices of whittling 86 sustainability projects down to a final eighteen for the six categories. The sheer diversity and quality of the entries this year surpasses previous years. The wide variety of finalists applying the UN Sustainable Development Goals from all continents reflects the global contributions of projects made this year to the World Ports Sustainability Program. The voting is now open until midnight CEST on Sunday 24 September, after which the winners will be announced at the gala dinner of the IAPH 2023 World Ports Conference in Abu Dhabi on the evening of 1 November. To vote for your choices, click here. Please note that one vote only will be allowed per person and that all voters will have to vote for all six categories.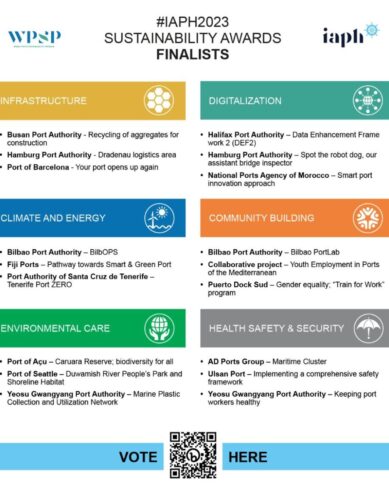 ---
September-October issue of Ports & Harbors is out
The September-October edition of Ports & Harbors is the World Ports Conference edition. For this edition we are delighted to have the cover interview with our managing director Patrick Verhoeven in conversation with Elisabeth Munck af Rosenschöld. Elisabeth heads up global sustainability for IKEA Supply Chain Operations, which recently joined IAPH as associate member. Elisabeth will also be speaking in person at our conference on 1 November on how ports can strategically look at serving beneficial cargo owners better. Also featuring in this edition: we get a Wake-up Call article from ICS' Nelson Mojarro on how countries need to work with industry and ports in planning Clean Energy Marine Hubs to tackle low-carbon fuel availability at scale, a key theme at the World Ports Conference. We also get insights from fellow conference speaker Ricardo Treviño Chapa, deputy secretary-general at the World Customs Organization on how port authorities and customs can ensure better mutual cooperation through the recent joint guidelines developed by WCO and IAPH. These guidelines will be launched at the conference. In The Column we have Satya Prasad Sayu of the World Bank Group making the direct connection between Port Community Systems, maritime decarbonisation and superior logistics performance of countries. We get a fascinating glimpse into the working day of UNCTAD's chief of the trade and logistics branch Jan Hoffmann and the results of the latest World Ports Tracker, which also now incorporates UNCTAD data. We also have a special focus on how the Norwegian maritime industry is progressing with decarbonisation and a BIMCO call to action in digitalising port calls.

---
Fifth World Ports Tracker report is published
The fifth edition of the IAPH World Ports Tracker has been published. It contains the most comprehensive situation report on economic activity provided by ports themselves, as well as by using S&P Global container market intelligence data and now, for the first time, UNCTAD's Liner Shipping Connectivity Index (LSCI), both on container trade trends. The LSCI can be considered a proxy for accessibility to global trade through the container shipping network. The higher the index, the easier it is to access a high capacity and frequency global maritime containerised freight transport system and effectively participate in international trade, especially for manufactured goods. The comparison of LSCI in the second quarter of 2023 with the same period of 2022 illustrates the significant changes that took place during the last year in sub-Saharan Africa, where new countries are emerging among the best-connected ones in the region, and the considerable LSCI improvements that occurred in South-East Asia (with some exceptions), in Latin America and the Caribbean, and the Mediterranean Sea. A report summary of this edition of the World Ports Tracker can be found in the September-October edition of Ports & Harbors. Survey respondents as well as attendees registered for the IAPH 2023 World Ports Conference are receiving a full copy of the 100-page report, prepared by our experts Theo Notteboom and Thanos Pallis, which also includes comprehensive regional analyses.
---
Welcome to Cartagena Port Authority
We are pleased to announce that Cartagena Port Authority in Spain has joined IAPH as a regular member. Cartagena Port Authority is a public body responsible for managing the port of Cartagena, located on southeastern Spain's Mediterranean coast. Its historical importance is attributed to the good harbour condition offered by the natural bay and its strategic location near the east-west Mediterranean maritime route between the Suez Canal and the Strait of Gibraltar.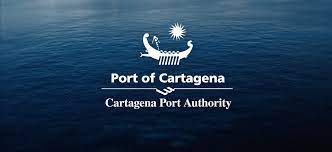 ---
In London for LISW23? Come and play Port Endeavor
In partnership with our associate members British Ports Association and TT Club, we will bring the IAPH Port Endeavor Game to London International Shipping Week on Tuesday 12 September. Featuring highlighted projects and best practices from the IAPH World Ports Sustainability Program database, players will enjoy taking decisions on sustainability challenges, how to adapt to real life events and enjoy a networking drink afterwards at the TT Club headquarters in the heart of the City of London. Places are limited to 40 people attending London International Shipping Week in person. More details can be found here. Interested IAPH members can get in touch with Rhona Macdonald: rhona.macdonald@iaphworldports.org.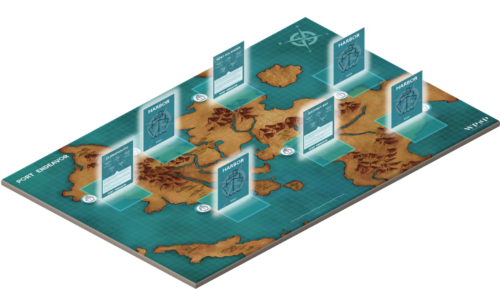 ---
Next IAPH Harbor Café on Clean Energy Marine hubs
As part of the run-up to the World Ports Conference in Abu Dhabi, all members are very welcome to join the next IAPH Harbor Café, organised by our colleagues from the Europe and Africa regions and taking place on a Teams call on 29 September at 2.30 PM CEST. The Café will focus on the recently announced Clean Energy Marine Hubs initiative launched by both IAPH and the International Chamber of Shipping (ICS) in July. The session will feature an overview by ICS' head of innovation and partnerships Nelson Mojarro who will discuss the role of ports in the production, storage, and seaborne transportation of future low and zero carbon energy on a global scale and how to de-risk investments in port infrastructure. The session will include interventions on this subject by Hamburg Port Authority, and their partnership with the Port of Halifax, as well as by Namibian Ports Authority on their ambitious plans to be part of the first movers. In addition to looking at the export of low and zero carbon fuels by tankers, the Harbor Café will also look at the bunkering of ships using new alternative fuels such as methanol and ammonia as well as existing fuels such as LNG and how ports can establish infrastructure. This will include an interview with the chair and vice-chair of the IAPH Clean Marine Fuels Working Group from the ports of Amsterdam and Rotterdam on safety tools available to all ports, as well as an update on the development of a Port Readiness Tool for new alternative fuels. If you like to participate, kindly contact Ingrid Boque at Hamburg Port Authority: ingrid.boque@hpa.hamburg.de
---
IAPH spoke at SELA conference in Chile
The Permanent Secretariat of Latin American and Caribbean Economic System (SELA) and the Development Bank of Latin America and Caribbean started in 2014 the Programme for the Creation of the Latin American and Caribbean Network of Digital and Collaborative Ports, with the objective of proposing to the region a new system of inter-institutional collaboration and specialised technical cooperation that promotes the strengthening of public policies for the national port sector and promotes the implementation of technical recommendations at the local level, in each port system. In that context, the chairman of the IAPH Data Collaboration Committee, Pascal Ollivier (Maritime Street), participated in the VIIth Latin American and Caribbean Meeting of Port Logistics Communities, which was held 22-25 August in Santiago, Chile, with a presentation on the introduction of the IMO Maritime Single Window requirement. You can download Pascal's presentation here.
---
Member Port News
In this edition's round up of member port news, you will find stories from the following IAPH members:
Africa and Europe region: Durrës Port Authority , National Ports Authority (APN) Cameroon, Autoridad Portuaria de Valencia (Port Authority of Valencia) , Port Autonome de Kribi , Port of Amsterdam , Autoritat Portuària de Barcelona , Cartagena Port Authority , Port Autonome de San Pedro , Port Authority of Vigo , Grand Port Maritime de Marseille-GPMM (Marseille Fos Port Authority) , HAROPA PORT , Autorità Portuale di Genova (Port Authority of Genoa) , Cyprus Ports Authority , JadeWeserPort Realisierungs GmbH & Co.KG , The National Ports Agency , Freeport of Riga Authority , Oslo Port Authority , The National Ports Agency (Morocco) , Ports of Cabo Verde , Gibraltar Port Authority , Port Autonome de Dakar (Dakar Port Authority) , Port of London Authority , Port of Rotterdam Authority (Havenbedrijf Rotterdam N.V.) , Autoridad Portuaria de Santa Cruz de Tenerife (Ports of Tenerife) , bremenports GmbH & Co. KG , Hamburg Port Authority , Municipality of The Hague / Port Authority & Operations Centre , Port of Helsinki Ltd , Port of Bergen , Autoridad Portuaria de Huelva , Belfast Harbour Commissioners , Port Autonome d' Abidjan (Abidjan Port Authority) , Port of Göteborg AB , Port of Antwerp-Bruges , Nigerian Ports Authority , Autoridad Portuaria de Sevilla , Autoridad Portuaria de la Bahìa de Algeciras , North Sea Port
America region: Port of Hueneme, Companhia de Intergração do Complexo Portuário do Pecém – CIPP , National Ports Administration (Uruguay) , Port of San Diego , Port of Seattle , Port of Oakland, Autoridad Marítima de Panamá (Panama Maritime Authority) , Georgia Ports Authority (GPA) , Port of Long Beach , Port of Los Angeles , Canaveral Port Authority , Montreal Port Authority , Northwest Seaport Alliance , Halifax Port Authority – Halifax, NS , Nassau Port Department
Asia and Oceania region: Incheon Port Authority , PT Pelabuhan Indonesia (Persero) , Westports Malaysia Sdn. Bhd. , Maldives Ports Limited , Philippine Ports Authority (PPA) , Subic Bay Metropolitan Authority (SBMA) , Maritime and Port Authority of Singapore (MPA), Sri Lanka Ports Authority , Port Klang Authority , Bintulu Port Authority , Northport (Malaysia) Bhd , Johor Port Authority , Marine and Water Bureau, Government of Macau, SAR , PSA International Pte Ltd , NSW Ports , Port of Brisbane Pty Ltd , Jawaharlal Nehru Port Authority , Ministry of Oceans and Fisheries, Korea , Busan Regional Office of Oceans and Fisheries , Lyttelton Port Company Ltd. , Busan Port Authority , Port & Harbour Bureau, Shimonoseki City Government , Incheon Regional Office of Oceans and Fisheries, Yokohama Port Corporation , South Port New Zealand Ltd. , Port of Hakata (Port & Airport Bureau, City of Fukuoka) , Marine Department, HKSAR , Ocean Navigation Examinations and Inland Navigation and Local Examinations, Solomon Islands Ports Authority , China Merchants Port Holdings Co Ltd , Taiwan International Ports Corp., Ltd.
---
World Maritime News
These maritime news stories made the headlines over the past two weeks:
Carrier diversification strategies called into question
Boxship orderbook remains near peak
Static inventory levels thwart hopes for demand recovery
Africa could benefit from supply chain diversification
Panama Canal seeks to reassure market
US west coast labor deal ratified
Port Houston joins Portchain's growing network for vessel arrival software
UK legislation will boost global eBL uptake, says DCSA
For details of each story, please visit the World Maritime News section on our website.
---
Calendar of Events
IAPH events and events where IAPH is represented