This edition covers:
---
This week's Insider highlight with Antonis Michail
---
IAPH presented port decarbonisation initiatives at IMO
On Monday this week, IAPH held a lunchtime session on the progress to date with the implementation of the IMO Resolution on the Voluntary Cooperation Between the Port and Shipping Sectors to Contribute to Reducing GHG Emissions from Ships, commonly referred to as the 'IMO Ports Resolution'. The session was organised as part of the deliberations of the IMO Intersessional Working Group on the Reduction of GHG Emissions from Ships (ISWG-GHG 15), which is taking place this week, ahead of the 80th IMO Marine Environment Protection Committee (MEPC 80) next week. The panel session supported the submission IAPH made to MEPC 80 on the implementation of the Ports Resolution. IAPH technical director Antonis Michail outlined the main IAPH initiatives addressing decarbonisation of shipping, highlighting the Environmental Ship Index (ESI), the Clean Marine Fuels (CMF) bunkering safety toolkit, and the ongoing joint work with the World Ports Climate Action Program (WPCAP) to develop a Port Readiness Level (PRL) tool for marine fuels. Antonis was joined by IAPH members Sandra Kilroy, senior director, environment, sustainability and engineering at the Port of Seattle and Caio Cunha, institutional relations manager at the Port of Açu, who presented the vision and ongoing initiatives of their ports on decarbonisation of shipping and energy transition in general. IAPH managing director Patrick Verhoeven chaired the session and guided the interactive Q&A discussion that followed. ESI advisory board chairman Bruce Anderson also joined the panel to address questions about the current status and progress with the future development of ESI.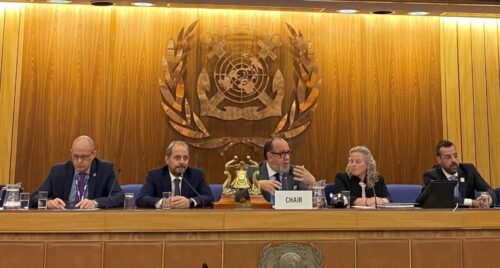 Bruce Anderson, Antonis Michail, Patrick Verhoeven, Sandra Kilroy and Caio Cunha
---
What to expect from the IMO GHG meetings?
This week IAPH is attending the 15th meeting of IMO's Intersessional Working Group on the Reduction of GHG Emissions from Ships (ISWG-GHG 15) where IMO member states are working to finalise the revision of the draft IMO GHG Strategy ahead of its adoption at the agreed deadline of the 80th meeting of the Marine Environment Protection Committee (MEPC 80) next week. Thus far, discussions have been lengthy and complex as delegations continue their efforts to reach a consensus on the levels of ambition. The strategy will also include reference to the basket of candidate mid- and long-term measures which will help the IMO achieve its overarching decarbonisation goal. The working group is discussing the various proposals on the table this week, with the aim to agree on and finalise the basket of measures, including a combined economic and technical element, to be further developed in the next phase of the work plan. IAPH is looking to next week at MEPC 80 where final decisions will be taken on the 2023 IMO GHG Strategy in what will be a landmark moment for the IMO and the global maritime sector. A full report on both meetings will be disseminated among members of the IAPH Climate and Energy Committee members once decisions are finalised.
---
World Bank report on use of carbon pricing revenue
Ahead of the IMO GHG meetings taking place this and next week, the World Bank published a new report titled 'Distributing Carbon Revenues from Shipping'. It discusses how putting a price on carbon emissions can help reduce GHG emissions and generate revenue. Estimates show that, in shipping alone, putting a price on carbon could raise 40 to 60 billion USD each year between 2025 and 2050. The report presents options for how this money could be put to work. It could be used to speed up decarbonisation in the shipping industry, which will require trillions of dollars in investment. Carbon revenues could finance and then accelerate shipping's move from fossil fuels. The report finds that there is a great need for investment in zero-carbon fuel production and in maritime infrastructure – including efficient ports – that promotes decarbonisation, provides development opportunities, reduces transport costs, and builds resilience in the face of extreme global events. Reinvesting carbon revenues into port infrastructure can help lower the costs of final delivered products – including food and other essential supplies. Ultimately, reducing time in transport can help to offset the cost of a carbon levy on shipping in developing countries. Just as importantly, the money could be used more broadly, beyond the shipping industry, to help nations and industries mitigate and adapt to climate change. Especially for countries most vulnerable to climate change, such as Small Islands Developing States (SIDS) and Least Developed Countries (LDCs), the report argues that broadening the use of revenues beyond maritime decarbonisation addresses equity concerns since very often their ability to spend within the maritime transport sector is limited. The World Bank therefore recommends that SIDS, and LDCs should get more in the way of help from carbon revenues. These countries would benefit from a dedicated portion of carbon revenues. The World Bank believes that a smartly designed distribution framework for carbon revenues can deliver on the twin goals of maximising climate benefits and ensuring an equitable transition for countries, especially for the most vulnerable.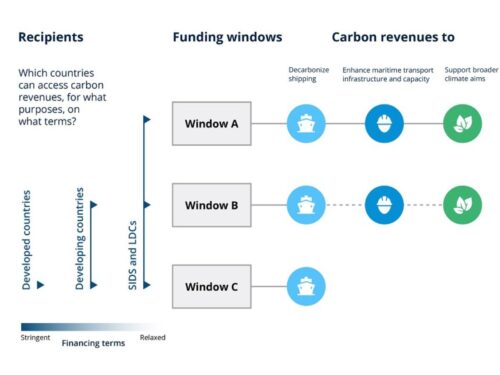 The World Bank's carbon revenue allocation scheme summarised
---
Clean Marine Fuels checklists for methanol published
The IAPH Clean Marine Fuels (CMF) working group has just completed work on developing safety tools for methanol and other alcohol-based fuels as a marine fuel with a total of seven safety bunkering checklists for both ship-to-ship and truck-to-ship transfer scenarios. The working group is chaired by Peter Alkema of the Port of Amsterdam and its safety workstream is coordinated by Cees Boon of the Port of Rotterdam, alongside leading experts from member ports. The group's experience gained over the last decade in developing IAPH liquefied gas bunker checklists for LNG has been used to create checklists for other new alternative fuels, such as liquefied biogas (LBG) and liquid hydrogen (LH2). The bunker checklists are available for use by all ports and can be downloaded from the World Ports Sustainability Program portal dedicated to the Clean Marine Fuels Working Group. The launch of the checklists coincides with the upcoming delivery and entry into service of the first methanol-fuelled feeder container ship to Maersk in the coming months, as announced in the video below.
---
WCO Council endorsed port-customs guidelines
Following well over a year's work from over 25 different authors from IAPH members and their respective customs authorities, the due diligence has been successfully concluded of the jointly developed World Customs Organization – IAPH guidelines on port-customs collaboration. The guidelines were officially endorsed at the annual WCO Council meeting in Brussels last week and will now go to proof, design, reproduction and preparation in time for its launch at the IAPH World Ports Conference this fall. We are delighted to confirm the presence of WCO Deputy Secretary General Ricardo Treviño Chapa in person at the launch in Abu Dhabi, where he will accompany our Data Collaboration Committee chairman and architect of the guidelines Pascal Ollivier in a session to explain how ports can use these guidelines to connect with their customs authorities in their respective countries. The session will take place on day one of the conference, 31 October at 14.00.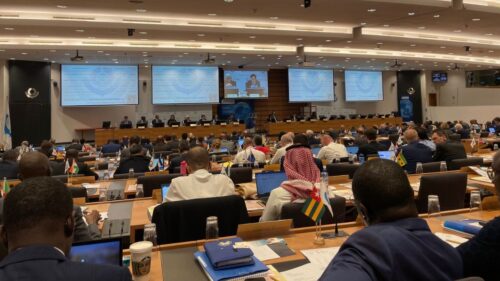 ---
EU-funded study on cybersecurity in African ports
Cybersecurity is one of the key issues facing ports, as highlighted by IAPH's recent submission on the subject presented to IMO's recent Maritime Safety Committee. An EU-funded study has been published by the NGO RUSI Europe with specific focus on connectivity between Europe and West African countries. The study 'Cybersecurity in Maritime Critical Infrastructure – Reflection on African Ports' can be downloaded here. It includes a very useful questionnaire ports can use anywhere to conduct a self-assessment on its level of maturity in cybersecurity practices, which compliments the IMO-recognised guidelines developed by IAPH for ports in this sphere of security.
---
Jens Meier IAPH president-elect for 2023-2025
IAPH regular and honorary members voted this month to elect Jens Meier, CEO of Hamburg Port Authority, Germany as the president of IAPH for a two-year mandate, commencing in November this year. Jens Meier has been vice-president for the Europe region since 2019. He will succeed Capt. Subramaniam Karuppiah, general manager at the Port Klang Authority, who has been at the helm of the organisation since 2021. The official transition will take place during the 2023 World Ports Conference. At the Annual General Meeting in Abu Dhabi this year, regular and honorary members will first have to endorse the process and outcome of the election by vote.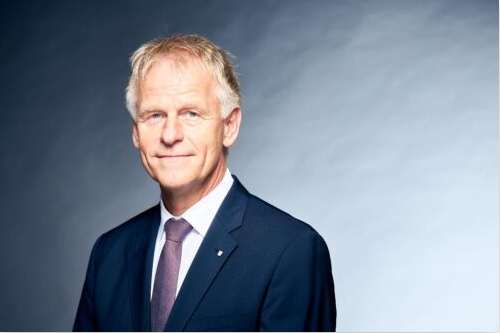 ---
IAPH Board meeting held 23 June
IAPH Board members met online on 23 June. The main items on the agenda were related to the implementation of the benchmark report that was produced earlier this year, comparing IAPH's organisational structure and financial performance with a peer group of international and regional associations of shipping companies and port authorities. Board members discussed the business mapping process prepared by the IAPH management team as part of the implementation plan and adopted a new organisation chart, which integrates staff deployed in Japan and Europe, under the co-leadership of the managing director and secretary-general. Members were further presented with the results of the recently held membership survey, which featured both an online questionnaire and a series of interviews. The recommendations emanating from the survey will be used to review IAPH's value proposition and strategic priorities and provide input to the organisation's work programme. Board members further discussed quarterly reports on the budget, membership, ESI and the work programme, alongside preparations for the World Ports Conference. The next Board meeting will be held in Abu Dhabi, on the afternoon of Monday 30 October, prior to the conference. A meeting of the IAPH Council is also scheduled for that afternoon.
---
Sector focus sessions at 2023 World Ports Conference
Next to strategic and technical sessions on energy transition, data collaboration and resilience, also covering sustainability, leadership and governance, the agenda of this year's IAPH World Ports Conference includes dedicated sector focuses on cruise, breakbulk and containers. The breakbulk session is scheduled for the afternoon of Tuesday 31 October and will be chaired by Janet Nodar, senior editor breakbulk, project and heavy lift shipping at the Journal of Commerce (JOC). With panellists Stephany Schooley (Petrofac), Denis Bandura (BBC Chartering) and Steffen Behrens (Deugro Emirates Shipping) she will be discussing the long-term outlook for breakbulk and project cargo demand and what ports and other service providers need to know about the factors shaping this unique shipping segment. The cruise session follows in the same afternoon, moderated by Edwin Lampert, executive editor at Riviera Media. Panellists are Marie-Caroline Laurent (CLIA), Barbara Buczek (Cruise Saudi), and Simone Maraschi (Cruise Gate Hamburg), who also chairs the IAPH Cruise Committee. The cruise session will explore how ports can support cruise shipping in established and emerging locations in terms of emissions reductions, health and safety, local community outreach and digitalisation. The container session is scheduled for the morning of Thursday 2 November and will be chaired by James Baker, editor containers at Lloyd's List. With panellists being confirmed, the container port economic outlook will address the implications of geopolitics, sourcing trends, emissions regulations and the breakup of shipping alliances. Registration can be done via the conference website, where you will also find information on recommended hotels with discounted rates.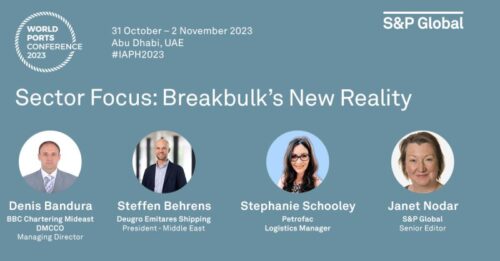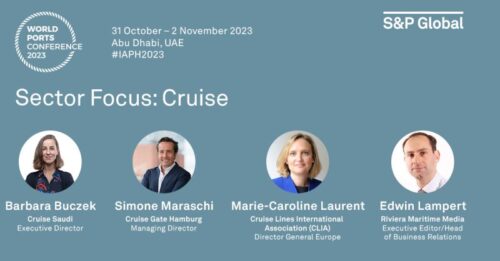 ---
You can still join today's Harbor Café on ESI
The latest IAPH Harbor Café for the Africa and Europe regions will take place online in a couple of hours at 11 CEST and will focus on implementing vessel calculation tools and port incentive schemes to reduce emissions at ports. It will feature experts from our IAPH Environmental Ship Index incentive scheme, all of whom have been involved in implementing the Index for over a decade, including the ports of Rotterdam, Hamburg and Amsterdam. African ports have yet to look at adopting the index and are most welcome to join. For people outside Europe and Africa regions who have not registered for the event, you can make a late request to ingrid.boque@hpa.hamburg.de to chat over a beverage.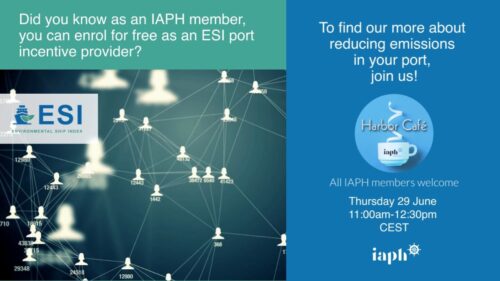 ---
WMU conference on maritime decarbonisation
The World Maritime University (WMU), an IAPH associate member, has announced their forthcoming conference 'MARPOL at 50 – our commitment goes on: Maritime Decarbonisation', set to take place in the city of Malmö, Sweden on 30 and 31 August. The event aims to bring together industry leaders, policymakers, researchers, and innovators to explore the challenges and opportunities associated with the transition towards sustainable energy in port operations. With a diverse range of speakers, which includes IAPH's policy and IMO liaison officer Rhona Macdonald, and interactive sessions, attendees can expect engaging discussions on topics such as energy transition technologies, policy and legislation, in addition to pathways of implementation and business models. The conference offers a unique platform for networking, knowledge exchange, and collaborative efforts, ultimately driving the transformation of ports into hubs of clean and resilient energy systems. On the second day of the conference, WMU is offering a hybrid participation option for those who are unable to attend in person. More information is available from the WMU website and registration can be done via this event link.

---
Member Port News
In this edition's round up of member port news, you will find stories from the following IAPH members:
Africa and Europe region: Baku International Sea Trade Port, Oslo Port Authority, Autoridad Portuaria de la Bahìa de Algeciras, HAROPA Port, Nigerian Ports Authority, Freeport of Riga Authority, North Sea Port, Port of Antwerp-Bruges, Port Autonome d' Abidjan (Abidjan Port Authority, Autoridad Portuaria de Huelva, Autoridad Portuaria de Santa Cruz de Tenerife, North Tyrrhenian Port Network Authority, Ports of Cabo Verde, Administração dos Portos de Sines e do Algarve, Belfast Harbour Commissioners, Cyprus Ports Authority, Hamburg Port Authority, Port of Rotterdam Authority, Port of London Authority, Municipality of The Hague, North Tyrrhenian Port Network Authority, Port of Bergen, Autoridad Portuaria de Valencia, National Ports Agency Morocco, Autoridad Portuaria de Bilbao, Autoridad Portuaria de Sevilla

America region: Georgia Ports Authority, Port of Seattle, Halifax Port Authority, Northwest Seaport Alliance, Port of Long Beach, Port of San Diego, Companhia de Intergração do Complexo Portuário do Pecém, Port of Los Angeles, Autoridad Marítima de Panamá, National Ports Administration Uruguay, Port Saint John, Kuantan Port Authority, Port Authority of the Cayman Islands, Canaveral Port Authority, Port of Hueneme

Asia and Oceania region: Northport Malaysia, Bintulu Port, Incheon Regional Office of Oceans and Fisheries, Port of Brisbane, DP World, Philippine Ports Authority, Yeosu Gwangyang Port Authority, Solomon Islands Ports Authority, Ulsan Port Authority, Lyttelton Port Company, Ministry of Oceans and Fisheries, Subic Bay Metropolitan Authority, Chittagong Port Authority, Incheon Port Authority, NSW Ports, Sri Lanka Ports Authority, Busan Port Authority, Jawaharlal Nehru Port Authority, Busan Regional Office of Oceans and Fisheries, Marine and Water Bureau Macau, PT Pelabuhan Indonesia, Port & Harbour Bureau Shimonoseki City Government, Incheon Port Authority
Check out the full line up on our Member Port News page.
---
World Maritime News
These maritime news stories made the headlines over the past two weeks:
Topics on the container shipping market
HHLA and Cosco finalize stake buy in Hamburg terminal
ILWU and PMA announce tentative agreement on new west coast labor contract
Port cooperation can reduce infrastructure investment
Delaying IMO action will increase decarbonisation costs and fragmented risk regulation
EU needs €13bn to achieve 5% renewable marine fuels by 2030
EU to set obligations for fuel suppliers to produce renewable fuels
Speed reduction, wind propulsion and green fuels could halve ship emissions by 2030
Topics on shipping lines' decarbonization.
Maersk's bio-methanol supplier expects rising demand from shipping
World Bank: carbon revenues to be distributed beyond maritime for equitable transition
For details of each story, please visit the World Maritime News section on our website.
---
Calendar of Events
IAPH events and events where IAPH is represented