This edition covers:
---
This week's Insider highlight with Patrick Verhoeven
---
Member Survey 2023: shape the future of IAPH!
We are pleased to announce the launch of our latest Member Survey. As IAPH team we want to provide the very best in services, information and networking opportunities to our members during a period of unprecedented social and technological change. With this goal in mind, we are surveying our membership to find out how we can shape our offerings and our strategy into 2024 and beyond. IAPH is your member association: please take this short survey and provide us with feedback on your experience of IAPH communications, events, products and services. The survey also seeks the strategic insights of port authorities and operators on the topic of sustainability. The survey is open to both regular and associate members and we are happy to receive more than one response per member as it is the personal experience of your interaction with us that matters. We look forward to receiving your candid feedback, which will be invaluable in shaping the future of our organisation. If you have any challenges receiving or completing the survey, please contact IAPH coordination & support manager Fabienne Van Loo: fabienne.vanloo@iaphworldports.org
---
Last call for entries IAPH Sustainability Awards
We invite IAPH regular as well as associate members working in partnership with member ports to submit their latest sustainability projects to us online by 26 May. By so doing your project will qualify automatically for the IAPH 2023 Sustainability Awards, with winners to be announced at the prestigious gala awards dinner to be held at this year's IAPH World Ports Conference in Abu Dhabi on 1 November. All approved projects will join the IAPH World Ports Sustainability online database, which currently counts 237 projects from 109 ports in 47 different countries. They will also be showcased on IAPH's social media channels and endorsed infographics will be shared with candidates for their own newsletters, social channels and websites. This year, there will be six categories, judged by an independent committee of industry experts. The 18 finalists will then be submitted to the public for a vote. For more information check the front page of the WPSP website as well as this instructive video, where IAPH technical director Antonis Michail explains how easy it is to submit your projects.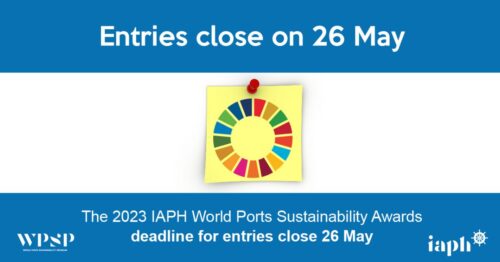 ---
IAPH provides sustainability training to Peruvian ports
Following an invitation from the National Port Authority of Peru (Autoridad Portuaria National – APN), IAPH joined forces with UNCTAD TrainForTrade to deliver a two-day sustainability training workshop to eighty port professionals from several Peruvian ports and terminals. The initiative aligns with the central mission of the World Ports Sustainability Program (WPSP) and serves APN's ambition to develop a national plan for the integration of the UN Sustainable Development Goals (SDGs) in the Peruvian ports, as explained by APN president, Manuel Hinojosa who opened the workshop. IAPH technical director Antonis Michail co-designed and delivered the programme in Lima on 4 and 5 May, together with UNCTAD TrainForTrade knowledge management officer Gonzalo Ayala and assistant general manager captain Adrian Minni of our newest member Puerto de Dock Sud from Argentina. Participants were introduced to the UN SDGs and the main sustainability initiatives under IAPH and WPSP. They experienced a Port Endeavor game training session, learned from practices of front runner ports in the region, and worked in groups for developing port policies and projects targeting the different SDGs as part of a dedicated practical exercise. The highly positive feedback received from the participants confirmed once again the realistic look and feel of Port Endeavor as a training tool, making use of real port case studies based on the content of the WPSP database of projects. With Port Endeavor, IAPH makes a significant contribution to capacity building on sustainability and integrating the SDGs in port governance. If you are interested in organising a Port Endeavor training session in your port or region, please contact Antonis Michail: antonis.michail@iaphworldports.org.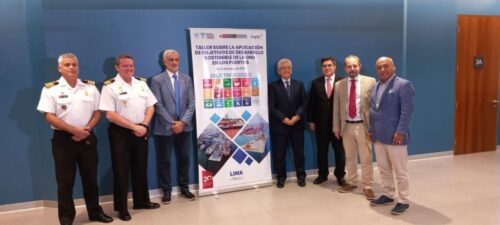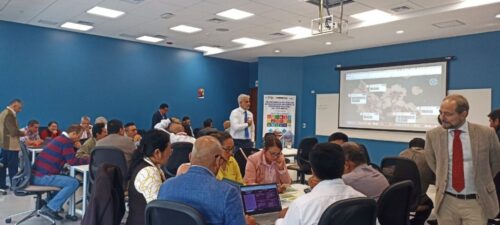 ---
Third APEC-CMAT-IAPH port strategy course completed
The International Port Strategy course, which we organised for the third year with our associate members APEC Port Training and C-MAT, was completed last week Friday with a graduation ceremony held at the campus of the Antwerp Management School. Port professionals from Brazil, Cambodia, Chile, China, Ghana, Indonesia, Jordan, Lithuania, Oman, Senegal, Thailand and Uruguay followed a rigorous four-week online session with renowned international speakers, followed by a week of onsite visits to the wider port area of Antwerp and Zeebrugge for a hands-on experience. Throughout the online sessions, participants were exposed to a wide range of topics that aimed to deepen their understanding of the global port industry. These topics were discussed in different models included global macroeconomic and geopolitical shifts, reflections on climate change, energy transition, and sustainability, as well as changes in the global supply chain. The programme also covered regional evolutions in port development and port management and strategy, providing the participants with a comprehensive and holistic understanding of the industry. The week-long visit to the Port of Antwerp-Bruges complex was a crucial component. It offered the participants a rare opportunity to witness first-hand the operations and processes of the various actors in the supply chain. Additionally, the WPSP Port Endeavour game allowed participants to put their learnings into practice and gain valuable insights on how to adapt the UN Sustainable Development Goals into port development projects. Overall, participants were equipped with valuable skills, knowledge, and insights that they can apply to their respective organisations and the global port industry. Congratulations to all graduates of the course and we wish them all the best!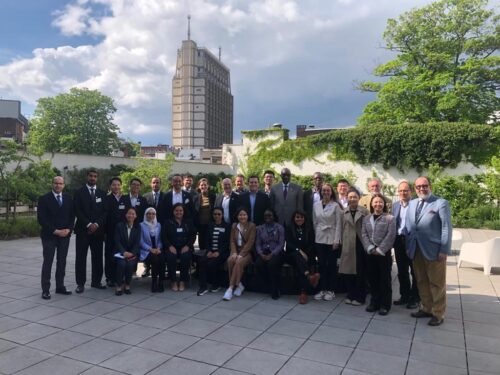 ---
IAPH contributed to Seatrade Global Ports Report 2023
Published ahead of TOC Europe 2023, the Seatrade Maritime Global Ports Report 2023 reveals how international ports are actively laying the groundwork for the green energy transition, addressing emissions and investing in infrastructure to support growing green energy industries. However, the question of who bears the cost of this transition remains a struggle for ports as they grapple with the shared responsibility of addressing climate change. The report contains contributions from IAPH communications director Victor Shieh as well as from several IAPH regular and associate members, IMO and BIMCO. It covers how global ports are demonstrating their growing sense of social awareness and responsibility, leading them to account for their impact on the local environment and neighbouring communities, both on land and under the water. Diversity and inclusion are continuing to gain prominence in port boardrooms, with an increasing emphasis on ensuring diverse voices are heard regarding the challenges and opportunities facing ports. Meanwhile, ports confirm that enlarged data streams are supporting trend analysis and decision-making across global operations, aided by a supportive environment for port technology developers and start-ups. You can read the report online here. IAPH communications director Victor Shieh will, together with Carolien De Vries from APEC Port Training, present a demonstration of the Port Endeavor game at TOC Europe on 15 June at 11.30 CET in the sustainability theatre.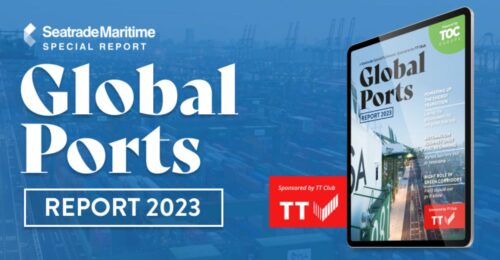 ---
IAPH cybersecurity submission for IMO MSC 107
The forthcoming 107th meeting of the IMO Maritime Safety Committee (MSC 107) is due to take place from 31 May to 9 June 20 in London. As part of the work programme, the Committee is expected to discuss steps to enhance maritime cybersecurity which includes a submission made by IAPH highlighting the critical importance of cybersecurity as an inherent component of the Maritime Single Window (MSW) and all developments of digital infrastructure in ports and maritime transport. As well as urging Member States to integrate cybersecurity in the implementation and operation of a mandatory MSW, the paper calls for capacity-building and cooperation in supporting states to do so by the deadline of 1 January 2024. Furthermore, IAPH also outlines its support for another submission made by Australia et al. proposing a new output to consider a comprehensive review of the 2017 Guidelines on Maritime Cyber Risk Management and to identify possible next steps to enhance maritime cybersecurity. The co-sponsors of this paper are of the view that such a review will provide a more uniform approach to demands on cyber risk management, further promote a culture of cybersecurity in the maritime domain, and overall enhance cyber resilience and protect global supply chains. Attending MSC as part of the IAPH delegation will be Rhona Macdonald, Antonis Michail, Pascal Ollivier and Frans Van Zoelen. We will be following discussions on the topic and will report on the outcomes in due course.
---
IMO NCSR 10: IAPH supports proposal on ship route plans
The 10th meeting of the IMO Sub-Committee on Navigation, Communications and Search and Rescue (NCSR 10) has been taking place over the course of the last week and closes this Friday 19 May. The key item of note is a joint submission made by numerous European countries and co-sponsored by IAPH, IHMA and IPCSA proposing amendments to the Electronic Chart Display and Information Systems (ECDIS) performance standards to facilitate a standardised digital exchange of ship's route plans. The proposal suggests a standardised and cyber-secure method for route exchange from ship-to-shore and from shore-to-ship to be added as an additional functionality in ECDIS to increase safety, reduce administrative burden and improve efficiency of operations, as well as reduce the environmental impact. The paper proposes that the Sub-Committee consider and finalise the draft amendments to the resolution and submit draft amendments to MSC 108 for adoption. Thus far, discussions have been held as part of a parallel working group that will report back to plenary this Friday, however, it can be expected that such proposed amendments will be agreed and finalised by the Sub-Committee at this session.
---
IMO publishes videos on Carbon Intensity Indicator
Maritime administration personnel, shipowners and operators can get to grips with the mandatory Carbon Intensity Indicator (CII) through a new series of videos. The videos, developed by the Global Industry Alliance to Support Low Carbon Shipping (Low Carbon GIA), provide an introduction to IMO's CII requirements and how to navigate them. The videos – free to access online – are between five and 20 minutes in duration and cover an introduction to CII, CII guidelines, a worked example, DCS (Data Collection System) and SEEMP (Ship Energy Efficiency Management Plan) as well as certification and verification. Included in the videos is a worked example of how a ship's CII is calculated and converted into its CII rating. Other topics covered include data collection, certification and compliance, and the amending of a SEEMP. You can watch the CII video series here. The CII regulation is mandatory under MARPOL Annex VI and took effect in January 2023 as part of IMO's short-term GHG reduction measure. The CII rating reflects the operational energy efficiency of ships and is mandatory for ships of 5,000 gross tonnage and above. The actual annual operational CII achieved must be documented and verified against the required annual operational CII. This enables the operational carbon intensity rating to be determined. Based on a ship's CII, its carbon intensity will be rated A, B, C, D or E (where A is the best). The video series was developed under the Energy efficiency technologies (EETs) and operational best practices workstream of the Low Carbon GIA. Find out more about the mandatory EEXI and CII measures here.
---
Welcome to new members
We are pleased to welcome a new regular member from Argentina, and new associate members from Morocco and Canada. Consorcio de Gestión del Puerto de Dock Sud is a non-state public entity, operating with its own economic and financial resources to administer, utilise and manage the various terminals and land-based infrastructure where it is located in the municipality of Avellaneda, Province of Buenos Aires, in the outer perimeter zone of the autonomous city of Buenos Aires. Puerto Dock Sud includes a major container terminal operated by Exolgan, a petrochemical cluster with various operators, a dry bulk terminal and a multi-purpose cargo terminal. It aims to be an efficient, competitive, equitable logistics platform that is committed to the community and a key link in the logistics chain of international trade for the region. Tanger Med Engineering (TME) is a consulting, engineering, and project management company that operates in the maritime and port sectors, industry, and logistics. TME, established in 2008, supports the development of the Tanger Med port complex and capitalises on one of the most strategic projects in the history of Morocco. Xanatos Marine manufactures port-related products such as vessel traffic systems, coastal surveillance and port information management systems. It focuses on delivering customised maritime domain awareness solutions to enhance safety, security, and environmental stewardship by providing a user-friendly, precise sensor-integrated display.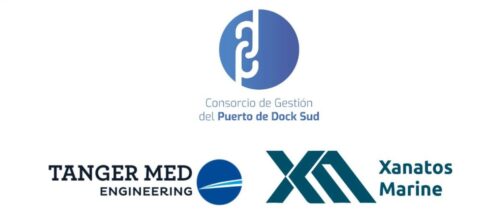 ---
IAPH attended annual luncheon British Ports Association
The British Ports Association (BPA) held its annual luncheon on Tuesday this week. IAPH managing director Patrick Verhoeven was invited to attend the gathering of the British ports' community, which is traditionally celebrated every year at the historical Drapers' Hall in the City of London. Principal guests this year were Baroness Vere of Norbiton, Parliamentary Under Secretary of State at the Department of Transport, responsible for ports and shipping, and Penny Mordaunt MP, Lord President of the Council and Leader of the House of Commons. At the AGM held prior to the luncheon, BPA members elected Mike Sellers as their new chairman. Mike has spent over 30 years in the ports industry, holding a range of operational and commercial managerial roles across the UK. He currently is port director at Portsmouth International Port, a post he held for the last six years. BPA is a long-standing associate member of IAPH and since 2021 we have a shared staff agreement with Rhona Macdonald working as policy and IMO liaison officer for IAPH out of the BPA offices in central London.
Patrick Verhoeven and Penny Mordaunt MP
---
Alistair Gale leaves Port of London Authority
During his visit to London this week, IAPH managing director Patrick Verhoeven met with Alistair Gale on one of his last days as corporate affairs director at the Port of London Authority. We are most grateful for Alistair's support and engagement with IAPH which effectively reinvigorated our 'special relationship' with the port of London, which goes back to 1965, the year London hosted the World Ports Conference for the first time. We wish Alistair all the best in his new role, leading the UK Flour Millers and we are confident our paths will cross again very soon!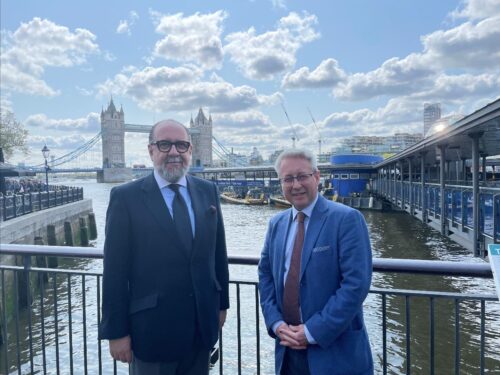 ---
#IAPH2023 highlight: Sustainability Awards Gala Dinner
Registered attendees of the IAPH 2023 World Ports Conference will secure an exclusive seat at a table of the prestigious IAPH Sustainability Awards Gala Dinner on the evening of Wednesday 1 November. The Gala Dinner offers a combination of unmatched networking opportunities with C-level global port and terminal executives, with the award ceremony recognising stand-out sustainability projects from the port and maritime industry. Register today to secure the lowest prices available. Early Bird pricing ends on 20 May 2023. Click here to learn more about the vast networking opportunities at the IAPH 2023 World Ports Conference including the gala dinner and Sustainability Awards.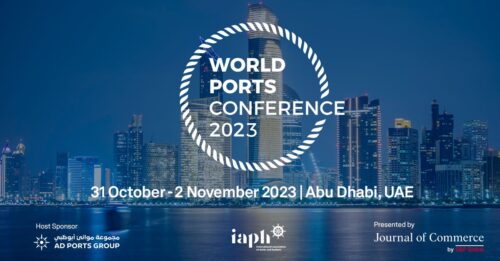 ---
Member Port News
In this edition's round up of member port news, you will find stories from the following IAPH members:
Africa and Europe region: Port Autonome de Lomé, Bulgarian Ports Infrastructure Company, Port Autonome d' Abidjan, Port Authority of Vigo, National Ports Agency Morocco, Administração dos Portos de Sines e do Algarve, Autoridad Portuaria de Bilbao, HAROPA Port, Hamburg Port Authority, Nigerian Ports Authority, Autorità Portuale di Genova, Grand Port Maritime de Marseille, JadeWeserPort, Port of Bergen, Autoridad Portuaria de Huelva, Ghana Ports and Harbours Authority, Port of Antwerp-Bruges, Port of Rotterdam Authority, bremenports, Port of Amsterdam, Baku International Sea Trade Port, Belfast Harbour Commissioners, Ports of Cabo Verde, Freeport of Riga Authority, Oslo Port Authority, Port of Helsinki, Port of London Authority, Autoridad Portuaria de Valencia, Autoridad Portuaria de Sevilla, North Sea Port
America region: Consorcio de Gestión del Puerto Dock Sud, Vancouver Fraser Port Authority, Autoridad Marítima de Panamá, Montreal Port Authority, Port of Los Angeles, Port of Hueneme, Port of Long Beach, Port of San Diego, Port of Long Beach, Companhia de Intergração do Complexo Portuário do Pecém, Canaveral Port Authority, Georgia Ports Authority, Port of Seattle, National Ports Administration Uruguay
Asia and Oceania region: NSW Ports, PSA International, South Port New Zealand, Yeosu Gwangyang Port Authority, Philippine Ports Authority, Marine Department Hong Kong, Solomon Islands Ports Authority, Subic Bay Metropolitan Authority, Ulsan Port Authority, Westports Malaysia, PT Pelabuhan Indonesia, Busan Regional Office of Oceans and Fisheries, Gladstone Ports Corporation, Incheon Port Authority, Incheon Regional Office of Oceans and Fisheries, Ministry of Oceans and Fisheries Korea, Incheon Port Authority
Check out the full line up on our Member Port News page.
---
World Maritime News
These maritime news stories made the headlines over the past two weeks:
US imports to remain 'well below' 2022 levels most of the year
Asia-Med container volumes hit four-year high in March: CTS
Ocean carriers face two years of excess vessel capacity: Hapag-Lloyd CEO
FMC complaint refunds surpass $1m
Germany greenlights Cosco investment in Hamburg despite security concerns
LNG and methanol vessel orders were picked up in April
CEVA Logistics shifts into vessel operations with ro-ro new buildings
For details of each story, please visit the World Maritime News section on our website.
---
Calendar of Events
IAPH events and events where IAPH is represented