---
This week's Insider highlight with Patrick Verhoeven
---
Registration #IAPH2023 is open with live agenda
Registration for the IAPH 2023 World Ports Conference is now open with a live agenda, including more than 30 confirmed speakers already. The conference will be held in Abu Dhabi, UAE, from 31 October till 2 November, organised in partnership with AD Ports Group and S&P Global. Under the theme 'Reinventing Ports', the conference agenda will give ports new ideas for business opportunities through reinvention, evolution and collaboration. The agenda combines strategic discussions on energy transition, cargo owner perspectives on supply chain resilience, new ideas on governance and port authority leadership with practical, hands-on sessions that will also showcase the varied IAPH sustainability toolbox for ports. The conference further features market outlooks on breakbulk, cruise and containers, as well as exclusive innovation roundtables. Early bird rates are available till 20 May, so make sure you book your seats early. IAPH members should contact the Events Help Desk to validate their membership and receive their discount code.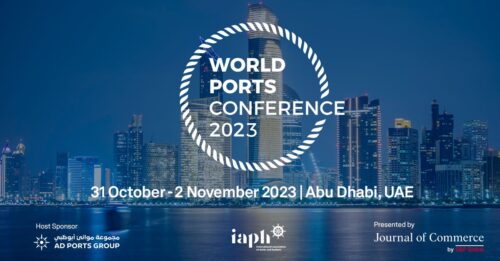 ---
IKEA Supply Chain Operations joins as associate member
We are pleased that IKEA Supply Chain Operations is the first major cargo owner to join IAPH as associate member. IKEA Supply Chain Operations is responsible for the supply of home-furnishing products by procuring, developing and operating all transport and logistics capacities in the IKEA supply chain across land and ocean. One of the key objectives of the ports function at IKEA Supply Chain Operations is to work closely together with port stakeholders to get a better understanding of total transport flows end-to-end, in which port operations play a significant role. It's about utilising existing know-how to identify opportunities for future development and to influence positive sustainability movements.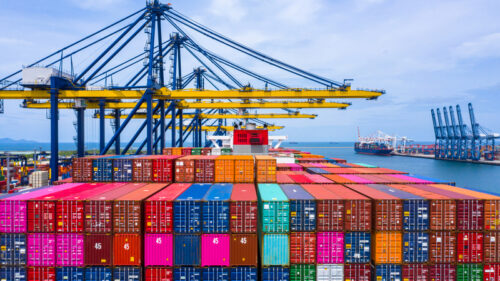 ---
IAPH Tracker points towards end of supply chain crunch
Last week Thursday saw the release of the latest IAPH World Ports Tracker report to ports participating in the survey. Professors Theo Notteboom and Thanos Pallis of the IAPH Risk and Resilience Committee compiled a detailed 85-page analysis from the responses of 77 ports from eight port regions covering the world. The main highlights pointed towards the end of the global supply chain crunch, a significant fall in vessel call sizes in most regions, the continued resurgence of both cruise and passenger ferry markets and the interesting pattern of global and regional investment planning and land use. With annual questions posed to responding ports on this last, crucial subject, the results revealed a positive investment sentiment among ports. Planned investments – also on sustainability – are either proceeding ahead or are only slightly delayed due to the pandemic in most cases. Land use plans are also promising, with 42% of the responding ports intending to devote more land to logistics and distribution service activities and 31% of ports planning on using land for non-fossil energy production. The full report with a detailed analysis was made available to ports that shared their data through the survey. For a synopsis of the results, check out the Q4 2022 dashboards here. The next World Ports Tracker survey outreach will occur mid-May. If your port is interested to share its data (and receive a full analysis report in return), please contact Fabienne Van Loo at fabienne.vanloo@iaphworldports.org.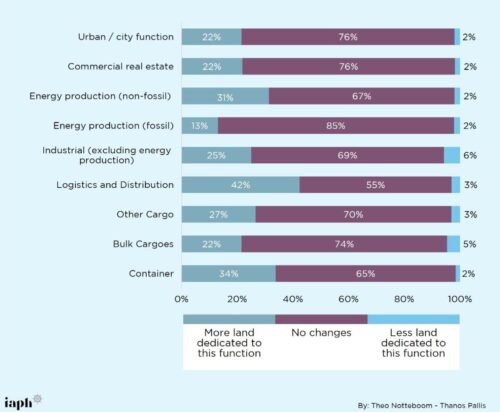 Indication of major changes in port land use planning in 2023
---
IMO consensus on revised GHG strategy still remote
The 14th session of the IMO's Intersessional Working Group on GHG Emissions (ISWG-GHG 14) took place from 20 to 24 March. Representing the IAPH delegation were IAPH policy and IMO liaison officer Rhona Macdonald, Bruce Anderson (Starcrest) and Peter Mollema (Port of Rotterdam, chair of the IAPH Climate and Energy Committee), all attending in person. The working group chair initiated the meeting by reminding delegations of the purpose and importance of the work ahead to finalise the revised IMO GHG Strategy by the deadline of MEPC 80 in July this year. Discussions endeavoured to finalise the elements of the revision. On the levels of ambition, the working group considered various proposals relating to the phase-out date and 2050 targets, along with early action by 2030 and additional interim milestones for 2040. Although no concrete decisions were made on this item, considerable attention was paid to a potential net zero target for 2050. The topic was met with continued diverging views, including from the UK and Sweden, who emphasised the risk of such a target resulting in out-of-sector offsetting which should be strictly avoided. Overall, there was evidence of a willingness to compromise. Nonetheless, significant work is still required to reach a consensus by the given deadline. On the development of mid- and long-term measures as part of the agreed work plan, a submission from Angola, Argentina, UAE and others proposed a preliminary comparative analysis of candidate measures and their possible combinations to better evaluate the feasibility, effectiveness and impacts on states of the proposals. Many were however opposed to such a study, expressing concerns that this would further delay the process to finalise the measures under Phase III of the work plan. To reach a compromise, the working group agreed to establish a dedicated ad-hoc expert workshop making a comparative analysis of the candidate mid-term measures to take place ahead of ISWG-GHG 15. This group will be tasked with carrying out a review of the technical and economic elements to serve as a building block for further discussion. The next meeting of ISWG-GHG 15 is due to take place from 26-30 June before MEPC 80 which is due to take place from 3-7 July.
---
Port of Nagoya joins ESI programme
This week, we welcomed the Nagoya Port Authority as a new incentive provider to the IAPH Environmental Ship Index (ESI) programme. The port of Nagoya is the number one port in Japan in terms of cargo volume, especially renowned for exporting cars, and called by various ship types, including container vessels, car carriers, tankers and roro ferries. Starting from 1 April, those ships with ESI scores of 30 and above will enjoy a 15% discount in the port dues. The decision to join ESI features in the 'Carbon Neutral Port Creation Plan' of the port authority. The plan includes enhanced incentives for environmentally friendly vessels as a measure to improve the competitiveness of the port and its industrial location. More details on the incentive scheme are available from the port authority's website. Since this year, participation in the ESI programme is free of charge for IAPH members, the annual fee being covered by the membership fee. An overview of current ESI incentive providers can be found on the ESI website. IAPH members interested to join the ESI scheme are invited to contact Takeshi Suzuki at t_suzuki@iaphworldports.org.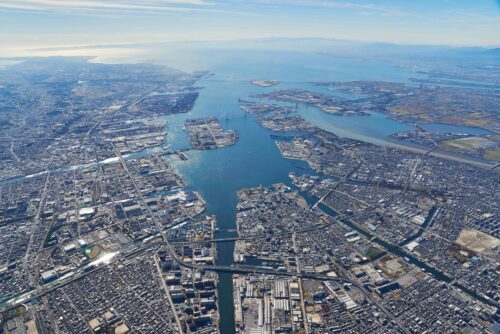 ©Nagoya Port Authority
---
Enter your projects for the IAPH Sustainability Awards
We invite IAPH regular as well as associate members working in partnership with member ports to submit their latest sustainability projects to us online by 26 May. By so doing your project will qualify automatically for the IAPH 2023 Sustainability Awards, with winners to be announced at the prestigious gala awards dinner to be held at this year's IAPH World Ports Conference in Abu Dhabi on 1 November. All approved projects will join the IAPH World Ports Sustainability online database, which currently counts 237 projects from 109 ports in 47 different countries. They will also be showcased on IAPH's social media channels and endorsed infographics will be shared with candidates for their own newsletters, social channels and websites. This year, there will be six categories, judged by an independent committee of industry experts. The 18 finalists will then be submitted to the public for a vote. For more information check the front page of the WPSP website as well as the video below, where IAPH technical director Antonis Michail explains how easy it is to submit your projects.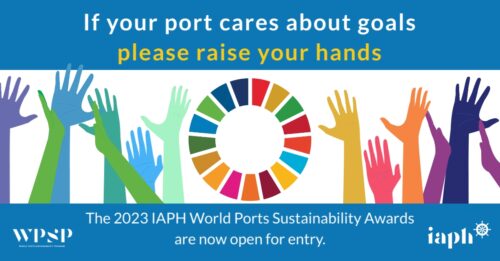 ---
Last call for the IAPH Technical Committee Days
The IAPH Technical Committee Days will be held 18-20 April at the offices of the International Chamber of Shipping in London. The schedule features dedicated sessions on specific themes of the IAPH work programme. Rather than having the traditional, separate meeting agendas, we aim to stimulate dialogue between the committees and their members during the days, both in plenary and break-out sessions. On the last day, each committee will have a dedicated meeting slot to decide on action points and set its own agenda going forward. Guests from IMO, ICS, World Bank and other partner organisations have confirmed their attendance. The programme also includes evening receptions on Tuesday and Wednesday, which are kindly hosted by our members the Port of London Authority and TT Club. We have almost reached full capacity. Technical Committee members who still want to attend should notify Takeshi Suzuki by this Friday 7 April close of business: t_suzuki@iaphworldports.org. The detailed agenda for all sessions will be sent to confirmed delegates next week.
---
Next Africa-Europe Harbor Café on 25 April
The second IAPH Regional Café of 2023 will be hosted by IAPH vice-presidents Michael Luguje (Ghana Ports & Harbours Authority) and Jens Meier (Hamburg Port Authority) on 25 April at 09.00 AM CEST and will be an interactive conversation on how to deploy practical tools to ease long-term port congestion and emissions. Speakers will include the chairman of the International Taskforce Port Call Optimization, Capt. Ben Van Scherpenzeel, Astrid Dispert from the IMO-Norway GreenVoyage2050 project, Slavia Jumelet of the Digital Container Shipping Association and Hamburg Port Authority's Phantian Zuesongdham. For IAPH regular and associate members interested in taking part from outside these two regions, please email ingrid.boque@hpa.hamburg.de.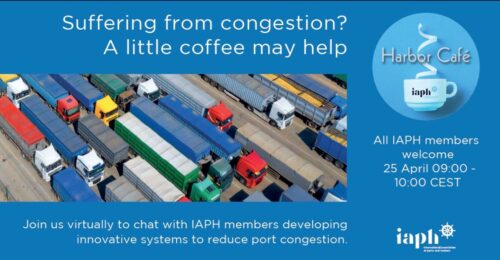 ---
Africa port digitalisation diagnosis kicks off
We were delighted to bring the African ports community together online last week Thursday, when IAPH members as well as additional ports from the Port Management Association of West and Central Africa (PMAWCA), Port Management Association of Eastern and Southern Africa (PMAESA), the Indian Ocean Ports Association and the Union of Port Authorities of North Africa attended the kick-off of the project 'Port digitalisation: diagnostic of the status of current IT systems and policy impediments in African ports'. Eighty African port representatives listening in English, French and Portuguese heard opening remarks from the main sponsors of the project, namely the World Bank Group, the African Union, the Africa Transport Policy Program and IAPH's vice-president for Africa, Michael Luguje as well as from the secretaries-general of all the associations. Mark Wootton of Royal Haskoning DHV then explained the initial project remit which will cover 39 ports from 31 countries of the African continent, with IAPH Data Collaboration Committee chairman Pascal Ollivier and IAPH communications director Victor Shieh moderating a very engaged and interactive chat and Q&A. The project will combine online surveys with on-site meetings at the ports. The work is also a follow up of the joint IAPH-World Bank ClosingTheGaps exercise which identified digitalisation as a key area to improve overall global port infrastructure, especially in regions such as Africa.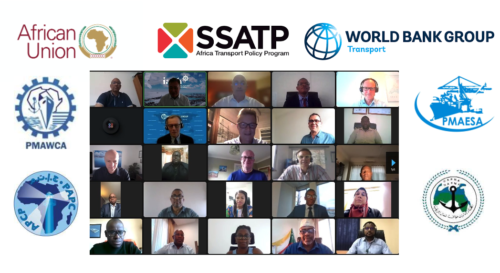 ---
Port Endeavor travelled to Argentina
On 22 March, IAPH technical director Antonis Michail and UNCTAD TrainForTrade knowledge management officer Gonzalo Ayala joined forces to deliver a Port Endeavor training session in Buenos Aires for 25 employees of the Argentinian Administración General de Puertos (AGP) and the port of Buenos Aires. This was the second time that the new Port Endeavor hybrid platform was used and tested, again with very positive results. Participants' testimonials confirmed once again the positive contribution of Port Endeavor in assisting port managers making the link between the UN Sustainable Development Goals and real port decision-making by using cases from the WPSP database of port projects. Since 2021, Port Endeavor is jointly administered and delivered in partnership between IAPH, UNCTAD TrainForTrade and APEC, the Antwerp-Flanders Port Training Center. The session in Argentina followed the UNCTAD TrainForTrade conference on Energy Challenges and Digital Transformation of Ports that took place in Buenos Aires on 20 and 21 March.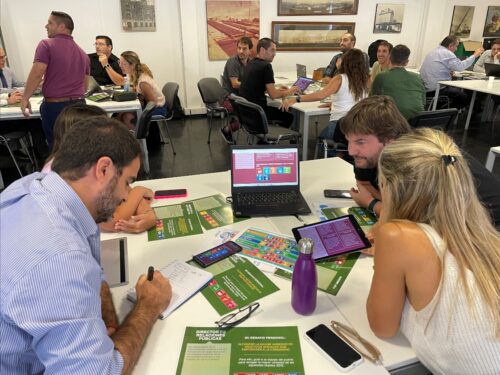 ---
Nico De Cauwer takes the helm at IPCSA
The International Port Community Systems Association (IPCSA) has announced the appointment of Nico De Cauwer as its new secretary-general. Nico will formally take office on 1 May, combining the new role with his current position as business architect digitalisation and port community projects at Port of Antwerp Bruges. He takes over the reins at IPCSA following the sad loss of Richard Morton, who passed away in 2022 having served as secretary-general of the organisation since 2011. Looking ahead, the incoming secretary-general emphasised the need for IPCSA to strengthen international relationships and ensure effective collaboration with other organisations. We warmly congratulate Nico – who is also an active member of the IAPH Data Collaboration Committee – with his appointment and look forward to the strengthening the ties between IPCSA and IAPH.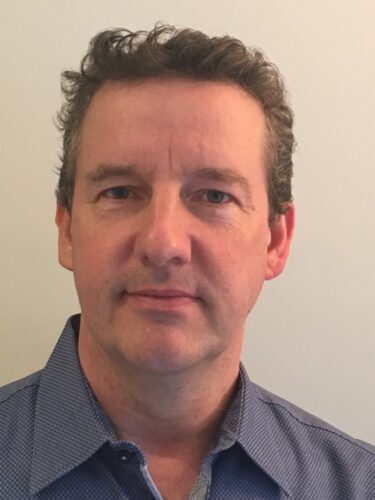 ---
Seven candidates to succeed Kitack Lim as IMO SG
As the term of the current secretary-general of the International Maritime Organization (IMO), Kitack Lim of the Republic of Korea, comes to an end this year, the IMO Council approved last December the procedures for holding the election of his successor. The deadline for receipt of nominations was 31 March, with seven IMO Member States having now each put forward a candidate. These are: Moin Uddin Ahmed (Bangladesh), Suat Hayri Aka (Turkey), Arsenio Antonio Dominguez Velasco (Panama), Cleopatra Doumbia-Henry (Dominica), Nancy Karigithu (Kenya), Minna Kivimäki (Finland) and Zhang Xiaohie (China). The election is due to take place at the IMO headquarters on 18 July, and, following approval by the Assembly later this year, the elected secretary-general will take office on 1 January 2024.
---
IMO LEG supports revised guidelines for places of refuge
The 110th meeting of the IMO Legal Committee (LEG 110) took place last week from 27 to 31 March and was attended by IAPH policy and IMO liaison officer Rhona Macdonald. There were numerous items on the agenda relevant to ports, including updates on the revision of the IMO Places of Refuge Guidelines. The Committee recalled that the IMO Maritime Safety Committee (MSC) had approved the draft Assembly Resolution on the revision of the Guidelines on places of refuge for ships in need of assistance and had invited the Legal Committee to approve the same. One document submitted by Argentina, however, referred to a clause which states that 'the right of a foreign ship to enter a port or internal waters of another State in situations of force majeure or distress' is 'internationally accepted practice'. The South American member state argued that this was in conflict with the draft Assembly resolution on the Guidelines, recalling that 'coastal States are not, under international law, under any obligation to grant places of refuge'. In light of these remarks, Argentina proposed modifications to the text to take into consideration these concerns which were widely supported and adopted by the Committee. Additional items of note include the approval of the finalised text of the Claims Manual for the International Convention on Civil Liability for Bunker Oil Pollution Damage 2001, as well as updates on the ratification of the HNS Protocol by Member States. Delegations, including Belgium, France and the Netherlands, reiterated their commitments towards ratification and further implementation of the protocol in the course of 2023 and 2024, However, many highlighted the importance of coordinating their positions with other States where major ports were located to ensure a global level playing field. Overall, delegations continued to encourage the ratification of the protocol by flag and coastal states to enable its entry into force as soon as possible, noting that given the change in transport of HNS substances in the context of climate change, the transition to alternative fuels would demand an appropriate liability and compensation regime. Finally, the Committee unanimously re-elected Gillian Grant (Canada) as the chair and Ivane Abashidze (Georgia) as the vice-chair for 2024.
---
IMO/FAO guide on marine litter reception facilities
The International Maritime Organization and the UN Food and Agriculture Organization (FAO) have published a new guide to support countries to put in place port reception facilities to receive marine plastic litter from ships. The guide, which can be downloaded here, has been developed under the GloLitter project. The document outlines the costs of operating a port reception facility and the revenue that such facilities can generate. It provides tools and guidance on conducting economic assessments and techno-feasibility studies concerning port reception facilities for plastic waste generated on board ships, including fishing gear. Case studies of waste reception facilities in different ports around the world are used to illustrate the relevant income and expenditure flows, including the setting of direct and/or indirect fees. The guide follows the adoption in 2021 of the IMO strategy to address marine plastic litter from ships. It aims to achieve zero plastic waste discharges to sea from ships by 2025. GloLitter is an IMO partnership project with FAO funded by Norway, Saudi Arabia and Australia. It assists developing countries to prevent and reduce marine litter from maritime transport and fisheries and identifies opportunities for the reduction of plastic uses in both industries.
---
UN FAO publishes guidance for Blue Ports
Last week, the Food and Agriculture Organization (FAO) of the United Nations published its Guidance on how to become a Blue Port, a methodological roadmap to assist ports to become more sustainable through the implementation of dedicated strategies.The guidance helps local, regional and national authorities to acquire a better understanding of the transformation process required to become a 'blue port'. It is the result of cooperation between primarily fishing ports, international and regional port associations, and multilateral organisations under the Blue Ports Initiative. IAPH was an active contributor to the initiative, with IAPH technical director Antonis Michail and policy and IMO liaison officer Rhona Macdonald attending respective meetings hosted by FAO and the Port of Vigo over the last years and contributing to the review process of the guidance document. During the last in-person meeting in Vigo, held in July last year, the participants of the initiative also had the opportunity to experience a Port Endeavor training session.
---
Member Port News
In this edition's round up of member port news, you will find stories from the following IAPH members:
Africa and Europe region: Port Autonome de Kribi, Port Autonome de Cotonou, Freeport of Riga Authority, JadeWeserPort, Port of London Authority, Freeport of Riga Authority, Hamburg Port Authority, North Sea Port, Port of Antwerp-Bruges, Ports of Cabo Verde, Authority for Transport in Malta, Autoridad Portuaria de Bilbao, Gibraltar Port Authority, Port of Amsterdam, Oslo Port Authority, Autoridad Portuaria de Santa Cruz de Tenerife, bremenports, HAROPA Port, Port of Amsterdam, Port of Bergen, Port of Gdansk Authority, Port of Rotterdam Authority, Autoridad Portuaria de Huelva, Autoridad Portuaria de Sevilla, Cyprus Ports Authority, Nigerian Ports Authority, Port Autonome d' Abidjan, Autoridad Portuaria de Valencia
America region: Port Authority of the Cayman Islands, Northwest Seaport Alliance, Port of San Diego, Montreal Port Authority, Vancouver Fraser Port Authority, Autoridad Marítima de Panamá, Companhia de Intergração do Complexo Portuário do Pecém, Port of Long Beach, Port of Los Angeles, Georgia Ports Authority, National Ports Administration Uruguay
Asia and Oceania region: Maldives Ports, Sabah Ports, Nagoya Port Authority, Yeosu Gwangyang Port Authority, Ports and Harbours Bureau Ministry of Land, Infrastructure, Transport and Tourism Japan, PSA International, Ulsan Port Authority, China Merchants Port Holdings, Lyttelton Port Company, Port Nelson, DP World, Marine and Water Bureau Government of Macau, NSW Ports, Busan Port Authority, Incheon Port Authority, Maritime and Port Authority of Singapore, PT Pelabuhan Indonesia, Subic Bay Metropolitan Authority, Busan Regional Office of Oceans and Fisheries, Incheon Regional Office of Oceans and Fisheries, Solomon Islands Ports Authority, Taiwan International Ports Corporation
Check out the full line up on our Member Port News page.
---
World Maritime News
These maritime news stories made the headlines over the past two weeks:
Box ports clear congestion as demand falls
APM Terminals to develop container terminals in Haiphong and Rotterdam
Cosco Shipping Ports bets on China to drive throughput growth
Sustainable biofuels and hydrogen can help shipping cut emissions, says IPCC
Europe agrees to 'ground-breaking' shipping decarbonization deal
Business as usual is "not an option" on shipping's path to decarbonisation
Terminal operators and Cosco join Saudi chemical shipper in eBL deal
For details of each story, please visit the World Maritime News section on our website.
---
Calendar of Events
IAPH events and events where IAPH is represented