You are exceptionally receiving IAPH Insider on Friday this week due to a public holiday in Japan. This edition covers:
---
This week's Insider highlight with Antonis Michail
---
Message from the Port Operators Association of Turkey
Our associate member, the Port Operators Association of Turkey (TÜRKLIM), informed us that they have joined forces with the Association of International Forwarding and Logistics Service Providers (UTIKAD), the International Transporters' Association (UND), the Railway Transporter Association (DTD), RORO operators and ports in providing aid to earthquake survivors in Southeast Turkey where two major earthquakes took place on 6 February. From the first hours of the earthquake, TÜRKLIM has established a crisis and support desk, which included all member port operators in the region from Taşucu to Iskenderun, harbour masters and chambers of shipping in the region. When the organisations to deliver aid to the region by sea started, coordination of combined transportation was established with UTIKAD, UND, DTD and roro operators that have regular roro and other shipping lines to the region from ports in the Aegean and Marmara, as well as TÜRKLİM members operating roro terminals. Preparations for a major logistics operation have also been completed as combining the support and facilities of the regional ports among themselves would have taken much. TÜRKLIM confirms there is meaningful and effective cooperation and coordination with many logistics NGOs. You can find the full press release here. Members wishing to provide support are encouraged to contact TÜRKLIM via the email address provided in the press release.
---
Ukrainian ports call for donation to protect grain exports
The Ukrainian Sea Ports Authority (USPA) wrote to us, asking for support in providing safe navigation to vessels operating from Ukrainian seaports under the United Nations 'Grain Initiative' which has successfully exported 21.2 million tonnes of Ukrainian agricultural products to European, African and Asian countries since its initiation in August last year. USPA reports that, recently, Russian forces have been using sea drones as a threat to the safe navigation of vessels operating under the Grain Initiative, disrupting operations and halting exports of Ukrainian agricultural products. The solution to this problem could be the use of floating safety barriers to separate and protect navigational routes as well as ports from unexpected and unwanted intrusions from drones and landing craft. Concretely, such barriers would be placed in the ports of Odesa, Chornomorsk and Yuzhniy, representing a total investment of 1.8 million Euro. Taking into account the military situation in Ukraine, the significant reduction of operational activities, income and thus lack of funds to procure such defence equipment at USPA's expense, the national port authority is calling for donor assistance, so that the export of Ukrainian agricultural products can continue undisturbed. You will find the letter from USPA here as well as documentation on the floating safety barriers. Members wishing to provide support are encouraged to contact USPA as indicated in the letter.
---
2023 IAPH World Ports Conference: Reinventing Ports
Ports have reached a pivotal stage in their evolution. Operating purely as landlords of terminal and industrial concessions is no longer a guarantee of economic growth and prosperity. They must evolve and adapt to remain relevant. End-to-end maritime supply chain conglomerates are emerging with no fixed ports of call. Record profits for oil and gas majors, shipowners, terminal operators, and overland logistics players combined with weakening global demand means that port authorities can no longer negotiate their interests from a point of strength. Importers and exporters are demanding better cargo visibility from ports. Digitalisation is accelerating to a point where if ports remain unengaged, their role in the supply chain will dwindle. Ports will only become part of the maritime energy transition if they can attract the public-private investments needed to create the infrastructure for zero carbon fuels, half of which will need to be transported by ship from the new exporting countries to consumers. These changes are set to transform global energy trading routes with new innovation-led ports challenging the old guard. Future port energy hubs cannot afford to lose the competition to other land-based centres for producing and disturbing these new energies, otherwise shipping itself will lose access to these fuels and with it a golden opportunity to decarbonise and reduce its share of emissions. And with ports facing geo-political instability, natural disasters, cyber-attacks and ever-more extreme swings in demand and supply, they must become more resilient and prepared to overcome whatever nature and man throws at them next. At the 2023 IAPH World Ports Conference which will be held from 31 October to 2 November in Abu Dhabi, you will learn from thought leaders in the industry on how ports are not only meeting these challenges, but turning many of these tough situations into genuine business opportunities through reinvention, open collaboration, community building and talent attraction. The conference is held in partnership with S&P Global and host sponsor Abu Dhabi Ports. Registration opens 1 April. Meanwhile you can sign up here for updates
---
2023 IAPH Sustainability Awards competition is open
The 2023 IAPH Sustainability Awards competition is now open with IAPH member ports warmly encouraged to submit their projects in six different Award categories: infrastructure, digitalisation, climate and energy, environmental care, community building, and health safety and security. Three projects per category will be shortlisted by our expert jury and taken to an open public vote to co-determine the final winners. A seventh 'Akiyama' award will also be awarded to the highest-placed finalist from a least-developed or landlocked developing country or a small island developing state. All awards will be presented at the gala dinner of the 2023 IAPH World Ports Conference, in Abu Dhabi on 1 November. Place your project entry via the online form here on the WPSP website. Deadline for submissions is 26 May.
---
Join the Q4 2022 World Ports Tracker survey
We have now launched our survey appeal to ports for the IAPH World Ports Tracker, requesting data for the fourth quarter of 2022. The World Ports Tracker is a full report for ports which allows them to anonymously enter information for them so get in return, at no cost, a full analysis on global and regional trends in port performance, vessel port calls, hinterland connectivity and much more. The survey link was shared with all IAPH members ports this week. We are keen for your port to participate as you will be granted exclusive access to the full published report along with the other respondents. Ports answering before 3 March will furthermore be invited to an exclusive call with the authors of the World Ports Tracker report, professors Theo Notteboom (University of Antwerp) and Thanos Pallis (University of Athens) on Monday 6 March at 1200 CET. Theo and Thanos will be giving a sneak preview of their analysis on container port performance data kindly provided by our partner S&P Global for Q4 2022, which will be published with the final report. The deadline for all responses is 7 March at midnight CET. In case you did not get the survey link, please contact Fabienne Van Loo at fabienne.vanloo@iaphworldports.org.
---
Successful Port Endeavor training held in Las Palmas
Another successful Port Endeavor sustainability training session was held on 14 February in Las Palmas, Spain, as part of the UNCTAD TrainForTrade (TFT) programme for port professionals. This time the training was addressed to participants from English-speaking countries from Africa and South-East Asia, attracting more than 35 port professionals. Participants had the opportunity to experience Port Endeavor, the IAPH educational game on port sustainability as part of the course. Port Endeavor uses best practices from world ports to educate port managers in making the link between realistic port decisions and the UN Sustainable Development Goals (SDGs). Since 2021, IAPH has partnered with UNCTAD TFT and the Antwerp/Flanders Port Training Centre (APEC) in making Port Endeavor available globally and offering dedicated training sessions on port sustainability. In Las Palmas all three partners came together to deliver training for the first time with IAPH technical director, Antonis Michail, joining the leader of the UNCTAD TFT team, Mark Assaf, and APEC consultant Joachim Verheyen. An additional novelty was the successful testing of new digital features that improved the users' experience of the game. All three partners are committed to constantly reviewing and further developing the content of Port Endeavor as well as increasing its reach and visibility in different parts of the world. A series of sessions are scheduled to take place in the following months in Argentina, Peru, France, Belgium, Spain and UAE. If you want to know more about Port Endeavor and discuss possibilities for arranging a training session at your own port or region, please contact Antonis Michail at antonis.michail@iaphworldports.org.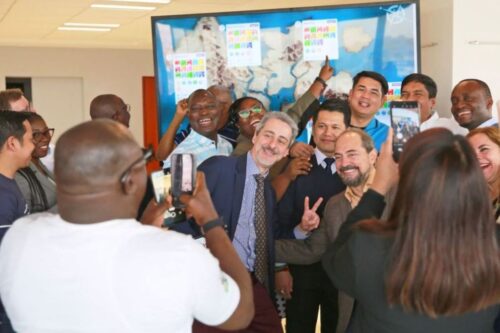 ---
IAPH, APEC and C-MAT hold third port strategy course
For the third year in a row, IAPH is collaborating with its associate members Antwerp/Flanders Port Training Centre (APEC) and the Centre for Maritime and Air Transport (C-MAT) in organising a course on international port strategy, with online sessions spread between 3 and 28 April, and an in-person course week in Antwerp from 8 to 12 May. The partnership enables us to present a mix of experienced port professionals, academics and global policy makers on the international aspects of port strategy and management. In the course, we will reflect on the major global macro-economic and geopolitical trends and analyse their impact on port platforms, from changing global supply chains, to digitalisation, climate change and the energy transition. Furthermore, we will zoom in on regional differences and realities in the port sector in China, India, the Middle East, Africa, Latin America and Europe. Finally, we will evaluate different international strategies within the port industry and help you to design your own strategy on the international scene. IAPH members enjoy a 20% discount on the registration fee and there are additional reductions for groups larger than five people. You can find out all details here.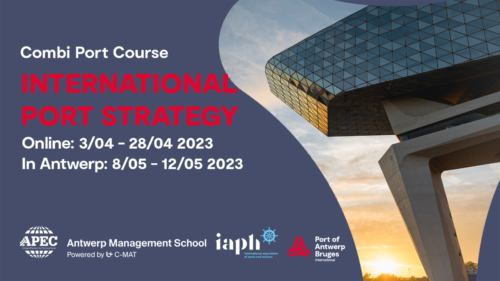 ---
TrainForTrade course on port resilience against pandemics
The UNCTAD TrainForTrade team is organising a dedicated online course on building port resilience against pandemics. The course was developed in cooperation with the Valenciaport Foundation and the Valencia Port Authority and with funding from the United Nations Development Account and Irish Aid. The objective of the special course is to support the implementation of measures and to prepare for and alleviate contingencies related to a pandemic in a port, port terminals, and other seaport actors. Full details about the programme and registration can be found on the UNCTAD website.
---
IAPH Technical Committee Days in London 18-20 April
The first IAPH Technical Committee Days will be held 18-20 April, at the offices of the International Chamber of Shipping (ICS) in London. The schedule features dedicated sessions on specific themes of the IAPH work programme. Rather than having the traditional, separate meeting agendas, we aim to stimulate dialogue between the committees and their members during the days, both in plenary and break-out sessions. On the last day, each committee will have a dedicated meeting slot to decide on action points and set its own agenda going forward. We are also inviting guests from IMO, ICS and other relevant organisations to some of the sessions. The option to follow sessions remotely will be available, but we would of course much rather see members in person in London. Members of the IAPH Technical Committees received the schedule this week, together with the registration form. If you are a Committee member and have not received the mailing, please contact Takeshi Suzuki: t_suzuki@iaphworldports.org.
---
Welcome to new associate members
We are pleased to announce that three new associate members have joined IAPH, from Malaysia, Australia and Spain. In response to the growing maritime industry and demand for human capital, Netherlands Maritime University College (NMUC) was established as a Dutch-Malaysian private higher learning institution in Johor, Malaysia, in 2011 to undertake maritime education, training, research, and consultancy activities. NMUC supports national and regional competitiveness in the maritime, logistics, and oil and gas industries by offering various accredited academic and training programs. It strives to provide students and industry people with the right skills, ample knowledge, and valuable experience required for a successful maritime career. The National Transport Research Organisation (NTRO) offers all levels of Australian government and industry great outcomes across all modes of transport. It provides innovative research and practical solutions to challenges across roads, rails, ports, and airports, developing new knowledge, innovation, standards, and specifications to shape the transport future. NextPort started in 2022 as the technology and innovation entity of Moffatt & Nichol (M&N), intending to accelerate the development of smart port solutions, as well as strengthen M&N's capabilities for digital transformation at ports and terminals. NextPort helps port ecosystems create value from existing data sources and assists different stakeholders in their operational and strategic decision-making for improved efficiency, sustainability, and resiliency across other activity domains of port communities and the wider supply chain.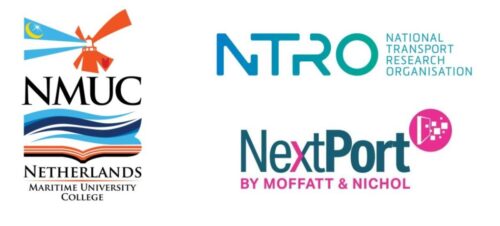 ---
IAPH VP spoke at first GreenPort Oceania Congress
The first GreenPort Congress to be held in the Southern Hemisphere took place last week in the Australian east coast city of Newcastle. Delegates heard from a range of presenters on topics including renewable energy, climate change risks, the role of communities and sustainability in cruise shipping. IAPH vice-president for Southeast Asia and Oceania, Eranda Kotelawela (CEO Solomon Islands Port Authority), joined the opening panel session, which canvassed views from port operators, shipping lines and freight forwarders, including insights from small island developing states. While there was discussion around innovation, collaboration and drivers for sustainable action, one issue that loomed was uncertainty around what a sustainable future will look like for shipping and ports. During the discussion, Eranda emphasised the need for support in the Pacific region, where around 80% of infrastructure is more than 50-60 years old. Global experience from ports will be useful and also measures to mitigate climate change need investment, he concluded.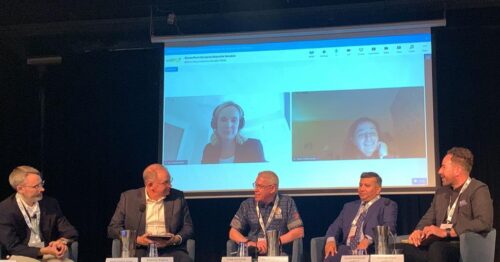 ---
IAPH was at Greentech conference in Hamburg
The Greentech for Ports and Terminals Conference took place the day before yesterday in Hamburg, organised by IAPH associate member Port Technology International. Several IAPH members took part and spoke at the event, including the opening keynote by Hamburg Port Authority's (HPA) CCO Friedrich Stuhrman and a closing key discussion on the role of ports in establishing green corridors which included HPA CEO and IAPH vice-president Jens Meier and Halifax Port Authority CEO Captain Allan Gray together with senior executives from the Port of Gothenburg and Valenciaport Foundation. Other panel sessions included the Port of Rotterdam and PortXchange on digitalisation, the Port of Bilbao and new associate member NextPort by Moffatt & Nichol on electrification of port equipment, the Port of Barcelona's energy transition plan, and Artificial Intelligence with HPA, DP World and NextPort. IAPH's communications director Victor Shieh attended the event as well and met with HPA colleagues Ingrid Boqué and Phanthian Zuesongdham. The day before, delegates were offered a tour of homePORT, Hamburg Port Authority's innovation hub. They witnessed demonstrations of an in-use inspection drone which is used to inspect port infrastructure, a 3D printing and construction lab which offers open-source designs to developing countries, a window projection solution for ship bridges and a battery-fuelled truck for containers.

---
Member Port News
In this edition's round up of member port news, you will find stories from the following IAPH members:
Africa and Europe region: Port of Antwerp-Bruges, Port of Göteborg, Port of London Authority, bremenports, Port of Helsinki, Administração dos Portos de Sines e do Algarve, Autoridad Portuaria de Huelva, Cyprus Ports Authority, HAROPA Port, Autorità Portuale di Genova, Autoridad Portuaria de Bilbao, Autoridad Portuaria de Santa Cruz de Tenerife, Belfast Harbour Commissioners, Freeport of Riga Authority, Gibraltar Port Authority, Port Authority of Vigo, Nigerian Ports Authority, Kenya Ports Authority, Port Autonome de Cotonou, Port Autonome de Dakar, Port of Rotterdam Authority, Autoridad Portuaria de Sevilla, Autoridad Portuaria de Valencia, Oslo Port Authority, Port of Amsterdam, Autoridad Portuaria de la Bahìa de Algeciras, Hamburg Port Authority, Ports of Cabo Verde
America region: Port Saint John, National Port Administration Uruguay, Autoridad Marítima de Panamá, Montreal Port Authority, Port of Long Beach, Port of Los Angeles, Companhia de Desenvolvimento do Complexo Industrial e Portuário do Pecém, Port of San Diego, Port of Seattle, Georgia Ports Authority, Northwest Seaport Alliance
Asia and Oceania region: Port of Duqm Company, DP World, Yeosu Gwangyang Port Authority, Incheon Regional Office of Oceans and Fisheries, Sri Lanka Ports Authority, Marine and Water Bureau, Government of Macau, South Port New Zealand, Maritime and Port Authority of Singapore, Johor Port Authority, Busan Port Authority, PT Pelabuhan Indonesia, Subic Bay Metropolitan Authority, Westports Malaysia, Solomon Islands Ports Authority, Busan Regional Office of Oceans and Fisheries, Lyttelton Port Company, PSA International
Check out the full line up on our Member Port News page.
---
World Maritime News
These maritime news stories made the headlines over the past two weeks:
Topics regarding the end of 2M Alliance
Shipping lines' upgrading/halting services from Asia to the US
Shipping lines face a tough situation due to a decrease in container volume.
Turkey's Iskenderun port to restart in three months
Benefits of terminal automation challenged
High China container throughput volume said to be inflated
Sourcing shift from China pulls US import share to more than a decade low
Transport groups ask for carbon-neutral fuel to meet EU truck emissions targets
ONE commits to sensor-equipped dry container fleet
For details of each story, please visit the World Maritime News section on our website.
---
Calendar of Events
IAPH events and events where IAPH is represented
26 February-1 March – TPM23 – Long Beach
13-17 March – IMO Facilitation Committee (FAL 47) – London
20-24 March – IMO Intersessional Working Group GHG (ISWG-GHG 14) – London
20-22 March – UNCTAD TrainForTrade Conference and Port Endeavor – Buenos Aires
27-31 March – IMO Legal Committee (LEG 110)
18-20 April – IAPH Technical Committee Days – London
24-28 April – Singapore Maritime Week – Singapore
24-28 April – IMO Subcommittee Pollution, Prevention and Response (PPR 10) – London
4-5 May – UNCTAD TrainForTrade Port Endeavor – Callao
26-30 June – IMO Intersessional Working Group GHG (ISWG-GHG 15) – London
3-7 July – IMO Marine Environment Protection Committee (MEPC 80) – London
31 October-2 November 2023 – IAPH 2023 World Ports Conference – Abu Dhabi