This edition of IAPH Insider covers:
---
This week's Insider highlights with MD Patrick Verhoeven
---
New Mangalore Port Authority first new member of 2023
We are pleased to announce that New Mangalore Port Authority has joined IAPH as our first new regular member of the year. The New Mangalore Port is one of India's major ports, located in Mangalore of Karnataka State, on the west coast of India. New Mangalore Port Authority started administering the port in March last year, succeeding New Mangalore Port Trust which ran and governed the port since 1980. The port mainly handles dry and liquid bulk cargo and containerised cargo. With New Mangalore Port Authority, the number of new members joining us during the past twelve months is rising to 50, including applications that are currently being processed. The number breaks down to 20 regular port members from 13 different countries, and 30 associate members from 15 different countries, which include digital maritime software providers, universities, research institutes, engineering companies, a development bank and a classification society. We warmly welcome all new members and look forward to working with them.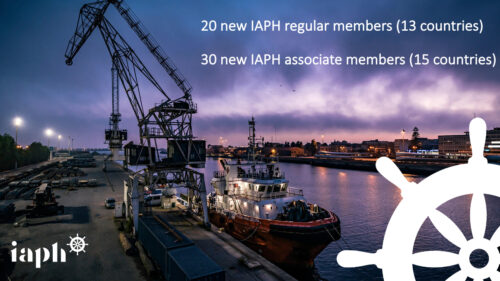 ---
Discover the IAPH risk & resilience guidelines and portal
We are pleased to announce the publication of our newly-created risk and resilience guidelines for ports, as well as the release of a new risk inventory portal aimed at sharing best practices on risk mitigation and management for ports. Applying the same pragmatic approach by the IAPH-WPSP COVID19 Taskforce, the newly issued guidelines are the first IAPH tool produced by expert regular and associate members from the IAPH Risk and Resilience Committee which aims to support ports in establishing a structured approach towards risk management, business continuity and organizational preparedness. To assist in this, IAPH has also established an online risk inventory portal which will act as a central hub for mutual learning from ports which have dealt with or which are proactively preparing for specific events and incidents. In addition to containing the three crucial infographics that form the backbone of the guidelines, it offers the first two examples on how ports deal with specific threats, with illustrative case studies from member ports. Effectively managing business continuity during the next crisis has become an essential port requirement – this living document will evolve along the path of continuous improvement with our members.
---
Last chance to register for Single Window symposium
IAPH, BIMCO and IMO have announced the agenda of the upcoming symposium on Maritime Single Window which will be taking place at the iconic headquarters of the IMO on the Embankment of the River Thames in London, between 18 and 19 January. The event, which will also be transmitted live on the IMO You Tube channel, will be hosted by IMO and is supported by the International Port Community Systems Association (IPCSA). It includes sessions with UNCTAD, The World Bank, European Commission, World Customs Organization, Maritime and Port Authority of Singapore, Port of Antwerp-Bruges, Port of Rotterdam, DP World, A.P. Moller – Maersk, Digital Container Shipping Association, Portbase plus government and port authority representatives highlighting their experiences from Namibia, Argentina, Montenegro, Morocco, Djibouti, Peru, Finland, Azerbaijan, Chile, USA, Antigua and Barbuda, Angola, Fiji and Norway. For a full line up of the programme, please check the footer of the dedicated portal on the IMO website that has been set up for this event, which you can find here. If you wish to register in person, please get in touch by emailing IAPH fabienne.vanloo@iaphworldports.org. If you plan to join online, there is no need to register. The event will be live streamed as of 0930 UK time on 18 January on the IMO You Tube channel.

---
IAPH Maritime Single Window portal is online
To support the introduction of the IMO Maritime Single Window requirement in just under one year from now, IAPH has launched a portal to assist ports, governments and supply chain stakeholders with useful FAQs, links and regular updates. The portal is hosted on the World Ports Sustainability Program website and can be accessed here.
---
IAPH Automation Group to start work 8 February
The IAPH Data Collaboration Group on Automation will kick-off with an online meeting on 8 February (1-3 PM CET) under the leadership of Phanthian Zuesongdham from Hamburg Port Authority (photo). Building on the outcomes of previous discussions and proposals during the Data Collaboration Committee meetings, the group will be meeting to formulate its concrete agenda and work program for the year to come. Addressing change in management to integrate automation projects in ports, and exchange of best practices via the World Port Sustainability Program database and further building on those, are amongst the areas of work to be further considered and defined at the kick-off meeting. The group is also inspired and builds upon the outcomes of the recent regional Europe Africa Harbor Café sessions that highlighted best practice examples on robotics and automation in ports. Members are warmly encouraged to actively participate to the 8 February meeting to shape the IAPH automation agenda and commit to contribute to the follow-up work. If you are interested to join the group, please contact our colleague Takeshi Suzuki: t_suzuki@iaphworldports.org.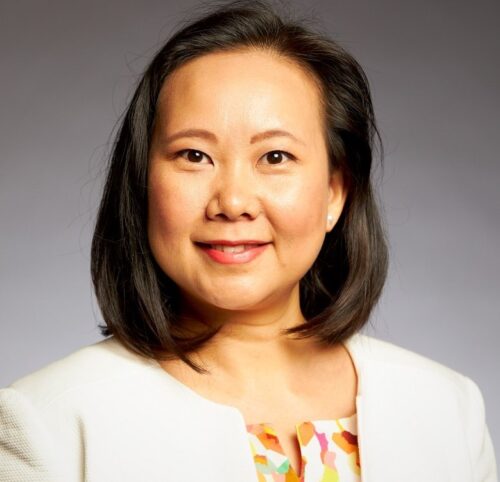 ---
January ESI scores published
The latest scores of the IAPH Environmental Ship Index (ESI) project were published on 1 January. The number of vessels with an ESI score above 20 is at 4,768, whereas the total number of vessels in the ESI database is at 6,727. The average ESI score is 30.1. The number of incentive providers is 60 at 1 January. Is your port already part of the ESI programme? If not, find out more on the ESI website or contact the ESI team at admin@environmentalshipindex.org.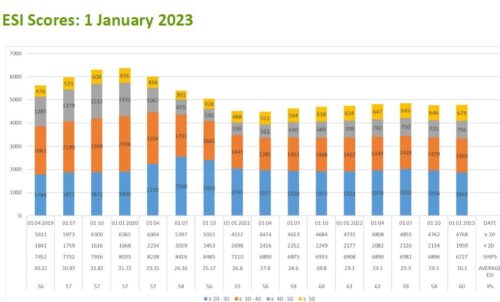 ---
First Ports & Harbors issue of 2023 is out
In the first Ports & Harbors issue of the year, we interview Sigrid Evelyn Nikutta, CEO of DB Cargo, which has the largest railway fleet and the highest number of rail freight traffic points in Europe. Dr Nikutta and IAPH managing director Patrick Verhoeven discuss how innovation and efficiency through digitalisation can bring port and landside supply chain connectivity as well as inland waterway transportation closer together. Also featuring in this edition: how to apply artificial intelligence and machine learning in maritime logistics is explored in depth by Fraunhofer's Joshua Müller. We also get an update on wind propulsion by Smart Green Shipping's Diane Gilpin, a "how to" guide to keeping your port secure with Genetec's Simon Barnes and the latest IAPH World Ports Tracker summary report from professors Theo Notteboom and Thanos Pallis. We have two new sections with Nautilus trade union secretary general Mark Dickinson commenting on recent global port worker strikes in Wakeup Call and Jacobs' director for ports and maritime and global transportation business Patrick King offering his insights on how to Close the Gaps in port infrastructure from an engineering perspective.
---
IAPH, APEC and C-MAT organise third port strategy course
For the third year in a row, IAPH is collaborating with its associate members Antwerp/Flanders Port Training Centre (APEC) and the Centre for Maritime and Air Transport (C-MAT) in organising a course on international port strategy, with online sessions spread between 3 and 28 April, and an in-person course week in Antwerp from 8 to 12 May. The partnership enables us to present a mix of experienced port professionals, academics and global policy makers on the international aspects of port strategy and management. In the course, we will reflect on the major global macro-economic and geopolitical trends and analyse their impact on port platforms, from changing global supply chains, to digitalisation, climate change and the energy transition. Furthermore, we will zoom in on regional differences and realities in the port sector in China, India, the Middle East, Africa, Latin America and Europe. Finally, we will evaluate different international strategies within the port industry and help you to design your own strategy on the international scene. IAPH members enjoy a 20% discount on the registration fee and there are additional reductions for groups larger than five people. You can find out all details here.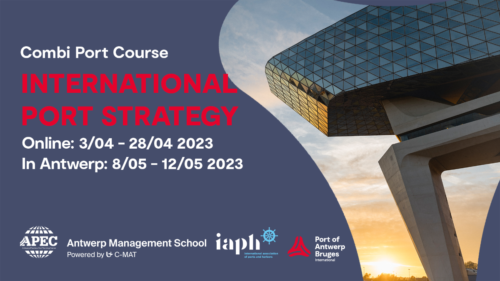 ---
Save the date: 2023 World Ports Conference in Abu Dhabi
The IAPH 2022 World Ports Conference in Vancouver resoundingly succeeded in identifying how ports should close the gaps in global port infrastructure. Never before have ports received so much attention from policymakers and businesses as the critical nodes connecting maritime with land-based intermodal supply chains. The 2023 World Ports Conference in Abu Dhabi will explore in depth and materialise ports' commitments to digitalise, decarbonise, invest and co-create with their business partners to solidify and expand their roles as supply chain community builders. Featuring global leadership personalities from ports, governments, IMO, UNCTAD, World Bank, global carriers, terminal operators and logistics sectors, #IAPH2023 World Ports Conference between 31 October and 2 November in Abu Dhabi, will bring East and West together in an unmissable opportunity to connect and learn from each other. Check out the conference website and register for updates. If you are interested in sponsoring, please consult this page.

---
Member Port News
In this edition's round up of member port news, you will find stories from the following IAPH members:
Africa and Europe region: Hamburg Port Authority, HAROPA Port, Autorità Portuale di Genova, Autoridad Portuaria de Sevilla, Port of Bergen, Administração dos Portos de Sines e do Algarve, Autoridad Portuaria de la Bahìa de Algeciras, Port Authority of Douala, Ports of Cabo Verde, Port of Amsterdam, Authority for Transport in Malta, Autoridad Portuaria de Bilbao, Belfast Harbour Commissioners, bremenports, Freeport of Riga Authority, Port of Rotterdam Authority, JadeWeserPort, North Sea Port, Gibraltar Port Authority, Port of Antwerp-Bruges, Port of London Authority, Autoridad Portuaria de Santa Cruz de Tenerife, Port Authority of Vigo, Port Autonome de San Pedro, Autoridad Portuaria de Bilbao, Port of Gdansk Authority, Port of Helsinki, Bulgarian Ports Infrastructure Company, Autoridad Portuaria de Huelva, Autoridad Portuaria de Valencia, Port Authority of Vigo, Oslo Port Authority, Autoridad Portuaria de Valencia

America region: Port of Seattle, Port of San Diego, Port of Los Angeles, National Port Administration Uruguay, Northwest Seaport Alliance, Companhia de Desenvolvimento do Complexo Industrial e Portuário do Pecém, Montreal Port Authority, Port of Hueneme, Autoridad Marítima de Panamá, Port of Long Beach, Port Saint John, Canaveral Port Authority

Asia and Oceania region: Abu Dhabi Ports, Ports and Harbours Bureau Ministry of Land, Infrastructure, Transport and Tourism, Lyttelton Port Company, PSA International, Solomon Islands Ports Authority, Maritime and Port Authority of Singapore, Maldives Ports, Subic Bay Metropolitan Authority, Sri Lanka Ports Authority, Philippine Ports Authority, Ports of Auckland, NSW Ports, PT Pelabuhan Indonesia, Tokyo Port Terminal Corporation, Maldives Ports, Taiwan International Ports Corporation, Busan Port Authority, Incheon Port Authority, Incheon Regional Office of Oceans and Fisheries, Marine and Water Bureau Government of Macau, Yeosu Gwangyang Port Authority, Saudi Ports Authority, Busan Regional Office of Oceans and Fisheries, Busan Regional Office of Oceans and Fisheries
Check out the full line up on our Member Port News page.
---
World Maritime News
These maritime news stories made the headlines over the past two weeks:
Lines struggle to push up rates amid weak market fundamentals

New mega container ships deliveries in 2023

Boxships on Europe-Asia trade rerouted to avoid Suez Canal fees
Other topics on shipping lines
Modest predictions for freight transportation as the winds of 2023 begin to blow
Vessel delays due to China's easing Covid rules at ports
Situation in US ports
IMO GHG strategy
Regulations for shipping decarbonization put a burden on shipping companies
Small forwarders and technology vendors link up in pursuit of new products
For details of each story, please visit the World Maritime News section on our website.
---
Calendar of Events
IAPH events and events where IAPH is represented
18-19 January – IMO-IAPH-BIMCO symposium maritime single window (hybrid)
23-27 January – IMO Subcommittee Ship Design and Construction (SDC 9) – London
8 February – IAPH Data Collaboration Automation Group (online)
8-9 February – CTL – Mumbai
13-15 February – UNCTAD TrainForTrade Port Endeavor – Las Palmas
16 February – Europe Africa Harbor Café (online)
22 February – GreenTech for Ports and Terminals – Hamburg
26 February-1 March – TPM23 – Long Beach
7-8 March – TOC Africa – Tangiers
13-17 March – IMO Facilitation Committee (FAL 47) – London
20-24 March – IMO Intersessional Working Group GHG (ISWG-GHG 14) – London
20-22 March – UNCTAD TrainForTrade Conference and Port Endeavor – Buenos Aires
27-31 March – IMO Legal Committee (LEG 110)
24-28 April – Singapore Maritime Week – Singapore
24-28 April – IMO Subcommittee Pollution, Prevention and Response (PPR 10) – London
4-5 May – UNCTAD TrainForTrade Port Endeavor – Callao
26-30 June – IMO Intersessional Working Group GHG (ISWG-GHG 15) – London
3-7 July – IMO Marine Environment Protection Committee (MEPC 80) – London
31 October-2 November 2023 – IAPH 2023 World Ports Conference – Abu Dhabi