---
Christmas message from MD Patrick Verhoeven
---
Third edition of IAPH World Ports Tracker published
The third edition of the IAPH World Ports Tracker has been published this week. For the first time, it combines S&P Global container terminal performance data for the third quarter of the year with survey responses from the world ports community on the same period. These include four new dashboards to reflect the comprehensive analysis being provided by our Risk and Resilience Technical Committee authors professor Theo Notteboom and professor Thanos Pallis. Theo and Thanos analyse year-on-year data as well as historic versus present data based on pre-pandemic figures. They also create highly useful interpretations of forecast data from survey respondents. Among the highlights in this report are the significant rise in global cruise and ferry vessel calls, the shortage of trucks and truck drivers in several regions of the world, and the confirmation (and quantification) that larger vessel and higher call sizes do not go hand-in-hand with higher terminal productivity in all regions. The full report, which is available to responding IAPH members, includes breakdowns by cargo segment (container, dry bulk, tankers/gas carriers and general cargo), cruise and passenger as well as regional analyses. We urge IAPH members to actively participate and answer the seven straight-forward same questions next February, which will be supplemented with annual questions on land use, future investments and innovation. Copies will be made available to regular members committing to their participation in the next survey. To do so, email fabienne.vanloo@iaphworldports.org.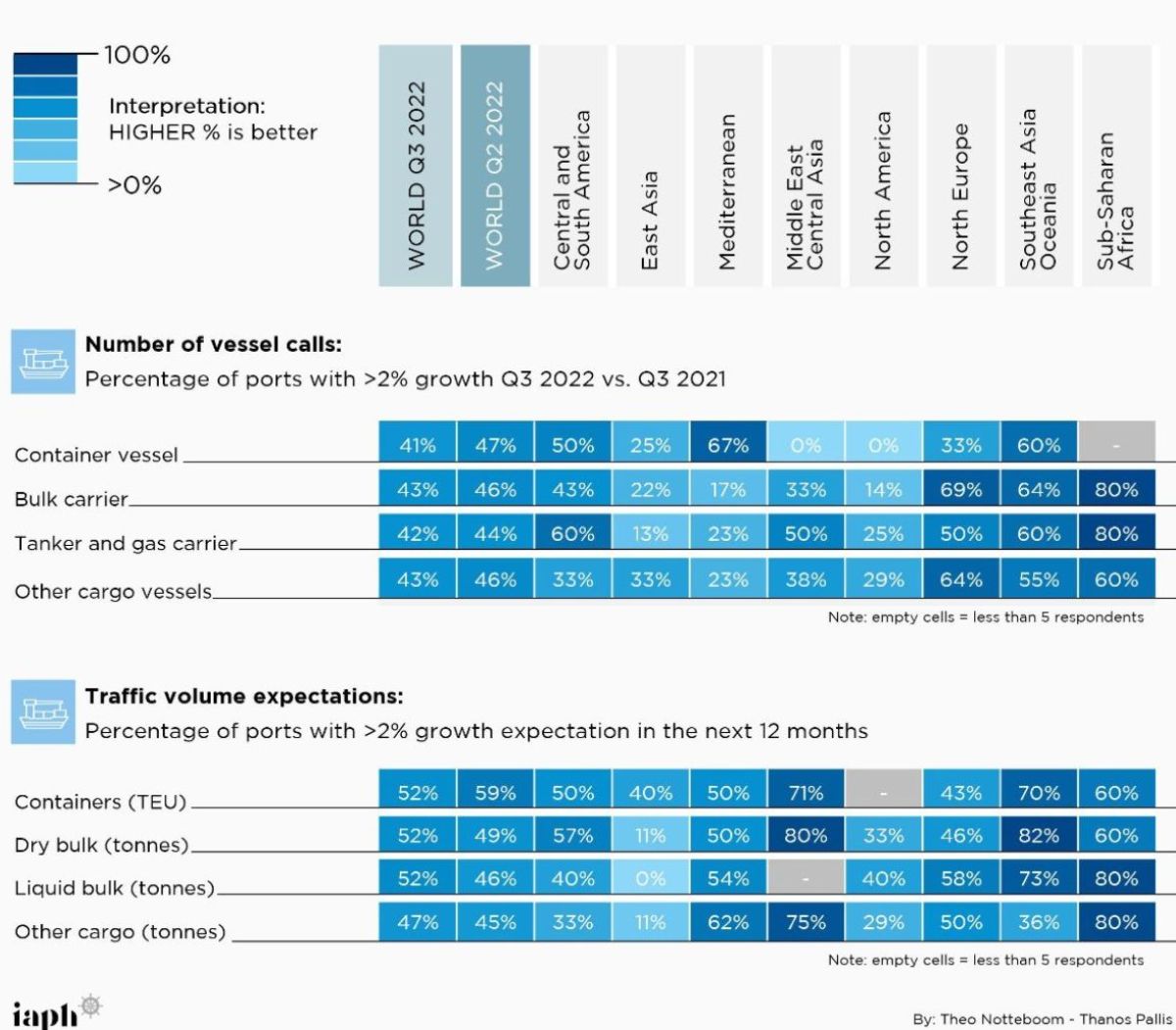 ---
Don't miss the Maritime Single Window symposium!
With a deadline of 1 January 2024 set for IMO member states to implement a Maritime Single Window system in their ports, a genuine window of opportunities is now emerging for shipping and ports to use robust international standards to communicate between ships and shore, improving port call efficiencies and ultimately reducing emissions. International Maritime Organization, IAPH and BIMCO are organising a hybrid symposium with support from IPCSA at the iconic IMO headquarters in London. The event on 18-19 January will bring together institutions, governments, port authorities, industry associations, shipowners, and solution providers from around the world. For IAPH regular and associate members to register please get in touch by email with fabienne.vanloo@iaphworldports.org. To attend online, set aside 18-19 January 2023 to connect from 09:30 UK time to the IMO YouTube Channel. For more information, check out the IMO landing page.

---
Careful optimism emerges from IMO GHG meetings
The last two weeks have been busy for IMO in London, addressing the decarbonisation of shipping with the intersessional working group on GHG emission reduction from ships (ISWG-GHG 13) taking place 5 to 9 December and with deliberations further intensifying this week at the 79th session of the Marine Environment Protection Committee (MEPC 79). IAPH IMO liaison officer Rhona Macdonald and technical director Antonis Michail (photo) have been attending both meetings, joined by representatives from Port of Antwerp-Bruges and the European Sea Ports Organisation during the intersessional working group. The main observation is an overall convergence of views on key topics that allow for a careful optimistic outlook ahead of the revision of the initial IMO GHG Strategy by MEPC 80 in July and the follow-up decision over a combination of mid- and long-term measures to serve the revised levels of ambitions for decarbonising shipping. More concretely, there is overall agreement over a combination or basket of measures consisting of both technical and economic elements. On the technical side, the proposal by European countries over a global GHG fuel standard is gaining increasing support while on the economic side, there is considerable convergence over a market-based measure (MBM) in the form of a global levy. Furthermore, regarding the revision of the IMO GHG Strategy there is convergence over the strengthening of the levels of ambition, with a majority of member states favouring the setting of a zero or net-zero emission target by 2050 and the setting of intermediate targets for 2030 and 2040 to draw a respective and predictable pathway. There is still however a number of member states questioning the viability of such decarbonisation targets raising concerns over feasibility and impact on developing countries in particular. IAPH had two submissions at this meeting, including a joint proposal to update two MEPC resolutions to make reference to 'route-based actions', or green corridors, in national action plans. There was strong support for such amendments at plenary with emphasis on this remaining a voluntary commitment to address GHG emissions from ships. Additionally, IAPH made an intervention in response to discussions on the revision of the Initial Strategy in support of an MBM to generate revenues for the purposes of capacity building, developing the required port infrastructure and ensuring a just and equitable transition, as outlined in their other submission to the Committee.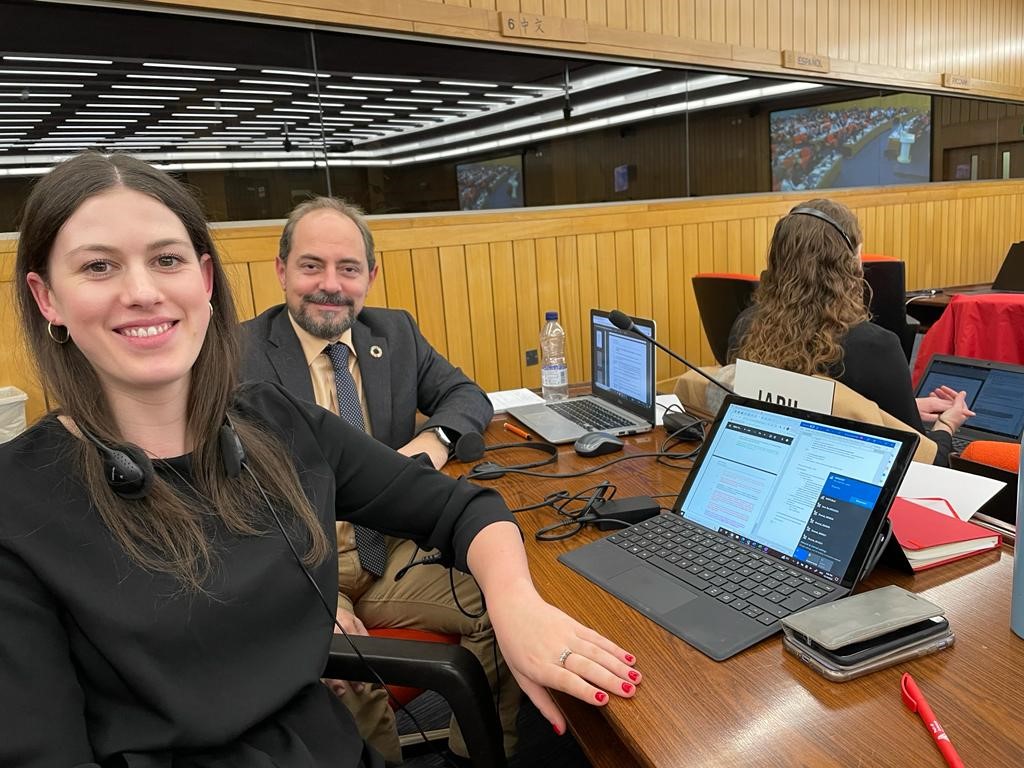 ---
ESI incentive providers plan for 2023
IAPH's Environmental Ship Index (ESI) key incentive providers gathered in Amsterdam last week on Tuesday together with IAPH-appointed administrators Green Award Foundation to review the current status of the Index, including the number of ships and scores, onboard verification performance, and input from the IAPH board on the ESI budget for 2023. The meeting also planned the work roster for 2023, which will include a focus on the development of the at-berth module, beginning with the cruise sector. This is being undertaken by lead ports of Amsterdam and Los Angeles, with the support of Starcrest Consulting and other IAPH members. Discussions also focused on the development of a commercial and marketing plan for the index in 2023 to further expand both shipowner and incentive provider registration. Chair Eric van der Schans (Port of Rotterdam) thanked all incentive providers as well as Green Award Foundation for the substantial progress made in the professionalisation of the Index and looked forward to the next chapter of ESI 2.0. In the evening, colleagues attending in person enjoyed a pandemic-delayed tenth year anniversary of the Index with a festive dinner which celebrated three key people who contributed over the years to the success of the Environmental Ship Index. These include long-standing ESI advisor Imke Deibel, former IAPH Europe Office director Fer van de Laar and Tiedo Vellinga, professor emeritus of ports and waterways at the Delft University of Technology and former manager and strategic advisor to the Port of Rotterdam (pictured with flowers below).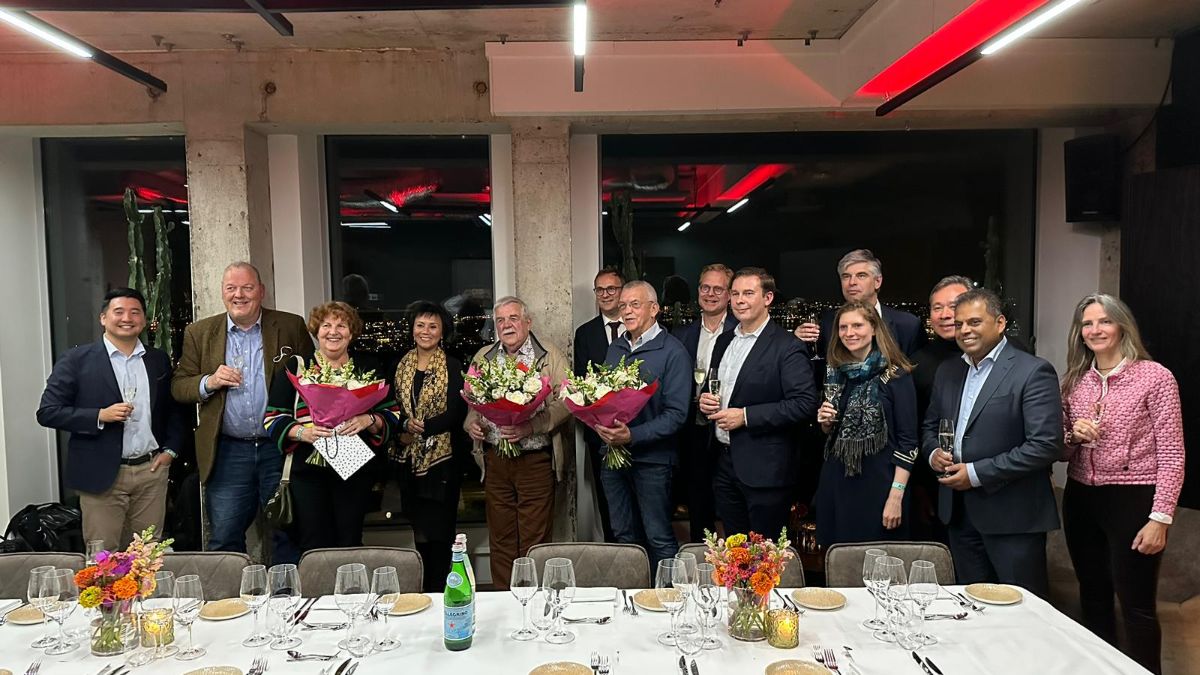 ---
Results online IAPH Cruise Committee meeting
Members of the IAPH Cruise Committee met online this Tuesday, under the leadership of committee chairman Simone Maraschi (Cruise Gate Hamburg). The meeting focused on innovative technologies to improve the sustainability of shipping, with presentations from Linden Coppell, vice-president sustainability and ESG at MSC Cruises, and Jacob Bjarkam, business development manager at PowerCon. Members discussed next steps in the establishment of the IAPH Onshore Power Supply (OPS) Cruise Platform, including data gathering on OPS readiness of ports and ships and the development of guidance to accelerate the uptake of OPS in the cruise industry. Under regional updates, information was provided on forthcoming EU regional border control measures. Finally, members were invited to provide feedback on the potential role the Committee could play on communication and image of cruise shipping, given that several regional initiatives already exist. The next Committee meeting will be held in person, in spring 2023.
---
IAPH MD addressed General Stevedoring Council
On 1 December, the General Stevedoring Council held its annual working luncheon in London, aboard the HQS Wellington. IAPH managing director Patrick Verhoeven was invited to address the traditional Christmas gathering of stevedoring companies and their guests. In his table speech, he spoke about the changing role of port authorities in their relation with business communities and societal stakeholders and the volatile regulatory environment in which ports operate today. The General Stevedoring Council was founded in New York in 1970. With companies active on all continents it is a cross-cultural networking and benchmarking platform for industry experts. Member companies are represented at executive level. One of the Council's prime tasks is to promote the engagement and training of next generations of stevedoring executives through the organisation of its own management courses.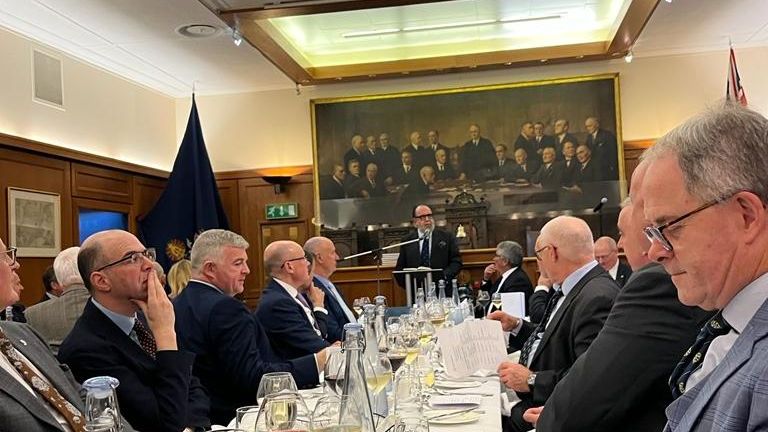 ---
IAPH spoke on future fuels at Salvage & Wreck conference
The Seatrade Maritime Salvage & Wreck conference was held in London on 30 November and 1 December. The programme included a panel session on how the introduction of future fuels and related cargoes might affect the decision to offer a place of refuge to a ship in distress. IAPH honorary member and former chair of the Legal Committee Frans van Zoelen joined the session, which was chaired by Ports & Harbors editor Ines Nastali. Frans underlined the need for governments to ratify relevant international conventions, and notably the Hazardous and Noxious Substances (HNS) Protocol which gives protection in case hazardous substances cause damage to a vessel when permitted entrance to a port. The panel further discussed the availability of port contingency plans with a solid understanding of the dynamics around places of refuge and the various hazards ships, fuels and cargo types may pose. This raised the question of capacity building. Frans van Zoelen pointed at the opportunity for IAPH and IMO to help ports and governments in improving the knowledge around this extremely important topic. This could be combined with capacity building on cybersecurity as well as Maritime Single Window implementation. Panellists finally referred to the value of the IMO Guidelines on Places of Refuge which will enter into force next year.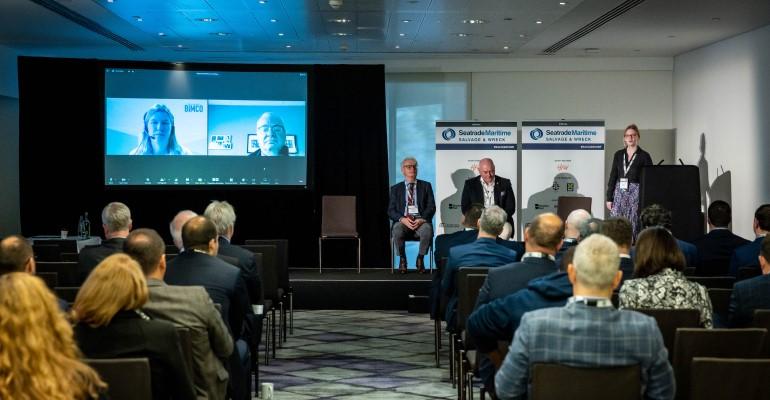 ---
Last Port Endeavor gameplay of 2022
Last Thursday, IAPH's partner Antwerp & Flanders Port Training Center (APEC) gathered participants to play a final round of our World Ports Sustainability Program UN SDG game Port Endeavor this year as part of its marketing and business development course for international port professionals. These included executives from the port authorities of Rio de Janeiro, Gdańsk, Suriname and Luanda, plus representatives from Thailand, Kenya, Gambia, Tanzania and Thailand Ports Authorities, Jordan Maritime Commission, Pelindo Multi-Purpose Terminal (Indonesia), MBM (Albania) COPIAPORT-E (Chile) and Tata Consulting Engineers from India. IAPH communications director Victor Shieh presented the introduction and end-game feedback session for the game alongside Port of Antwerp-Bruges International's Joachim Verheyen who is also taking part in the IAPH working group to develop Port Endeavor 2.0 alongside our other partner UNCTAD TrainforTrade.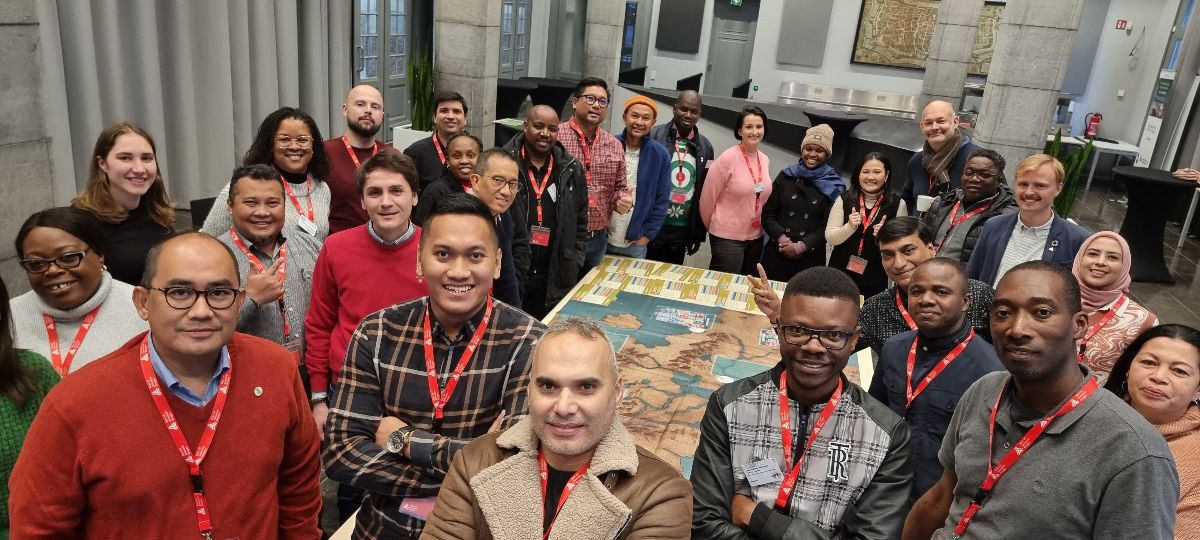 ---
IAPH supported Seahorse logistics journalism awards
Wednesday evening last week in London's Glaziers Hall, the Seahorse Freight Association recognised excellence in journalism across the transport and logistics industry at its annual awards ceremony, held in person for the first time in four years and attended by over 160 guests. IAPH supported the event and communications director Victor Shieh attended the ceremony to celebrate both runner up and winning journalists in ten categories including maritime, air, overland, technology, multipurpose, and supply chain journalist of the year, as well as rising star, news, feature, and journalist of the year. Winning reports appeared in titles including Wall Street Journal, The Loadstar, Lloyd's List, TradeWinds, Heavy Lift and Project Forwarding International (HLPFI), Journal of Commerce, Logistics Manager, FreightWaves, S&P Global, Drapers Magazine, and Port Technology International. The awards were judged by 22 industry professionals from across the globe and drawn from all transport modes, as well as supply chain, technology, public relations, and journalism.
The Loadstar's Mike Wackett, Ports & Harbors editor Ines Nastali and S&P award-winning Greg Knowler.
---
Robotics to reduce port pollution: revisit our Harbor Café
Our last regional Harbor Café session of the year was held last Friday. Led by vice-presidents Jens Meier and Michael Luguje of the IAPH Europe and Africa regions, it focused on overcoming surface water and debris pollution through robotics and automation in a port. There were some fascinating examples and insights from the ports of Antwerp-Bruges and Rotterdam on using drone technology, Hamburg Port Authority on its joint underwater SEACLEAR robotics project with European partners and the start-up company RanMarine with its Waste Shark solution. There was also an intervention by two representatives from the EU-funded IRA-MAR project which aims at improving the integrated response to pollution accident at sea and chemical risk in port, supporting the countries bordering the western Mediterranean basin and the Atlantic (Spain, France, Italy, Malta, Morocco, Portugal and Tunisia). The next IAPH regional Harbor Café to kickoff 2023 for Africa and Europe will take place on 16 February between 0900 and 1030 AM CET. You can revisit the last IAPH Harbor Cafe of 2022 session below.
---
Welcome to Wärtsilä
We are pleased to announce that Wärtsilä has joined IAPH as an associate member. Wärtsilä is a global leader in innovative technologies and lifecycle solutions for the marine and energy markets. It emphasises innovation in sustainable technology and services to help customers continuously improve their environmental and economic performance. The team comprises 17,000 professionals in more than 200 locations in 68 countries, shaping the decarbonisation transformation of industries across the globe.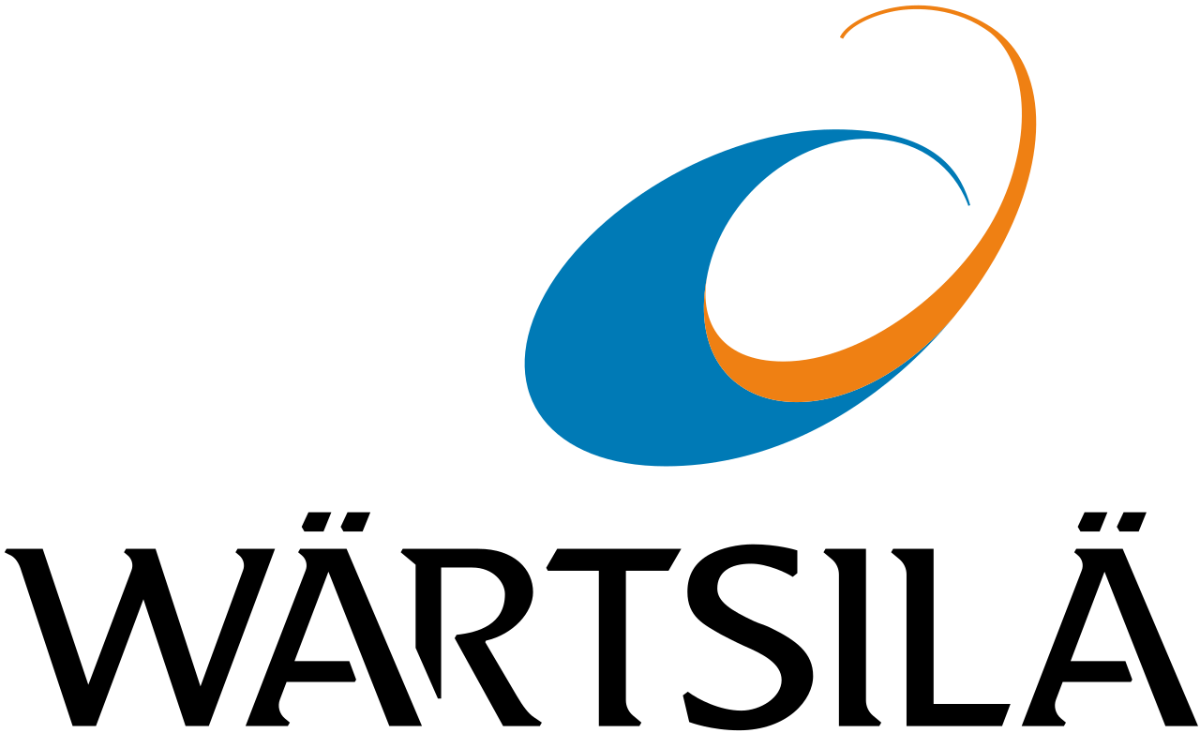 ---
Save the date: 2023 World Ports Conference in Abu Dhabi
The IAPH 2022 World Ports Conference in Vancouver resoundingly succeeded in identifying how ports should close the gaps in global port infrastructure. Never before have ports received so much attention from policymakers and businesses as the critical nodes connecting maritime with land-based intermodal supply chains. The 2023 World Ports Conference in Abu Dhabi will explore in depth and materialise ports' commitments to digitalise, decarbonise, invest and co-create with their business partners to solidify and expand their roles as supply chain community builders. Featuring global leadership personalities from ports, governments, IMO, UNCTAD, World Bank, global carriers, terminal operators and logistics sectors, #IAPH2023 World Ports Conference between 31 October and 2 November in Abu Dhabi, will bring East and West together in an unmissable opportunity to connect and learn from each other. Check out the conference website and register for updates. If you are interested in sponsoring, please consult this page.

---
UNCTAD maritime review points at crucial role of shipping
Higher grain prices and dry bulk freight rates in early 2022 contributed to a 1.2 per cent increase in consumer food prices. Container ships spent 13.7 per cent longer in port in 2021 compared to 2020, exacerbating delays and shortages. And during the last year, total greenhouse gas emissions from the world fleet increased by 4.7 per cent. These are some of the main findings of UNCTAD's latest Review of Maritime Transport, a report which has been assessing and accompanying developments in shipping and seaports since 1968. The experience and extensive data sets generated during the last decades help UNCTAD provide a comprehensive and thorough assessment of the causes and impacts of the trends covered in the Review. The message emanating from the latest UNCTAD analysis is clear: the world again needs the shipping industry to navigate through the rough seas of crises. The war in Ukraine has disrupted major shipping routes and supply chains. It has also triggered record prices that could push tens of millions more people across the world into hunger and poverty this year, as has been stated by the UN Global Crisis Response Group. Maritime transport has a key role to play in cushioning the blow. Prices need to come down to affordable levels, especially for developing countries, and for the world to have enough fertilisers to feed itself. As the ongoing supply chain crisis is easing, with decreasing freight rates and improving port performance, actions are needed to prepare for the long-term development of the sector. A transparent multilateral framework for the decarbonisation of maritime transport is needed, to reduce uncertainty for policy makers and industry alike. Confronted with uncertainty, shipowners have delayed some new building orders, and the average age of the world container ship fleet has increased from 10.3 to 13.7 years. Concerns of developing countries need to be addressed as well, notably the most vulnerable economies including Least Developed Countries and Small Island States. Looking beyond the horizon, the UNCTAD Review of Maritime Transport points to major challenges, but also opportunities for developing countries. Extensive data sets and analysis show how decarbonisation, digitalisation, and market consolidation require novel and collaborative policy responses. You can download the 2022 UNCTAD Review of Maritime Transport here.
---
IADC conference on financing sustainable infrastructure
On 9 February the International Association of Dredging Companies will be holding a conference in Dubai on how private capital can accelerate the green transition in marine and freshwater infrastructure. The conference is based on a recently published study exploring the financing of green coastal, river and port projects. Sustainable waterborne infrastructure solutions are available, have been tested and are economically viable and private capital could help to accelerate the uptake of such solutions. Nonetheless parties face difficulties in bringing all parties together in executing projects. The event aims to recognise the different obstacles experienced by different stakeholders. Ports, insurance companies, consultants, NGOs, dredging companies, public sector entities, financial institutions, investors and regulators will be attending. If you are interested in taking part, specify you are an IAPH member and register here.

---
IMPA appoints new secretary-general
Our colleagues at the International Maritime Pilots' Association (IMPA) have appointed Matthew Williams as their new secretary-general, effective 1 December. Matthew succeeds Nick Cutmore in the role, who led the organisation for more than 23 years and remains onboard in an advisory role. Matthew brings experience of a naval career at sea and his work representing various industry segments at IMO. You can find his bio here. We congratulate Matthew with his appointment and look forward to working with him and the IMPA membership.
---
Happy Holidays!
IAPH Insider takes a break during the upcoming holiday season. Our offices will be closed from 26 December to 6 January and the next issue of your favourite newsletter will appear on 12 January. We wish all our readers a merry Christmas and a very happy New Year! We thank you for your support and look forward to working with you next year, hoping to see all of you in Abu Dhabi at the 2023 World Ports Conference.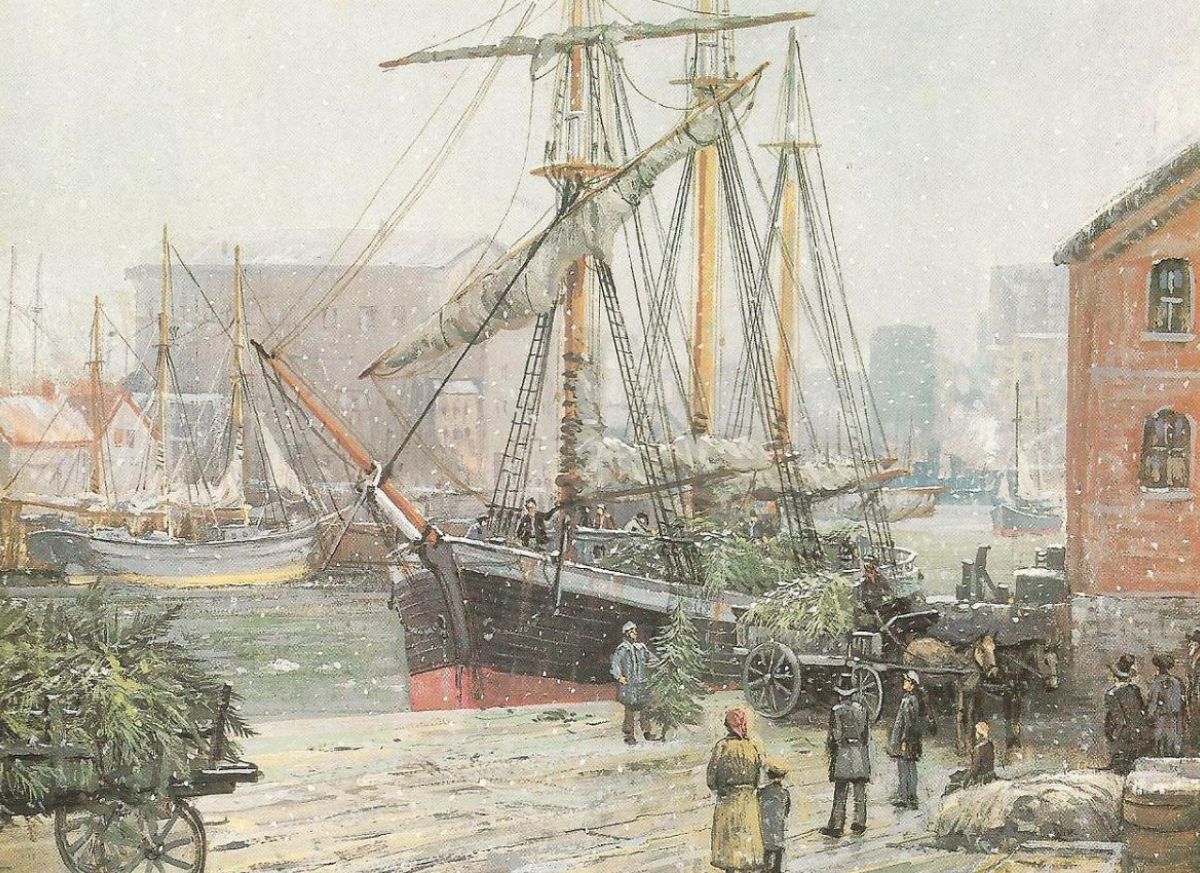 Charles Vickery (1913-1998), The Christmas Tree Schooner
---
Member Port News
In this edition's round up of member port news, you will find stories from the following IAPH members:
Africa and Europe region : Autoridad Portuaria de la Bahìa de Algeciras, Autoridad Portuaria de Sevilla, bremenports, Bulgarian Ports Infrastructure Company, Nigerian Ports Authority, Port of Amsterdam, The National Ports Agency Morocco, North Sea Port, Port of Gdansk Authority, Baku International Sea Trade Port, Freeport of Riga Authority, Hamburg Port Authority, Port of Antwerp-Bruges, Ports of Cabo Verde, Autoridad Portuaria de Valencia, Port of Rotterdam Authority, Port Authority of Vigo, Belfast Harbour Commissioners, Port Autonome de Cotonou, Oslo Port Authority, Administração dos Portos de Sines e do Algarve, Gibraltar Port Authority, Port of London Authority, Autorità Portuale di Genova, Autoridad Portuaria de Huelva, Autoridad Portuaria de Bilbao
America region: Montreal Port Authority, Port of Los Angeles, Port of Seattle, National Port Administration Uruguay, Panama Maritime Authority, Georgia Ports Authority, Port of Long Beach, Companhia de Desenvolvimento do Complexo Industrial e Portuário do Pecém, Port of San Diego, Vancouver Fraser Port Authority, Canaveral Port Authority
Asia and Oceania region: Sri Lanka Ports Authority, PT Pelabuhan Indonesia, Busan Regional Office of Oceans and Fisheries, Port of Brisbane, Taiwan International Ports Corporation, Westports Malaysia, Port Nelson, Maritime and Port Authority of Singapore, PSA International, Gladstone Ports Corporation, Incheon Port Authority, Marine and Water Bureau Government of Macau, Ulsan Port Authority, DP World, Incheon Regional Office of Oceans and Fisheries, NSW Ports, Yeosu Gwangyang Port Authority, Busan Regional Office of Oceans and Fisheries
Check out the full line up on our Member Port News page.
---
World Maritime News
These maritime news stories made the headlines over the past two weeks:
Topics on container freight rates
Topics on shipping lines
TradeLens is out, but blockchain is not, says GSBN chief
Topics on decarbonisation
Cosco exits ship chartering with $93 million charge
Topics on logistics
South Korean truckers vote to end 16-day strike
For details of each story, please visit the World Maritime News section on our website.
---
Calendar of Events
IAPH events and events where IAPH is represented