This edition of IAPH Insider covers:
---
This week's Insider highlights with MD Patrick Verhoeven
---
IAPH and ICS launch Clean Energy Marine Hubs Initiative
IAPH has teamed up with the International Chamber of Shipping (ICS) in launching an initiative to catalyse the supply of green fuels to support the global energy transition. IAPH managing director Patrick Verhoeven joined the unveiling of the 'Clean Energy Marine Hubs Initiative' last week at the Clean Energy Ministerial (CEM) in Pittsburgh. The Initiative will be a convening platform for public and private senior-level stakeholders from the ports, shipping, finance, and energy sectors across the energy-maritime value chain. ICS and IAPH will kickstart activity with governments represented at the CEM, with the objective of advancing the production, export and import of low-carbon fuels. The governments of Canada, the United Arab Emirates (UAE) and Panama confirmed during the CEM meeting in Pittsburgh that they will be among the first countries to back this key initiative, to help accelerate the worlds transition to green fuels and technologies. The initial concept for creating green marine hubs was announced earlier this year as a forum to enable policy makers and industry stakeholders to quickly unlock clean energy deployment. The Pittsburgh announcement represents the next step in the development of an initiative that will help unlock the potential for global adoption of zero emission fuels. CEM is a meeting of 29 energy ministers from leading governments, as part of the US Department of Energy's Global Clean Energy Action Forum (GCEAF). IAPH and ICS anticipate that the participation of Canada, the UAE and Panama in the Clean Energy Marine Hubs Initiative will establish a pathway for others to follow. Key objectives include facilitating information and knowledge exchange on policies, programmes, and decarbonisation projects to de-risk investment and accelerate the commercial deployment of alternative fuels and technologies across countries. Recent research from the International Renewable Energy Agency has emphasised the importance of shipping's role in the global green transition. By 2050, the shipping industry is expected to transport at least 50% of all traded zero-carbon fuels. You can watch the Pittsburgh launch of the Clean Energy Marine Hubs Initiative in the video below (footage starts at 10:25).
---
Shipping is 'partially on track' to decarbonisation
The first 'Climate Action in Shipping Report – Progress towards Shipping's 2030 Breakthrough', was launched on 21 September during New York Climate Week, prior to the annual summit of the Global Maritime Forum and the Clean Energy Ministerial in Pittsburgh. The report finds there has been significant progress from industry, national governments and positive developments at the IMO, but converting those commitments into concrete developments is vital for further progress. The study, led by Katharine Palmer, shipping lead for the UN High level Climate Champions team, and Domagoj Baresic, consultant at UMAS, evaluated the 2030 breakthrough goals against key levers for change, which include: technology and supply, finance, policy, demand, and civil society action. In terms of progress on technology and supply of scalable zero emission fuels, the report found that shipping is only partially on track. While there are more than 200 shipping decarbonisation pilot and demonstration projects in the pipeline and progress has been observed regarding bunkering and safety guidelines internationally, moving from pilots to fuel production commitments, investments, and infrastructure development is now a key requirement. Based on UMAS analysis, it is expected that the industry will have to commit to investing around USD 40 billion annually by 2030 for fuel bunkering and production, and the report points to the need for greater clarity on funding commitments for fuel production infrastructure. It adds that current orders for scalable zero emission fuels-ready ships should increase further, whilst a genuine zero carbon freight market is expected to emerge. On policy, the authors said that it is vital that positive policy signals, such as consensus on pricing GHG emissions, translate into firm agreements at the IMO in 2023, with the coming year offering an important window of opportunity before the revision of the IMO's Greenhouse Gas Strategy. You can download the report here.
---
IAPH was at IMO-UNEP-Norway Innovation Forum
This year's IMO-UNEP-Norway Innovation Forum was held 28 and 29 September both in person at the IMO headquarters in London and on a hybrid basis with livestream. IAPH managing director Patrick Verhoeven joined one of the panel sessions, which focused on how IMO policies are driving the international maritime decarbonisation agenda. Patrick underlined the double role that ports play in energy transition, as bunkering spots for shipping and as industrial clusters in the trade and transportation of zero and low carbon fuels. He further emphasised the real and huge potential in developing countries which requires major investments and partnerships across these nations as well as overseas partnerships to enable a just and equitable energy transition. The Innovation Forum coincides with this year's World Maritime Day, which is celebrated under the theme 'New technologies for greener shipping'. With this theme, the IMO is putting the spotlight on the role of emerging technologies to support a green transition of the maritime sector into a sustainable future, providing a platform to showcase inclusive maritime innovation, research and development, and the demonstration and deployment of new technologies. You can watch all Innovation Forum sessions on IMO's YouTube channel.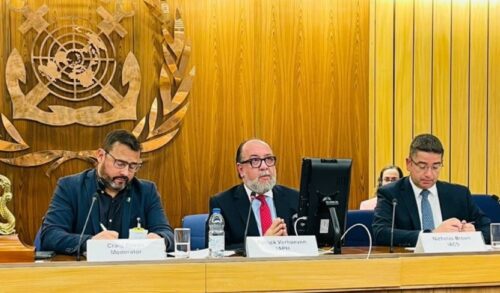 ---
Maritime single window: a window of opportunities
On 1 January 2024, the maritime single window (MSW) for data exchange between ship and shore will become mandatory in ports around the world, following amendments to the IMO Facilitation (FAL) Convention that were adopted last spring. The maritime single window constitutes a significant step in the digitalisation of the maritime sector, but it also presents several implementation challenges. To facilitate the process, IAPH has teamed up with BIMCO and the IMO secretariat in a campaign that will raise awareness about the benefits of the maritime single window concept and provide input and support to governments, ports and shipping companies. The campaign includes a general awareness webinar on 24 October, which will highlight the benefits and opportunities for maritime trade arising from the application of the maritime single window to electronic ship clearance processes in ports, and a two-day symposium to be held at the IMO headquarters in London in hybrid format on 18-19 January 2023. The symposium will cover both technical and resource aspects and present best practice solutions.The October webinar will be streamed on the IMO YouTube channel from 12.30 PM to 1.30 PM CEST. There is no need for registration.

---
IMO CCC 8 discussed lost containers and alternative fuels
The IMO Sub-Committee on Carriage of Cargoes and Containers (CCC 8) held its 8th session from 14 to 23 September. The Sub-Committee notably agreed on draft new requirements for mandatory reporting of lost freight containers at sea and continued its work on interim guidelines for the safety of ships using alternative fuels. Containers lost overboard can be a serious hazard to navigation and safety at sea as well as to the marine environment. The Sub-Committee agreed draft amendments to the SOLAS and MARPOL treaties, which would require the master of every ship involved in the loss of freight containers to fully communicate the particulars of such an incident by appropriate means without delay to ships in the vicinity, to the nearest coastal State, and to the flag State. The flag State would be required to report the loss of freight containers to IMO. The Sub-Committee agreed that the draft amendments should enter into force on 1 January 2026. The Sub-Committee's work on fuels is carried out in the context of the International Code of Safety for Ships using Gases or other Low-flashpoint Fuels (IGF Code). The code initially focused on LNG, but work is now underway to consider other relevant fuel types. At its meeting last week, the Sub-Committee agreed on draft Interim Guidelines for the safety of ships using LPG. The basic philosophy of these Interim Guidelines is to provide provisions for the arrangement, installation, control and monitoring of machinery, equipment and systems using LPG as fuel to minimise the risk to the ship, its crew and the environment, having regard to the nature of the fuels involved. The Sub-Committee invited interested member states and international organisations to develop guidance for LPG bunkering to assist crews, bunker suppliers and ports in delivering LPG fuel to ships. A working group at the Sub-Committee further developed draft interim guidelines for ships using hydrogen as fuel and initiated discussion on the development of interim guidelines for the safety of ships using ammonia as fuel. The two sets of draft guidelines will be further developed in a correspondence group reporting to the next session of the Sub-Committee. The full summary of the Sub-Committee meeting can be found on the IMO website.
---
IMO seeks pilot countries for underwater noise project
IMO is seeking lead pilot countries to participate in the upcoming GloNoise Partnership project, which aims to address the issue of underwater noise from shipping. The project is currently in a preparatory phase and is expected to launch in mid-2023, subject to approval and funding by the United Nations Development Programme (UNDP) and the Global Environment Facility (GEF). If approved, the project is expected to receive USD 2 million in funding under the GEF International Waters focal area, and will be executed by IMO over a period of two years. The GloNoise Partnership will focus on building capacity in developing countries to implement the 2014 IMO guidelines for the reduction of underwater noise from commercial shipping. IMO will prioritise a selection of developing countries to become lead pilot countries and is hoping to achieve a balanced geographical distribution. Lead pilot countries will be expected to take a championing role in their respective regions. More information about the application process can be found here. The deadline for expressions of interest is 16 October.
---
IMO updated analysis of MARPOL Annexe VI
The IMO-Norway GreenVoyage2050 project has released an updated version of its popular clause-by-clause analysis of MARPOL Annex VI, which addresses air pollution from ships, in the six official IMO languages. The document provides a breakdown explanation of each regulation and is intended to be a useful resource for countries seeking to draft legislation to incorporate MARPOL Annex VI into national law. The revised clause-by-clause analysis has been updated to reflect major amendments to MARPOL Annex VI, which were adopted by the IMO Marine Environment Protection Committee at its 76th session in June 2021. Most notably, these include regulations relating to the Energy Efficiency Existing Ship Index (EEXI) and the Carbon Intensity Indicator (CII). The analysis has been released in multiple languages to help achieve IMO's goal of effective implementation of MARPOL Annex VI, the Initial IMO GHG Strategy, and to support developing countries to achieve their GHG emission reduction goals. The analysis is available free-of-charge in six languages: Arabic, Chinese, English, French, Russian, and Spanish.
---
IAPH Cruise and Risk & Resilience meetings coming up
The Cruise and Risk & Resilience Committees are the first IAPH Technical Committees in line to have their autumn meetings, both in online format. The Cruise Committee meets 6 October from 5 to 7 PM CEST. The principal agenda item is the set-up of an Onshore Power Supply (OPS) Cruise Platform and the data collection of port and ship-related OPS information. The Risk & Resilience Committee will meet on 12 October from 4 to 6 PM CEST. The main topic on the agenda will be the progress achieved with the development of the guidelines for business continuity policy and risk preparedness for ports, one of the key deliverables of the committee for 2022. The committee will also reflect on disruptions emanating from the Ukrainian conflict and beyond. On port performance, members will be presented with the outcomes of the soon to be published 'Close the Gaps' report and will discuss progress with the World Ports Tracker. Members will be further briefed on the key topics and expectations from the forthcoming IMO Marine Safety Committee meeting. Finally, the committee will review progress on some of the individual topics on its radar, including climate resilience, anti-corruption, and safe handling of dangerous goods. Committee members will be receiving the agendas and documentation shortly. Participation in the Technical Committees is open to all IAPH regular and associate members. If you are interested in joining the work of one or more committees, please email our colleague Takeshi Suzuki (t_suzuki@iaphworldports.org).
---
Vacancy for IAPH VP South East Asia Oceania region
Jay Daniel R. Santiago left the Philippine Ports Authority and stepped down from the position of IAPH vice-president for the South East Asia and Oceania region on 13 September. To fill the vacancy, the IAPH secretariat will call upon all regular members from the South East Asia and Oceania region for self-nominations. The call will open on 3 October and will close three weeks later. It is expected that the new vice-president will be formally elected in December, covering the remainder of the 2021-2023 mandate. General elections for president and vice-presidents will occur in the course of 2023.
---
Next P&H poll: political representatives at port boards?
The question if political representatives should be on the board of a publicly owned port throws up two arguments. One, the port wants to maintain its independence and is gladly not looking to have legislators join their meetings. On the other hand, the pandemic has shown that port authorities alone cannot enable administrative issues such as crew changes without support from other government agencies. So, which way is best for port authorities? Have your say here!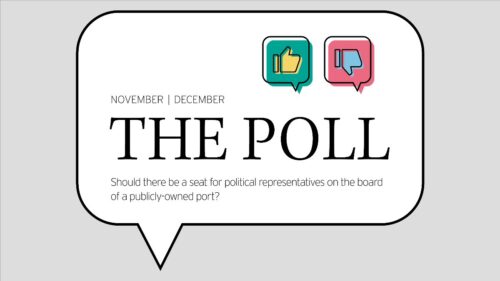 ---
Welcome to associate members from Australia and India
We are pleased to welcome NextPort vCoE from Australia and the ISF Institute of Research and Education from India as new associate members. NextPort vCoE is established to support sustainable and inclusive development of the port and maritime sector. It provides research insights to stakeholders through a virtual centre of excellence. This centre can inform and advise port and maritime authorities of management challenges in diverse ecoregions and maritime clusters while promoting capacity-building, collaboration, and virtual engagement between the members of the network of excellence. The ISF Institute of Research and Education, established in 2013, is a non-profit unit of the ISF Group dedicated to developing and delivering integrated educational and research programs. It is actively involved in research programmes and benchmarking surveys for the maritime industry.

---
PIANC-IADC conference on Early Contractor Involvement
Our colleagues at PIANC, the World Association for Waterborne Transport Infrastructure, and the International Association of Dredging Companies (IADC) are organising an international conference on Early Contractor Involvement (ECI) in Brussels on 6 October. Speakers will discuss how ECI creates value for the developer of an infrastructure project, and how it should be structured from various perspectives, including procurement, contractual aspects, and organisation. The conference will draw on the expertise of a dedicated PIANC working group, which developed a report containing practical guidance on how to perform ECI projects. The report is available for purchase on the PIANC website. Following the publication of this report, the full-day conference will address the topics of the report, with speakers from the working group and other leading experts in ECI and collaborative contracting. More information about the conference, the programme and how to register can be found here.
---
Member Port News
In this edition's round up of member port news, you will find stories from the following IAPH members:
Africa and Europe region: Durrës Port Authority, Baku International Sea Trade Port, Nigerian Ports Authority, Port Autonome de San Pedro, Port of Rotterdam Authority, Antwerp-Bruges Port Authority, Autoridad Portuaria de Sevilla, bremenports, Hamburg Port Authority, Oslo Port Authority, Port Autonome de Dakar, Port of Gdansk Authority, Port Akdeniz, Port of Bergen, Port Authority of Vigo, Port of Göteborg, Autoridad Portuaria de Huelva, HAROPA Port, North Sea Port, Autoridad Portuaria de Huelva, Bulgarian Ports Infrastructure Company, Freeport of Riga Authority, Administração dos Portos de Sines e do Algarve, Autorità Portuale di Genova, Autoridad Portuaria de Bilbao, Autoridad Portuaria de Valencia, Belfast Harbour Commissioners, Cyprus Ports Authority, Port Autonome de Cotonou, Port Authority of Vigo, Port of London Authority, Autoridad Portuaria de Santa Cruz de Tenerife, Gibraltar Port Authority, Autoritat Portuària de Barcelona

America Region: Autoridad Marítima de Panamá, Port Saint John, Georgia Ports Authority, Port of Los Angeles, Port of Long Beach, Halifax Port Authority, Port of San Diego, Port of Seattle, Vancouver Fraser Port Authority, Northwest Seaport Alliance, National Port Administration Uruguay

Asia and Oceania Region: Busan Regional Office of Oceans and Fisheries, Marine and Water Bureau Government of Macau, South Port New Zealand, Port Nelson, NSW Ports, Sabah Ports, Lyttelton Port Company, Maldives Ports, Qatar Ports Management Company, Philippine Ports Authority, Solomon Islands Ports Authority, Busan Port Authority, Gladstone Ports Corporation, PT Pelabuhan Indonesia, Subic Bay Metropolitan Authority, Sri Lanka Ports Authority, DP World, Ports of Auckland, Incheon Port Authority, Yeosu Gwangyang Port Authority, Yokohama Port Corporation, Port & Harbour Bureau Shimonoseki City Government, Maritime and Port Authority of Singapore
Check out the full line up on our Member Port News page.
---
World Maritime News
These maritime news stories made the headlines over the past two weeks:
Topics on shipping lines and logistics
Acquisition and development of container terminals
An issue on OSRA-22
Suez Canal Authority to raise transit tolls by 15%
Port strikes could have an impact beyond the UK
Visibility providers aim to create air-ocean link
For details of each story, please visit the World Maritime News section on our website.
---
Calendar of Events
IAPH events and events where IAPH is represented