This edition of IAPH Insider covers:
---
This week's Insider highlights with MD Patrick Verhoeven
---
More support is needed for Ukrainian port workers
A few months ago, IAPH and The Seafarers' Charity initiated an emergency appeal to support Ukrainian port workers and their families, who since the start of the invasion have been in the frontline of the conflict.The situation has since then only deteriorated. The port cities of Mariupol, Berdyansk and Kherson have fallen and Black Sea ports like Odesa remain under continuous threat. Meanwhile, port workers are making relentless efforts to organise grain exports from the Danube ports to alleviate global food shortages. Our campaign has so far yielded USD 18,877.50. This initial sum will be made available to the Maritime Transport Workers Trade Union of Ukraine (MTWTU) and its welfare fund Mortrans to provide relief to port workers and their families. We are grateful to all those who contributed to our campaign thus far. Still the sum collected to date is very modest compared to the actual needs on the ground. That is why we strongly encourage you to make a generous donation on a corporate and/or personal basis .Donations will be administered and overseen by The Seafarers' Charity, a grant funder which has embedded and well-established governance mechanisms and processes for monitoring and evaluation to ensure efficiency and transparency. All donors will receive a copy of the impact report produced at the end of the year to show where the funds have been spent. Details on how to make a donation can be found here. We thank you wholeheartedly for your generous support in helping Ukrainian port workers and their families.
---
ICS summit proposes Clean Energy Marine Hubs initiative
To mark their centenary, our colleagues at the International Chamber of Shipping (ICS) organised a summit in London this Tuesday on the theme 'Shaping the Future of Shipping'. The summit focused on decarbonisation of the shipping sector, building on the conference that ICS held during the 26th UN Climate Change Conference (COP 26) in Glasgow last November. The summit was held under the Chatham House rule and engaged top-level leaders from the shipping industry in discussion with other actors in the maritime supply chain as well as governments and policy makers. Together with representatives of Abu Dhabi Ports, Port of Rotterdam and the British Ports Association, IAPH managing director Patrick Verhoeven represented the port sector at the summit. He supported the need to establish a closely coordinated, concerted action between all industry stakeholders to overcome the ongoing stalemate at IMO. Patrick also expressed support for industry pioneering initiatives such as Green Shipping Corridors but argued in favour of developing clear criteria to avoid that this concept gets watered down to a mere marketing gimmick. In follow-up of the summit, ICS plans to work with industry partners such as IAPH in linking the energy sector with the maritime value chain, enabling policy makers and industry stakeholders to unlock clean energy deployment. To this end, attendees at the summit agreed to take forward a proposed 'Clean Energy Marine Hubs Initiative', to coordinate efforts from ports, shipping companies, infrastructure and energy firms. In a comment, Patrick Verhoeven said: "The global port community has a responsibility to offer refuelling hubs for maritime transport and also has a great opportunity to facilitate the trade of green fuels. No one industry can achieve the world's decarbonisation goals independently; platforms such as this which promise to bring us together will be crucial to making those goals a reality." The hub initiative could be launched as soon as September, at the upcoming Clean Energy Ministerial of 29 leading governments. The official press release with the conclusions of the summit will be available from the ICS website today.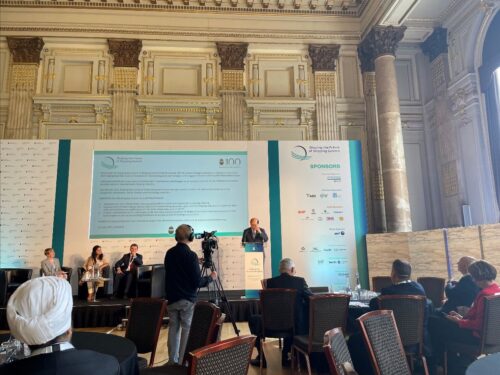 IMO Secretary General Kitack Lim concluded the ICS summit in London last Tuesday.
---
Emanuele Grimaldi takes the helm at ICS
Members of the International Chamber of Shipping (ICS) elected yesterday Italian shipowner Emanuele Grimaldi (Grimaldi Group) as their new chairman. Mr Grimaldi succeeds Esben Poulsson (Enesel Singapore), who held the chair of the organisation during the past six years. Emanuele Grimaldi has covered top managerial positions within the Grimaldi Group, both in Italy and abroad. Within the Group's organigram, he has gradually taken the helm of the Euro-Mediterranean short sea services and motorways of the sea network, thus heavily contributing to their remarkable development over the last 20 years. Next to his mandate at ICS, Emanuele Grimaldi is past president of Confitarma (Italian Shipowners' Association), vice president of MISC (Maltese Shipowners' Association) as well as board member and past president of ECSA (European Community Shipowners' Associations), board member of Interferry and board member of classification society Rina.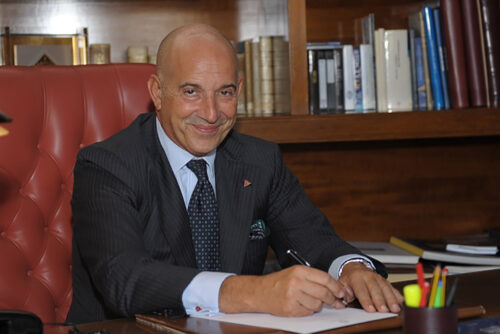 ---
IAPH and IMO partner up further on communications
With the number of joint initiatives and projects being planned and executed between IAPH and IMO on energy transition, trade facilitation and port call optimisation, IAPH communications director Victor Shieh finally visited IMO's headquarters in London this week to meet up in person for the first time with social media and communications officer Karine Langlois. Both have been working together during the pandemic on various projects. Subjects discussed included communications around IMO's Marine Environment Protection Committee (MEPC) activities as well as Facilitation (FAL) with a particular focus on adoption of Maritime Single Window systems. Just in Time Arrivals and work around biofouling also featured as well as the participation of IAPH as official partner of the GreenVoyage2050 partnership project between the Government of Norway and IMO.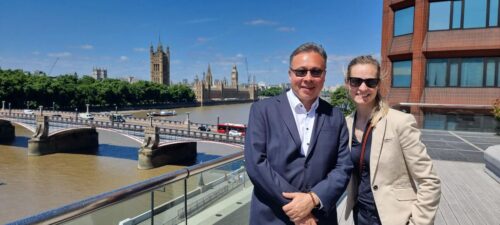 Victor Shieh and Karine Langlois at the IMO headquarters
---
Next Harbor Café sessions on hydrogen and innovation
The IAPH Harbor Café will open its doors again to member guests, allowing them to informally join with a drink online and discuss key trending topics of interest. The first upcoming café is co-organised by the IAPH Europe and Africa regions as a bi-regional session on 24 June at 10.30 AM CEST. It will include perspectives from port authorities and companies that enable the production and transport of hydrogen. Member ports, associate IAPH members or organisations interested in taking part may contact Ingrid Boqué at the Hamburg Port Authority for more information. The second IAPH Harbor Café is being coordinated by our Data Collaboration Committee Innovation Group. It will feature ports with experience in setting up innovation hubs in their ports with start-ups. To cover most world time zones, two sessions are being planned on the IAPH Harbor Café portal, between 09.00 and 10.00 AM and between 05.00 and 06.00 PM CEST on Tuesday 12 July. Concrete cases will include a system capable of detecting truck and container numbers while moving, a tracking system that performs automated 360-degree inspections of car shipments, a radar system that can detect the composition on MARPOL vessel residues and a cyber outfit capable of recovering port operation and IT systems within 30 seconds of a cyber-attack. Interested non-members of IAPH can contact Fabienne Van Loo if they are interested in joining one of the Harbor Café sessions.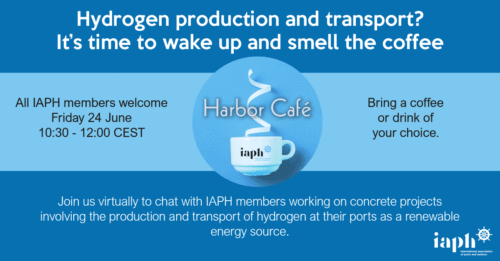 ---
First ports joined World Ports Tracker community
96 ports from eight world regions became part of the IAPH World Ports Tracker community by responding to the first quarterly survey providing information about expected number of cargo vessel calls, current hinterland transport conditions, current capacity utilisation of warehouses and distribution facilities, cargo throughput expectations, cruise and passenger vessel call size and frequency as well as current staff availability. These ports will receive early July an exclusive in-depth analysis of the findings, prepared by our experts, economists Theo Notteboom and Thanos Pallis. A summary of the findings will be published in the September-October edition of our membership magazine Ports & Harbors. The World Ports Tracker builds on the COVID-19 Port Economic Barometer which we ran during the first year of the pandemic. We maintain the successful formula of having a limited set of short questions and a quick turnaround time of the analysis. As with the COVID-19 Barometer, all information obtained will be treated in a confidential manner and only aggregated data will be published. No reference will be made to individual ports. Are you interested in joining the World Ports Tracker community and participate in our next quarterly survey? Contact Fabienne Van Loo and you'll be on our next mailing.
---
Successful first Port Endeavor gameplay in French
On 16 June Port Endeavor was used for the training of twenty port managers from West African ports (Togo, Mauritania, Guinea, Gabon, Ivory Coast, Cameroon) and the Port of Nantes Saint-Nazaire as part of a dedicated TrainForTrade programme held in Nantes, France. This was the first time that a Port Endeavor session took place in French, building further on the cooperation between IAPH and the UNCTAD TrainForTrade programme. The session was co-hosted by TrainForTrade chief of human resources development Mark Assaf and IAPH technical director Antonis Michail. A great time was had by all participants who were very positive in their feedback during the debriefing session after the game. TrainForTrade is the main global partner of IAPH for the game, together with IAPH associate member APEC Port Training. Port Endeavor is designed to increase awareness of port colleagues and the wider port communities on how ports integrate the UN Sustainable Development Goals (SDGs) into their business, using real examples of the 240+ projects from the IAPH World Ports Sustainability Program. The game is currently available in English, French and Spanish. If you are interested in learning more about Port Endeavor, you can get in touch with Antonis Michail. Antonis was recently interviewed about the scope and achievements of the World Ports Sustainability Program for Vaisala, a company specialised in climate mitigation and adaptation. You can read the interview here.
---
Port Technology International hosted IAPH cyber experts
Our new associate member Port Technology International held an online cybersecurity event for ports and terminals yesterday for over 200 maritime and port professionals. Opening the conference, IAPH Data Collaboration chairman Pascal Ollivier (president, Maritime Street) made a keynote on key insights and practices based on the work completed by over 20 authors from our membership ranks for the IAPH Cybersecurity Guidelines for Ports and Port Facilities. The document was recently endorsed by IMO during FAL-76 and will be mentioned in MSC-FAL.1/Circ.3, effectively establishing a port industry standard alongside the BIMCO cybersecurity guidelines for shipping. In addition, two authors of the guidelines (Max Bobys of Hudson Cyber and Gadi Benmoshe of Marinnovators) took part in the panel discussion on how ports and terminals can build effective resilience against evolving cyber threats.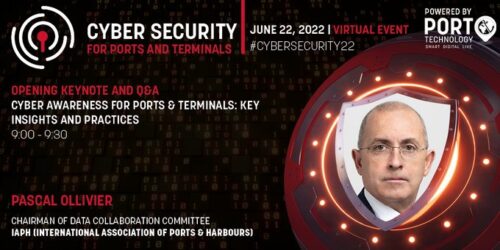 ---
Welcome to new associate members
We are pleased to welcome BMT Group and Kale Logistics Solutions as our newest associate members. BMT Group is a Singapore-based management and engineering consulting firm providing expertise to ports and terminals, mining, marine including offshore renewables, and maritime industries. The company specialises in investment and market-related studies, master planning, maritime structures, and floating concepts to detailed engineering designs, project management and construction supervision, vessel inspection and surveys, management consultancy, process risk, safety and modelling, bulk materials handling design, specialised navigation simulations and environmental related studies. Kale Logistics Solutions is an IT software company for logistics. The company is headquartered in India with regional branches and subsidiaries in the USA, Canada, Netherlands, UAE, Kenya, and Mauritius and serves more than 4500 customers in 29 countries. Its solutions help freight forwarders, NVOCC, LCL consolidators, shipping line agents, stevedores, surveyors, container freight stations, other logistics service providers and users, as well as airport cargo terminal operators achieve faster growth, standardised processes, and operational efficiencies.

---
Ennarasu Karunesan appointed IAPH India representative
To develop the IAPH network in India, we are pleased to announce that Ennarasu Karunesan has been appointed as our representative in the country. India has a coastline which is more than 7,517 km long, interspersed with more than 200 ports. The port sector in India is driven by high growth in external trade. Last year, Indian ports handled 650.52 million tonnes of cargo traffic. The key ports are furthermore expected to deliver investment projects worth USD 274.31 million on a public-private partnership basis. Ennarasu's main task is to recruit ports and organisations in the Indian port community as IAPH regular and associate members. He has more than 33 years of leadership experience in the maritime sector, including 22 years as CEO in global ports and logistics, working in Mumbai Port, Westports Malaysia, P&O Ports, DP World as well as Adani Ports & Special Economic Zone, Mundra, which is largest Port in India. He currently serves as an advisor to Indian Ports. We welcome Ennarasu onboard and look forward to working with him to grow our presence in India.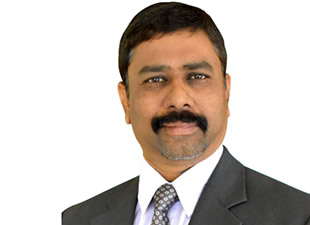 ---
Member Port News
In this edition's round up of member port news, you will find stories from the following IAPH members:
Africa and Europe Region: Gibraltar Port Authority, JadeWeserPort, Port Autonome de Kribi, Bulgarian Ports Infrastructure Company, Port Autonome de San Pedro, Port of Rotterdam Authority, Hamburg Port Authority, Port Autonome de Dakar, Autoridad Portuaria de Sevilla, Port of Amsterdam, Port of Antwerp-Bruges, Autoridad Portuaria de Bilbao, Baku International Sea Trade Port, Cyprus Ports Authority, Freeport of Riga Authority, Port of Bergen, Port Authority of Vigo, North Sea Port, Abidjan Port Authority, Ports of Cabo Verde, Port Authority of Genoa, Port Authority of Douala, Port of Helsinki, Administração dos Portos de Sines e do Algarve, Autoridad Portuaria de Huelva, Autoridad Portuaria de Santa Cruz de Tenerife, Autoridad Portuaria de Santa Cruz de Tenerife, Oslo Port Authority, Autoridad Portuaria de Valencia, Port of Gdansk Authority, Autoridad Portuaria de la Bahìa de Algeciras, Nigerian Ports Authority, Port Autonome de Dakar
America Region: Halifax Port Authority, Port of Seattle, Panama Maritime Authority, Port of Hueneme, Port of Long Beach, Companhia de Desenvolvimento do Complexo Industrial e Portuário do Pecém, Georgia Ports Authority, Vancouver Fraser Port Authority, Port of Los Angeles, Canaveral Port Authority
Asia and Oceania Region: Maldives Port, Maritime and Port Authority of Singapore, Incheon Regional Office of Oceans and Fisheries, SPG Qingdao Port Group Company, Incheon Port Authority, Busan Port Authority, Guangzhou Port Authority, Ports and Maritime Organization Iran, PT Pelabuhan Indonesia, Marine and Water Bureau Government of Macau, Sri Lanka Ports Authority, DP World, Gladstone Ports Corporation, NSW Ports, China Merchants Port Holdings Company, Taiwan International Ports Corporation, Port Nelson, Port of Brisbane , Gladstone Ports Corporation
Check out the full line up on our Member Port News page.
---
World Maritime News
These maritime news stories made the headlines over the past two weeks:
Situations of port congestion in the US, Europe, and China
Uncertain demand overshadows container sector outlook
Biden signs the Ocean Reform Act of 2022 (OSRA-22)
US regulator launches supply chain initiatives
The situation in west coast labor negotiations
Labour negotiations ongoing in Germany as congestion impacts ports
Discussions at the IMO MEPC 78
Shippers' opinion on carbon levy
Reducing vessel speed is 'the most powerful way to cut emissions'
For details of each story, please visit the World Maritime News section on our website.
---
Calendar of Events
IAPH events and events where IAPH is represented
23 June – Getting to Zero Coalition workshop – Copenhagen
24 June – IAPH Harbor Café Africa-Europe
27-30 June – IHMA Biennial Congress – Kuala Lumpur
7-8 July – MedPorts Forum – Civitavecchia
12 July – IAPH Harbor Café Innovation
24-25 August – Norwegian Ports Conference – Kristiansand
30 August-1 September – Ports Australia Conference – Brisbane