IAPH Insider – 24 February 2022

This edition of IAPH Insider covers:
---
This week's Insider highlights with MD Patrick Verhoeven
---
#IAPH2022: Vancouver is ready to welcome you!
With less than three months to go before #IAPH2022 kicks off, IAPH managing director Patrick Verhoeven is in Vancouver this week, to prepare what will be the first in person World Ports Conference since 2019. Together with Sheraer Abrahams, senior event manager at IHS Markit, our events partner, he visited the Vancouver Convention Centre, where the conference will take place, the main conference hotels and other venues. Patrick and Shay also met with the team at Port of Vancouver, the event host sponsor, including with Robin Silvester, CEO and president of the port authority and IAPH vice-president for North America. Ahead of the visit, the good news came that the Canadian government has decided to ease travel restrictions to enter the country as from 28 February, as part of the pandemic response transition. Together with our partners IHS Markit and the Port of Vancouver we are working to ensure delegates will have a full and safe networking experience at #IAPH2022.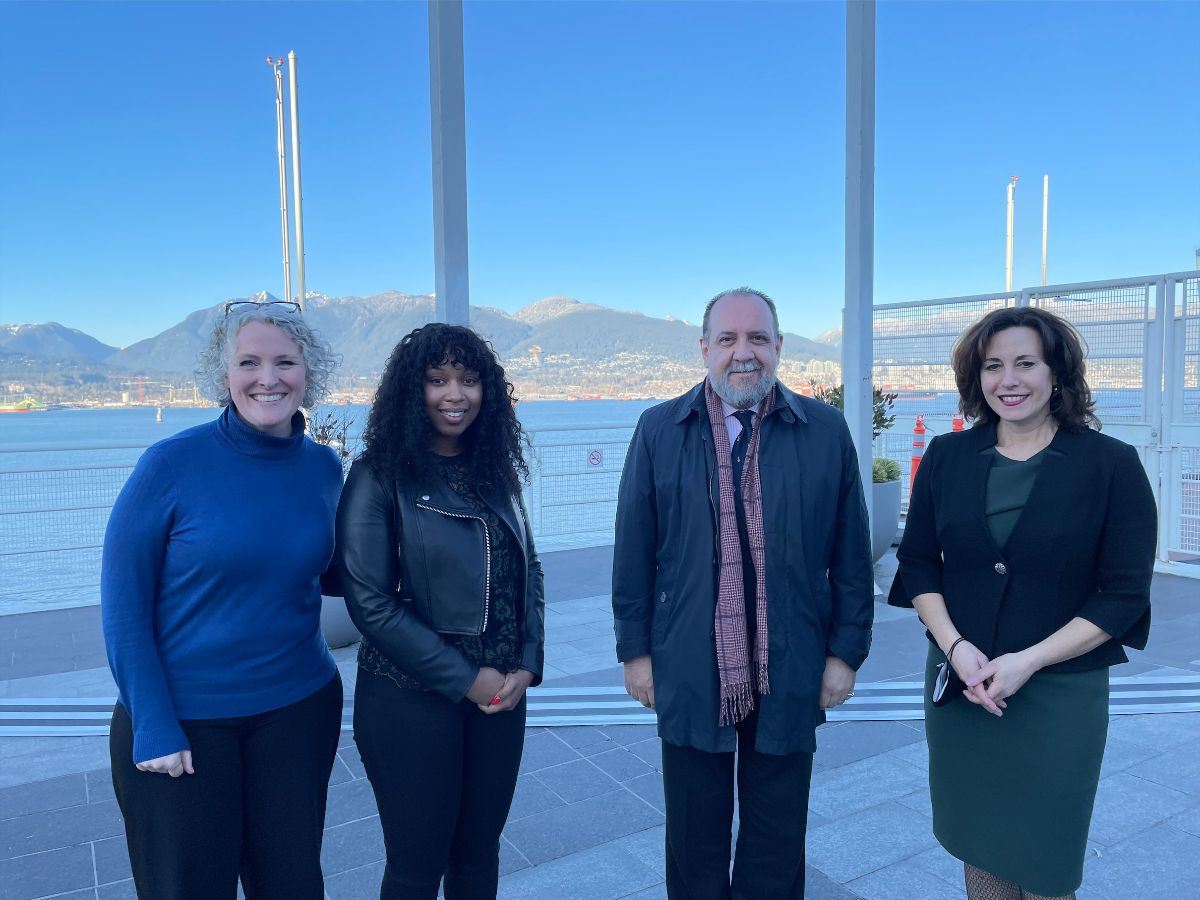 Gillian Behnke (manager community relations & events, Port of Vancouver), Sheraer Abrahams, Patrick Verhoeven, Matti Polychronis (senior communications advisor, Port of Vancouver)
---
#IAPH2022: an exciting programme awaits
With four full days of live in person conference programming, #IAPH2022 will bring together leading port stakeholders in Vancouver, Canada, to #ClosetheGaps in global seaport competitiveness, setting an agenda to raise the performance of the world's major port regions. The principal topics addressed at the conference include port performance and supply chain resilience, port innovation to facilitate cargo trade, ports as catalysts of energy transition and port leadership through diversity. The agenda also features a dedicated session on the rebooting of the cruise industry. The programme alternates plenary sessions with workshops where participants will be able to dive deeper into the matter and share experiences with other ports. The main conference programme runs from Monday 16 to Wednesday 18 May, with the Gala Dinner and 2022 IAPH Sustainability Awards Ceremony scheduled on Tuesday evening. The IAPH AGM and a visit to the Port of Vancouver close the main programme on Wednesday afternoon. On Thursday 19 May, the IAPH Technical Committees will have their meetings and there will also be a demonstration session of the WPSP Port Endeavor game. Discover the full agenda here and register your seats in due time!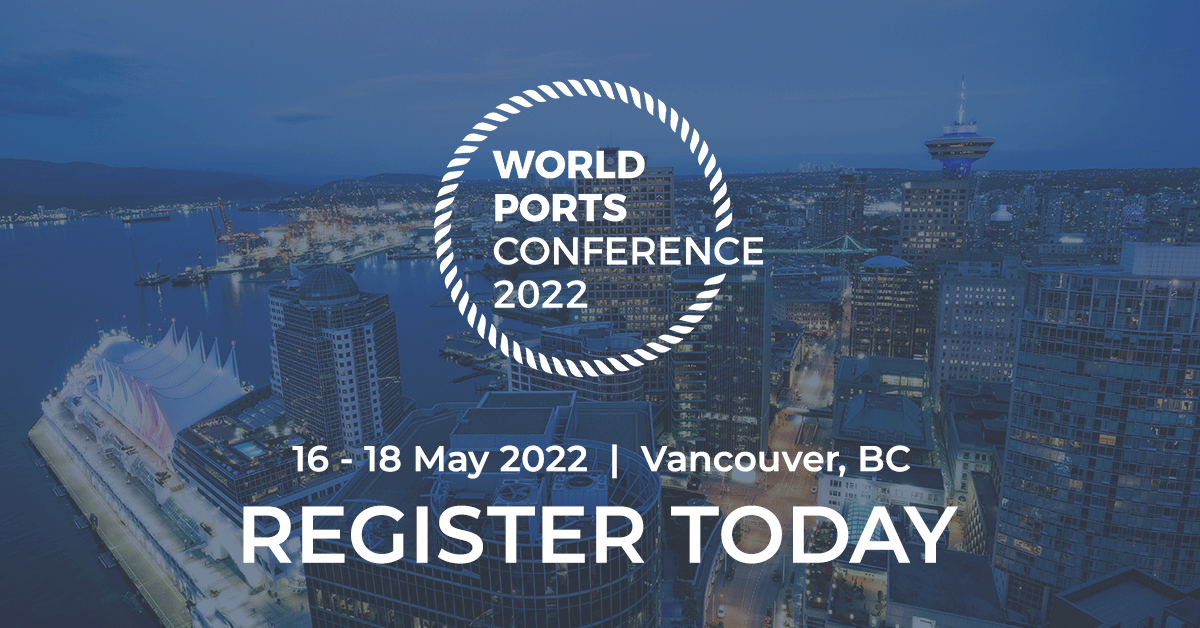 ---
#ClosetheGaps pre-conference workshops continue
Following a successful first series of #IAPH2022 regional pre-conference workshops held this month, the series resumes 15 March with a workshop on Sub-Saharan Africa. Our panel of senior experts includes Michael Luguje, director-general Ghana Ports and Harbours Authority, Bernard Osero, head of corporate affairs Kenya Ports Authority, Hassan Robleh Mahamoud, business development manager Port of Djibouti, Jens Norgaard, owner Norgaard Management & Consulting, Ilham Dounnajah, managing director Provider Logistics, Johny Smith, CEO Transnamib, Ziad Hamoui, founder Borderless Alliance and Ian Treder, logistics director OMA Group. The workshop will be moderated by Colleen Jacka, editor at Maritime Review Africa, with expert input from Martin Humphreys, global lead transport connectivity and regional integration at The World Bank. Next in line will be the workshops on Central and South America (22 March), Middle East, Central and South Asia (24 March) and East Asia (29 March). Register for #IAPH2022 and get exclusive access to these invitation-only workshops that will generate priorities to debate and shape the agenda points at the IAPH World Ports Conference in Vancouver.
---
Jury 2022 IAPH Sustainability Awards announced
With the addition of port experts from China and Venezuela, representation for Asia and Latin America has been added to the eclectic mix of jury members for the IAPH Sustainability Awards. Academia, non-governmental organisations, research institutes, media, shipping, and former port executive management are all represented. Our esteemed jurists for 2022 (pictured below, left to right, top to bottom) are: Dr Cleopatra Doumbia-Henry, president of the World Maritime University, Dr Christopher Wooldridge, joint science coordinator at EcoPorts, Ines Nastali, editor of the IAPH Ports & Harbors magazine (IHS Markit), Ambassador Oscar Hernández, RED Puertos – Network of digital and collaborative ports Latin American and Caribbean Economic System (SELA), Namrata Nadkarni, CEO and founder Intent Communications, Gerald Munjanganja, line manager Seatrade, Dr Jan Hoffmann, chief Trade Logistics Branch DTL UNCTAD, Dr Peng Chuansheng, chief technical officer China Waterborne Transport Research Institute and Dr Geraldine Knatz, professor of the practice of policy and engineering at the University of Southern California. The dedication and commitment by the jury to carefully evaluate all the projects fairly and equitably involves substantial work. We are very grateful to them for their voluntary efforts and look forward to presenting the voting public with their finalists on 18 March. This year, 49 projects will be competing for the IAPH Sustainability Awards. The outcome of the jury evaluation (70%) and that of the public vote (30%), will co-determine the six final winners per category, to be announced during the Gala Dinner of the IAPH World Ports Conference in Vancouver on 17 May.
---
IAPH Harbor Café opened for business
On Monday this week we launched the IAPH Harbor Café online forum for an informal discussion on port cybersecurity which featured IAPH experts from Singapore, Ghana, Israel, France and the United States with participating ports from Germany, Morocco, Maldives, Cabo Verde, Japan and the US as well guests from Qatar, Panama and other countries. Questions to our cyber experts included how to get stakeholder buy-in at local and national level of the importance of dealing with cyberthreats at ports. Time was also spent discussing how to commence to put together and prioritise a cybersecurity strategy as a smaller port with limited resources. Participants enjoyed the free-flowing conversation over coffee, tea, soft drinks and even a beer. To openly discuss specific port-related issues we will use this channel again as it reduces one-way conversations to the audience often seen at webinars. It also gives the chance for members with small to medium ports to play a more active role sharing their experiences. We shall keep the link open for anyone among our membership wanting to engage with experts and we will also prepare some new sessions on specific topics after our #IAPH2022 pre-conference workshops are completed at the end of March.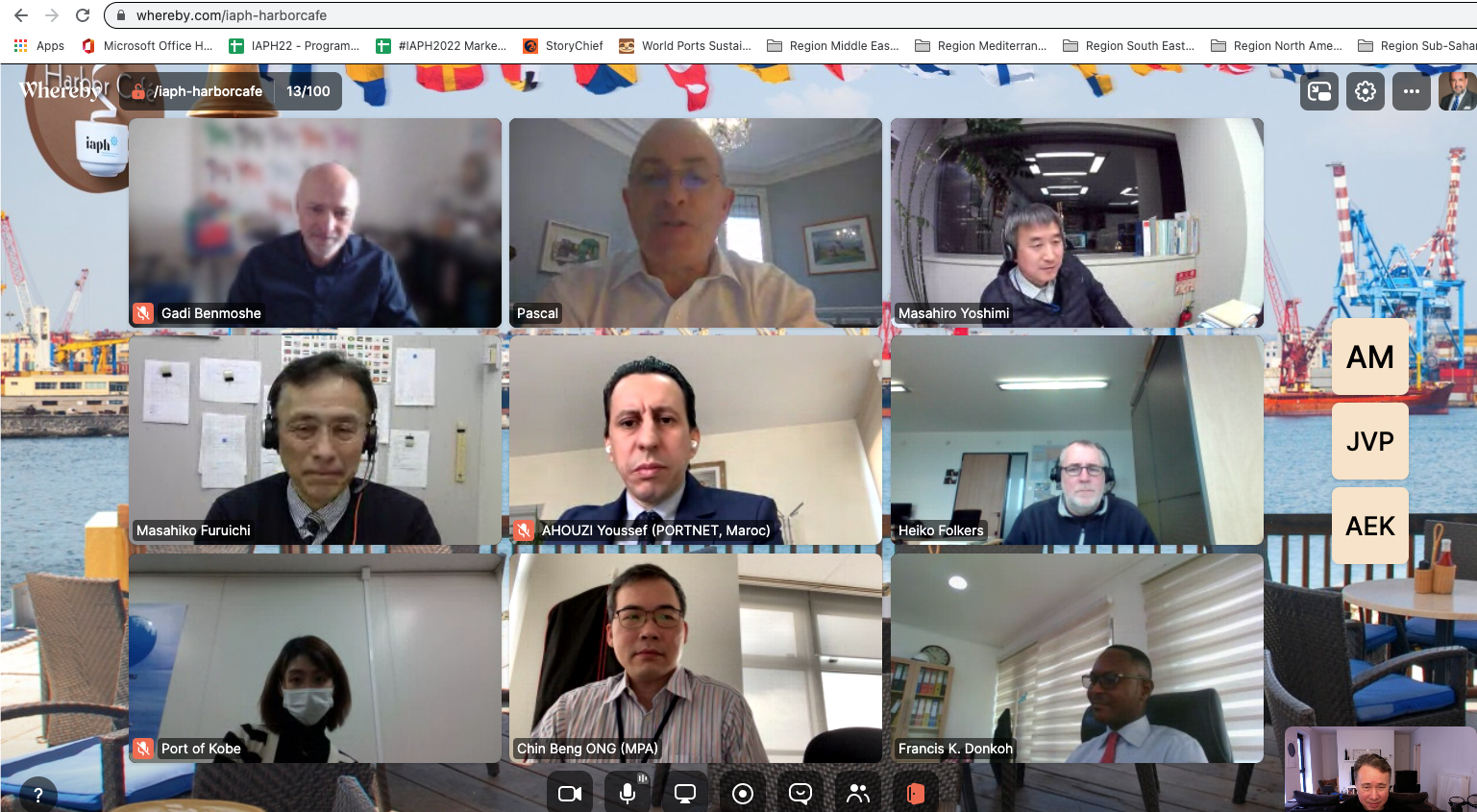 ---
Welcome to new members from Italy and Canada
We are happy to welcome two new members this week, a regular member from Italy and an associate member from Canada. The Port Network Authority of the Ionian Sea is the governing body of the port of Taranto. The port network authority identifies itself as the key player in the revival of the port and logistics system of the Ionian province by introducing a series of actions aimed at innovation, digitalisation, sustainability and the coordination of interventions to improve economic development related to the shipping sector and port-city integration. Founded in 1958, the Association of Canadian Port Authorities (ACPA) represents the interests of the seventeen Canadian port authorities that make up Canada's national ports system. The association's mission is to champion and advocate for Canadian ports in government policy, trade, competitiveness, and public awareness to contribute to a sustainable, clean, efficient, and reliable intermodal supply chain and transport system.

---
Kick-off meeting ESI 'at berth' module held
The process to build a new 'at berth' module for the IAPH Environmental Ship Index (ESI) has commenced. The new module will focus on the environmental performance of ships at berth for each port call. An online kick-off meeting by the project team was held 21 February. The module will initially focus on cruise shipping and will be funded by contributions from major cruise ports and IAPH. It will develop in two phases, starting with the reporting model, followed by the development of an at berth performance- and emissions indicator. A core working group of ports, representatives from the cruise industry and the Cruise Lines International Association (CLIA), and the website building company Nalta, has been established to accompany the development phases. The project is led by the Port of Los Angeles and the Port of Amsterdam, being supported by IAPH and Green Award Foundation, which manages the ESI operation, and Starcrest. The aim is to have the at berth module in full operation by the beginning of 2023. The ESI at-berth module will bring ESI to the next level by also assessing and rewarding actual performance related to each port call. This will feed port emission inventories and will trigger further emissions reduction through the voluntary application of incentives by the ESI ports. Starting with cruise vessels as a pilot for a two-year period, the at-berth module is then expected to expand to other types of traffic subject to positive evaluation. For further information on the development of the at-berth module, please contact: Teresa Pisano, marine environmental supervisor in the environmental management division at the Port of Los Angeles and Henri van der Weide, policy advisor at the Port of Amsterdam.
---
Ports commit to green incentives at One Ocean Summit
To mobilise the international community and take tangible action to mitigate pressures on oceans, Emmanuel Macron, the President of the French Republic, decided to organise a summit, which took place in Brest on 9-11 February. The 'One Ocean Summit' was held in the context of the French Presidency of the Council of the European Union, with the support of the United Nations. The goal of the One Ocean Summit was to raise the collective level of ambition of the international community on marine issues and to translate a shared responsibility to oceans into tangible commitments. Port stakeholders, among which several IAPH members, made a commitment to reduce their environmental impact at the closing of the summit. As part of their engagement, they pledged to reward ships by incentive mechanisms such as those based on the IAPH Environmental Ship Index (ESI).
---
ICS to mark centenary with decarbonisation summit
The International Chamber of Shipping (ICS) has announced plans to mark its centenary and host a high-level summit to address decarbonisation of maritime transport. Responding to a challenge thrown down by industry leaders in Glasgow, during COP26, ICS will work with partners to convene shipowners, ministers, maritime, energy and infrastructure leaders to bring forward a tangible path to decarbonise the sector. The closed-door meeting will be held in London the day after a dinner on Monday, 20 June 2022 at the National Maritime Museum in Greenwich to mark the organisation's centenary. Building on the success of the Shaping the Future of Shipping Conference held in Glasgow, the Shaping the Future of Shipping Summit will take place in London on Tuesday, 21 June. The summit will see industry leaders and ministers from across the globe joined by members from the ports, energy, and finance sectors, as well as representatives of the unions and foundations to ensure workers and the developing world are at the heart of the supply chain's green transition. The summit will be chaired by former UK shipping minister Nusrat Ghani MP. The agenda will focus on identifying practical next steps for solutions designated by industry last year including investing in research and development, identifying and prioritising the most viable fuel choices for shipping, and ensuring a just transition, needed to achieve net-zero by 2050. ICS hopes the summit can act as an antidote to the lack of ambition some governments have shown toward developing regulation and allocating finance for shipping's decarbonisation. To achieve a fair and equitable transition, ICS will work with governments at the summit to progress effective regulation at a global level. Further details of the Centenary Dinner are available here with details of the Shaping the Future Summit to be released in due course.
---
Free online course on ports and illegal wildlife trade
The Institute of Chartered Shipbrokers has announced an online course 'Ports & the supply chain: awareness and security measures to prevent illegal wildlife trade'. Increasing demand for illegal wildlife products in Asia is threatening species such as black rhinoceros, African elephants, and African pangolins to extinction. Every year, illegal wildlife trade displaces billions of US dollars of national revenue from developing countries to the individuals and networks involved in this crime. Traffickers use legitimate transport, logistics services and commercial trade routes to illegally move wildlife and their products from source to consumer countries. Up to 90% of these wildlife products are trafficked by sea, in containerised cargo, due to high volumes involved and minimal risk of interception and arrest. The online course is meant for all export and import actors working through ports, including manufacturers, transporters, freight forwarders, clearing agents, container terminal and freight station operators, and shipping lines; government agencies controlling international trade security through ports, including port authorities, customs, wildlife and forest agencies, police, etc. The key purpose of the course is to raise awareness and to provide basic information on security measures that can be implemented by port stakeholders to prevent and detect wildlife trafficking. The course consists of four modules developed for self-study. Each module has an interactive summary with simple quizzes that allow participants to check their knowledge on each course module. At the end of the course, participants will find an assessment section with twenty questions covering the entire course content. After successful completion of the self-assessment, a certificate for completion of the course will be provided. To sign up, please get in touch with UNDPPortsproject@ics.org.uk.
---
Member Port News
In this edition's round up of member port news, you will find stories from the following IAPH members:
Africa and Europe region: Port of Göteborg, Bulgarian Ports Infrastructure Company, North Sea Port, Port Autonome de San Pedro, Cyprus Ports Authority, Hamburg Port Authority, Port of Gdansk Authority, Port of Rotterdam Authority, Authority for Transport in Malta, Autoridad Portuaria de Bilbao, Baku International Sea Trade Port, Belfast Harbour Commissioners, DP World, Oslo Port Authority, Port Authority of Genoa, Port of Amsterdam, Port Autonome d' Abidjan, Autoridad Portuaria de la Bahìa de Algeciras, Port of Helsinki, Port Autonome de Conakry, Autoridad Portuaria de Valencia, Kenya Ports Authority, Port of Beirut, Port of Bergen, Bremenports Ports of Cabo Verde, Nigerian Ports Authority, Ports of Cabo Verde, Autoridad Portuaria de Huelva
America Region: Porto do Açu, Autoridad Marítima de Panamá, National Port Administration Uruguay, Georgia Ports Authority, Port of Los Angeles, Port of Seattle, Companhia de Desenvolvimento do Complexo Industrial e Portuário do Pecém, Montreal Port Authority
Asia and Oceania Region: Gladstone Ports Corporation, Incheon Port Authority, Port of Brisbane, Yeosu Gwangyang Port Authority, Port of Kaohsiung, South Port New Zealand, Kuantan Port Authority, Maritime and Port Authority of Singapore, Sri Lanka Ports Authority, Ulsan Port Authority, Incheon Regional Office of Oceans and Fisheries, Port of Duqm Company, Taiwan International Ports Corporation, Busan Port Authority, Lyttelton Port Company, Ports and Maritime Organization Iran, Guangzhou Port Authority, Sabah Ports, Busan Regional Office of Oceans and Fisheries, PSA International
Check out the full line up on our Member Port News page.
---
World Maritime News
These maritime news stories made the headlines over the past two weeks:
Global trade surges past pre-pandemic level
Outlook for container shipping market
A trend of using shipper owned containers
The situation on LA/LB ports
No rates relief from Chinese New Year break
Who should pay for the EU ETS?
The UK touts shore power plans despite funding gap
Hydrogen and ammonia are shipping's cheaper and greener fuel option
Organisations join up for a major push on electronic bills of lading
For details of each story, please visit the World Maritime News section on our website.
---
Calendar of Events
IAPH events and events where IAPH is represented