This edition of IAPH Insider covers:
---
This week's Insider highlights with MD Patrick Verhoeven
---
IAPH Harbor Café opens 21 February
On Monday 21 February we are opening the virtual IAPH Harbor Café for all members. The idea for this new platform came about during the making of the IAPH Cybersecurity Guidelines when authors came in and out of an informal virtual meeting with their comments and questions. We invite everyone to bring a drink of sorts (depending on your time of day!) and visit our Café between 0900 – 1030 CET and then between 1600 – 1730 CET to ensure all IAPH colleagues on different timelines can drop by for a chat. The first session will be specifically closing gaps in understanding between senior port management and security/IT on how to effectively approach the whole issue of cybersecurity in their organisations. We have some great people who have agreed to offer their time. In the first session we have Chin Beng Ong from the Maritime Port Authority of Singapore, Gadi Benmoshe from Marinnovators and Mohamed Absar from DP World and in the second one we have Lance Kaneshiro from the Port of Los Angeles and Max Bobys from HudsonCyber, all of whom were chapter authors of the IAPH Cybersecurity Guidelines. The chairman of the IAPH Data Collaboration Committee, Pascal Ollivier (Maritime Street) will join both sessions. There is no fixed format, no powerpoints, just a chat among fellow IAPH friends and colleagues. There is even no need to register, just join us in the Café filling in your details as you join https://whereby.com/iaph-harborcafe. Just make sure you use a Chrome browser on your laptop, desktop, tablet or smartphone. You will need that to ensure sound and screen works. Hope to share a drink and a chat with you then!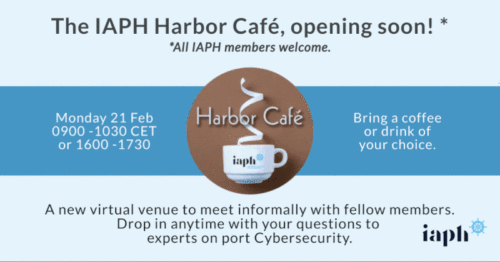 ---
#IAPH2022 conference agenda is now live
The IAPH 2022 World Ports Conference agenda has gone live! With three full days of live in person conference programming, #IAPH2022 will bring together leading port stakeholders in Vancouver, Canada, to #ClosetheGaps in global seaport competitiveness, setting an agenda to raise the performance of the world's major port regions. The principal topics addressed at the conference include port performance and supply chain resilience, port innovation to facilitate cargo trade, ports as catalysts of energy transition and port leadership through diversity. The agenda also features a dedicated session on the rebooting of the cruise industry. The programme alternates plenary sessions with workshops where participants will be able to dive deeper into the matter and share experiences with other ports. The main conference programme runs from Monday 16 to Wednesday 18 May, with the Gala Dinner and 2022 IAPH Sustainability Awards Ceremony scheduled on Tuesday evening. The IAPH AGM and a visit to the Port of Vancouver close the main programme on Wednesday afternoon. On Thursday 19 May, the IAPH Technical Committees will have their meetings and there will also be a demonstration session of the WPSP Port Endeavor game. Discover the full agenda here. The special advanced registration rate for IAPH members remains valid until 20 February, so make sure to register your seats soon!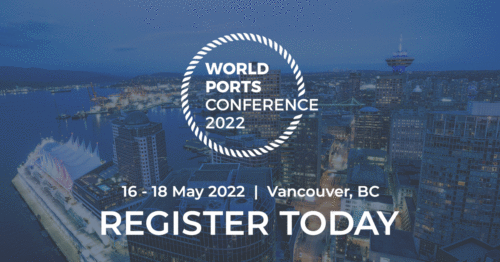 ---
#ClosetheGaps pre-conference workshops started
Following a successful first #IAPH2022 regional pre-conference workshop for North America earlier this week, the second in the eight-part series takes place today, 10 February, this time for the North Europe region, starting at 2 PM CET. Our panel of senior experts includes: MSC Mediterranean Shipping Company's Executive VP, Maritime Policy and Government Affairs, Bud Darr, Hapag-Lloyd AG's Director of Operations, Germany & Central Europe, Veit Kohlmann, Rob Harrison, VP Inland and Logistics Europe and Russia at DP World, Mathias Leiner, Director Product Management and Procurement TFG Transfracht, CEO Copenhagen Malmö Port Barbara Scheel Agersnap, Jens Meier, CEO of Hamburg Port Authority and Joe O'Neill, Chief Executive of Belfast Harbour. Moderated by IHS Markit's Greg Knowler with expert input from Thierry Vanelslander, Professor, Department of Transport and Regional Economics at University of Antwerp. Next week, we will have workshops on the Iberian Peninsula, Mediterranean and Black Sea (15 February) and Southeast Asia and Oceania (16 February). The series then resumes in March with workshops on Sub-Saharan Africa (15 March), Central and South America (22 March), Middle East, Central and South Asia (24 March) and East Asia (29 March). Register for #IAPH2022 and get exclusive access to these invitation only workshops that will generate priorities to debate and shape the agenda points at the IAPH World Ports Conference in Vancouver.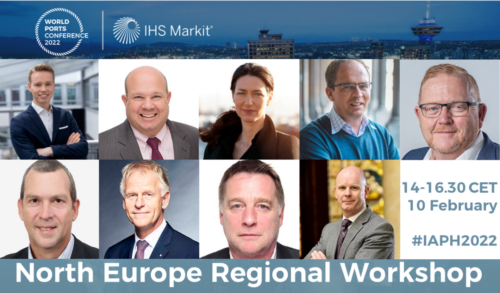 ---
New members from Australia, the UK and the Netherlands
Four new members joined us in the past two weeks. We are delighted to welcome new regular members from Australia and the United Kingdom, and a new associate member from the Netherlands. Privately owned NSW Ports holds long-term leases to manage Port Botany and Port Kembla in Australia, which together handle millions of tons of diversified trade each year. Port Botany is is the largest container port in New South Wales. Port Kembla, located 90 km south of Port Botany, is an international trade gateway for bulk agricultural, construction and mining industries. The company also manages the Enfield International Logistics Centre and Cooks River Intermodal Terminal. The Port of Brisbane, located at the mouth of the Brisbane River, is one of Australia's fastest-growing container ports and the state's largest multi-cargo port. The Port of Brisbane Pty Ltd manages and develops the Port of Brisbane under a 99-year lease from the Queensland Government. Established in 1847, Belfast Harbour Commissioners is Belfast's port authority and operates the principal maritime gateway on the island of Ireland. The harbour estate covers an area of 2,000 acres representing 20% of Belfast City area. It is also Northern Ireland's logistics and distribution hub, and home to major businesses, including Baker McKenzie, Harland & Wolff, Capita, CitiGroup, and Bombardier. The ECOSLC Foundation is a non-profit foundation providing environmental management services and global standards for ports outside Europe and port terminals worldwide, using the EcoPorts tools of the European Sea Ports Organisation. EcoSLC also developed a sustainable port, transport, and logistics chain management system and standard and it promotes cooperation and best practice sharing in sustainable management of ports, transport, and logistics chains.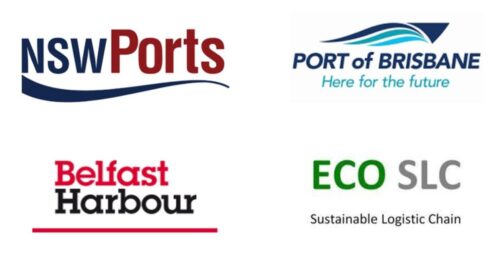 ---
IAPH 2022 membership directory published
This year's IAPH Membership Directory has been published and copies were posted to all members last week. Your exclusive copy will be arriving on your doorstep shortly. If not, please write to us at directory@iaphworldports.org. We would like to thank all members who assisted us in keeping the contents up to date as well as the advertisers who kindly placed paid adverts.
---
IAPH automation group starts on 1 March
At the last IAPH Data Collaboration Committee, held 18 January, it was agreed to set up two new working groups, one on innovation and one on automation. The innovation group held its initial meeting on 2 February, guided by the committee's chairman Pascal Ollivier (Maritime Street) and associate member Gadi Benmoshe (Marinnovators). Members had an active exchange of views on the concept of innovation and how ports can apply it to add value to supply chains. As an initial step, the working group will set up a dialogue with global cargo owners to seek detailed input on what the ultimate customers of ports require in terms of port-related innovation. The automation group will have its first meeting on 1 March, 10-12 CET, under the lead of Phanthian Zuesongdham (Hamburg Port Authority). To set the scene, an introduction on various aspects of automation (equipment, processes, interfaces) will be presented and members will be invited to discuss the focus and work plan of the group as well as the alignment with environmental, social and corporate governance (ESG). Members interested to join the working groups can contact Masahiro Yoshimi at m_yoshimi@iaphworldports.org.
---
Final countdown for the 2022 IAPH Sustainability Awards
A total of 53 projects were submitted as entries for the 2022 IAPH Sustainability Awards by the deadline of 16 January. All entries have now been processed and uploaded to the WPSP Portfolio raising the total port projects in the database to 236. We are grateful to all the 39 ports from 27 countries that submitted projects for this year's competition and wishing good luck to all participants. Once again, the high quality of entries poses a difficult, yet inspiring challenge to the members of our experts' jury who will be first evaluating the projects starting next week. The jury will be defining the top three projects per each of the six categories of the Awards, namely Climate and Energy, Environmental Care, Community Building, Infrastructure, Digitalisation, and Health, Safety and Security. The eighteen emerging finalists will then be subject to a public vote, to be launched mid-March at the WPSP website. The outcome of the jury evaluation (70%) and that of the public vote (30%), will co-determine the six final winners per category, to be announced during the Gala Dinner of the World Ports Conference in Vancouver on 17 May. As of next week, there will be regular IAPH communication and an extensive campaign on social media promoting the candidate projects and their key achievements.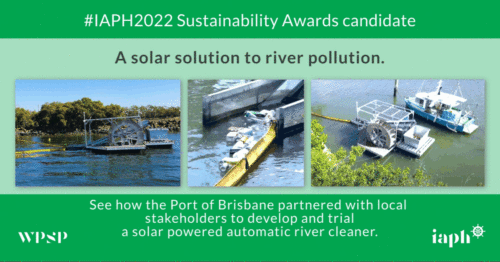 ---
IAPH will join TPM2022 in Long Beach
TPM, organised by The Journal of Commerce within IHS Markit is the premier conference for the trans-Pacific and global container shipping and logistics community. The conference will return to Long Beach this year for a full-scale in person event, held from 27 February to 2 March. IAPH managing director Patrick Verhoeven will be at TPM2022 in person moderating the session 'From Ocean to Port: Will Things Get Worse Before They Get Better?' on Monday, 28 February 4:35-5:20 PM PST with Turloch Mooney, Associate Director, Maritime & Trade, IHS Markit and Alan Murphy, CEO, Sea-Intelligence. Using exclusive data from IHS Markit and shipping analyst Sea-Intelligence, this session will examine the primary service issues confronting shippers while their goods are in transit, from loading at origin to offloading at the berth. Discover the full programme of TPM2022 here.
---
IADC sustainable dredging course for the Americas
Following on from the success of the previous Dredging for Sustainable Infrastructure online courses, IAPH associate member International Association of Dredging Companies (IADC) and the Central Dredging Association (CEDA) have decided to organise another course, especially for interested parties from North, Central and South America. The four sessions of the online course will be held on 9, 10, 16 and 17 March. All sessions will start at 11:00 UTC-3 and end at 15:00 UTC-3. During the course, participants will learn how to achieve dredging projects that fulfil primary functional requirements while adding value to the natural and socio-economic system. By understanding these systems both in the context of dredging as well as stakeholder engagement, throughout a project's development. For this edition, there is a special offer for IAPH members. More information about the programme, the lecturers, costs and how to register can be found here. The course will be given in English.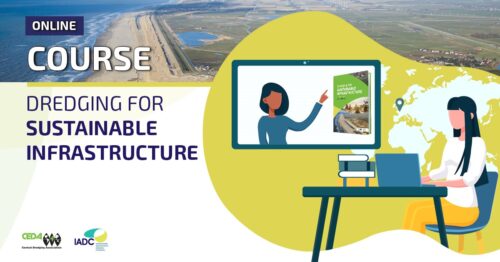 ---
UNCTAD course on port resilience against pandemics
UNCTAD TrainForTrade will organise a special course on building port resilience against pandemics on 7-31 March. It will include a self-paced moderated online course, simulation exercises and a webinar. The course will be delivered in parallel in English, French and Spanish. Registration is now open at tft-reg.unctad.org (passcode: BPR2022EN / BPR2022FR / BPR2022ES). You will find more information about the course on the UNCTAD TrainForTrade website.
---
Member Port News
In this edition's round up of member port news, you will find stories from the following IAPH members:
Europe and Africa Region: Grand Port Maritime de Marseille, Port of Amsterdam, Port of Gdansk Authority, Ashdod Port Company, Autoridad Portuaria de Bilbao, Autoridad Portuaria de Santa Cruz de Tenerife, Baku International Sea Trade Port, bremenports, Antwerp Port Authority, Administração dos Portos de Sines e do Algarve, Israel Ports Development and Assets Company, Autoridad Portuaria de Huelva, JadeWeserPort, Port Autonome d' Abidjan, Hamburg Port Authority, Oslo Port Authority, Port Autonome de San Pedro, Port of Rotterdam Authority, HAROPA (Harbours of Le Havre, Rouen and Paris), Ports of Cabo Verde, Bulgarian Ports Infrastructure Company, Freeport of Riga Authority, Port Autonome d' Abidjan, Port of Helsinki, Autoridad Portuaria de la Bahìa de Algeciras, Belfast Harbour Commissioners, Cyprus Ports Authority, Autoridad Portuaria de Valencia, Nigerian Ports Authority, Oslo Port Authority, Port Autonome de San Pedro
America Region: Port Saint John, Georgia Ports Authority, Port of Seattle, Autoridad Marítima de Panamá, Canaveral Port Authority, Industrial e Portuário do Pecém, Montreal Port Authority, Port of Los Angeles, National Port Administration Uruguay
Asia and Oceania Region: Port of Brisbane, Busan Port Authority, Sabah Ports, Philippine Ports Authority, PSA International, Bintulu Port Holdings Berhad, Busan Regional Office of Oceans and Fisheries, Taiwan International Ports Corporation, DP World, Incheon Regional Office of Oceans and Fisheries, Ulsan Port Authority, Guangzhou Port Authority, Westports Malaysia, Sri Lanka Ports Authority, Yeosu Gwangyang Port Authority, Maritime and Port Authority of Singapore, Marine and Water Bureau, Government of Macau, China Merchants Port Holdings Company
Check out the full line up on our Member Port News page.
---
World Maritime News
These maritime news stories made the headlines over the past two weeks:
Redeploying vessels to transpacific trade lane from regional services
Outlook for port congestions and container demand in 2022
Outlook for container freight rates
Measures on US export issues
Measures on empty containers issues in US and China
Green lobby backs Shanghai and Los Angeles shipping corridor plan
Industry partnerships see a growth market for decarbonization advice
Shipping emissions rose 4.9% in 2021
For details of each story, please visit the World Maritime News section on our website.
---
Calendar of Events
IAPH events and events where IAPH is represented
10 February – IAPH pre-conference workshop North Europe
15 February – IAPH pre-conference workshop Mediterranean/Black Sea
16 February (new date) – IAPH pre-conference workshop SE Asia/Oceania
27 February-2March – TPM22 (Long Beach)
9-10 March – Container Terminal Automation Conference (London)
15 March – IAPH pre-conference workshop Africa
16-18 March – SELA Meeting of Port Logistics Communities (Panama)
22 March – IAPH pre-conference workshop South America
24 March – IAPH pre-conference workshop Middle/South Asia
29 March – IAPH pre-conference workshop East Asia
25-28 April – Seatrade Cruise Global (Miami)
16-18 May – World Ports Conference Vancouver