This edition of IAPH Insider covers:
---
This week's Insider highlights with MD Patrick Verhoeven
---
Maritime Single Window: a window of opportunities
The online webinar we organised this Monday with the IMO secretariat and BIMCO has highlighted the benefits and opportunities for maritime trade arising from the application of the Maritime Single Window (MSW) to electronic ship clearance processes in ports. The single window process will become mandatory for contracting governments to the IMO Facilitation (FAL) Convention on 1 January 2024. IAPH managing director Patrick Verhoeven joined Heike Deggim, director of the IMO Maritime Safety Division, Mikael Renz, chairman of the IMO Expert Group on Data Harmonization, Jeppe Skovbakke Juhl, manager maritime safety and security at BIMCO and Julian Abril Garcia, head of IMO's Facilitation Section in an online discussion that was moderated by Victor Shieh, IAPH's communications director. Panellists recognised the window of opportunities that the new requirement will bring to the sector, including the positive impact on efficiency of port operations, reduction of ship emissions in ports and improved safety of port calls. Participants further noted the success factors when implementing an MSW, including the need for political will, a clearly designated lead agency and good cooperation between governments and industry. Speakers further encouraged the use of common standards for ship reporting and data exchange to ensure harmonisation and interoperability. They recognised that the IMO Compendium on Facilitation and Electronic Business is an important instrument to achieve this objective. The webinar was the first milestone event organised jointly by IMO, IAPH and BIMCO to prepare for the upcoming obligation of the single window in January 2024. A hybrid symposium on 18-19 January 2023 at the IMO headquarters in London is to follow, where experts from governments, ports, the shipping industry and standards organisations from all around the world will address both technical and resource aspects and present best practice solutions. Further details will be announced in due course. If you missed the webinar, you can watch the recording below. Patrick's presentation can be downloaded here.
---
Share your data for third quarter World Ports Tracker
We are inviting all member ports to (re)join the IAPH World Ports Tracker community for the third quarter survey of the year. The World Ports Tracker aims at reliably and consistently collecting data from the world ports on vessel call and cargo volume changes, hinterland connectivity, local warehousing capacity, ferry and cruise passenger ship call size and frequency as well as port worker availability. The survey data will be analysed and displayed globally and per region on a quarterly basis and will be designed to help ports detecting trends early on and prepare for the short and long-term future. We encourage ports to coordinate and compile a response to this quarter's online survey by 4 November. We guarantee that individual responses will remain confidential and be used to provide aggregate data to get a handle on what is happening to ports in an ever-increasingly uncertain environment for the world's supply chains. A summary of the findings will be published in the IAPH membership magazine Ports & Harbors. IAPH members responding to the survey will in addition receive an exclusive in-depth report to guarantee they will be able to use this tool to identify data trends early and react accordingly. The report contains expert analysis from two of the world's foremost port economists, Dr Theo Notteboom and Dr Thanos Pallis. As a preview of what you can expect, you can find the report analysing the second quarter data here.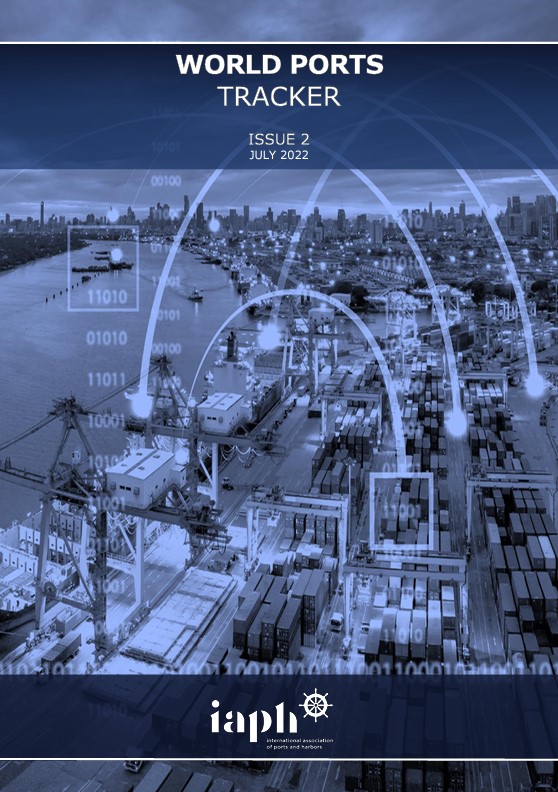 ---
IAPH 2021-2022 Annual Report is published
The 2021-2022 edition of the IAPH Annual Report has been published. The report provides an overview of our activities from the past twelve months, including the work on our strategic focus areas, the implementation of the World Ports Sustainability Program, our outreach initiatives and events as well as internal developments. You can read the online version here. Printed copies are being distributed with the November-December issue of Ports & Harbors.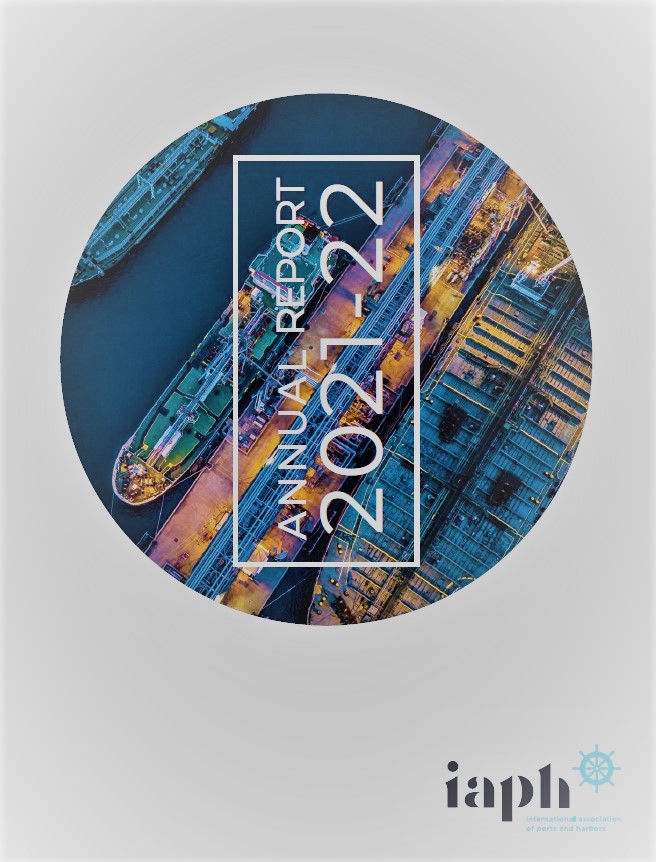 ---
Save the date: 2023 World Ports Conference in Abu Dhabi
The follow-up and implementation of the 'Closing the Gaps' agenda will shape the programme and format of next year's IAPH World Ports Conference. The dates have now been set for 31 October – 2 November 2023 and the event will be organised in partnership with host sponsor Abu Dhabi Ports and our events and media partner S&P Global. The programme will be set against the multiple headwinds that ports are facing. Geopolitical tensions, an impending energy crisis, global inflation, post-pandemic disruptions and extreme weather are all impacting world trade and economic prosperity. After last year's exercise to identify how to close the gaps in global port infrastructure, #IAPH2023 in Abu Dhabi will bring ports and their business partners together to innovate, finance, invest in and sustain successful long-term energy transition digital transformation and resilience in a highly unpredictable world. Check out the conference website and register for updates. If you are interested in sponsoring, please consult this page.

---
Welcome to four new associate members
We are pleased to welcome no less than four new associate members this week, from Egypt, Finland, Australia and India.The Suez Canal Authority (SCA) was established in 1956, as a public and independent authority to oversee the operation of the Suez Canal. The SCA manages, operates, uses, maintains, and improves the canal, the shortest maritime link between east and west. In addition, it issues and keeps in force the rules of navigation and other rules and regulations that provide for a well and orderly-run shipping highway. Flexens is a project developer and investor implementing critical technologies for societies to run 100 % renewable energy sources. The company was founded in 2018 to build the world-leading renewal energy source testbed and demo platform, Smart Energy Åland, capturing the rapidly growing demand for renewable energy systems. Through a public-private partnership with multi-level actors in Åland, Flexens has founded a clear pathway and developed the essential framework to ensure rapid diffusion and implementation of novel renewal energy source technology. SSG Legal provides legal and strategic advice concerning port-related transactions in Australia. Steven Mackay, the founder and director of SSG Legal, has advised numerous clients in various Australian port transactions for over 30 years. SSG Legal specialises in negotiating and advising on key port terminal leases, port development, regulatory issues, acquisitions and sales, complex contractual arrangements, construction, and environmental matters. In addition, it has numerous trusted contacts with expertise in additional legal fields, allowing SSG Legal to collaborate with other advisers. AMET University is India's first deemed university for maritime-related education, training and research. Equipped with an excellent infrastructure for research and development, co-curricular and extracurricular activities, over 3,000 students pursue diploma to doctoral programs through seven schools and two intensive research and training centers for marine and marine-related activities.

---
IAPH Board appoints new technical committee officials
IAPH Board members met online 19 October. The agenda of the meeting featured a number of internal organisational issues, including the appointment of new technical committee officials. The Board endorsed the nomination of Simone Maraschi, managing director of Cruise Gate Hamburg, as chair of the Cruise Committee, and the nomination of Gadi Benmoshe, managing director of Marinnovators, as vice-chair of the Data Collaboration Committee. Board members further discussed preparations for the 2023 World Ports Conference, the implementation of the IAPH 2022-2023 work programme and progress with the Environmental Ship Index. The next Board meeting will be held on 28 November and is combined with a Council meeting on 29 November. Both meetings will take place in person at the headquarters of the International Maritime Organization in London. Online participation will be provided. IAPH Board and Council members will be receiving details for both meetings shortly.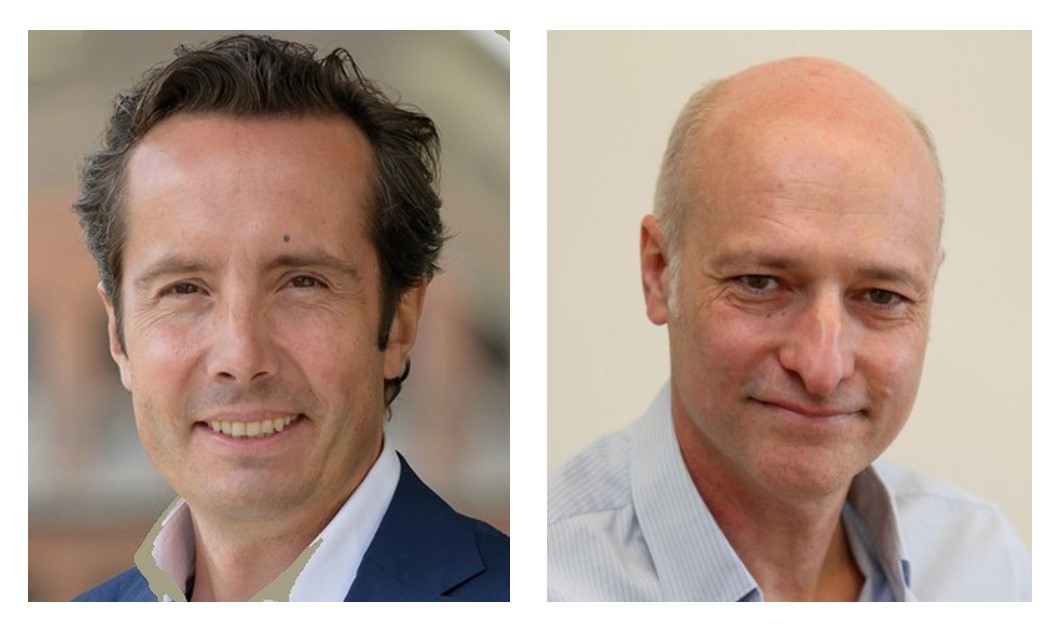 Simone Maraschi Gadi Benmoshe
---
Don't miss the next technical committees meetings
The IAPH technical committees on Data Collaboration and Climate & Energy will be having their autumn meetings in the next two weeks, both in online format. First, the Data Collaboration Committee meets 3 November from 12 to 2 PM CET. The committee will be discussing the ongoing IMO work on digitalisation and the joint IMO-IAPH-BIMCO initiative on promoting and building capacity towards the implementation of the Maritime Single Window concept by 2024. Members will further evaluate progress on the IAPH collaborative initiatives with the World Bank and the World Customs Organization, also considering collaboration to improve the resilience of maritime supply chains. The committee will further touch upon the developments and way forward on cybersecurity, port call optimisation, innovation, and automation. The Climate and Energy committee meets 10 November from 4 to 6 PM CET. The main item on the agenda will be decarbonisation of shipping and the preparation of the IAPH input ahead of the forthcoming IMO meetings, the intersessional working group on greenhouse gases (ISWG-GHG 13) on 5-9 December and the Marine Environment Protection Committee (MEPC 79) on 12-16 December. Members will be particularly invited to reflect on market-based measures, the revision of the IMO GHG strategy, green corridors, and the notion of just and equitable energy transition. As always, the committee will review progress of own IAPH initiatives such as the Environmental Ship Index and the Clean Marine Fuels working group as well as ongoing third parties' initiatives on energy transition. Participation in the technical committees is open to all IAPH regular and associate members. If you are interested in joining the work of one or more committees, please email our colleague Takeshi Suzuki (t_suzuki@iaphworldports.org).
---
IAPH attended IMO just low-carbon transition symposium
IAPH policy and IMO liaison officer Rhona Macdonald, Climate and Energy committee vice chair Edvard Molitor and technical director Antonis Michail personally attended the IMO symposium on ensuring a just and inclusive transition towards low-carbon shipping held in London on 21 October. In a hybrid set-up that was also very well attended in person, participants addressed barriers to global access to low- and zero-carbon fuels, emerging opportunities of the energy transition for developing countries, and how to overall drive a just and equitable transition for all. The symposium offered a good opportunity for participants to exchange views on some of the key items to be further discussed at the seventy-ninth session of the IMO Marine Environment and Protection Committee (MEPC 79) and the preceding intersessional working group meeting (ISWG-GHG 13) in December. These include the revision of the IMO GHG strategy and the adoption of a mix of mid- and long-term measures including market-based measures, under the overall prism of a just and inclusive energy transition. You can watch the full recording of the symposium in the video below.
---
IAPH submissions for next IMO GHG meetings
IAPH will have an active presence at the forthcoming IMO ISWG-GHG 13 (5-9 December) and MEPC 79 (2-16 December) meetings, having submitted two documents for consideration. With document MEPC 79/7/19 Portsʹ perspective on key considerations regarding the decarbonization of shipping, IAPH calls for an ambitious revision of the initial IMO GHG strategy setting a zero emissions target by 2050, and an early adoption of a global market-based measure (MBM), arguing that the strategic allocation of MBM generated revenues is key to ensuring an equitable energy transition of shipping. With MEPC 79/7/14, IAPH joins seven member states and the World Shipping Council calling for a reference to so-called 'route-based actions' (also known as 'green shipping corridors') to be included as part of the revision of the 2019 IMO resolutions on Ports and National Action Plans. IAPH managing director Patrick Verhoeven and policy and IMO liaison officer Rhona Macdonald attended an informal preparatory meeting with maritime industry organisations at the IMO headquarters on Monday this week. The meeting was convened by the IMO secretariat to compare the different industry viewpoints for the main deliberations in December.
---
WPSP and Port Endeavor introduced at TOC Americas
Last week in Lima, Peru, the organisers of TOC 2022 Americas and its Latin American representative Mundo Marítimo invited IAPH's communications director Victor Shieh to participate on its Container Supply Chain Conference. Victor presented the World Ports Sustainability Program approach to integrate sustainability in the global port sector. He spoke alongside South American ports who showcased practical applications of Environmental, Social and Governance (ESG) projects and their measurement and impacts. That same afternoon, thirty participants from Latin American port authorities, terminal operators, consultants, lawyers and other stakeholders taking part in TOC2022 formed five mixed teams and played IAPH's Port Endeavor game which draws on the best practice projects of its World Ports Sustainability program of 237 projects worldwide. Seven highly animated and competitive rounds were played with two groups tying for first place taking with them Belgian chocolates as prizes. Further gameplays are expected to be played in the region during 2023. You can download Victor's presentation (in Spanish) here.
---
IAPH presented at GreenPort Congress & Cruise
The 2022 GreenPort Congress & Cruise edition was hosted by the Port of Antwerp-Bruges in Bruges 18-20 October. IAPH policy and IMO liaison officer Rhona Macdonald and technical director Antonis Michail joined the more than hundred and thirty delegates who attended the congress in person. Antonis presented and discussed with participants the key challenges world ports are facing on sustainable development while highlighting the respective IAPH work on resilience, digitalisation, energy transition and sustainability. His presentation can be found here. Antonis further contributed to a workshop on achieving and demonstrating sustainable development in the port sector, where together with ECOSLC chairman Herman Journée and Port of Oslo environmental manager Heidi Neilson, he reflected on port sustainability priorities and challenges.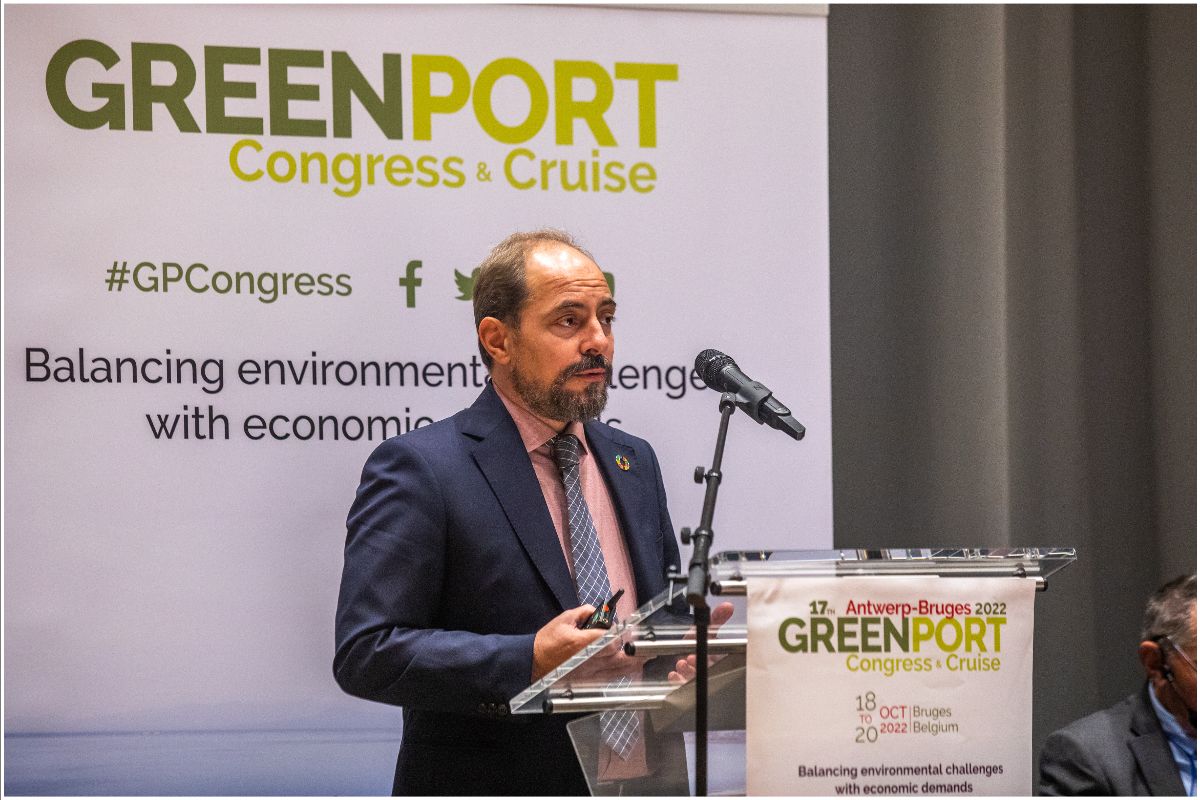 ---
Next IAPH Africa and Europe Harbor Café on 9 December
The IAPH Africa and Europe regions continue their joint series of Harbor Cafés on digitalisation, with the next online session discussing how robotics and automation can help overcome pollution in ports. It will be held 9 December from 9 to 10.30 AM CET via Teams. In the coming weeks, members will be informed about the special guests who will join the Harbor Café to share their innovative projects and experiences, while having an open discussion with all participants. An invitation has been sent to all IAPH Africa and Europe regular members. If you wish to participate please contact ingrid.boque@hpa.hamburg.de. If you missed the last Harbor Café session, you can still watch it via this link.
---
IMO introduces biofouling course
Biofouling management is crucial to minimise introductions of invasive aquatic species via ships' hulls. To support awareness and boost capacity in developing countries, the IMO has launched a new e-learning course on ships' biofouling management. The course provides a detailed introduction to multiple aspects related to ships' biofouling, its role as a vector for the introduction of invasive aquatic species and the management solutions and technologies that are available. The course includes materials, videos, animations, quizzes, a roleplay exercise, and a test. A digital certificate is awarded on successful completion. The course has been developed under the framework of GEF-UNDP-IMO GloFouling Partnerships project, which assists developing countries in the implementation of the IMO Biofouling Guidelines to minimise introductions of invasive aquatic species via ships' hulls. Until 31 December, the course will be available only for participants in the twelve GloFouling Partnerships beneficiary countries. From January 2023, anyone will be able to self‑enroll and take the course through this link.
---
Member Port News
In this edition's round up of member port news, you will find stories from the following IAPH members:
Africa-Europe region: Puertos del Estado, Autoridad Portuaria de Sevilla, Bulgarian Ports Infrastructure Company, Hamburg Port Authority, Oslo Port Authority, Autorità Portuale di Genova, Port of Helsinki, Autoridad Portuaria de Bilbao, HAROPA Port, Ghana Ports and Harbours Authority, North Sea Port, Port of Amsterdam, Autoridad Portuaria de Santa Cruz de Tenerife, Freeport of Riga Authority, Gibraltar Port Authority, Port of Göteborg, Port of Rotterdam Authority, Port Autonome de Dakar, Cyprus Ports Authority, Port of Antwerp-Bruges, Port Authority of Vigo, Autoridad Portuaria de Huelva, Port Authority of Vigo, Belfast Harbour Commissioners, Grand Port Maritime de Marseille, Port of Gdansk Authority, Autoridad Portuaria de Valencia, Port of London Authority
America region: Georgia Ports Authority, Northwest Seaport Alliance, Port of San Diego, Port Saint John, Autoridad Marítima de Panamá, Port of Long Beach, Port of Los Angeles, National Port Administration Uruguay, Canaveral Port Authority, Companhia de Desenvolvimento do Complexo Industrial e Portuário do Pecém, Port of Seattle
Asia and Oceania region: Maritime and Port Authority of Singapore, Ulsan Port Authority, Sri Lanka Ports Authority, Yeosu Gwangyang Port Authority, Subic Bay Metropolitan Authority, Incheon Port Authority, Incheon Regional Office of Oceans and Fisheries, Johor Port Authority, Marine and Water Bureau Government of Macau, Port of Brisbane, PT Pelabuhan Indonesia, Busan Regional Office of Oceans and Fisheries, DP World, Sabah, Busan Port Authority, Lyttelton Port Company, Taiwan International Ports Corporation, NSW Ports
Check out the full line up on our Member Port News page.
---
World Maritime News
These maritime news stories made the headlines over the past two weeks:
Outlook for shipping rates
Topics on shipping lines
Topics on shipping decarbonisation
FMC proposes new detention and demurrage rule
For details of each story, please visit the World Maritime News section on our website.
---
Calendar of Events
IAPH events and events where IAPH is represented
26-28 October – Valencia Digital Summit – Valencia
1-2 November – IAPH Clean Marine Fuels Working Group – Rotterdam
2-11 November – IMO MSC 106 – London
3 November – IAPH Data Collaboration Committee (online)
10 November – IAPH Climate and Energy Committee (online)
15-17 November – Smart Ports – Piers of the Future 2022 – Barcelona
28-29 November – IAPH Board and Council meetings – London
5-9 December – IMO GHG Intersessional – London
6 December – IAPH Environmental Ship Index Stakeholders Assembly – tbc
12-16 December – IMO MEPC 79 – London
18-19 January 2023 – IMO-IAPH-BIMCO symposium maritime single window (hybrid)
31 October – 2 November 2023 – IAPH 2023 World Ports Conference – Abu Dhabi