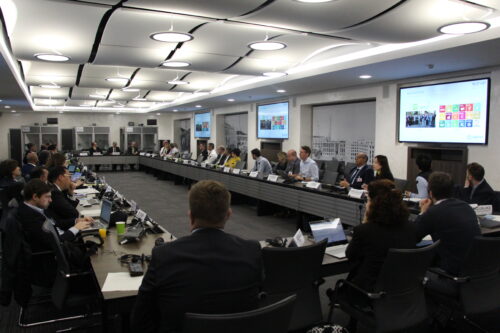 Regular membership: why should my port join?
What are the biggest challenges facing you as a port today?
Are you being asked by your community, local or national authority to reduce emissions at your port?
Have you been asked to implement a digitalization strategy to connect to your port community stakeholders?
After the financial crises and the current COVID19 pandemic, do you need to create a business continuity plan so your port business can survive the next unexpected crisis?
If the answer to any of these questions is yes, you have everything to gain from becoming an IAPH member. Our technical committees, which have some of the world's leading experts in these field ranging from the largest to some of the smallest and most efficient port authorities and operators, have as their mission to provide guidance to and build capacity of IAPH member ports in these crucial areas of business today.
In addition, you will gain access to the World Ports Sustainability Program, the world's most detailed and comprehensive database of pioneering projects by world ports in climate and energy, resilient infrastructure, community outreach and port-city dialogue, safety and security, governance and ethics. You can benefit from their experience as you look to implement proven initiatives at your own port to preserve and uphold your license to operate.
As a non-governmental organization (NGO) recognized by several UN agencies, IAPH represents the world port industry at the International Maritime Organization, the main regulator body in the global shipping industry. IAPH's policies, views and initiatives are shaped by the work of the technical committees you will have access to as member.
Associate membership: why should my company or organization join?
Are you an organization or company looking to connect with port authorities, government agencies controlling ports or private port authorities in order to:
Provide your own expertise and input either as a consultancy, an academic institute or an industry association linked to ports and harbors?
Commercialize your products and services, raising the profile of your organization on a global level with the world's port community at CEO and senior management level?
If so, IAPH is the world's only truly global port organization with the necessary reach in terms of membership and opportunities to professionally network with port industry leaders. By joining at very reasonable annual membership rates, you gain a seat at the table of the world ports organization.
Other IAPH benefits to all members include:
Reduced membership fee access to the annual IAPH World Ports Conference which will take place in Abu Dhabi, UAE in 2023.
Access to the Environmental Ship Index, the leading incentive provider for shipowners aiming to improve energy efficiencies in their fleets to reduce emissions during port stays
Access to the IAPH Women's' Forum which champions the next generation of female port leaders with bursaries, grants and an online mentoring program
Hard copy and online access to our industry-leading Ports & Harbors magazine as well as our highly informative IAPH Insider bi-weekly newsletter
Your inclusion in our "who-is-who" membership directory and exclusive website backend access to the IAPH Annual Report, World Ports Economic Barometer, our COVID19 Task Force guidance documentation and technical reports and tools on energy transition, alternative bunkering fuels, digitalization, risk management and cybersecurity
Access to our capacity building programmes, including scholarships and special conditions for training and educational programmes offered by some of our associate members

The more you participate in the work of IAPH, the greater the benefit you get from IAPH!