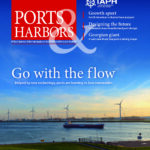 This issue focuses on Sustainability, North America region, Dredging and more stories such as…
Open Forum- 'Trade war fallout': Dr Noel Hacegaba, Deputy Executive Director of Port of Long Beach says the port of long beach remains bullish despite US-China trade tensions have hit the port.
Cover story -'Ports seek IMO 2020 clarity': Ahead of IMO 2020, Ports are gearing up to handle low-sulphur fuels, but will they be able to cope? Stephen Cousins reports.
IAPH Members can see the full stories online at Library Page. If you are not an IAPH Member, please click here for subscription order form (printed version only). Click here to check the past issues before subscribing it.
The next September/October 2019 issue will focus on 'Evolving role of ports- as part of supply chain, free trade zone, as material handlers, 3D printing', 'Asia Region' and 'Port design and planning including hydrography' and more. P&H is always welcoming members' contribution to the article or ideas as well as comments on the magazine at ph@iaphworldports.org
If you are interested in advertisement, please contact Associate Sales Specialist Kathryn Fowler at Kathryn.Fowler@ihsmarkit.com IAPH members can place an ad with a 20% discount.