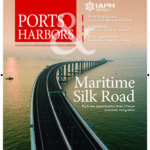 This issue focuses on China (infrastructure investment, B&R etc), Europe region, Port handling equipment and more stories such as…
Open Forum- 'Port of Trieste: Iron and water along the Silk Road': Zeno D'Agostino, President of Trieste Port Authority, looks at the opportunities brought by China's Belt & Road. Conversation section- 'Sustainable Future', Bud Darr, of Mediterranean Shipping Company (MSC) discuss what the industry is doing will be willing and should be doing to boost sustainability.
Cover story-'China prepares for integration': P&H reports that creation of Grater Bay Area project in China could bring big opportunities for its ports in southern provinces.
IAPH Members can see the full stories online at Library Page. If you are not an IAPH Member, please click here for subscription order form (printed version only). Click here to check the past issues before subscribing it.
The next July/August 2019 issue will focus on Sustainability, North America Region and Dredging and more. P&H is always welcoming members' contribution to the article or ideas as well as comments on the magazine (click here). If you are interested in advertisement, please contact Associate Sales Specialist Sharon Owen IAPH members can place an ad with a 20% discount.