Sydney, 6-10 April 2014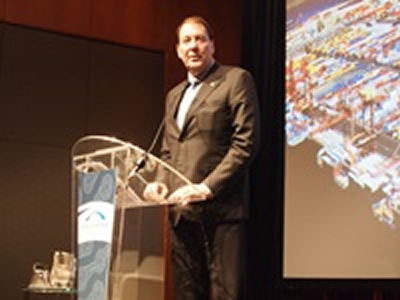 Hosted by Sydney Ports Corporation (Grant Gilfillan, CEO & Director as pictured), IAPH Mid-term Conference and Board Meeting was successfully held in Sydney, Australia, 6-10 April, attracting more than 200 delegates from 35 nations – a record-breaking number for IAPH Mid-term conference.
The opening ceremony on Tuesday, 8 April, was officially opened by the Honourable Warren Truss, Deputy Prime Minister of Australia and Minister for Infrastructure, who also delivered a keynote speech on the current port situation in Australia from a country wide and macro-economy perspective. In the ensuing conference sessions, we heard from an excellent panel of speakers recruited worldwide on such stimulating topics as the expansion of the Panama Canal by Mr. Luis Ferreira, a global perspective of port automation by Dr Yvo Saanen, the salvage challenge of raising the Costa Concordia, etc. All the presentations made are now posted on the conference website at http://www.iaphsydney2014.com/program
On the internal household matter, a regular meeting of IAPH Board of Directors was held on Monday, April 7, 2014. Among major agenda items, three vacancies in the IAPH Executive Committee, a vacancy in each of the three regions, were reported to exist at the time of the Board Meeting and it was decided that elections to fill the vacancies be held as soon as practical. For future IAPH World Ports Conferences, presentations were made on the 29th Conference in Hamburg, Germany, June 1-5, 2015, by Hamburg Port Authority and on the 30th Conference, Bali, Indonesia, 2017, by the representative of Indonesia Port Corporations I, II, III & IV.
Prior to the Board Meeting, Special Strategy Meeting No.2 comprising the IAPH Officers and Long Range Planning/Review Committee was held on Sunday, April 6, to discuss ways and means of improving the Association's relevancy as the global voice of port authorities; empowering technical committees and the Secretariat and creating a stronger leadership and a better process of electing leadership.
≫ Minutes of Special Strategy Meeting No.2
The outcome of the meeting was duly reported by President Gilfillan to the Board of Directors who endorsed the proposed action plan:
To create a "Council" replacing the Executive Committee as the chief executive body and the Board of Directors as the policy making body.
To prepare a new draft Constitution and By Laws for submission to the Plenary of the Hamburg Conference in 2015 for approval and adoption.
To put the above action plan into practice, the Board unanimously adopted a Resolution on creation of a Council to replace the Board of Directors and the Executive Committee.
At the end of the meeting, Resolution Expressing Appreciation to the host, Sydney Ports Corporation was also adpoted.
Presentations made at IAPH Mid-term Conference
Sydney, Australia, April 2014
Some presentations are not available, due to the speakers' policies. Video clips of all presentations are viewed in six parts at YouTube.
Keynote Address
"Game Changer" Expansion of the Panama Canal
Mr Luis Ferreira, Communications Specialist and Engineer – Canal Expansion Program, the Panama Canal Authority, Panama
Automation Process Solutions
Dr Tero Kokko, VP Horizontal Transportation, Kalmar, Finland
Global impacts of ship size development and liner alliances on port planning and productivity
Mr Neil Davidson, Senior Analyst – Ports and Terminals, Drewry Maritime Research, UK
Port Operations – Women Driving Success
Mr Tony Gibson, CEO, Ports of Auckland Limited, New Zealand
Keynote Address
Raising the Costa Concordia – the Salvage Challenge
Mr Todd Busch, Senior Vice President and General Manager, Technical Services, Crowley Maritime Corporation, USA
Biggest bulk minerals export port in the world
Mr Roger Johnson, CEO, Port Hedland Port Authority, Australia
World Biggest Box Ship – Enter the Triple E
Mr Nicolaj Noes, CEO, Maersk Australia
Preparing for the World's Biggest Box Ship
Mr LEE Eung hyuk, Busan Port Authority, Korea
Boosting Port Effectiveness
Mr Lutz Birke, Head of Corporate and Port Strategy,- Hamburg Port Authority, Germany
The Overweight Containers Issue
Mr Shane Hobday, General Manager Operations, NSW Ports, Australia
Mandatory Weighing of Inbound containers – the WIMS Journey
Mr Steve Gunn, General Manager Port Botany Landside Improvement Strategy (PBLIS) – Sydney Ports Corporation, Australia
The LNG challenge
Mr Fer van de Laar, IAPH Europe Office, the Netherlands
Cold Ironing – The Shore Power Debate
Mr Herve Lours, Shore Connection & Marine Vice President at Schneider Electric, France
Ports making room for the boom: the case of the Port of Barcelona
Mr Santiago Mila, 1st Vice President IAPH, Port of Barcelona, Spain
Cruise – Ports Making Room for the Boom
Mr Brett Jardine, General Manager at Cruise Lines International Association (CLIA) Australasia, Australia