This edition covers:
---
This week's Insider highlight with Patrick Verhoeven
---
New speakers announced for World Ports Conference
We are delighted to welcome two new speakers who will join us in Abu Dhabi at the 2023 IAPH World Ports Conference from 31 October till 2 November. Elisabeth Munck af Rosenschöld, global sustainability manager for supply chain operations at Inter IKEA Group, will offer her insights on a panel of cargo owners and their influence on the direction and reinvention of global ports. Elisabeth and other shippers will discuss what they need most from ports and port authorities. Kitack Lim, secretary-general of the International Maritime Organization, will be joining a keynote panel discussing the concrete decarbonisation deliverables shipping and ports have to offer at the 2023 United Nations Climate Change Conference (COP 28), which will be held just weeks after the IAPH conference, in Dubai. More speakers are being confirmed as we go along and we expect the programme to be complete by early June. Under the theme 'Reinventing Ports', the conference agenda will give ports new ideas for business opportunities through reinvention, evolution and collaboration, combining strategic discussions on energy transition, cargo perspectives on supply chain resilience, new ideas on governance and port authority leadership with practical, hands-on sessions that will also showcase the varied IAPH sustainability toolbox for ports. The conference further features market outlooks on breakbulk, cruise and containers, as well as exclusive innovation roundtables. Early bird rates are available till 20 May, so make sure you book your seats early.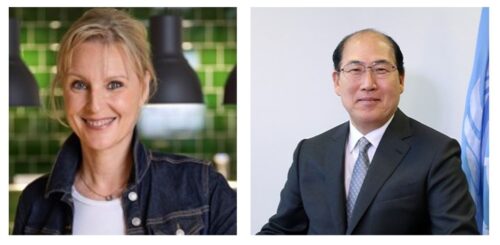 Photos courtesy of IKEA Supply AG / IMO
---
IAPH participated in Singapore Maritime Week
Last week, an IAPH delegation consisting of president Capt Subra, vice-president Central and South America José Firmo, Data Collaboration Committee chairman Pascal Ollivier and managing director Patrick Verhoeven participated in Singapore Maritime Week. SMW is an annual gathering of the international maritime community to advance key industry issues and exchange ideas to bring the sector forward. Driven by the Maritime and Port Authority of Singapore, in collaboration with industry stakeholders and research and educational institutions, SMW brings together key opinion leaders and industry leaders through conferences, dialogues and forums. The IAPH delegation's schedule included meetings with the leadership of the Maritime and Port Authority of Singapore and PSA International, both IAPH regular members, as well as participation in panel discussions and workshops on energy transition, digital transformation and resiliency. This year's Singapore Maritime Week coincided with the bi-annual edition of the Sea Asia exhibition. You can see some of the week's highlights in this video.
---
IMO PPR approves revised biofouling guidelines
The IMO Sub-Committee on Pollution Prevention and Response has approved revised guidelines for the control and management of ships' biofouling to minimise the transfer of invasive aquatic species. It came during the Sub-Committee's 10th session held last week and follows a comprehensive review of the guidelines. Biofouling is the accumulation of aquatic organisms on wetted or immersed surfaces such as ships and other offshore structures. Good biofouling management can help protect marine biodiversity by preventing the transfer of invasive aquatic species. Keeping a ship's hull clean can also reduce the ship's greenhouse gas emissions by improving fuel efficiency. The 2023 guidelines will be submitted to the Marine Environment Protection Committee (MEPC 80) for adoption. The Sub-Committee also agreed to develop guidance on in-water cleaning at a future session and invited Member States and international organisations to submit relevant information on best practices for biofouling inspections and cleaning actions. The biofouling guidelines were first adopted in 2011.The GEF-UNDP-IMO GloFouling Partnerships Project and the related TEST Biofouling Project support developing countries to implement the guidelines. Other topics on the PPR 10 agenda included the seaborne carriage of plastic pellets in freight containers and operational guidance on the response to spills of hazardous and noxious substances. You can find the full summary of PPR 10 here.
---
May-June issue of Ports & Harbors is out
The May-June edition of the IAPH membership magazine Ports & Harbors is headed up by a cover interview with Mario Cordero, the executive director of the Port of Long Beach. With IAPH managing director Patrick Verhoeven, Mario explores how ports require a mindshift change in the way they are organised and operate from being landlords to becoming supply chain partners. Also featuring in this edition: we interview professor Lynn Loo, CEO of the Singapore-based Global Center for Maritime Decarbonization, which aims at accelerating shipping and ports' paths towards energy transition and the adoption of new, zero carbon fuels. We have the latest global port data trends with the IAPH World Ports Tracker, examine the shifts in globalisation with the new geo-political world order, and explore how the geographical position of a port influences air quality. There is a guide on how to implement a Maritime Single Window, a perspective on voyage optimisation and our regular features, including a project focus on Caspian Sea ports and IAPH policy and IMO liaison officer Rhona Macdonald talking Ports & Harbors through her preparations for important IMO FAL and MEPC meetings.
---
Three weeks left to submit entries for the IAPH Awards!
We invite IAPH regular as well as associate members working in partnership with member ports to submit their latest sustainability projects to us online by 26 May. By so doing your project will qualify automatically for the IAPH 2023 Sustainability Awards, with winners to be announced at the prestigious gala awards dinner to be held at this year's IAPH World Ports Conference in Abu Dhabi on 1 November. All approved projects will join the IAPH World Ports Sustainability online database, which currently counts 237 projects from 109 ports in 47 different countries. They will also be showcased on IAPH's social media channels and endorsed infographics will be shared with candidates for their own newsletters, social channels and websites. This year, there will be six categories, judged by an independent committee of industry experts. The 18 finalists will then be submitted to the public for a vote. For more information check the front page of the WPSP website as well as this instructive video, where IAPH technical director Antonis Michail explains how easy it is to submit your projects.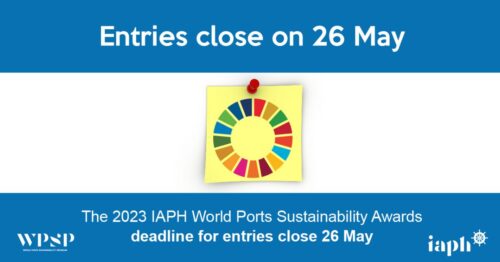 ---
Baltic Transport Journal interviews MD Patrick Verhoeven
In this month's Baltic Transport Journal there is an in-depth interview with IAPH MD Patrick Verhoeven on the changing role of ports, new models of governance and closer cooperation with cargo interests. He speaks with editor-in-chief Przemek Myszka. You can find the interview here.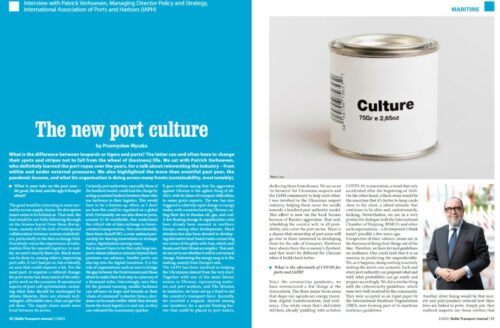 ---
Recording of Harbor Café on solutions to port congestion
Last Thursday the well-attended IAPH Harbor Café counted on the participation of the International Taskforce Port Call Optimization and IMO-Norway GreenVoyage2050, as well as IAPH associate members Wärtsilä, GSTS – Global Spatial Technology Solutions and Digital Container Shipping Association (DCSA), all providing concrete case studies on the solutions they have been working on with ports to deal with congestion in the long run. You can find the recording of this highly informative session here. Please save the date in your diary for the next Harbor Café , scheduled for June 29 at 11:00am-12:30pm CEST, which will focus on the implementation of vessel calculation tools and port incentive schemes to reduce emissions.
---
LPI 2023: biggest supply chain delays occur at ports
On 21 April, the World Bank released its 2023 Logistics Performance Index report, a measure of countries' ability to move goods across borders with speed and reliability. The seventh edition of Connecting to Compete, the Logistics Performance Index (LPI) report comes after three years of unprecedented supply chain disruptions during the COVID-19 pandemic, when delivery times soared. The LPI, which covers 139 countries, measures the ease of establishing reliable supply chain connections and the structural factors that make it possible, such as the quality of logistics services, trade- and transport-related infrastructure, and border controls. On average across all potential trade routes, 44 days elapse from the time a container enters the port of the exporting country until it leaves the destination port, with a standard deviation of 10.5 days. That span represents 60 percent of the time it takes to trade goods internationally. According to LPI 2023, end-to-end supply chain digitalisation, especially in emerging economies, is allowing countries to shorten port delays by up to 70% compared to those in developed countries. Moreover, demand for green logistics is rising, with 75 percent of shippers looking for environmentally friendly options when exporting to high income countries. The report finds that while most time is spent in shipping, the biggest delays occur at seaports, airports, and multimodal facilities. Policies targeting these facilities can help improve reliability through better clearance processes and investing in infrastructure, adopting digital technologies, and incentivising environmentally sustainable logistics by shifting to less carbon-intensive freight modes and more energy-efficient warehousing. You can download the report here.
---
Webinar on 2023 Container Port Performance Index
In addition to its latest Logistics Performance Index report, the World Bank is also about to publish the third edition of its Container Port Performance Index (CPPI). Developed by the Transport Global Practice of the World Bank and S&P Global Market Intelligence, the CPPI is an index of global container port performance. The index is meant to be a reference point for key stakeholders in the global economy, including national governments, port authorities, development agencies and private organizations engaged in trade, logistics and supply chain services. CPPI and its underlying data are intended to support the identification of gaps and opportunities for improvement in container port operations and the index aims to stimulate a dialogue among key stakeholders and move the data agenda forward. The new edition of the index will be presented at a webinar held 18 May at 10.00 AM Eastern Time (Washington DC). You can register to attend via this link.
---
Member Port News
In this edition's round up of member port news, you will find stories from the following IAPH members:
Africa and Europe region: North Tyrrhenian Port Network Authority, National Ports Agency Morocco, Autorità Portuale di Genova, Port Autonome de Kribi, Autoridad Portuaria de Bilbao, Freeport of Riga Authority, Port of Amsterdam, Autoridad Portuaria de Huelva, Autoridad Portuaria de Santa Cruz de Tenerife, Ghana Ports and Harbours Authority, HAROPA Port, Nigerian Ports Authority, Port of Antwerp-Bruges, Ports of Cabo Verde, Port of London Authority, Belfast Harbour Commissioners, Port of Göteborg, Cyprus Ports Authority, Port of Amsterdam, Port of Rotterdam Authority, bremenports, Gibraltar Port Authority, Grand Port Maritime de Marseille, North Sea Port, Autoridad Portuaria de Valencia, Port of Bergen, Port Autonome de Cotonou, Port of Helsinki, Administração dos Portos de Sines e do Algarve, Port Authority of Vigo, Oslo Port Authority
America region: Port of Portland, Autoridad Marítima de Panamá, Port of Los Angeles, Northwest Seaport Alliance, National Ports Administration Uruguay, Vancouver Fraser Port Authority, Autoridad Marítima de Panamá, Port of San Diego, Companhia de Intergração do Complexo Portuário do Pecém, Port of Seattle, Georgia Ports Authority,
Asia and Oceania region: Port of Hakata, Marine and Water Bureau Government of Macau, NSW Ports, China Merchants Port Holdings, Taiwan International Ports Corporation, Incheon Port Authority, Philippine Ports Authority, PSA International, Bintulu Port Holdings Berhad, Ministry of Oceans and Fisheries Korea, Solomon Islands Ports Authority, Busan Regional Office of Oceans and Fisheries, Sri Lanka Ports Authority, Incheon Regional Office of Oceans and Fisheries, Subic Bay Metropolitan Authority, Yeosu Gwangyang Port Authority, Westports Malaysia, PT Pelabuhan Indonesia, Maritime and Port Authority of Singapore, DP World, Incheon Port Authority
Check out the full line up on our Member Port News page.
---
World Maritime News
These maritime news stories made the headlines over the past two weeks:
US shipping bill targets 'unreasonably anti-competitive' agreements
Data shows container shipping market could be at its bottom: analyst
PSA leveraging forwarder acquisition to serve shippers directly
Los Angeles and Long Beach ports build shipping corridor link with Singapore
EU Parliament approves shipping's inclusion in regional carbon market
Singapore sets up a working group to develop standards for methanol bunkering
HMM latest carrier to secure sourcing and storage for alternative fuels
MSC slows ships, adds Mobile to Latin America-Gulf Coast service
Shippers seek improved data security
For details of each story, please visit the World Maritime News section on our website.
---
Calendar of Events
IAPH events and events where IAPH is represented