This edition covers:
---
This week's Insider highlight with Patrick Verhoeven
---
First IAPH Technical Committee Days held in London
The first IAPH Technical Committee Days were successfully held this week at the offices of the International Chamber of Shipping (ICS) in London, in hybrid format. Around forty regular and associate members joined the sessions in person, with roughly the same number participating online. The agenda started on Tuesday with a presentation by ICS on the Clean Energy Marine Hubs initiative, of which IAPH is a partner, and an overview of the 2023 IAPH work programme. The plenary afternoon continued with a discussion on the future of the World Ports Sustainability Program, which gathered concrete inputs to increase the value-added of the programme for members. On Wednesday, topical parallel sessions were held on the revision of the IMO GHG strategy and the role of market-based measures, alternative marine fuels and port readiness, the Environmental Ship Index, onshore power supply, port and supply chain resilience, port call optimisation and digital corridors as well as innovation in ports. The sessions were joined by guests from IMO, ICS, CLIA and the World Bank, among others. This morning, the Technical Committee Days close with dedicated meeting slots for each committee to decide on action points and set its own agenda going forward. The week also included two networking receptions, which were kindly hosted by our members the Port of London Authority and TT Club. The recordings of the first Technical Committee Days will be made available to committee members soon. If you are interested in joining one or more of the IAPH Technical Committees, please contact Takeshi Suzuki: t_suzuki@iaphworldports.org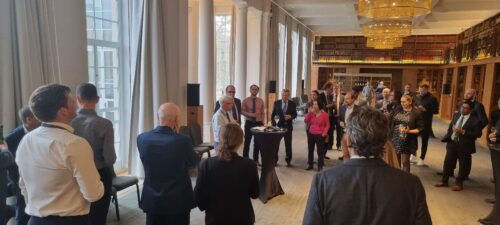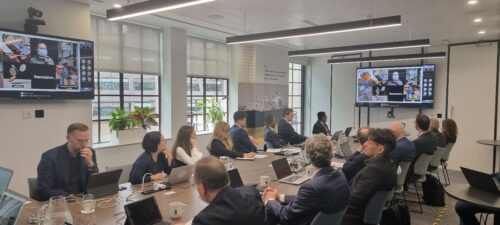 ---
Welcome to new members from USA, Greece and India
We are pleased to welcome the Port of Portland as a regular member and the Hellenic Ports Association and IRM Offshore and Marine Engineers as associate members.The Port of Portland is the port district responsible for overseeing Portland International Airport, general aviation, and marine activities in Portland in the United States. It owns four marine terminals, including deep draft container terminals, three airports, and five industrial parks. As Oregon's largest port, it handles over eleven million tonnes of cargo a year, including grain, minerals, forest products, and cars. The port is a premier auto gateway and leading auto distribution hub. The Hellenic Ports Association comprises thirteen Greek port authorities and thirteen port funds. The association coordinates the activities of its members to develop port policy, the participation of ports in regional development, and the creation of robust and competitive port service companies. It also addresses and promotes all issues concerning ports within the framework of Greek, European, and international legislation to create positions for developing all Greek port authorities, port industry, and transport. IRM Offshore and Marine Engineers is the flagship company of the Indian IRM group. The company offers over 2,000 specialty rubber engineering products and various services for the shipbuilding industry, maritime infrastructure, offshore oil drilling platforms, offshore wind energy, and naval establishments, including a complete range of solid and pneumatic marine fenders and accessories for ports, harbours, and jetties.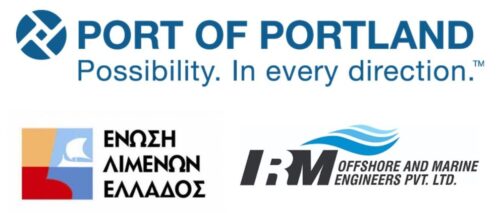 ---
April ESI scores published
The latest scores of the IAPH Environmental Ship Index (ESI) project were published on 1 April. The number of vessels with an ESI score above 20 is at 4,760, whereas the total number of vessels in the ESI database is at 6,577. Compared to January, the average ESI score increased from 30.1 to 30.6. With the Port of Nagoya joining the scheme, the number of incentive providers is now at 61. Is your port already part of the ESI programme? If not, find out more on the ESI website or contact Takeshi Suzuki at : t_suzuki@iaphworldports.org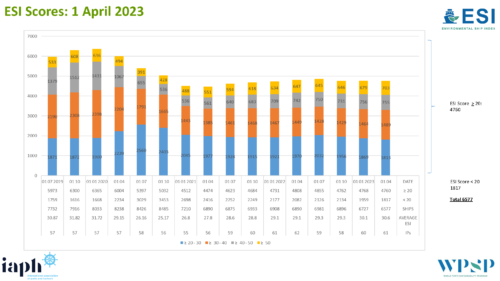 ---
Registration #IAPH2023 is open with live agenda
Registration for the IAPH 2023 World Ports Conference is now open with a live agenda, including more than 30 confirmed speakers already. The conference will be held in Abu Dhabi, UAE, from 31 October till 2 November, organised in partnership with AD Ports Group and S&P Global. Under the theme 'Reinventing Ports', the conference agenda will give ports new ideas for business opportunities through reinvention, evolution and collaboration. The agenda combines strategic discussions on energy transition, cargo owner perspectives on supply chain resilience, new ideas on governance and port authority leadership with practical, hands-on sessions that will also showcase the varied IAPH sustainability toolbox for ports. The conference further features market outlooks on breakbulk, cruise and containers, as well as exclusive innovation roundtables. Early bird rates are available till 20 May, so make sure you book your seats early. IAPH members can select the 'IAPH Member Registration' button to obtain the discounted fee for members.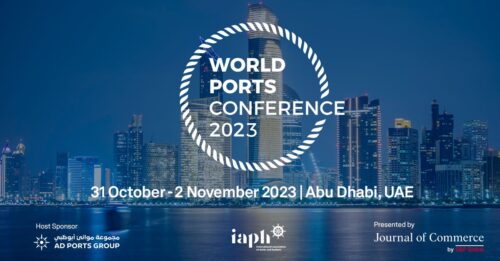 ---
Enter your projects for the IAPH Sustainability Awards
We invite IAPH regular as well as associate members working in partnership with member ports to submit their latest sustainability projects to us online by 26 May. By so doing your project will qualify automatically for the IAPH 2023 Sustainability Awards, with winners to be announced at the prestigious gala awards dinner to be held at this year's IAPH World Ports Conference in Abu Dhabi on 1 November. All approved projects will join the IAPH World Ports Sustainability online database, which currently counts 237 projects from 109 ports in 47 different countries. They will also be showcased on IAPH's social media channels and endorsed infographics will be shared with candidates for their own newsletters, social channels and websites. This year, there will be six categories, judged by an independent committee of industry experts. The 18 finalists will then be submitted to the public for a vote. For more information check the front page of the WPSP website as well as this instructive video, where IAPH technical director Antonis Michail explains how easy it is to submit your projects.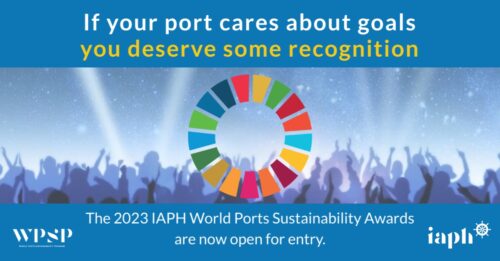 ---
Next Africa-Europe Harbor Café on 25 April
The second IAPH Regional Café of 2023 will be hosted by IAPH vice-presidents Michael Luguje (Ghana Ports & Harbours Authority) and Jens Meier (Hamburg Port Authority) on 25 April at 09.00 AM CEST and will be an interactive conversation on how to deploy practical tools to ease long-term port congestion and emissions. Speakers will include the chairman of the International Taskforce Port Call Optimization, Capt. Ben Van Scherpenzeel, Astrid Dispert from the IMO-Norway GreenVoyage2050 project, Slavia Jumelet of the Digital Container Shipping Association and Hamburg Port Authority's Phantian Zuesongdham. For IAPH regular and associate members interested in taking part from outside these two regions, please email ingrid.boque@hpa.hamburg.de.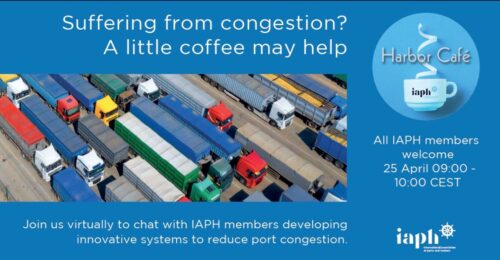 ---
Member Port News
In this edition's round up of member port news, you will find stories from the following IAPH members:
Africa and Europe region: North Tyrrhenian Port Network Authority, National Ports Agency Morocco, Autorità Portuale di Genova, Port Autonome de Kribi, Autoridad Portuaria de Bilbao, Freeport of Riga Authority, Port of Amsterdam, Autoridad Portuaria de Huelva, Autoridad Portuaria de Santa Cruz de Tenerife, Ghana Ports and Harbours Authority, HAROPA Port, Nigerian Ports Authority, Port of Antwerp-Bruges, Ports of Cabo Verde, Port of London Authority, Belfast Harbour Commissioners, Port of Göteborg, Cyprus Ports Authority, Port of Amsterdam, Port of Rotterdam Authority, bremenports, Gibraltar Port Authority, Grand Port Maritime de Marseille, North Sea Port, Autoridad Portuaria de Valencia, Port of Bergen, Port Autonome de Cotonou, Port of Helsinki, Administração dos Portos de Sines e do Algarve, Port Authority of Vigo, Oslo Port Authority
America region: Port of Portland, Autoridad Marítima de Panamá, Port of Los Angeles, Northwest Seaport Alliance, National Ports Administration Uruguay, Vancouver Fraser Port Authority, Autoridad Marítima de Panamá, Port of San Diego, Companhia de Intergração do Complexo Portuário do Pecém, Port of Seattle, Georgia Ports Authority,
Asia and Oceania region: Port of Hakata, Marine and Water Bureau Government of Macau, NSW Ports, China Merchants Port Holdings, Taiwan International Ports Corporation, Incheon Port Authority, Philippine Ports Authority, PSA International, Bintulu Port Holdings Berhad, Ministry of Oceans and Fisheries Korea, Solomon Islands Ports Authority, Busan Regional Office of Oceans and Fisheries, Sri Lanka Ports Authority, Incheon Regional Office of Oceans and Fisheries, Subic Bay Metropolitan Authority, Yeosu Gwangyang Port Authority, Westports Malaysia, PT Pelabuhan Indonesia, Maritime and Port Authority of Singapore, DP World, Incheon Port Authority
Check out the full line up on our Member Port News page.
---
World Maritime News
These maritime news stories made the headlines over the past two weeks:
Box shipping is down but far from out
SIPG sees record profit for 2022 despite slow container growth
US ports keen on new funding, but less so on proposed reforms: AAPA
Cargo owners benefit from lower contract rates
Rising US imports to remain below pandemic highs
Rising capacity prompts 'tough freight war' on Japan-US trade
Shipping needs energy efficiency CII tweaks to align with 1.5°C goals
HMM halves emissions per TEU
CMA CGM orders 16 new alternative fuel mega-ships
For details of each story, please visit the World Maritime News section on our website
---
Calendar of Events
IAPH events and events where IAPH is represented