This edition covers:
---
This week's Insider highlight with Patrick Verhoeven
---
IAPH attended record-breaking TPM23 in Long Beach
The annual edition of TPM, the world's premier maritime cargo logistics event, was held in Long Beach last week. A record-breaking audience of more than 3,500 people were in attendance. The opening keynote was brought by retired US Army general and former CIA director David Petraeus, who said that the era of unfettered growth in international trade is coming to an end as geopolitical tensions and trade barriers arise across the world, particularly between the US and China. The general, now a partner at private equity firm KKR, told attendees he predicts trade will increasingly shift to new countries such as Southeast Asia, India, and Mexico. The general however believed China would remain a key trade partner for years to come and that globalisation is not over by any means, but it is now rather a matter of 'slowbalisation'. Interviewed by TPM chairman and JOC editor Peter Tirschwell, Søren Toft, the CEO of MSC was more upbeat, believing the global nature of trade would prevail, despite geopolitical tensions and other disruptions. Commenting on the break-up of the 2M Alliance, Toft said MSC aims to hold on to its dominant market share in ocean shipping, referring to the fact that his company was first and foremost a shipping company, not an integrator. Other top-rank speakers at TPM23 included Jeremy Nixon, CEO of Ocean Network Express (ONE), Tim Scharwath, CEO DHL Global Freight Forwarding and Dave Clarck, co-CEO of Flexport. IAPH vice-president Robin Silvester and managing director Patrick Verhoeven attended the conference, using the opportunity to reconnect with current and potential North American member ports. TPM is organised by S&P Global, IAPH's events partner for the World Ports Conference and publisher of the IAPH membership magazine Ports & Harbors.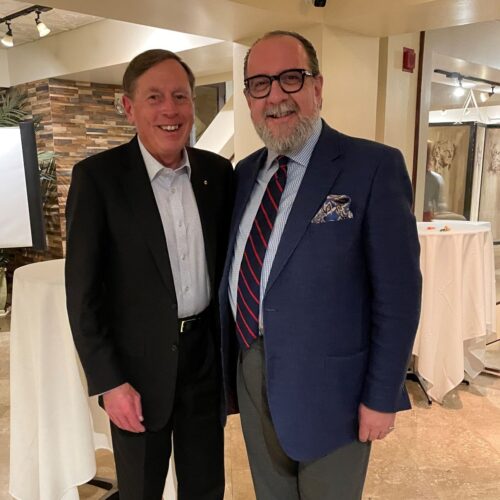 TPM23 keynote speaker general David Petraeus with IAPH MD Patrick Verhoeven
---
March-April issue of Ports & Harbors is out
The March-April edition of Ports & Harbors was published last week. In this issue the cover interview features Elpi Petraki, chartering, operations, and business development manager at ENEA Management in Greece and newly elected president of WISTA International. Elpi and IAPH managing director Patrick Verhoeven compare notes around the impact of digitised trade information and how to win skilled employees of the future. In addition, IAPH's communications director Victor Shieh offers a summary of the two-day symposium organised by IMO, IAPH and BIMCO on implementing a maritime single window. Hamburg Port Authority's head of port process solution Phanthian Zuesongdham talks automation, collaboration, and seafaring dreams. The 'In Numbers' article, which is written by professors Theo Notteboom, Thanos Pallis and Geraldine Knatz, looks at the global growth in automated container terminals as part of a wider research study. Mikal Böe, CEO of Core Power makes the case for nuclear propulsion of ships. We have Sitara Shipping's CEO Sanjam Gupta on structural changes shaping Indian ports and JOC's Mark Szakonyi reviews Bruce Jones' book To Rule the Waves on how the control of the world's oceans shapes the fate of the superpowers.
---
IAPH Board endorses recommendations benchmark report
IAPH Board members met online 28 February. The principal item on the agenda was the presentation and discussion of a benchmark report that compares IAPH's organisational structure and financial performance with a peer group of international and regional associations of shipping companies and port authorities. The benchmark exercise was carried out by Gerd Ramdohr, head of financial management at Hamburg Port Authority, courtesy of IAPH vice-president Jens Meier. The benchmark report recommends organisational changes, in terms of process view, working routines and organisation chart, customer relationship management, internal reporting and forecasting as well as membership value, marketing and pricing. The Board endorsed the recommendations and tasked the IAPH management team to formulate a concrete implementation plan with deliverables set for the course of this year. The Board further adopted the statement of the 2022 IAPH accounts as well as the report by the Finance and Audit Committee. Board members were updated on the implementation of the 2023 work programme, membership developments and the organisation of the 2023 World Ports Conference. Finally, the Board took note of the election schedule of president and vice-presidents for the 2023-2025 term of office.
---
IMO FAL Committee to be held 13-17 March
Next week, from 13 to 17 March, IAPH will be attending the 47th meeting of the IMO's Facilitation Committee (FAL 47) at the IMO headquarters in London. The key focus for us at this meeting will be the application of the maritime single window concept, under which we have two joint submissions. IAPH, along with the International Port Community Systems Association (IPCSA) and numerous member states, have submitted a document which proposes a draft FAL resolution on the available resources relevant to the effective implementation of the maritime single window concept. This proposed resolution also encourages the use of the IMO compendium by contracting governments to the FAL Convention to ensure harmonised systems worldwide. The Committee will be invited to note this paper and to adopt the draft FAL resolution. Furthermore, IAPH has submitted a joint paper with BIMCO on the outcomes of the symposium they co-organised with IMO on 'Maritime Single Window 2024 – A window of opportunities' back in January for the purposes of informing the FAL Committee and member state governments. Under this item, there is also a proposal from China to amend the guidelines for setting up a maritime single window to provide feedback information to shipowners and cargo owners to facilitate voyage planning and prevent port congestion. In 2022, IAPH proposed amendments to these guidelines which were agreed upon by the FAL Committee, and the associated IMO circular was updated with the revised guidance. Given this, IAPH will be closely watching for potential outcomes associated with this submission. On behalf of IAPH, IMO liaison and policy officer Rhona Macdonald will be attending in person, with Data Collaboration Committee chair Pascal Ollivier and technical director Antonis Michail following sessions online. A full report on the meeting will be disseminated in due course.
---
IMO GHG Intersessional to be held 20-24 March
The 14th meeting of the IMO's Intersessional Working Group on Greenhouse Gas Emissions (ISWG-GHG 14) is taking place from 20 to 24 March. This meeting is set to progress with work on the Draft Revised IMO Strategy on the Reduction of GHG Emissions from Ships ahead of the MEPC 80 deadline this summer, together with the corresponding topic on the development of mid- and long-term measures. Whilst no decision is expected to be made at this session on the level of ambition of the strategy, the working group is set to go through other elements, including the vision, capacity-building measures to support developing countries in the transition, as well as defining a 'just and equitable transition' as part of the guiding principles. Furthermore, a submission from Fiji and others sets out various matters to be considered in determining the distribution of revenues generated from economic measures, including fundamental questions that require further clarity and which should be outlined in the Revised Strategy. This submission goes on to propose the establishment of a standing agenda item on revenue distribution, therefore a lengthy discussion on this matter can also be expected. On the mid-and long-term measures, due to the forthcoming deadline for finalising the Revised Strategy, concrete decisions on the development of the basket of measures, including technical and economic elements, are not anticipated at this stage, and it is likely that the focus of Member States and the Working Group will be to advance work on elements of the Revised Strategy. That being said, there are numerous submissions on the table, including a revised submission from the International Chamber of Shipping (ICS) expanding on their original proposal to establish an International Maritime Sustainability Funding and Reward measure using a flat-rate, levy-based contribution by ships as part of a basket of measures. This has since been adapted to provide additional information, including draft amendments to MARPOL Annex VI, to assist decision making at MEPC 80 on what measures should be prioritised for development. Japan has also revised its proposal for a Zero-Emission Shipping Incentive Scheme, and some other Member States, including Argentina, Brazil, and China, have submitted a joint paper proposing a preliminary comparative analysis of the technical and economic elements of candidate measures to provide a basis for a better-informed discussion. On behalf of IAPH, Climate and Energy Committee chair Peter Mollema (Port of Rotterdam), associate member Bruce Anderson (Starcrest) and IMO liaison and policy officer Rhona Macdonald,will be attending in person. A full report on the outcomes of the discussions will be disseminated to members in due course.
---
IMO set up relief fund for Turkey and Syria
IMO secretary-general Kitack Lim has launched a relief fund and a mechanism to facilitate donations to help those impacted by the devastating earthquake that hit Turkey and Syria on 6 February followed by powerful aftershocks and another earthquake two weeks later. The United Nations estimates that, to date, tens of thousands of lives have been lost and thousands more have been injured. The UN further indicates that over 18 million people have been affected across southern Turkey and northwest Syria. Rescue operations continue, but the focus is now shifting to providing essential support for survivors who have lost their homes, belongings, livelihoods and loved ones. With thousands of buildings collapsed, and hospitals, roads and infrastructure destroyed, millions of people are in urgent need of help. Announcing the IMO fundraising appeal at the opening of the 9th Session of the Sub-Committee on Ship Systems and Equipment at IMO headquarters in London last week, Kitack Lim said donations to the IMO fund will be accepted until 27 March. Donations will then be sent to the United Nations Secretariat fund to support the provision of experts, emergency relief, food, medical supplies and other life-saving items. Bank account details for those who wish to donate can be found on the IMO website. IAPH members wishing to support the Turkish port sector in particular, are encouraged to contact our associate member TÜRKLIM, the Port Operators Association of Turkey.
---
Last chance to share Q4 2022 data with World Ports Tracker
The deadline for ports to complete the IAPH World Ports Tracker survey requesting data for the fourth quarter of 2022 has been extended to Friday 10 March, midnight CET. The World Ports Tracker is a full report for ports which allows them to anonymously enter information for them to get in return, at no cost, a full analysis on global and regional trends in port performance, vessel port calls, hinterland connectivity and much more. We are keen for your port to participate as you will be granted exclusive access to the full published report along with the other respondents. You can directly access the survey here.
---
Registration 2023 World Ports Conference opens 1 April
The 2023 IAPH World Ports Conference will be held in Abu Dhabi, UAE, from 31 October till 2 November this year. Registration will be open 1 April at which time the preliminary conference programme will become available. Organised in partnership with S&P Global and host sponsor AD Ports Group, the conference will focus this year on the theme #ReinventingPorts. Ports have reached a pivotal stage in their evolution. Operating purely as landlords of terminal and industrial concessions is no longer a guarantee of economic growth and prosperity. They must evolve and adapt to remain relevant. End-to-end maritime supply chain conglomerates are emerging with no fixed ports of call. Record profits for oil and gas majors, shipowners, terminal operators, and overland logistics players combined with weakening global demand means that port authorities can no longer negotiate their interests from a point of strength. Importers and exporters are demanding better cargo visibility from ports. Digitalisation is accelerating to a point where if ports remain unengaged, their role in the supply chain will dwindle. Ports will only become part of the maritime energy transition if they can attract the public-private investments needed to create the infrastructure for zero carbon fuels, most of which will need to be transported by ship from the new exporting countries to consumers. These changes are set to transform global energy trading routes with new innovation-led ports challenging the old guard. Future port energy hubs cannot afford to lose the competition to other land-based centres for producing and disturbing these new energies, otherwise shipping itself will lose access to these fuels and with it a golden opportunity to decarbonise and reduce its share of emissions. And with ports facing geo-political instability, natural disasters, cyber-attacks and ever-more extreme swings in demand and supply, they must become more resilient and prepared to overcome whatever nature and man throws at them next. At the 2023 IAPH World Ports Conference you will learn from thought leaders in the industry on how ports are not only meeting these challenges, but turning many of these tough situations into genuine business opportunities through reinvention, open collaboration, community building and talent attraction. Awaiting the opening of registration on 1 April, you can already sign up here for news and updates.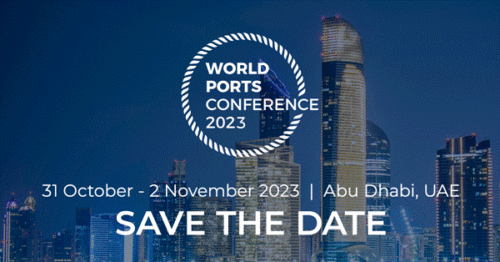 ---
2023 IAPH Sustainability Awards competition is open
The 2023 IAPH Sustainability Awards competition is now open with IAPH member ports warmly encouraged to submit their projects in six different Award categories: infrastructure, digitalisation, climate and energy, environmental care, community building, and health safety and security. Three projects per category will be shortlisted by our expert jury and taken to an open public vote to co-determine the final winners. A seventh 'Akiyama' award will also be awarded to the highest-placed finalist from a least-developed or landlocked developing country or a small island developing state. All awards will be presented at the gala dinner of the 2023 IAPH World Ports Conference, in Abu Dhabi on 1 November. Place your project entry via the online form here on the WPSP website. Deadline for submissions is 26 May.
---
IAPH supports World Bank Africa digitial diagnosis
IAPH is supporting an initiative of the World Bank to perform a diagnosis of the status of digitalisation in the maritime transport chain of the Africa region. The objective of this diagnosis is to identify the kind of support African countries and ports require to meet the IMO requirement to establish a maritime single window in all member states by no later than January 2024. The additional aim is to identify concrete actions to close the digital gaps between advanced and less developed ports in African countries to ensure no nation is left isolated from improved trade facilitation opportunities that digitalisation has the potential to create. The project is endorsed by the African Union. African port members are invited to participate in the exercise, which has the full backing of IAPH vice-president Michael Luguje and the regional African port associations PMAWCA, PMAESA and AUPNA. An invitation-based online kick-off meeting will be held on 30 March, with invitations distributed through the regional port associations.
---
IAPH, APEC and C-MAT hold third port strategy course
For the third year in a row, IAPH is collaborating with its associate members Antwerp/Flanders Port Training Centre (APEC) and the Centre for Maritime and Air Transport (C-MAT) in organising a course on international port strategy, with online sessions spread between 3 and 28 April, and an in-person course week in Antwerp from 8 to 12 May. The partnership enables us to present a mix of experienced port professionals, academics and global policy makers on the international aspects of port strategy and management. In the course, we will reflect on the major global macro-economic and geopolitical trends and analyse their impact on port platforms, from changing global supply chains, to digitalisation, climate change and the energy transition. Furthermore, we will zoom in on regional differences and realities in the port sector in China, India, the Middle East, Africa, Latin America and Europe. Finally, we will evaluate different international strategies within the port industry and help you to design your own strategy on the international scene. IAPH members enjoy a 20% discount on the registration fee and there are additional reductions for groups larger than five people. You can find out all details here.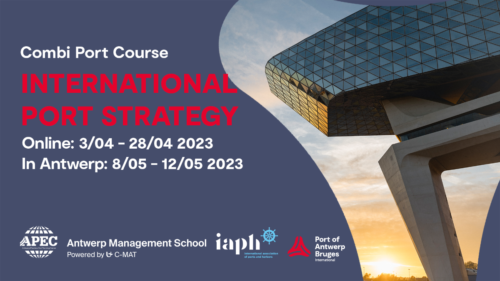 ---
IAPH Clean Marine Fuels work presented at IHMA Africa
The African Harbour Masters Committee Seminar took place last week in Tangiers under the aegis of the Moroccan Ministry of Equipment and Water and with Tanger Med Ville as host port, supported by the International Harbour Masters Association (IHMA). IAPH's chair of the Clean Marine Fuels Working Group Peter Alkema from the Port of Amsterdam offered delegates a presentation on IAPH's role in sustainable port development. He referred to the objectives to implement the UN Sustainable Development Goals in port governance and provided some concrete examples, including those available on the WPSP platform. He also referred to the Port Endeavor game which uses the database of projects by ports, applying the UN SDGs in practice. Peter then went into detail on CMF's role, work and products and how ports can make use of the Working Group's bunkering checklists, audit and terminal readiness tools, all available online. He mentioned that ships orderbooks now show that one third of tonnage on order has the capability to sail on an alternative fuel and latest Alphaliner analysis points towards a 40% figure for container newbuilds which will be built to run on dual fuel LNG or methanol.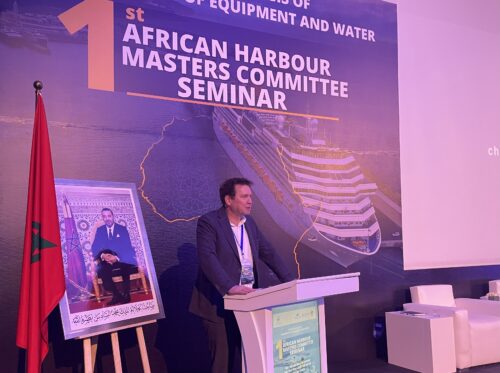 CMF Working Group chair Peter Alkema presenting at the AHMC event in Tangiers
---
Max Mejia appointed president World Maritime University
Following a competitive selection process, Max Mejia has been selected by IMO secretary-general Kitack Lim to succeed Cleopatra Doumbia-Henry as the new president of the World Maritime University (WMU). The WMU is an independent academic institution founded by IMO in 1983 with the aim of providing advanced training for men and women involved in maritime administration, education and management, particularly those from developing countries. Professor Mejia is currently director of the WMU PhD programme and associate academic dean. He studied political science at the United States Naval Academy in Annapolis, Maryland and went on to obtain a Master of Arts in Law & Diplomacy at the Fletcher School at Tufts University, United States. He is himself a graduate of WMU, having received a Master of Science in Maritime Safety Administration in 1994. Professor Mejia also has a Licentiate of Engineering and Doctor of Philosophy from Lund University in Sweden. Before joining WMU in 1998, professor Mejia saw duty on board various naval and coast guard vessels, as well as in shore-based facilities in the Philippines. During a sabbatical from WMU between 2013 and 2016, professor Mejia served as the administrator of the Maritime Industry Authority (MARINA) in the Philippines. It is expected that professor Mejia will take over the president's role at the end of June, when Dr Doumbia-Henry's term expires. The World Maritime University is a valued associate member of IAPH, based in Malmö, Sweden.
---
IMO welcomes new UN Oceans Treaty
The International Maritime Organization has welcomed the landmark agreement on a new Oceans Treaty to protect marine biodiversity on the high seas. The new legally binding international instrument on the conservation and sustainable use of marine biological diversity in areas beyond national jurisdiction – known as BBNJ Treaty – was agreed on 4 March, following conclusion of the fifth round of treaty negotiations at the United Nations headquarters in New York. The treaty addresses, among other things, the conservation and sustainable use of marine biodiversity, marine genetic resources, including questions on benefit-sharing, area-based management tools including marine protected areas, environmental impact assessments and capacity-building and the transfer of marine technology. The IMO has been present throughout the negotiations and has actively cooperated with the UN and some of its other specialised agencies. The series of conferences to develop the new BBNJ legally-binding instrument under the United Nations Convention on the Law of the Sea (UNCLOS) began in 2018.
---
Member Port News
In this edition's round up of member port news, you will find stories from the following IAPH members:
Africa and Europe region: Port Autonome de Kribi, Ports of Cabo Verde, Port Autonome de San Pedro, Port of London Authority, Autorità Portuale di Genova, Autoridad Portuaria de Huelva, Autoridad Portuaria de Santa Cruz de Tenerife, Autoridad Portuaria de Valencia, HAROPA Port, North Sea Port, Port of Bergen, Port of Vigo, Administração dos Portos de Sines e do Algarve, Hamburg Port Authority, Kenya Ports Authority, Port of Gdansk Authority, Port of Göteborg, Port of Rotterdam Authority, Autoridad Portuaria de Huelva, Belfast Harbour Commissioners, Bulgarian Ports Infrastructure Company, Oslo Port Authority, Autoridad Portuaria de Bilbao, Grand Port Maritime de Marseille, North Sea Port, National Ports Agency Morocco, Port of Antwerp-Bruges
America Region: Port of Hueneme, Port of San Diego, Vancouver Fraser Port Authority, Montreal Port Authority, Port of Long Beach, Port of Los Angeles, Canaveral Port Authority, Port of Seattle, Autoridad Marítima de Panamá, Companhia de Intergração do Complexo Portuário do Pecém
Asia and Oceania region: DP World, Qatar Ports Management Company, Sri Lanka Ports Authority, NSW Ports, PT Pelabuhan Indonesia, Incheon Port Authority, Incheon Regional Office of Oceans and Fisheries, Subic By Metropolitan Authority, Taiwan International Ports Corporation, Yeosu GwangPort Authority, Bintulu Port Holdings Berhad, Busan Port Authority, Port of Brisbane, Ulsan Port Authority, Marine and Water Bureau, Government of Macau, Busan Regional Office of Oceans and Fisheries, Maritime and Port Authority of Singapore (MPA);Subic Bay Metropolitan Authority, Incheon Port Authority
Check out the full line up on our Member Port News page.
---
World Maritime News
These maritime news stories made the headlines over the past two weeks:
Container lines' challenges, new building deliveries, capacity removal, and negative rates
The significant shakeup of container shipping in the wake of 2M divorce
Shipping lines raise the rate and change services to adjust the demand
US DOT opens $12.4 million in funding for maritime transportation projects
Labor negotiations on US west coast cause shippers' concern
Singapore faces challenges regarding a green maritime hub
New impetus emerges behind smart containers
US start-up eyes on street turn tech expansion throughout North America
For details of each story, please visit the World Maritime News section on our website.
---
Calendar of Events
IAPH events and events where IAPH is represented
13-17 March – IMO Facilitation Committee (FAL 47) – London
16 March – IMO-InterPortPolice Security Symposium at FAL 47 – London
20-24 March – IMO Intersessional Working Group GHG (ISWG-GHG 14) – London
20-22 March – UNCTAD TrainForTrade Conference and Port Endeavor – Buenos Aires
27-31 March – IMO Legal Committee (LEG 110)
18-20 April – IAPH Technical Committee Days – London
24-28 April – Singapore Maritime Week – Singapore
24-28 April – IMO Subcommittee Pollution, Prevention and Response (PPR 10) – London
4-5 May – UNCTAD TrainForTrade Port Endeavor – Callao
26-30 June – IMO Intersessional Working Group GHG (ISWG-GHG 15) – London
3-7 July – IMO Marine Environment Protection Committee (MEPC 80) – London
31 October-2 November 2023 – IAPH 2023 World Ports Conference – Abu Dhabi