This edition of IAPH Insider covers:
---
This week's Insider highlights with MD Patrick Verhoeven
---
IAPH Technical Committee Days in London 18-20 April
Since 2020, a major overhaul of the structure and format of the IAPH Technical Committees has taken place. Following two and a half years of mostly online meetings, the time has now come to meet in person. As experienced in Vancouver last year, the World Ports Conference does not leave much time for proper in-depth discussions. With the conference moving to autumn, we now propose to organise dedicated 'Technical Committee Days' in spring, which corresponds to this new schedule. Given the presence of IMO and our colleagues of the international maritime community, London came out as a suitable venue, also considering its global air connectivity. We are therefore pleased to announce that the first IAPH Technical Committee Days will be held 18-20 April, at the offices of the International Chamber of Shipping (ICS), which are located in the City of London, near Tower Bridge. Members of the IAPH Technical Committees received the preliminary schedule earlier this week. It features dedicated sessions on specific themes of the IAPH work programme. Rather than having the traditional, separate meeting agendas, we aim to stimulate dialogue between the committees and their members during the days, both in plenary and break-out sessions. On the last day, each committee will have a dedicated meeting slot to decide on action points and set its own agenda going forward. We are also inviting guests from IMO, ICS and other relevant organisations to some of the sessions. IAPH Technical Committee members are warmly invited to save the dates. We will follow-up shortly with a detailed programme and registration form. The option to follow sessions remotely will be available, but we of course much rather see members in person in London!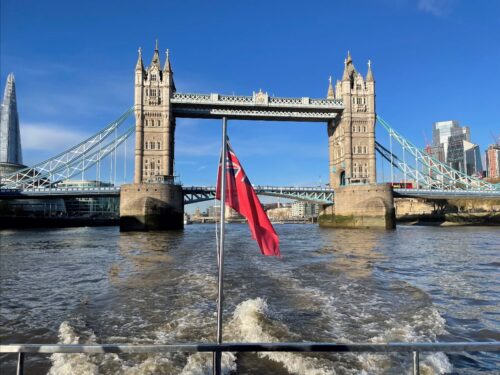 ---
Call for 2023 IAPH Sustainability Awards is open
The call for projects for the 2023 IAPH Sustainability Awards competition is now open and IAPH member ports are warmly encouraged to submit their projects and initiatives by completing the dedicated online form by the deadline of 26 May. All eligible projects will be publicly shared through the WPSP portfolio database and enter as candidates to this year's competition. Candidate projects will be competing in six different categories; infrastructure, digitalisation, climate and energy, environmental care, community building, and health safety and security. As always, following our experts' jury evaluation three projects per category will be shortlisted and then be subject to an open public vote that will co-determine the final winners. A seventh 'Akiyama' award will also be given, in memory of IAPH founding father Toru Akiyama, to the highest-placed IAPH Sustainability Awards finalist from a least-developed country, a landlocked developing country or a small island developing state. All awards will be handed out during a dedicated ceremony at the gala dinner of the World Ports Conference in Abu Dhabi, which takes place from 31 October to 2 November this year. Full information on the scope and process for the Sustainability Awards is provided in the terms of reference. Ports willing to submit projects are advised to consult the evaluation criteria and to address these in their submissions. For any questions or doubts related to the Awards please contact IAPH technical director Antonis Michail (antonis.michail@iaphworldports.org). We are looking forward to receiving your numerous and high-quality submissions.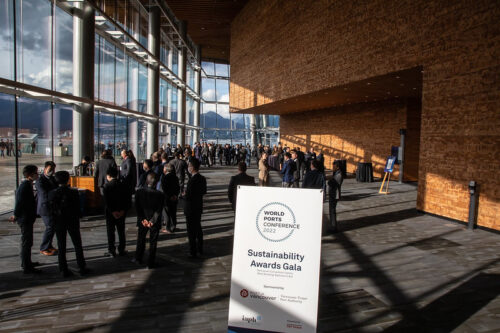 IAPH Sustainability Awards Gala at the 2022 World Ports Conference in Vancouver
---
Save the date: 2023 World Ports Conference in Abu Dhabi
The IAPH 2022 World Ports Conference in Vancouver resoundingly succeeded in identifying how ports should close the gaps in global port infrastructure. Never before have ports received so much attention from policymakers and businesses as the critical nodes connecting maritime with land-based intermodal supply chains. The 2023 World Ports Conference in Abu Dhabi will explore in depth and materialise ports' commitments to digitalise, decarbonise, invest and co-create with their business partners to solidify and expand their roles as supply chain community builders. Featuring global leadership personalities from ports, governments, IMO, UNCTAD, World Bank, global carriers, terminal operators and logistics sectors, #IAPH2023 World Ports Conference between 31 October and 2 November in Abu Dhabi, will bring East and West together in an unmissable opportunity to connect and learn from each other. Check out the conference website and register for updates. If you are interested in sponsoring, please consult this page.

---
IAPH delegation is visiting Mumbai this week
IAPH president Capt. K. Subramaniam and managing director Patrick Verhoeven are visiting Mumbai this week, where they are both speaking at the CTL-BHP conference, which is India's premier event on container transport logistics and breakbulk, heavy lift and project forwarding. It is organised and managed by Exim India, which publishes the main daily maritime newspaper in India. The visit to Mumbai is facilitated by IAPH's regional representative Ennarasu Karunesan, who has been instrumental in revitalising the relationship between India's port community and IAPH, bringing several new members to the association. The visit will conclude on Friday with meetings with the chairman of Mumbai Port Authority, who is also chairman of the Indian Ports Association, and the chairman of Jawaharlal Nehru Port Authority. Capt. Subra, Patrick and Ennarasu are also visiting the headquarters of Kale Logistics this week, which recently joined IAPH as an associate member.
>
Left: Rajiv Jalota, chairman Mumbai Port Authority / Indian Ports Association
Right: IAPH MD Patrick Verhoeven, IAPH president Capt K. Subramaniam, Gopal Krishna, former secretary Ministry of Shipping, Ennarasu Karunesan, IAPH representative in India
---
Welcome to five new members!
We are proud to announce that no less than five new members have joined IAPH during the past two weeks: three regular members, from Brazil, Jamaica and Saudi Arabia, and two associate members, from the UK and the US. Porto Sudeste do Brazil, located in Rio de Janeiro state, is controlled by two international companies: Mubadala, a global investment company in various segments of the economy, and Trafigura, a leading multinational in the oil, metals, and mineral trade. In operation since 2015, Porto Sudeste is one of the most important logistics projects for Brazilian mining companies. Through the port, the iron ore produced in Brazil reaches the transoceanic market and large consumers, such as Southeast Asia. The Port Authority of Jamaica is a statutory corporation established by the Port Authority Act of 1972. It is the principal maritime agency responsible for regulating and developing Jamaica's port and shipping industry. It is responsible for the safety of all vessels navigating the ports of entry, controlling the tariffs charged on goods passing through the public piers, and providing harbour and port services. The port authority has two cargo ports, five cruise ports, and five free zones under its jurisdiction. The Saudi Ports Authority (Mawani) was established in 1976 as a specialised working system for constructing and managing Saudi ports at a high efficiency level. As a result, Saudi Ports Authority succeeded in transforming the Saudi ports into a vital economic source. After that, Saudi ports, with their diverse specialties, played a unique role in developing the regional and international maritime business, as well as transporting passengers, especially the visitors of holy places in the Kingdom of Saudi Arabia. RightShip is the world's leading Environmental, Social and Governance (ESG) focused digital maritime platform, providing expertise in global safety, sustainability and social responsibility practices. Founded with the mission to drive operational improvements in the global shipping industry, more than 600 customers use RightShip's due diligence, environmental and inspection services to help them manage risk and improve overall maritime safety standards on shore and at sea. The Texas Department of Transportation is a government agency of Texas state in the United States. It is responsible for constructing and maintaining the highways and overseeing the state's aviation, rail, and public transportation. The Maritime Division of the Texas Department of Transportation supports the development of Texas' maritime system. It highlights the significant economic impact that Texas' ports provide to the state and nation and promotes waterborne transportation and related intermodal projects essential to maintaining Texas' economic competitiveness.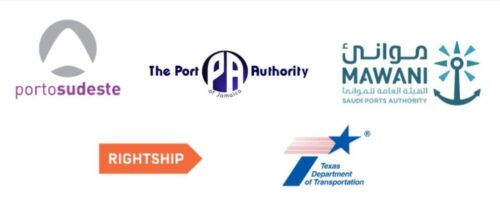 ---
IMO agree to draft revised guidelines on underwater noise
The IMO Sub-Committee on Ship Design and Construction (SDC) held its 9th meeting from 23 to 27 January to finalise the draft revised Guidelines for the Reduction of Underwater Noise and to identify the next steps. We would like to thank Bruce Anderson from Starcrest and Krista Trounce from Vancouver Fraser Port Authority for being part of the IAPH delegation at this meeting. Krista, who is research manager for Port of Vancouver's ECHO Program project, presented the findings of this pioneering project on underwater noise from commercial shipping during one of the sessions. Overall, an overwhelming majority of member states agreed to the amendments to the draft Revised 2014 Guidelines. The Sub-Committee subsequently noted the discussions and invited MEPC to approve the revised draft at their next meeting in July. During the session, some delegations requested for a provision in the Guidelines that clearly emphasises their non-mandatory nature. The potential interaction of the Guidelines with other IMO regulatory measures was noted with precaution. This includes those to reduce pollution from ships. With this in mind, the parallel Working Group proposed to re-establish the Correspondence Group on Underwater Radiated Noise to take into account these remaining points. The Group will submit a written report to SDC 10 which was ultimately agreed by the Sub-Committee. Additionally, to address the potential interaction of the Guidelines and other regulatory measures, the Sub-Committee also invited MEPC 80 to approve on convening an expert workshop on the relationships between energy efficiency and underwater noise. The Sub-Committee also encourages delegations to submit lessons learned, or best practices on the implementation of the Revised Guidelines by MEPC 86 to identify any necessary revisions.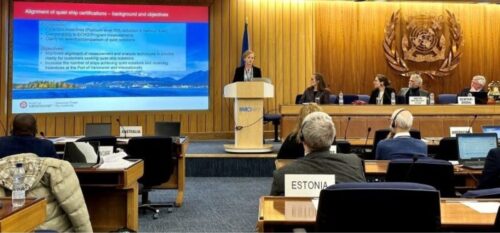 Port of Vancouver's Krista Trounce presenting the ECHO Program at IMO SDC 9.
---
IAPH Europe and Africa 2023 Regional Kick-off
Following the successes of the IAPH Europe and Africa Regional Harbor Cafés last year which had a focus on digital innovation, regional vice-presidents Jens Meier and Michael Luguje will be hosting a joint 2023 Regional Kick-off meeting online on 16 February between 01.00 and 2.30 PM CET. The kick-off will include a top-level discussion on priorities for their ports (Hamburg Port Authority and Ghana Ports and Harbors Authority respectively) in 2023 as well as input from other IAPH regular member CEO guests on their own priorities from both regions. IAPH managing director Patrick Verhoeven will join with an explanation of IAPH's 2023 work plan and we will also be tapping into the audience on topics they would like to see in the 2023 IAPH Harbor Café sessions. Non-IAPH members (ports and companies or organisations working with ports) are also very welcome to join us for lively and enriching conversations next week by contacting Ingrid Boque at HPA by email : ingrid.boque@hpa.hamburg.de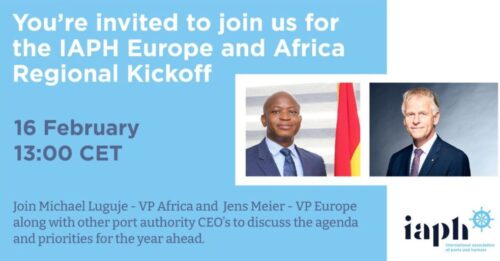 ---
Inaugural meeting IAPH Automation group held online
Building on previous deliberations during IAPH Data Collaboration Committee (DCC) meetings, the first meeting of the DCC Automation group took place virtually on 8 February. More than 30 members gathered, to brainstorm on the agenda and objectives of the group going forward. The meeting was facilitated and chaired by Pascal Ollivier and Gadi Benmoshe, respectively DCC chairman and vice-chairman, while the discussions were supported by introductory presentations from stakeholders including Terminal Industry Committee (TIC) 4.0, Conbo.ai, and NextPort by Moffatt & Nichol. Participants agreed that automation in ports is a complicated issue to tackle jointly, as it often entails diverse approaches and stakeholders' interests in different ports. 'Change management' was nevertheless identified as a key common issue for further exchange of practices between ports. As a next step, those participating felt it would useful to work on a white paper or similar document which works towards establishing a common vision on automation from a port authority perspective. Improving interaction between port community systems and terminal operators' systems would also form a good basis to initiate dialogue with terminal operators. Following further correspondence, the Automation group will meet again in a few weeks' time from now to confirm its concrete work programme and deliverables.
---
IAPH Clean Marine Fuels working group sets roadmap
The IAPH Clean Marine Fuels working group met virtually on 7 February to discuss progress to date and agree on its 2023 roadmap. During a well-attended meeting, the group welcomed new members from the ports of Antwerp-Bruges, Seattle and Northwest Seaport Alliance. The added value of the liquefied gas (including liquid hydrogen) bunkering checklists that were published at the end of last year was demonstrated by the increased number of downloads from the WPSP / CMF website. CMF is currently finalising its bunkering checklists for alcohol-based fuels (including methanol) which will be released by March this year, with work on ammonia and compressed hydrogen to follow. Participants further exchanged views on the planned digitalisation of bunkering checklists and reviewed progress achieved with the audit and terminal readiness tools workstreams. Finally, the group discussed the progress of the joint work with the World Ports Climate Action Program (WPCAP) on port readiness levels for alternative fuels. The CMF working group will be contemplating possibilities to physically meet next in London, in combination with the IAPH Technical Committee Days, which will be held between 18 to 20 April.
---
The role of seaports as green hydrogen hubs
Our Risk and Resilience committee member professor Theo Notteboom has co-authored an article with professor Hercules Haralambides on 'Seaports as green hydrogen hubs: advances, opportunities and challenges in Europe' for the academic journal Maritime Economics & Logistics. The comprehensive article focuses on the potential role of green hydrogen and what ports can do to develop into fuel hubs The authors look at the impact the energy transition may have on the economics and governance of seaports given the public and private interest in green hydrogen. Key considerations are presented on geo-economic repercussions of the adoption of green hydrogen on a port's cargo flows, and on the role of seaports in driving down the costs of a potential green hydrogen economy. The article can be freely downloaded here.
---
Member Port News
In this edition's round up of member port news, you will find stories from the following IAPH members:
Africa and Europe region: Ghana Ports and Harbours Authority, Gibraltar Port Authority, Port of Helsinki, Oslo Port Authority, Administração dos Portos de Sines e do Algarve, Autoridad Portuaria de Huelva, JadeWeserPort Realisierungs, Port of Antwerp-Bruges, Port of Bergen, Autoridad Portuaria de Bilbao, Autoridad Portuaria de Sevilla, Grand Port Maritime de Marseille, Ports of Cabo Verde, Port of Rotterdam Authority, bremenports, Freeport of Riga Authority, North Sea Port, Port Autonome de San Pedro, Port of Beirut, Port of London Authority, Autoridad Portuaria de Santa Cruz de Tenerife, Bremenports, Belfast Harbour Commissioners, Israel Ports Development and Assets Company, Port of Amsterdam, Port of Helsinki, Port Authority of Vigo, Nigerian Ports Authority, Valencia Port Authority
America region: Halifax Port Authority, National Port Administration Uruguay, Georgia Ports Authority, Autoridad Marítima de Panamá, Port of Los Angeles, Montreal Port Authority, Porto do Açu, Port Saint John, Port of Los Angeles, Port of Seattle
Asia and Oceania region: Northport Malaysia, Westports Malaysia, Philippine Ports Authority, PT Pelabuhan Indonesia, Port & Harbour Bureau Shimonoseki City Government, Port Nelson, Mwani Qata, Solomon Islands Ports Authority, Busan Port Authority, Incheon Regional Office of Oceans and Fisheries, Saudi Ports Authority, Busan Port Authority, Busan Regional Office of Oceans and Fisheries, Incheon Port Authority, Maritime and Port Authority of Singapore, Subic Bay Metropolitan Authority, Marine and Water Bureau Government of Macau, DP World, Gladstone Ports Corporation, Yeosu Gwangyang Port Authority, NSW Ports, Port of Duqm Company
Check out the full line up on our Member Port News page.
---
World Maritime News
These maritime news stories made the headlines over the past two weeks:
Topics related to the end of 2M Alliance
Blankings insufficient to hold off rates stagnation
West coast labor negotiations still stuck over Seattle strife
Deglobalization policy puts economic growth at risk
Vehicle carrier order book hits record 27% of the existing fleet
New IMO rules force global reefer fleet to confront uncertain future
FMC commissioner drops bid to use OSRA-22 for emergency data sharing
For details of each story, please visit the World Maritime News section on our website.
---
Calendar of Events
IAPH events and events where IAPH is represented
13-15 February – UNCTAD TrainForTrade Port Endeavor – Las Palmas
16 February – Europe Africa Harbor Café (online)
22 February – GreenTech for Ports and Terminals – Hamburg
26 February-1 March – TPM23 – Long Beach
13-17 March – IMO Facilitation Committee (FAL 47) – London
20-24 March – IMO Intersessional Working Group GHG (ISWG-GHG 14) – London
20-22 March – UNCTAD TrainForTrade Conference and Port Endeavor – Buenos Aires
27-31 March – IMO Legal Committee (LEG 110)
18-20 April – IAPH Technical Committee Days – London
24-28 April – Singapore Maritime Week – Singapore
24-28 April – IMO Subcommittee Pollution, Prevention and Response (PPR 10) – London
4-5 May – UNCTAD TrainForTrade Port Endeavor – Callao
26-30 June – IMO Intersessional Working Group GHG (ISWG-GHG 15) – London
3-7 July – IMO Marine Environment Protection Committee (MEPC 80) – London
31 October-2 November 2023 – IAPH 2023 World Ports Conference – Abu Dhabi