This edition of IAPH Insider covers:
---
This week's Insider highlights with MD Patrick Verhoeven
---
Maritime Single Window successfully held in London
Last week, IAPH, BIMCO and IMO jointly held a symposium on the implementation of the Maritime Single Window under the theme 'Window of Opportunities'. The event, which was also supported by IPCSA, took place at the headquarters of the IMO in London and it was transmitted live on the IMO YouTube channel. The symposium covered both the big picture of national digitalisation strategies and the practical implementation, including possible architecture, interoperability, data requirements and standards. It also provided an overview of available resources and partnerships. The event can be summed up in five take-aways. First, there are the challenges. The weakest links in the process to digitalisation are usually the 'analogue' ones: the (lack of) trust among stakeholders to engage in data collaboration and the complexity of regulatory frameworks. Second is compliance. The 1 January 2024 implementation deadline should not be regarded as a regulatory process aimed at 'ticking the box'. Instead the multiple opportunities a maritime single window presents should be fully embraced. Thirdly, pragmatism is required. Implementing a maritime single window will depend on whether digital infrastructure is already in place or not. It can be a stand alone or be embedded in a broader network. Fourth is standardisation. Robust international standards exist for nautical, operational and administrative data and they should be used. Finally, there are the resources. The symposium clearly demonstrated that countries and ports are not on their own. There are plenty of good practices out there as well as multiple resources provided by international institutions such as IMO and the World Bank as well as individual countries like Singapore and Norway. IAPH and BIMCO will be submitting the findings of the symposium to the upcoming IMO Facilitation (FAL) Committee, which is scheduled to take place 13-17 March. The IMO is also developing an introductory e-learning course on the implementation of the Maritime Single Window. The introductory webinar that was held 24 October is available on the IMO YouTube channel. A full recording of the symposium will be published on the same channel shortly. Impressions from the event can already be found on the IMO flickr page.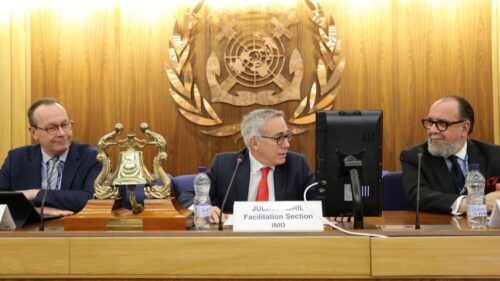 Concluding the symposium: Jeppe Skovbakke Juhl (BIMCO), Julian Abril (IMO), Patrick Verhoeven (IAPH)
---
IAPH Maritime Single Window portal is online
To support the introduction of the IMO Maritime Single Window requirement in just under one year from now, IAPH has launched a portal to assist ports, governments and supply chain stakeholders with useful FAQs, links and regular updates. The portal is hosted on the World Ports Sustainability Program website and can be accessed here.

---
EU cruise study recognises ESI as good practice
The European Commission recently published the findings of an elaborate study prepared by Deloitte and Ramboll, which gathered and analysed available evidence to support cruise stakeholders in moving forward on sustainability. The study comes with a selection of good practices, which the cruise industry can look to for learnings, ranging from onshore power supply, LNG bunkering, sustainable cruise terminals, food waste reduction and waste treatment to a holistic approach to destination management. The best practices also include the IAPH Environmental Ship Index 'at berth module', which is currently being developed as a pilot project for the environmental performance of cruise ships at berth for each port call. The EU-funded study took place against a policy background of the European Green Deal, the European Commission's new approach to sustainable blue economy and the development of a transition pathway for tourism. The study looked at the economic, social and environmental 'as-is', examined the most promising responses to the challenges, measured economic impact, and documented regulatory and non-regulatory environmental and social frameworks. The researchers conclude that there are no one-size-fits-all solutions. There is uncertainty about cost and regulation. Local specificities are important as thirteen destination case studies illustrated. However, adopting clear environmental goals, circular economy principles, energy efficiency and fuel flexibility, and collaboration across the ecosystem are no-regrets measures that can be taken now.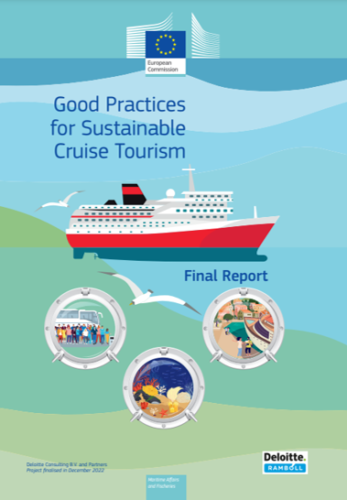 ---
ICS-IAPH CEM Hubs initiative welcomed by IRENA
The Clean Energy Marine Hubs (CEM Hubs) initiative has gained further support during a ministerial event hosted by the International Renewable Energy Agency (IRENA) at its 13th Assembly in Abu Dhabi. IRENA welcomes the CEM Hubs initiative, a cross-sectoral public-private platform aimed to accelerate the production, transport and use of low-carbon fuels that will be transported by shipping for the world, implemented by the International Chamber of Shipping (ICS), IAPH and the Clean Energy Ministerial (CEM). IRENA is the leading global intergovernmental agency for energy transformation and its membership comprises of 168 countries and the European Union. IRENA's support bridges the shipping industry and ports with the renewable energy sector. IRENA is the principal platform for international cooperation, boasting near-global membership it supports stakeholders in their energy transitions, and brings a wealth of insights, best practices, data analysis and knowledge to the CEM Hubs initiative. The CEM Hubs Initiative taskforce, with other members of the shipping industry, actively engaged in a Ministerial Roundtable at IRENA's 13th Assembly and joined in the discussions about renewable energy generation to produce low-carbon fuels, strategies going forward and the role of shipping and ports, to support the wider energy transition. IAPH members Abu Dhabi Ports Group and Port of Antwerp-Bruges attended the meeting. IRENA will continue to expand its collaboration with ICS, IAPH and partners in the shipping sector to further strengthen the CEM Hubs initiative and accelerate the use of renewables-based fuels in the shipping and other end-use sectors. Co-led by a taskforce of CEO's and coordinated with the support of ICS and IAPH, the initiative was first presented at the Clean Energy Ministerial (CEM) in Pittsburgh in September 2022. With the backing of five countries already – the UAE, Canada, Norway, Uruguay and Panama – the initiative continues to gain momentum to be launched as a CEM initiative at the 14th Clean Energy Ministerial in India in 2023.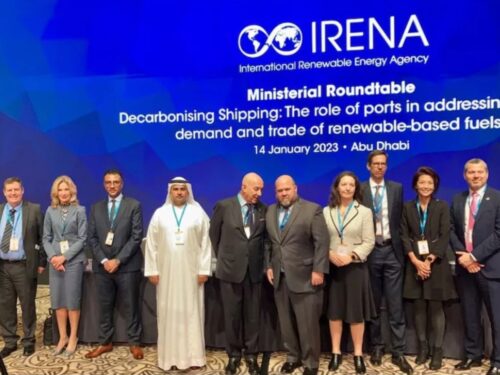 ---
Welcome to new members from Pointe-Noire and Houston
We are pleased to announce that two new members have joined IAPH, one regular member from Congo-Brazzaville and an associate member from the United States. The Port Autonome de Pointe-Noire administers the port of Pointe-Noire since 2000. The port opened in 1939 and doubles as a gateway to serve the vast hinterland of the central African region and as a transhipment hub on the central West African coast. The University of Houston is a public university engaged in educational activities related to port functions. Its College of Technology and its Borders, Trade and Immigration Institute host the annual Port of the Future Conference, which focuses on creating and revitalising US seaports, infrastructure, and processes in land, sea, air, and cyber domains. Corporate leaders, government officials, and prominent researchers provide their vision as well as perspectives for future ports on projected trends, emerging challenges, promising research and new, innovative technology.

---
Nick Blackmore reinforces the IAPH team
We are happy to welcome Nick Blackmore to the IAPH team who has joined us on a temporary contract basis to assist with marketing and business development. Concretely, Nick will create a sales, marketing and communication plan for the Environmental Ship Index and prepare a business development plan for the World Ports Sustainability Program. He will also provide occasional marketing and communication support, including for the 2023 World Ports Conference. Nick is based in London and comes with 18 years of experience in maritime journalism, as a writer, magazine editor and publishing director, of which 11 years at IHS Markit. In that capacity he became very familiar with IAPH, working closely with us on Ports & Harbors magazine and the conception of the 2020 World Ports Conference.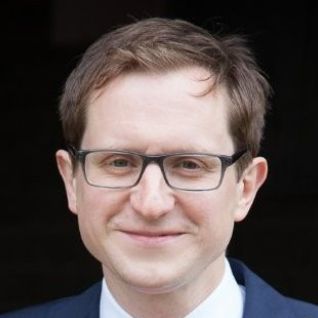 ---
IAPH Europe and Africa 2023 Regional Kick-off
Following the successes of the IAPH Europe and Africa Regional Harbor Cafés last year which had a focus on digital innovations, regional vice-presidents Jens Meier and Michael Luguje will be hosting a joint 2023 Regional Kick-off meeting online on 16 February between 01.00 and 2.30 PM CET. The kick-off will include a top-level discussion on priorities for their ports (Hamburg Port Authority and Ghana Ports and Harbors Authority respectively) in 2023 as well as input from other IAPH regular member CEO guests on their own priorities from both regions. IAPH managing director Patrick Verhoeven will join with an explanation of IAPH's 2023 work plan and we will also be tapping into the audience on topics they would like to see in the 2023 IAPH Harbor Café sessions. Non-IAPH members (ports and companies or organisations working with ports) are also very welcome to join us for lively and enriching conversations in three weeks' time by contacting Ingrid Boque at HPA by email : ingrid.boque@hpa.hamburg.de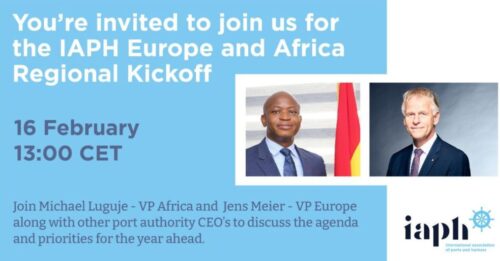 ---
IAPH Clean Marine Fuels Working Group meets 7 February
The first meeting of 2023 for the IAPH Clean Marine Fuels Working Group will take place online on 7 February 4-5.30 PM Central Europe Time. On the agenda, the CMF roadmap for 2023 will be discussed along with a review of the final drafts of both the recently developed methanol checklists as well as an updated generic version of the audit tool for evaluating potential bunker suppliers at a port. The meeting will also include an update on the port readiness tool being developed for alternative-fuelled ships, which is a collaboration with WPCAP. We encourage new as well as existing regular members to attend. If you would like to take part in the meeting, please contact Takeshi Suzuki on t_suzuki@iaphworldports.org
---
IAPH Automation Group to start work 8 February
The IAPH Data Collaboration Group on Automation will kick-off with an online meeting on 8 February (1-3 PM CET) under the leadership of Phanthian Zuesongdham from Hamburg Port Authority. Building on the outcomes of previous discussions and proposals during the Data Collaboration Committee meetings, the group will be meeting to formulate its concrete agenda and work program for the year to come. Addressing change in management to integrate automation projects in ports, and exchange of best practices via the World Port Sustainability Program database and further building on those, are amongst the areas of work to be further considered and defined at the kick-off meeting. The group is also inspired and builds upon the outcomes of the recent regional Europe Africa Harbor Café sessions that highlighted best practice examples on robotics and automation in ports. Members are warmly encouraged to actively participate to the 8 February meeting to shape the IAPH automation agenda and commit to contribute to the follow-up work. If you are interested to join the group, please contact our colleague Takeshi Suzuki: t_suzuki@iaphworldports.org.
---
Join survey on use of drones in emergency situations
At the last IAPH Europe Africa Harbor Café, the EU-funded IRA-MAR project was presented. The project aims to improve port preparedness in the event of a marine pollution incident by addressing complex risks such as the diversity of pollutants and uncertainty about their impact on the environment. As part of the project, a survey is now organised on the use of drones in emergency scenarios. It is aimed at institutions that have teams within their organisation that specialise in the use of drones in environmental disasters, such as port authorities. We therefore call upon IAPH members to participate in the survey, which can be found here, by 10 February. The project team will be able to share the results of the project with IAPH members upon its completion.
---
Save the date: 2023 World Ports Conference in Abu Dhabi
The IAPH 2022 World Ports Conference in Vancouver resoundingly succeeded in identifying how ports should close the gaps in global port infrastructure. Never before have ports received so much attention from policymakers and businesses as the critical nodes connecting maritime with land-based intermodal supply chains. The 2023 World Ports Conference in Abu Dhabi will explore in depth and materialise ports' commitments to digitalise, decarbonise, invest and co-create with their business partners to solidify and expand their roles as supply chain community builders. Featuring global leadership personalities from ports, governments, IMO, UNCTAD, World Bank, global carriers, terminal operators and logistics sectors, #IAPH2023 World Ports Conference between 31 October and 2 November in Abu Dhabi, will bring East and West together in an unmissable opportunity to connect and learn from each other. Check out the conference website and register for updates. If you are interested in sponsoring, please consult this page.

---
Member Port News
In this edition's round up of member port news, you will find stories from the following IAPH members:
Africa and Europe region: Freeport of Riga Authority, Autoridad Portuaria de Santa Cruz de Tenerife, Hamburg Port Authority, Autoridad Portuaria de Huelva, Port of Antwerp-Bruges, Administração dos Portos de Sines e do Algarve, North Sea Port, Port Autonome de San Pedro, Autorità Portuale di Genova, bremenports, Ghana Ports and Harbours Authority, North Sea Port, Port of Bergen, Port Authority of Vigo, Port of Amsterdam, Belfast Harbour Commissioners, HAROPA, Port of London Authority, Autoridad Portuaria de la Bahìa de Algeciras, Port of Göteborg, Authority for Transport in Malta, Autoridad Portuaria de Bilbao, Port of Rotterdam Authority, Autoridad Portuaria de Sevilla, Autoridad Portuaria de Valencia, Port of Helsinki, Ports of Cabo Verde
America region: Port of Seattle, National Port Administration Uruguay, Port of Los Angeles, Port of San Diego, Companhia de Desenvolvimento do Complexo Industrial e Portuário do Pecém, Georgia Ports Authority, Autoridad Marítima de Panamá, Northwest Seaport Alliance, Port of Long Beach
Asia and Oceania region: PSA International, DP World, Saudi Ports Authority, Yeosu Gwangyang Port Authority, Port & Harbour Bureau Shimonoseki City Government, Philippine Ports Authority, PT Pelabuhan Indonesia, Yokohama Port Corporation, Incheon Port Authority, Marine Department Hong Kong, Incheon Regional Office of Oceans and Fisheries, Marine and Water Bureau Government of Macau, SAR, Subic Bay Metropolitan Authority, Taiwan International Ports Corporation, Lyttelton Port Company, Solomon Islands Ports Authority, NSW Ports
Check out the full line up on our Member Port News page.
---
World Maritime News
These maritime news stories made the headlines over the past two weeks:
Maersk and MSC to discontinue 2M alliance in 2025
A capacity cut of Asia-Europe trade in January was unsuccessful
Transit times improve as supply chain congestion fades
Shipping lines' investment in start-ups
Topics of Ports in the US, China, North Europe, and the Mediterranean
Retailers forecast double-digit US import declines to accelerate through spring
Inflation and recession fears affect outlook for container shipping
Topics on decarbonization in the EU and the US
An ocean freight visibility provider lands investment from venture capital
For details of each story, please visit the World Maritime News section on our website.
---
Calendar of Events
IAPH events and events where IAPH is represented
7 February – IAPH Clean Marine Fuels Working Group (online)
8 February – IAPH Data Collaboration Automation Group (online)
8-9 February – CTL – Mumbai
13-15 February – UNCTAD TrainForTrade Port Endeavor – Las Palmas
16 February – Europe Africa Harbor Café (online)
22 February – GreenTech for Ports and Terminals – Hamburg
26 February-1 March – TPM23 – Long Beach
7-8 March – TOC Africa – Tangiers
13-17 March – IMO Facilitation Committee (FAL 47) – London
20-24 March – IMO Intersessional Working Group GHG (ISWG-GHG 14) – London
20-22 March – UNCTAD TrainForTrade Conference and Port Endeavor – Buenos Aires
27-31 March – IMO Legal Committee (LEG 110)
24-28 April – Singapore Maritime Week – Singapore
24-28 April – IMO Subcommittee Pollution, Prevention and Response (PPR 10) – London
4-5 May – UNCTAD TrainForTrade Port Endeavor – Callao
26-30 June – IMO Intersessional Working Group GHG (ISWG-GHG 15) – London
3-7 July – IMO Marine Environment Protection Committee (MEPC 80) – London
31 October-2 November 2023 – IAPH 2023 World Ports Conference – Abu Dhabi