This edition of IAPH Insider covers:
---
A summer of success for IAPH at the IMO
Following approval at the 46th meeting of the IMO Facilitation Committee (FAL 46) in May, the IAPH Cybersecurity Guidelines for Ports and Port Facilities have been formally referenced in the IMO Guidelines on Maritime Cyber Risk Management. These are the first ever set of guidelines on the topic focused on ports and port facilities at the IMO which is a great achievement for the sector. Furthermore, with approval at FAL 46 and the 104th session of the IMO's Maritime Safety Committee (MSC 104), the proposed amendments to the Guidelines for setting up a Maritime Single Window were welcomed, and the IMO have subsequently updated their circular containing the revised Guidance. We would like to thank Pascal Olivier, chairman of the Data Collaboration Committee for his efforts in driving this work forward, as well as all contributors from the Committee, and partners, BIMCO and the International Harbour Masters Association (IHMA), for their contributions to the MSW guidelines. This was certainly a summer of success for IAPH's work at the IMO and we look forward to resuming our Technical Committee meetings in the coming months to continue the progress made. Furthermore, IAPH is working with the IMO and BIMCO to organise two awareness-raising events this fall and early next year about the 2024 deadline for the mandatory implementation of the Maritime Single Window concept. More information on those will follow soon.
---
Next IAPH Harbor Café to highlight 5G and aerial robotics
The next IAPH Harbor Café will take place in the first half of October and is being organised jointly again between the IAPH Africa and Europe Regions. This edition will include conversations with Belfast Harbour on their 5G network implementation and the Port of Hamburg on their experiences so far with applying drone and robotic technology for several applications. We also plan to include examples from Africa. The session will include informal interviews of those IAPH port colleagues involved and an open forum for questions from the floor. An invitation will be sent out shortly to all IAPH members from the Africa and Europe regions. The event is open to all other members who are interested, who can request taking part here.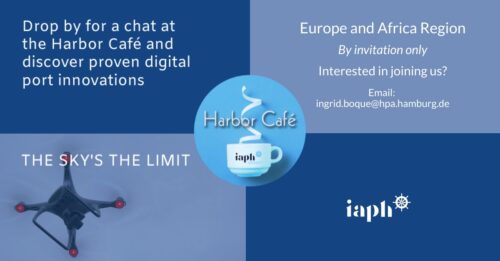 ---
IAPH to address IMO-UNEP-Norway Innovation Forum
The IMO-UNEP-Norway Innovation Forum will be held as a two-day hybrid event on 28 and 29 September with live, in-person attendance at the IMO headquarters in London and a virtual global platform available for those who would like to connect online. The forum is aimed at championing innovation to accelerate the transition of the marine sector towards a zero- and low-emission future. The forum will focus on addressing the specific needs of developing countries, especially Least Developed Countries (LDCs) and Small Island Developing States (SIDS). IAPH managing director Patrick Verhoeven will join the opening panel of the Forum, discussing how IMO policies can drive the international maritime decarbonisation agenda. The Forum is also linked to the IMO World Maritime Day theme 2022 'New Technologies for Greener Shipping' which is celebrated on 29 September and has a special focus on inclusive innovation for decarbonisation of the maritime sector. You can find details about programme and registration here.
---
IAPH to join UNCTAD trade innovation conference
UNCTAD and its partners will be holding a two-day conference on trade innovation both in person in Geneva and online, which is being co-organised with the World Economic Forum. The chairman of the IAPH Data Collaboration Committee Pascal Ollivier will be moderating the fifth session on mitigating risks inherent in trade facilitation at 10.30 AM CET on 21 September. Registration is free of charge. Full details can be found here.
---
How to define and implement maritime Green Corridors?
Maritime Green Corridors have swiftly become recognised as one of the most important tools to aid industry and governments in the decarbonisation of the maritime sector. Building on the initial conceptualisation put forward by the Getting to Zero Coalition and the signatories of the Clydebank Declaration in 2021 and responding to multiple requests from industry and governments taking an interest in the concept, the Global Maritime Forum has issued a discussion paper which considers emerging approaches to defining, initiating, and governing maritime Green Corridors, and puts forward recommendations in each area. These recommendations attempt to reinforce the most effective and impactful approaches while acknowledging the need for flexibility. By definitions, this paper means the first principles and terms of engagement being used to underpin action on Green Corridors. It takes the simple approach of examining how different actors are defining 'green' – in terms of types of impact and level of ambition – as well as how they define a 'corridor' in terms of operational scope and emphasis. By initiating actions, this paper means the approaches taken to prioritising different corridors, engaging stakeholders, assessing feasibility and requirements, and route mapping the corridor's overall development. Because the eventual governance of corridors can take multiple forms, these initial actions can be emergent and complementary efforts undertaken in parallel or in coordination with each other. By implementation, this paper means the approaches taken to governing and managing the many actions needed to deliver a Maritime Green Corridor. While implementation of policies and deployment of technologies has yet to begin, some of the alternative approaches to governance and management can already be identified. This discussion paper is not built on formal research, but reflects the ongoing conversations held by the Global Maritime Forum with its partners, interested governments and leading actors in emerging Corridors. Members of the Getting to Zero Coalition's Global Green Corridors Advisory Group provided feedback and input to draft versions. Read the full paper here.
---
Decarbonisation opportunities for developing countries
Over the past two years, the Getting to Zero Coalition and P4G – an accelerator for market-based partnerships to build sustainable and resilient economies – ran a project to identify strategic opportunities related to decarbonisation of shipping for developing countries, with case studies in South Africa, Mexico and Indonesia. IAPH supported the project, the results of which were shared in a webinar held last week. A recording of that webinar can be viewed in the video below. The reports with specific recommendations and final conclusions for the three countries concerned can be found through the following links: South Africa, Mexico and Indonesia.
---
The September-October issue of Ports & Harbors is out
The cover interview of the next issue of the IAPH membership magazine Ports & Harbors features our regional vice-president for Africa Michael Achagwe Luguje, who is the director-general of the Ghana Ports and Harbours Authority. Michael speaks to us about the prospects for ports in the region and the challenges they face when investing in infrastructure for the future growth and prosperity for their own nation and neighbouring landlocked countries. We highlight the results of the latest IAPH World Ports Tracker survey which has now been launched. We get an insight by a local correspondent on the impact of the Russia-Ukraine conflict on the ports in both countries, as well as the complexities of imposing sanctions. We explore the future role of ports in the energy transition, the escalating problem of drug smuggling through container ports and find out about the practical side of auditing the ships subscribed to the IAPH Environmental Ship Index. We also interview two prominent attendees of the IAPH 2022 World Ports Conference – Rear Admiral Mohammad Musa of Mongla Port Authority and Franc Pigna from Aegir Port Property Advisers.
---
Next P&H poll: political representatives on port boards?
The question whether political representatives should be on port of a publicly owned port throws up two arguments. One, the port wants to maintain its independence and is gladly not looking to have legislators join their meetings. On the other hand, the pandemic has shown that port authorities alone cannot enable administrative issues such as crew changes without support from other government agencies. So, which way is best for port authorities? Have your say here!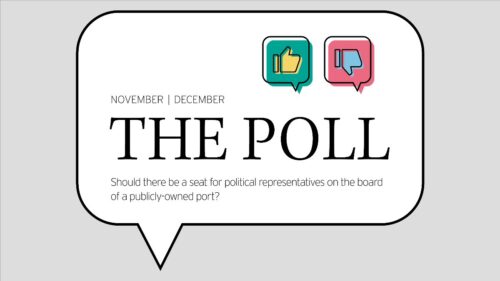 ---
Save the dates: autumn Technical Committee meetings
The autumn meetings of the strategic Technical Committees of IAPH have been scheduled. The Risk and Resilience Committee will meet on 12 October from 4 to 6 PM CET. The Data Collaboration Committee meets 3 November from 12 to 2 PM CET. Finally, the Climate and Energy Committee is meeting 10 November, from 4 to 6 PM CET. All meetings are held online. Committee members will be receiving the agendas and documentation in due course. Meanwhile, you can already find an overview here of the priority topics to be addressed. Participation in the Technical Committees is open to all IAPH regular and associate members. If you are interested in joining the work of one or more committees, please contact Takeshi Suzuki.
---
Welcome to members from Benin, Japan and South Africa
We are pleased to announce a new regular member from Benin and new associate members from Japan and South Africa. Port Autonome de Cotonou was set up in 1964. It represents the port authority and is responsible for ensuring the maintenance and operation of the facilities of the port of Cotonou, managing the port area, and carrying out improvement and extension works. The port of Cotonou is a natural outlet to landlocked countries in the Gulf of Guinea region and functions as a transit port par excellence. Mitsui E&S Machinery develops, designs, manufactures and maintains many kinds of machinery indispensable in marine logistics and transport, such as marine diesel engines and port cranes. In particular, the company deals in quayside container cranes and transfer cranes in container yards and container terminal management systems. Mitsui E&S Machinery was spun off from the former Mitsui Engineering & Shipbuilding Co., Ltd. when it reorganised into a holding company in April 2018. The Development Bank of Southern Africa is a government-owned development finance institution established in 1983. Its mandate is to promote economic growth and regional integration for sustainable development projects and programs in South Africa, the Southern African Development Community, and the wider Sub-Saharan Africa.

---
Member Port News
In this edition's round up of member port news, you will find stories from the following IAPH members:
Europe and Africa: Port of Rotterdam Authority, North Sea Port, Mauritius Ports Authority, Nigerian Ports Authority, Autoridad Portuaria de Bilbao, Grand Port Maritime de Marseille, Hamburg Port Authority, HAROPA PORT, North Sea Port, Port Autonome de Cotonou, Port of Amsterdam, The Gambia Ports Authority, Administração dos Portos de Sines e do Algarve, Cyprus Ports Authority, Autoridad Portuaria de Santa Cruz de Tenerife, bremenports, Autorità Portuale di Genova, Autoridad Portuaria de Sevilla, Port Autonome de Kribi, Port of London Authority, The National Ports Agency, Durrës Port Authority, Ghana Ports and Harbours Authority, Autoridad Portuaria de Huelva, Port of Antwerp-Bruges, Ports of Cabo Verde, Port Authority of Vigo, Belfast Harbour Commissioners, Bulgarian Ports Infrastructure Company, Freeport of Riga Authority, Oslo Port Authority, Port of Helsinki, JadeWeserPort, Baku International Sea Trade Port, Port Autonome d' Abidjan, Port of Göteborg
America Region: Port of Los Angeles, Northwest Seaport Alliance, Port of San Diego, Georgia Ports Authority, Port of Seattle, Companhia de Desenvolvimento do Complexo Industrial e Portuário do Pecém, Port of San Diego, Port Saint John, Port of Hueneme, National Port Administration Uruguay, Autoridad Marítima de Panamá, Canaveral Port Authority, Halifax Port Authority, Nassau Port Department, Port of Long Beach
Asia and Oceania Region: Busan Port Authority, DP World, Port & Harbour Bureau Shimonoseki City Government, Mwani Qatar, PSA International, NSW Ports, Ports and Maritime Organization Iran, Ulsan Port Authority, Port of Brisbane, Sri Lanka Ports Authority, Maritime and Port Authority of Singapore, Sabah Ports, South Port New Zealand, Incheon Regional Office of Oceans and Fisheries, Maldives Ports, Ministry of Oceans and Fisheries, Port Nelson, Incheon Port Authority, Lyttelton Port Company, Philippine Ports Authority, Guangzhou Port Authority, Yeosu Gwangyang Port Authority, PT Pelabuhan Indonesia, Subic Bay Metropolitan Authority, Port of Duqm Company, Marine and Water Bureau Government of Macau, South Port New Zealand, Marine Department Hong Kong
Check out the full line up on our Member Port News page.
---
World Maritime News
These maritime news stories made the headlines over the past weeks:
Outlook for container freight rates
Various measures against port congestions
Drought and strikes disrupt European ports
Maersk signs up seventh methanol supplier
WSC: lack of regulations a core challenge to shipping decarbonisation
For details of each story, please visit the World Maritime News section on our website.
---
Calendar of Events
IAPH events and events where IAPH is represented