This edition of IAPH Insider covers:
---
This week's Insider highlights with MD Patrick Verhoeven
---
More support is needed for Ukrainian port workers
A few months ago, IAPH and The Seafarers' Charity initiated an emergency appeal to support Ukrainian port workers and their families, who since the start of the invasion have been in the frontline of the conflict.The situation has since then only deteriorated. The port cities of Mariupol, Berdyansk and Kherson have fallen and Black Sea ports like Odesa remain under continuous threat. Meanwhile, port workers are making relentless efforts to organise grain exports from the Danube ports to alleviate global food shortages. Our campaign has so far yielded USD 18,877.50. This initial sum will be made available to the Maritime Transport Workers Trade Union of Ukraine (MTWTU) and its welfare fund Mortrans to provide relief to port workers and their families. We are grateful to all those who contributed to our campaign thus far. Still the sum collected to date is very modest compared to the actual needs on the ground. That is why we strongly encourage you to make a generous donation on a corporate and/or personal basis. Donations will be administered and overseen by The Seafarers' Charity, a grant funder which has embedded and well-established governance mechanisms and processes for monitoring and evaluation to ensure efficiency and transparency. All donors will receive a copy of the impact report produced at the end of the year to show where the funds have been spent. Details on how to make a donation can be found here. We thank you wholeheartedly for your generous support in helping Ukrainian port workers and their families. The Maritime Transport Workers Trade Union of Ukraine is a member of the International Transport Workers' Federation (ITF) and its chairman, Oleg Grygoriuk, is an IMO Goodwill Ambassador. The trade union recently published reports on 100 days of war in Ukraine and the union's activities under martial law.
---
First quarterly results World Ports Tracker published
We are pleased to announce that the first quarterly dashboard and detailed report of the IAPH World Ports Tracker has been produced for our members, aiming to track critical aspects on the evolving changes in the global port industry. It is the first report of its kind to monitor trends of all cargo types being handled at world ports and it has also incorporated global trends in cruise and passenger vessel activities. With the ongoing global supply chain crunch and the resurgence of the cruise industry impacting many of the world's ports, the report also delves into hinterland connectivity, warehouse utilisation and regional analyses of the data collected from small and large seaports and river ports alike as well as obtaining forecasts from respondents on how they see vessel call, cargo and passenger volumes in the upcoming twelve months. Ports that have contributed to the World Ports Tracker survey are exclusively receiving the full analysis this week, in return for their data sharing effort. As an example to encourage additional ports to join the quarterly survey, the first IAPH World Ports Tracker Dashboard is included below. The September-October edition of the IAPH members' magazine Ports & Harbors will feature a summary of this first detailed survey-based report. It will also be combined with a summary of second quarter container port statistics from 2022 based on S&P Global Port Performance Program data which offers aggregated vessel call numbers, vessel size analyses, the evolution of call size, and port moves per hour, aggregated per region. Following the end of the third quarter, the next survey questionnaire will go out in mid-October, with any participating ports receiving the full report incorporating S&P and the global survey data by mid-November. A summary of this full report will appear in the first edition of Ports & Harbors in the New Year. Ports interested to join the World Ports Tracker community and join the next survey are invited to contact Fabienne Van Loo.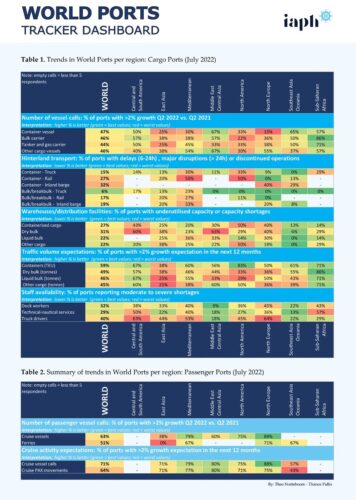 ---
July-August edition of Ports & Harbors is out
The July-August edition of Ports & Harbors, the IAPH membership magazine produced by S&P Global, is now available. Our cover interview is with Lori Fellmer, vice president of logistics and carrier management at BassTech International, a major US chemical supplier. Lori was a keynote speaker at our recent #IAPH2022 Conference in Vancouver. She offers us a unique view as a port user not only seen through her own eyes as an individual shipper, but also as chair of the ocean transportation committee of the National Industrial Transportation League in the United States. In this edition we also get a view on ports and their role in decarbonising the industry as seen from shipowners' perspective in conversation with ICS secretary general Guy Platten as the Chamber celebrates its centenary this year. We also look at emerging green corridors and analyse new build fleet numbers earmarked for new fuels or emissions-reducing technology. Ports' resilience is also under the spotlight with how they fit in the complex marine transportation system, risk modelling on climate change impact and a 'how to' section on keeping up with evolving fire risks. Peter Tirschwell dedicates his topical column to expanding ports without taking up more space and we have an overview of our IAPH 2022 Sustainability Awards winners.
---
Next P&H poll: the potential of river transport
One of the solutions hailed – and now tested – to reduce emissions and relieve congestion in ports, is to make more use of transhipment and countries' river networks. In China, this recently helped to ease the burden on Shanghai's port while being in lockdown. In turn, this was an economic boost for smaller river ports further inlands that benefited from the rerouted cargo. In Europe, river networks are constantly expanded to increase the amount of barge transport. Also, the smaller ships used for this are ideal candidates to trial alternative fuel solutions. However, without the appropriate upgrade of infrastructure – such as dredged waterways – this will not be a sustainable solution to reduce emissions but could further clog river arteries. This was recently seen in the Danube river around Romania to get grain shipments out of the war-blocked Ukraine. So, do ports support this side-arm of maritime transport enough or should they look further inland to build capacity of river ports? Have your say here.
---
Next Harbor Café welcomes port innovation hubs
Our next Harbor Café is being coordinated by the IAPH Data Collaboration Committee Innovation Group. It will feature ports with experience in setting up innovation hubs in their ports with start-ups. To cover most world time zones, two sessions are being planned on the IAPH Harbor Café portal, between 09.00 and 10.00 AM and between 05.00 and 06.00 PM CEST on Tuesday 12 July. Concrete cases will include a system capable of detecting truck and container numbers while moving, a tracking system that performs automated 360-degree inspections of car shipments, a radar system that can detect the composition on MARPOL vessel residues and a cyber outfit capable of recovering port operation and IT systems within 30 seconds of a cyber-attack. Interested non-members of IAPH can contact Fabienne Van Loo if they are interested in joining one of the Harbor Café sessions.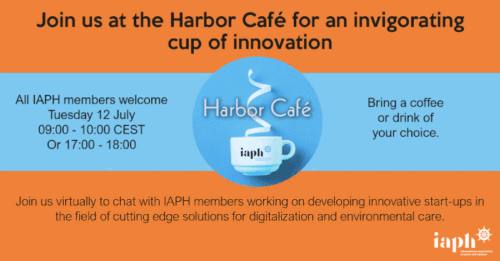 ---
Welcome to new members from France and Canada
We are pleased to welcome Port-La Nouvelle and Global Spatial Technology Solutions respectively as new regular and associate member. Port-La Nouvelle, located south of Narbonne in France, is a Mediterranean commercial port, handling mainly raw material and semi-finished products, including petroleum products, cereals, breakbulk, and project cargoes. Besides developing a new deep-sea infrastructure to increase traffic and accommodate larger vessels, the port is investing in energy transition and renewable energies. The port intends to amplify its role within the Mediterranean Rim while being a regional energy transition hub. Canada-based Global Spatial Technology Solutions (GSTS) provides innovative decision-support solutions using artificial intelligence and big data analytics. GSTS is a world leader in artificial intelligence solutions in the maritime domain. The company's predictive technologies empower future-friendly decision-making to help the maritime, energy, and security sectors navigate tomorrow, today.

---
IAPH president hosted IHMA congress in Kuala Lumpur
In his capacity as general manager of Port Klang Authority, IAPH president Capt K. Subramaniam hosted the 13th International Biennial Congress of the International Harbour Masters Association (IHMA). In his keynote address, Capt Subra presented Port Klang's capacity building and port development plans and how these harmonise the roles and functions of ports with the UN Sustainable Development Goals. This includes the demands on port terminals on the new requirements of the shipping lines catering to the increasing sizes as well as the new technology developments on vessels such as engines and low- and zero-carbon fuels. The 2022 IHMA Congress gathered 200 habour masters and key decision-makers from the international maritime industry. The programme focused on the innovation, technology, collaboration and resilience that will shape a better, safer future.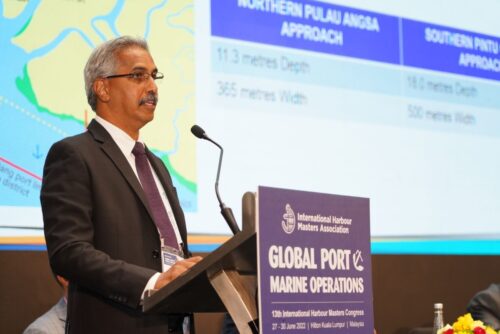 ---
July ESI scores published
The latest scores of the IAPH Environmental Ship Index (ESI) project were published on 1 July. Compared to the latest report (1 April), the number of vessels with an ESI score above 20 increased with 47 vessels, 4,855 vessels in total. And the total number of vessels in the ESI database also increased with 91 vessels, totalling at 6,981. The average ESI score is 29.3. The number of incentive providers is 59 as of 1 July. Is your port already part of the ESI programme? If not, find out more on the ESI website or contact the ESI team at admin@environmentalshipindex.org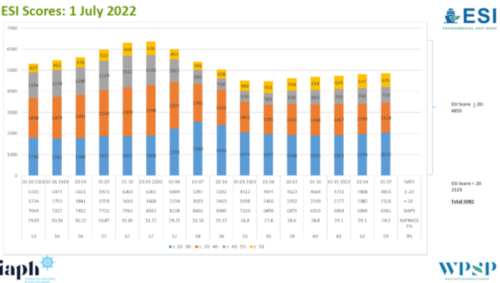 ---
IAPH supports industry glossary of climate change terms
IAPH has joined BIMCO, FONASBA, IFSMA, InterManager, INTERTANKO, IPTA and IUMI in publishing a climate change glossary to clarify and harmonise definitions and terminology to ensure that discussions around climate change and potential solutions for the shipping industry are based on a mutual understanding of what the commonly used terms mean. Initiated and edited by BIMCO, the glossary is designed to contain encyclopaedic definitions. This means that the definition provides some elaboration and highlights differences between what might be considered similar definitions. The inclusion of a definition does not imply that it is a position adopted by the co-sponsoring organisations and definitions should always be considered neutral. Wherever possible (and if relevant) definitions are based on those used by the Intergovernmental Panel on Climate Change (IPCC) or other competent bodies and as such agreed by scientific and/or political consensus. Where changes have been made to an original definition, they have been done so with the intent to make the definition more applicable to shipping or to make the definition easier to understand for the reader. Where a high-level definition does not exist, novel definitions have been created. These have been sense-checked for scientific integrity against common usage of such terms in scientific literature and subsequently approved by BIMCO's sub-group on alternative fuels. The glossary can be downloaded here. IAPH will support BIMCO and the other co-sponsors in submitting the glossary to the 79th session of the IMO Marine Environment Protection Committee (MEPC 79).
---
Revisit GtZ webinar on results of IMO MEPC 78
On 14 June, the Getting to Zero Coalition organised a webinar, taking stock of outcomes and opportunities for zero emission shipping after the 78th session of the IMO Marine Environment Protection Committee (MEPC 78). The webinar featured a presentation by Roel Hoenders, head of air pollution and energy efficiency at IMO's Marine Environment Division, which can be downloaded here. The presentation was followed by a panel discussion with Michel Ardohain, head of environmental transition of shipping at the French government, Maxime Van Eecke, chief commercial officer at CMB Group, Masao Yamasaki, manager of the Zero-Emission Transition Center at ClassNK, and Jan Hoffmann, head of Trade Logistics Branch at UNCTAD. The webinar found among other things that momentum from COP26 and MEPC 77 – with calls for zero emission shipping by 2050, a price on carbon, and a just and equitable transition – continued at MEPC 78 supported by a majority of delegations. The agreed timeline is being followed, and the next months leading up to MEPC 79 will see Member States and other maritime stakeholders work together to further develop the details of a basket of mid-term measures, including a carbon price mechanism and what a just and equitable transition means in practice. You can watch the recording of the entire webinar in the video below.
---
P4G webinar on shipping decarbonisation opportunities
Developing and emerging economies around the world are integral for the transition to zero-emission shipping. With their substantial renewable energy resources, these countries have great potential to not only develop production and bunkering of green fuels – ranging from the domestic fleet and small vessels to deep-sea ocean-going vessels – but also in some cases to export these fuels as a new commodity. The benefits associated with the production of scalable zero-emission fuels are widespread, supporting sustainable development goals, reducing maritime and land-based emissions, bolstering economic and job growth, among others. South Africa, Mexico, and Indonesia are three such countries with strategic opportunities to contribute to shipping's decarbonisation. This webinar will share findings from the P4G-Getting to Zero Partnership project, which has IAPH as a partner, highlighting key findings and recommendations from our recently published and soon-to-be published reports on these three countries. The webinar will be held 23 August 2022 from 10.00 to 11.30 AM CEST. You can register via this link.
---
Survey on zero emission port stays
Our associate member Technical University of Denmark is conducting research on facilitating transition to low or zero emissions ports. The 'Zero Emissions Port Stay' (ZEPS) project has been initiated to investigate shore-power and other technologies available to eliminate/reduce harmful emission from vessels during port stays. In connection to that, the project team has prepared a survey. With the survey, we invite stakeholders employed in the shipping industry to share their views on the available technologies, describe the challenges as they see them and their decision-making process when it comes to selecting the right emissions abatement technology. The survey is designed to take approximately 15 minutes depending on the actual sector of employment (port operations, shipping operations, solution providers). The results of the survey will be used in the final deliverable report of the ZEPS project, which will be made publicly available. However, all answers will be treated confidentially, and responses will be anonymised. The questionnaire can be accessed via this link. If you have any trouble filling the form, please project coordinator Thalis Zis at thalis.zis@gmail.com. The ZEPS project is funded by the CLEAN cluster, the Ministry of Environment of Denmark and the Nordic Council of Ministers.
---
Member Port News
In this edition's round up of member port news, you will find stories from the following IAPH members:
Europe and Africa Region: Port Autonome de Kribi, Port Autonome de San Pedro, Autoridad Portuaria de Bilbao, Autoridad Portuaria de Valencia, Autoridad Portuaria de Huelva, Autoridad Portuaria de Sevilla, Autoridad Portuaria de Santa Cruz de Tenerife, Baku International Sea Trade Port, bremenports, Hamburg Port Authority, HAROPA Port, Nigerian Ports Authority, Port of London Authority, Cyprus Ports Authority, Freeport of Riga Authority, Port Authority of Genoa, Port of Rotterdam Authority, Grand Port Maritime de Marseille, Israel Ports Development and Assets Company, Port Autonome d' Abidjan, Port of Amsterdam, Port of Helsinki, Port Authority of Vigo, Autoridad Portuaria de Sevilla, Port of Bergen, Ports of Cabo Verde, Ashdod Port Company

America Region: Halifax Port Authority, Port Autonome d' Abidjan, Port of Seattle, Montreal Port Authority, Autoridad Marítima de Panamá, Companhia de Desenvolvimento do Complexo Industrial e Portuário do Pecém, Port of Long Beach, National Port Administration Uruguay, Northwest Seaport Alliance, Port of Los Angeles, Port of San Diego

Asia and Oceania Region: Mumbai Port Trust, Qatar Ports Management Company, Ports and Maritime Organization Iran, Taiwan International Ports Corporation, DP World, PSA International, Subic Bay Metropolitan Authority, Gladstone Ports Corporation Limited, Guangzhou Port Authority, Ulsan Port Authority, Busan Port Authority, Maldives Ports, Yeosu Gwangyang Port Authority, Marine and Water Bureau, Government of Macau, Sabah Ports Authority, Sri Lanka Ports Authority, Maritime and Port Authority of Singapore, Solomon Islands Ports Authority, NSW Ports
Check out the full line up on our Member Port News page.
---
World Maritime News
These maritime news stories made the headlines over the past two weeks:
Port congestion in Europe
The outlook for container freight rates
High container freight rates showing in inflation figures
Logistics faces a new reality after pandemic and war
Ocean Shipping Reform Act of 2022
European Council agrees to extend ETS to shipping
The current situation on decarbonization target of shipping companies
Aleutian Islands 'well situated' to be hydrogen bunkering stop
Container sensor usage to explode through 2026
For details of each story, please visit the World Maritime News section on our website.
---
Calendar of Events
IAPH events and events where IAPH is represented