This edition of IAPH Insider covers:
---
This week's Insider highlights with MD Patrick Verhoeven
---
Ukrainian port workers need our support more than ever
The emergency appeal to support Ukrainian port workers initiated by IAPH and The Seafarers' Charity has yielded USD 15,942.20 so far. This initial sum will be disbursed to the Maritime Transport Workers Trade Union of Ukraine (MTWTU) and its welfare fund Mortrans to provide relief to port workers and their families. Meanwhile, we strongly encourage our members that have not contributed to the initiative yet to donate generously in the spirit of international solidarity that has marked IAPH ever since its foundation in 1955. Port cities remain under severe pressure with port workers and their families badly needing assistance. Donations are administered and overseen at no cost by The Seafarers' Charity (formerly Seafarers UK), a grant funder which has embedded and well-established governance mechanisms and processes for monitoring and evaluation to ensure efficiency and transparency. All donors will receive a copy of the impact report produced at the end of the year to show where the funds have been spent. Details on how to make a donation can be found here.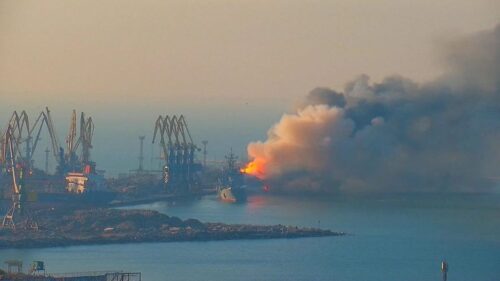 ---
UN urges reopening of Ukrainian ports to avoid food crisis
The United Nations has launched a new round of diplomatic efforts with the aim of opening Ukraine's seaports to avoid a global food crisis. The UN had previously advocated for safe corridors for shipping from the Ukrainian ports and across the Black Sea, while Russia has said it would be willing to support this, but referring to the need to remove western sanctions at the same time. Massive stores of grain are waiting to be shipped with ships remaining blocked in Ukrainian ports, preventing transport of the vital supplies of grain and fertilizer exports to world regions like Africa which rely heavily on imports of wheat consumption from both Ukraine and Russia. Before Russia's invasion, Ukraine exported 95 percent of its grain through Odesa, Mykolaiv, Mariupol, and other seaports. With the primary ports either closed or occupied, attempts are made to move grain from Ukrainian inland ports on the Danube river and overland by train and truck. The UN reportedly works with financial institutions and western countries to resume the trade in grain and fertilizer which is excluded from all the sanctions.
---
EU-Ukraine business matchmaking platform launched
The European Commission has officially launched a EU-Ukraine business matchmaking platform to bring together businesses in the EU and Ukraine. This platform is operated by the Enterprise Europe Network, and aims to facilitate logistics operations for exporting and importing goods from and to Ukraine. Interested parties can register for free, publish their profiles and search for relevant business partners and opportunities. These can include ways to support Ukrainian exports, offers of transport and storage solutions etc. Interested companies can register here for the EU-Ukraine Business Matchmaking Platform and use it to enhance their business contacts.
---
Join the World Ports Tracker community
We are inviting ports worldwide to become part of the IAPH World Ports Tracker community. All that is needed is to respond to a short quarterly survey, providing information about expected number of cargo vessel calls, current hinterland transport conditions, current capacity utilisation of warehouses and distribution facilities, cargo throughput expectations, cruise and passenger vessel call size and frequency as well as current staff availability. The first survey covers the second quarter of 2022 and is open for replies till 17 June. As members of the IAPH World Ports Tracker community, ports responding to the survey will receive early July an exclusive in-depth analysis of the findings, prepared by our experts, port economists Theo Notteboom and Thanos Pallis. A summary of the findings will be published in the July-August edition of our membership magazine Ports & Harbors. The World Ports Tracker builds on the COVID-19 Port Economic Barometer which we ran during the first year of the pandemic. We maintain the successful formula of having a limited set of short questions and a quick turnaround time of the analysis. The quarterly survey will track critical aspects of the evolution of the global port industry to understand the challenges that ports are facing, both regionally and globally. Using structured answering options, the survey will consist of eight consistently repeated questions with three additional questions to be added once per year, which will focus on the situation of planned investments, potential capacity extensions or terminal upgrades, and any major changes foreseen in land use. For the container segment, we are also using performance data kindly provided to us by S&P Global Market Intelligence. A first World Ports Tracker report was produced last month using these data as a teaser. As with the COVID-19 Barometer, all information obtained will be treated in a confidential manner and only aggregated data will be published. No reference will be made to individual ports. Ports can respond to the survey through this link.
---
2021 Container Port Performance Index published
Ports in the Middle East took four of the top five spots in the second edition of the global Container Port Performance Index (CPPI) developed by The World Bank and S&P Global Market Intelligence. CPPI is a comparable index of global container port performance intended to serve as a reference point for key stakeholders in the global economy. Saudi Arabia's King Abdullah Port tops the ranking in 2021, with regional competitors Port Salalah in Oman, Hamad Port in Qatar and Khalifa Port in Abu Dhabi rounding out the top five. Saudi Arabia's Jeddah Islamic Port also featured strongly in eighth place overall. The ranking is based on time vessels needed to spend in port to complete workloads over the course of 2021, a year that saw unprecedented port congestion and disruption to global supply chains. The new report also highlights the resilience of East Asian ports and the capacity of Chinese ports in particular to effectively handle challenges brought about by the pandemic. Key port performance metrics show large discrepancies in global port efficiency in 2021, with top performers such as King Abdullah Port achieving an average of 97 container moves per hour of vessel port time compared with just 26 container moves per hour at the main ports on North America's West Coast. The index and underlying data are intended to identify gaps and opportunities for improvement that would benefit all key stakeholders in global trade, including governments, shipping lines, port and terminal operators, shippers, logistics companies and consumers. The full index can be consulted here.
---
Discover the twelve IAPH priorities for 2022-2023
At the IAPH Annual General Meeting held after the 2022 World Ports Conference, members were presented with an overview of our work programme for the coming year. The programme consists of twelve priorities, grouped according to the three strategic focus areas of the organisation. It builds on the #ClosetheGaps theme of the Vancouver conference, the follow-up of which shapes our first priority, which consists of a joint report and IAPH's contribution to the next edition of The World Bank's Port Reform Toolkit. Under the climate and energy stream, we will work on just and equitable energy transition, both in terms of policy and capacity building, in close partnership with the IMO. The development of the Green Shipping Corridor concept is closely related to this, as is our suite of hands-on tools for ports, including the products of our Clean Marine Fuels working group and the 2.0 concept of the Environmental Ship Index. With regulatory pressure increasing, the acceleration of onshore power supply completes the list of priorities under the first stream. Under the data collaboration theme, the recent IMO decision to make the Maritime Single Window concept mandatory from 2024 tops the list of priorities, followed by the production of a strategic digital port infrastructure roadmap, based on perspectives and data needs of cargo owners. In 2023 we expect the guidelines on port-customs cooperation to materialise that we are preparing with the World Customs Organization and we also expect our Innovation Group to have progressed well with its start-ups showrooms and innovation white papers. Priorities under the risk and resilience stream include the publication of our port business continuity guidelines and the World Ports Tracker, which is explained elsewhere in this Insider. Each stream of the work programme is covered by one of our strategic technical committees and we warmly encourage you to take part in their work. You will find the detailed presentation of our work programme here.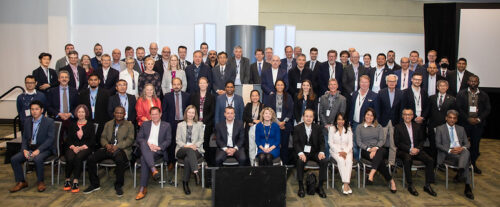 IAPH Technical Committee members gathering in Vancouver, 19 May 2022
---
IAPH Cruise Committee takes new start with OPS focus
Next to our three strategic technical committees, which cover IAPH's work programme priorities, we have three niche committees in operation, covering planning, operations & finance, legal issues, and cruise. The Cruise Committee has been inactive for about two years, largely due to the pandemic, but also due to a gap in leadership. Representatives of cruise member ports met in Vancouver three weeks ago, to explore how the committee could effectively be revitalised, defining a concrete agenda. The meeting was held following a keynote address by Kelly Craighead, President and CEO of Cruise Lines International Association (CLIA) at the World Ports Conference (photo). She emphasised that CLIA's recent announcement of their members' commitment to pursue net-zero carbon cruising by 2050 highlights the need for ever closer partnership with ports in setting a pathway for the decarbonisation of the cruise sector. Sharing information, experiences and best practices on initiatives undertaken by cruise lines and ports, investments in onshore power facilities, collaboration at IMO level, and developments in emerging markets could form the pillars of a strategic cooperation between CLIA and IAPH. This was very much echoed at the committee meeting, where members decided to focus in first instance on decarbonisation, in close collaboration with the Climate and Energy Committee. As a concrete task, a platform will be created to accelerate onshore power supply (OPS) for cruise vessels, bringing together cruise ports, cruise lines and OPS suppliers. If you are interested in participating in the work of the Cruise Committee, simply send an email to Masahiro Yoshimi at m_yoshimi@iaphworldports.org.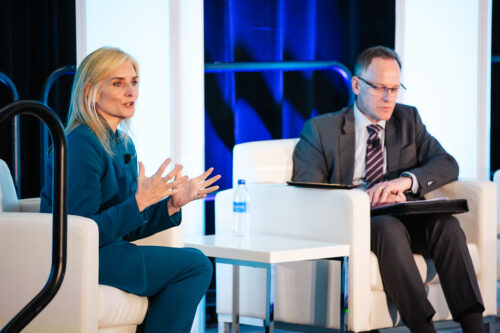 ---
Innovation Harbor Café planned for week 11 July
The Innovation Group of the IAPH Data Collaboration Committee is planning the first of a series of virtual walk-ins for IAPH regular and associate members at our popular online IAPH Harbor Café. The innovation sessions will showcase the work two member ports have initiated with start-ups including how they evaluated and selected the entrepreneurs, as well as giving the chance for the start-ups to share their solutions and experiences working with ports. The first is planned to be in July during the week of 11-15 July, with the participation of Port of Barcelona, Spain and Ashdod Port, Israel. Members will be welcome to drop in virtually with their beverage at one of two sessions which ensures business hours are covered across the world. Exact dates will be confirmed soon. Looking forward to seeing you then!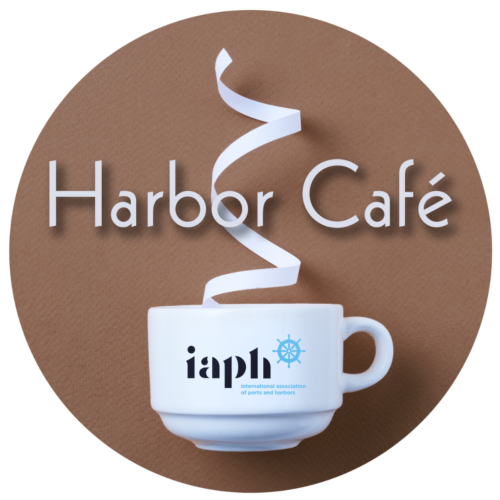 ---
Welcome to Port Technology International
We are pleased to welcome Port Technology International (PTI) as our newest associate member. Port Technology International is a leading media company for the ports and terminals sector. Founded in 1995, the company has grown from publishing a world-leading journal to producing events, webinars, and other multimedia content. Its community comprises over 35,000 senior executives and key decision-makers across the ports and terminals industry. Through its journal, events, and digital media offerings, PTI covers the latest technologies and innovations being adopted across the industry, including terminals, digitalisation, automation, shipping, global trade, sustainability, and the energy transition.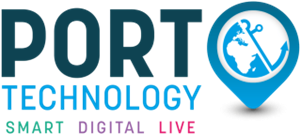 ---
Application deadline for C-MAT master programme
IAPH associate member Centre for Maritime and Air Transport Antwerp (C-MAT) offers a comprehensive one year Master of Science in Maritime and Air Transport Management, hosted by Antwerp Management School, which prepares its graduates for the challenges faced by the transport sector today. In the first semester students have the option to choose between management fundamentals and research fundamentals. The option 'management fundamentals' is designed for students who want to upgrade their knowledge and abilities in transport business and economics to become top-notch executives. It mainly prepares them for a management career in the maritime or air transport sector. The option 'research fundamentals' on the other hand offers students a more methodological and quantitative training. Students receive an excellent preparation for a career in for example consulting, policy or research in the maritime or air transport sector. Moreover, this option can lay the groundwork for further academic pursuits such as a PhD. In the second semester, students then make a choice between a major in maritime transport or air transport. In this way, students can tailor their programme even more to their specific interests and background. The maritime major includes a two-week master class on port economics and business, which is coordinated by IAPH managing director Patrick Verhoeven and University of Antwerp professor Thierry Vanelslander. Separate registration for this and other short-term master classes is possible. During the programme, students become truly submerged in industry practice thanks to numerous excursions, company visits and a master's thesis in collaboration with industry actors. You will find all details on the programme here. The deadline to apply for the full master programme is 15 June for non-EU citizens and 15 August for EU citizens. There is more time to apply for the short-term master classes, which will be given in January, February and March next year.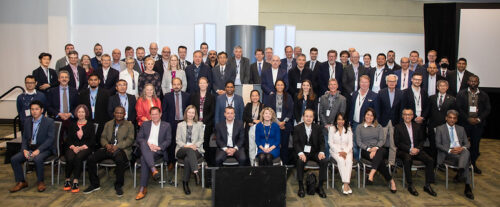 ---
IMO MEPC 78 is meeting this week
The 78th meeting of the IMO's Marine Environment Protection Committee (MEPC 78) is taking place this week from 6 to 10 June. After two years of virtual meetings, Member States are beginning to return to the IMO headquarters in London, including representation from IAPH, with our IMO liaison officer Rhona Macdonald and associate member Bruce Anderson (Starcrest Consulting) attending the plenary sessions in person, and technical director Antonis Michail following online. So far, some key proposals discussed that are relevant to ports include the proposal by all EU Member States and the European Commission on the designation of the Mediterranean Sea, as a whole, as an Emission Control Area for sulphur oxides and particulate matter. This has yet to be adopted by the Committee but was met with diverging views, namely from Argentina and China who argued that the data used to develop this proposal are outdated. This will be further discussed at a technical group meeting. On the topic of cutting GHG emissions from ships, the majority of Monday and Tuesday's plenary sessions were consumed by the discussion on the revision of the initial IMO GHG reduction strategy. This was a particularly lengthy and contentious debate with delegates divided on raising the level of ambition to zero emissions by 2050 and whether a partial or complete revision of the initial strategy was necessary. Ultimately, the chair proposed a compromise by inviting delegations to submit concrete proposals addressing all relevant sections of the initial strategy, but reiterated the commitment made at MEPC 77 to raise the overall ambition. Additionally, following the outcomes of the previous intersessional working groups (ISWG-GHG 11 and 12), further discussion is also expected on the development of a basket of candidate mid-term measures, as well as an overview of the progress made in reviewing the procedure for assessing the impact on states of such instruments, namely the various carbon pricing mechanisms that were presented and discussed at ISWG-GHG 12. Further documents on the agenda this week that are of particular note to ports include the proposed 2022 Guidance on the delivery of residues and discharge water from exhaust gas cleaning systems (EGCS) to port waste reception facilities, as well as draft amendments to the 2012 Guidelines for the development of a regional reception facilities plans. With no further submissions on these items at MEPC 78, it is expected that these will be approved at this meeting. As always, we will be disseminating a full summary report following the final session on Friday. Meanwhile, you can read the official IMO preview of the meeting here and the opening remarks by IMO secretary-general Kitack Lim here.
---
European Parliament rejects ETS proposal
Whilst IMO Member States were discussing the implementation of the IMO GHG strategy, Members of the European Parliament (MEPs) unexpectedly rejected yesterday a report to modify the EU Emissions Trading System (ETS) which would, amongst other things, have included shipping in the EU carbon quota scheme. A majority of MEPs voted against the entire proposal after amendments to lower ambitions were adopted. The report now goes back to Parliament's environment committee. It is not clear when the plenary vote could be rescheduled, some expect it may be as early as July, others predict it will be in autumn.
---
New evidence of carbon benefits from JIT arrival
Containerships can reduce fuel consumption and resulting carbon dioxide emissions by 14% on a per voyage basis using Just-in-Time (JIT) arrival, according to a new study, commissioned by the IMO-Norway GreenVoyage2050's Global Industry Alliance to Support Low Carbon Shipping (Low Carbon GIA). JIT is an important tool that can contribute to a ship attaining its required carbon intensity indicator (CII) and associated CII rating in accordance with IMO's short-term GHG reduction measure, which will enter into force later this year. JIT can be taken up, together with other operational measures, in the enhanced Ship Energy Efficiency Management Plan (SEEMP) which will play a central role in the implementation of IMO's recent energy efficiency measures. This latest study, undertaken by MarineTraffic and Energy and Environmental Research Associates (EERA), explores the global implementation of JIT in the container sector. Using AIS data from 2019, the impact of JIT on fuel consumption and emissions was assessed by optimizing all voyages in three scenarios: over the entire voyage, over the last 24 hours, and over the last twelve hours. The results show that while optimising speed over the entire duration of a voyage offers the greatest saving opportunity, there were benefits in all scenarios. This indicates that implementing JIT over the last twelve hours of a voyage can already greatly contribute to fuels and emissions savings. The study is available from the IMO website. The Low Carbon GIA is a public-private partnership with the aim to develop innovative solutions to address common barriers to decarbonizing the shipping sector. It has been actively exploring the concept of JIT through various research projects and several industry stakeholder roundtables. In 2020, it published the Just In Time Arrival Guide – Potential Barriers and Solutions, providing guidance to stakeholders towards the implementation of JIT arrivals.
---
IMO-Norway GreenVoyage2050 project extended
The IMO-Norway GreenVoyage2050 project, which provides support to developing countries to reduce GHG emissions from ships, has been extended to December 2023. Phase I of the project was scheduled to end on 19 May this year but was granted an extension by the government of Norway in response to the challenges posed by the COVID-19 pandemic. The project was launched two years ago to help developing countries, including several Small Island Developing States (SIDS) meet their commitments to relevant climate change and energy efficiency goals for international shipping. These include implementation of the Initial IMO GHG Strategy. The project is working with twelve pilot countries from five high priority regions: Azerbaijan, Belize, China, Cook Islands, Ecuador, Georgia, India, Kenya, Malaysia, Solomon Islands, South Africa, and Sri Lanka. The current focus is on providing support for the creation of policy frameworks and National Action Plans (NAPs) to address GHG emissions from ships. Specific attention is also paid to the implementation of port-related measures, through a partnership with IAPH. The project is working with partnering countries on the adoption of green technologies through the identification, development and implementation of pilot projects. The intention is that work in the pilot countries will spur action throughout the respective regions. GreenVoyage2050 also hosts the Global Industry Alliance to Support Low Carbon Shipping (Low Carbon GIA), which brings together leading shipowners and operators, classification societies, engine and technology builders and suppliers, big data providers, oil companies and ports.
---
Maritime energy opportunities for South Africa
The Getting to Zero Coalition, in partnership with P4G, published last week a report that explores the potential for South Africa to benefit from international maritime decarbonisation. The report finds that South Africa has several promising business opportunities that could spur growth and a just transition, while accelerating decarbonisation within and outside the maritime sector. Due to its large renewable capacity and unique location sitting at the gateway between the Atlantic and Indian Oceans, South Africa is, according to the new P4G-Getting to Zero Coalition report, well-positioned to benefit from the maritime decarbonisation agenda on both domestic and international levels. The country holds the potential to accelerate the transition to cleaner forms of energy across the economy, creating several opportunities for the country. You can download the report here. A webinar will take place on 21 June to share findings from the P4G-Getting to Zero Partnership project, including the report on South Africa and two forthcoming reports on Mexico and Indonesia. You can sign up for the webinar here. IAPH is a supporting organisation of the Getting to Zero Coalition. The vice-chair of our Climate and Energy Committee, Edvard Molitor (Port of Gothenburg), will be representing us at the forthcoming workshop of the Coalition, which will be held in Copenhagen on 23 June, focusing on the Coalition's Transition Strategy for Zero Emission Shipping.
---
ESPO study on new energy landscape for European ports
At its annual conference held in Valencia last week, the European Sea Ports Organisation (ESPO) presented a study on the implications of the changing energy landscape on Europe's ports, which it had commissioned together with the European Federation of Inland Ports (EFIP). The study aims to draw a comprehensive picture of the impact of the energy transition on Europe's ports, in terms of spatial planning and infrastructure needs, as well as on the role of the port managing bodies. The report comprehensively analyses the impact of the different studied developments on supply chains, connectivity needs and capacity requirements. It includes different scenarios, including ports as new entrants in the energy business or as conventional energy ports. Considering the wide diversity of ports, the report analyses the best profiles for each possible pathway or port development. The study was produced by Royal Haskoning who assessed the impact of the energy transition on ports and port managing bodies through 17 factsheets covering specific aspects of the energy transition. The fact sheets are divided over three layers. The first layer contains the measures aimed at reducing carbon emissions within the port. These include operations under the responsibility of the port managing body but also operations of shipping lines and terminal operators. The second layer focuses on the energy transition in the wider port area. This entails activities closely linked to the port: industrial clusters, linkages between the port and nearby urban areas, and connected offshore activities. The third layer considers the significance of ports in the energy transition for the wider economy and community. The study can be downloaded from the ESPO website.
---
Member Port News
In this edition's round up of member port news, you will find stories from the following IAPH members:
Africa and Europe Region: JadeWeserPort, Port Autonome de Kribi, Bulgarian Ports Infrastructure Company, Port Autonome de San Pedro, Port of Rotterdam Authority, Hamburg Port Authority, Port Autonome de Dakar, Autoridad Portuaria de Sevilla, Port of Amsterdam, Port of Antwerp-Bruges, Autoridad Portuaria de Bilbao, Baku International Sea Trade Port, Cyprus Ports Authority, Freeport of Riga Authority, Gibraltar Port Authority, Port of Bergen, Port Authority of Vigo, North Sea Port, Abidjan Port Authority, Ports of Cabo Verde, Port Authority of Genoa, Port Authority of Douala, Port of Helsinki, Administração dos Portos de Sines e do Algarve, Autoridad Portuaria de Huelva, Autoridad Portuaria de Santa Cruz de Tenerife, Autoridad Portuaria de Santa Cruz de Tenerife, Oslo Port Authority, Autoridad Portuaria de Valencia, Port of Gdansk Authority, Autoridad Portuaria de la Bahìa de Algeciras, Port Autonome de Dakar
America Region: Companhia de Desenvolvimento do Complexo Industrial e Portuário do Pecém, Port of Seattle, National Port Administration Uruguay, Port of Long Beach, Vancouver Fraser Port Authority, Port Saint John, Port of San Diego, Panama Maritime Authority, Port of Los Angeles
Asia and Oceania Region: Incheon Regional Office of Oceans and Fisheries, SPG Qingdao Port Group Company, Incheon Port Authority, Busan Port Authority, Guangzhou Port Authority, Maritime and Port Authority of Singapore, Ports and Maritime Organization Iran, PT Pelabuhan Indonesia, Marine and Water Bureau Government of Macau, Sri Lanka Ports Authority, DP World, Gladstone Ports Corporation, NSW Ports, China Merchants Port Holdings Company, Taiwan International Ports Corporation, Port Nelson, Port of Brisbane
Check out the full line up on our Member Port News page.
---
World Maritime News
These maritime news stories made the headlines over the past two weeks:
Middle East container ports most efficient globally in 2021
China lockdowns affected the supply chain
Ports congestion in the US and Europe
Container contract rates continue to climb
European short-sea RO/RO market undercut by Russian sanctions
The situation on railway container transportation in the US
Decarbonisation of shipping companies
Investment in the technology for supply chain visibility
For details of each story, please visit the World Maritime News section on our website.
---
Calendar of Events
IAPH events and events where IAPH is represented