Exceptionally sent on Friday, this edition of IAPH Insider covers:
---
This week's Insider highlights with MD Patrick Verhoeven
---
Support our fundraising for Ukrainian port workers
Ukrainian seaports are in the frontline of the war, as the aggression against the port cities of Mariupol, Berdyansk and Kherson has demonstrated. The environment is chaotic, dangerous, and fast moving, with other ports in the Black Sea, such as Odesa, now under threat. Ongoing conflict, violence and uncertainty are causing people to flee their homes and become separated from their families. In some areas, water, electricity and phone connectivity have been affected with many people now unable to contact their loved ones. IAPH has decided to work with The Seafarers' Charity in launching an emergency appeal to support port workers and their families impacted by the humanitarian disaster caused by the war in Ukraine. For now, the greatest need is basic human welfare – shelter, food, water, transport, access to medical services, along with practical financial help. The need will change shape and undoubtedly grow as conflict continues and lives, communities, port cities and futures need to be rebuilt. Funds raised will be distributed to appropriate delivery partners operating in Ukraine to support port workers and their families, including the Maritime Transport Workers Trade Union of Ukraine (MTWTU) and its welfare fund Mortrans. The fund has passed formal vetting and due diligence procedures by The Seafarers' Charity and is an appointed receiver of humanitarian relief. Other duly vetted organisations representing port workers' interests may be added in future. Donations will be administered and overseen at no cost by The Seafarers' Charity (formerly Seafarers UK), a grant funder which has embedded and well-established governance mechanisms and processes for monitoring and evaluation to ensure efficiency and transparency. All donors will receive a copy of the impact report produced at the end of the year to show where the funds have been spent. We warmly encourage you to support the emergency appeal, on a corporate and/or personal basis. Details on how to make a donation can be found here.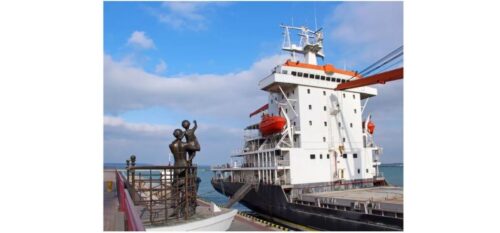 ---
This was #IAPH2022!
Nearly 500 delegates from over 40 countries gathered in Vancouver last week for the first in-person World Ports Conference held since 2019. Following the cancelled 2020 conference and the 2021 online conference – sponsored by Port of Antwerp – it was the first in-person conference that IAPH organised in partnership with S&P Global. Host sponsor was the Vancouver Fraser Port Authority. Under the theme #ClosetheGaps, participants discussed the generational challenges that affect every port today: resilience, digital transformation and energy transition. The main conference sessions were complemented with regional breakfast sessions, meetings of the IAPH technical committees and IAPH's annual general meeting. On 18 May, the first IMO International Day for Women in Maritime was celebrated by the IAPH Women's Forum, featuring a presentation and interview with the Forum's scholarship winner Dimuthu Samarakoon (Sri Lanka Ports Authority). The absolute highlight of the week was the gala dinner and Sustainability Awards ceremony on 17 May set against the magnificent backdrop of the Vancouver waterfront. We thank everyone who has made the 2022 World Ports Conference possible: our host sponsor Vancouver Fraser Port Authority, the team of our events partner S&P Global, the IAPH team, all our sponsors, all speakers and panellists, and all participants. Check out the photo album of the event here. IAPH members can find all conference presentations on the members' section of the IAPH website. Next year's IAPH World Ports Conference will be held in Abu Dhabi, organised in partnership with S&P Global and Abu Dhabi Ports, the host sponsor. The dates will be announced shortly.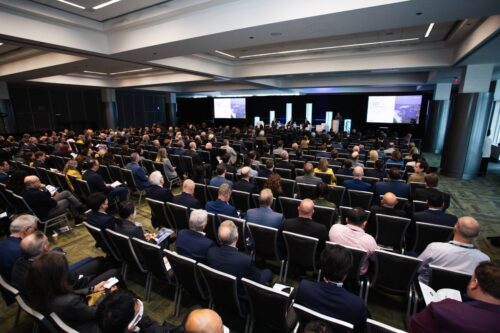 ---
#CloseTheGaps theme shapes the IAPH agenda
In follow-up to the 2022 World Ports Conference, IAPH will produce a report with The World Bank on the entire #CloseTheGaps exercise with a summary of the findings of eight regional pre-conference workshops, six dedicated breakfast regional sessions plus learnings from the main sessions that took place during the conference. We will also contribute to the next edition of The World Bank's well-known Port Reform Toolkit based on the mutual experience and knowledge gained on the #CloseTheGaps exercise. In addition, we will continue work with World Bank colleagues on the digitalisation roadmap for those countries that have requested assistance and will be one of the supporting organisations in the Bank's programme for equitable maritime energy transition where the latter has identified a number of promising potential sites for green fuels production and bunkering deployment. These plans were shared with attendees by IAPH managing director Patrick Verhoeven and World Bank lead transport specialist Martin Humphreys at the closing panel session of the World Ports Conference last week. You can view that session in the video below or through the link here. We will build on the findings of this year's conference to shape an agenda that will help port authorities and port operators worldwide to improve their competitiveness and contribute to bridging the divide in terms of resilience, digital transformation and energy transition. These are the three generational challenges that every port in the world is faced with. The IAPH work programme for the coming year makes this agenda concrete with twelve priorities that are implemented through our technical Committees. These were presented to IAPH members during the annual general meeting that followed the conference, and they can be consulted here The World Ports Conference will serve as the annual 'state of the union' where we discuss progress with the implementation of our agenda to support the competitiveness of ports worldwide.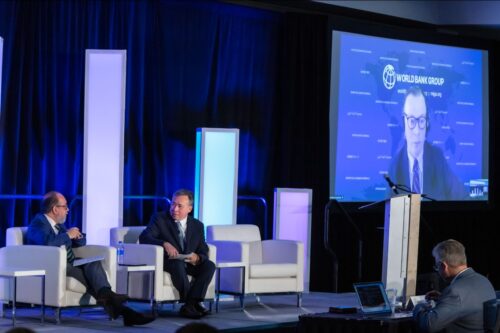 ---
IAPH World Ports Tracker takes off
Following on from the COVID-19 Barometer published during the first year of the pandemic, IAPH is rolling out the World Ports Tracker to monitor critical aspects of the evolution in the global port industry. The tracker aims to gain a timely understanding of the challenges that ports are facing, regionally and globally by relying on a combination of survey-based results and port performance data. As an introduction to this new data tool, a contribution to the member flagship magazine Ports & Harbors elaborates on the non-survey part of the tracker exercise, namely quarterly container port statistics based on S&P Global Port Performance Program data. These statistics focus on four container port metrics: vessel calls, evolution of call and vessel size and port moves per hour, aggregated per region covering the period 2017 to 2021. At the IAPH 2022 World Ports Conference an accompanying detailed report on trends per region was delivered to delegates, which can be viewed here. Via regular updates of these and additional metrics, the IAPH World Ports Tracker will guide ports and stakeholders in their efforts to improve services and address emerging challenges. The tracker is developed by Thanos Pallis, professor in ports and maritime economics and policy at the Department of Port Management and Shipping, University of Piraeus and Theo Notteboom, who is chair professor 'North Sea Port' at the Maritime Institute of Ghent, professor at the Antwerp Maritime Academy and at the University of Antwerp as well as visiting research professor at Shanghai Maritime University. As with the COVID-19 Barometer, the full version of the tracker will stand out from others by coming from ports exclusively for ports. As an example, key information from them on call volumes, status of warehousing capacity and hinterland connectivity will be inter-linked, and then combined with expectations on cargo and passenger throughput as well as vessel calls in a consistent manner. Similar to the previous barometer, the IAPH data will be confidentially handled and not reveal individual port information. We will make a concerted effort to repeat the successful response we achieved with the COVID-19 Barometer from IAPH member and non-member ports alike to regularly provide answers to short and easy-to-manage questions to feed into the World Ports Tracker. Ports responding to the survey will get exclusive access to the in-depth analysis of the quarterly findings.
---
Congratulations to the Sustainability Awards winners!
The winners of the 2022 IAPH Sustainability Awards were announced during the official gala dinner of the World Ports Conference in Vancouver. With projects from 26 different countries this year, we were delighted to see that such a diverse group of winners have been selected from the Americas, Europe, Asia and Oceania by the jury and voters. The Sustainability Awards come in six categories, which are in accordance with the themes of the World Ports Sustainability Program (WPSP). In addition, the IAPH legacy Akiyama Award was handed out in Vancouver and two distinguished members were given special recognition. The Climate and Energy award was won by DP World Posorja with its Mangrove Reforestation project. In the category Digitalisation, the award went to the collaborative project PASSport, which involves IAPH members Hamburg Port Authority, HAROPA Port and Port of Valencia. Hamburg Port Authority won the Environmental Care award with the EU-funded SeaClear project. In the category Health, Safety and Security, the winning project was Northport Malaysia's Journey Towards HSE Excellence. The port of Vigo won the award in the category Infrastructure, with the EU-funded Living Ports project. The Community Building award went to Solomon Islands Ports Authority for its Renewable Energy for Sustainable Community project. At the gala dinner, IAPH also presented the Akiyama Award, which is in memory of one of IAPH founding fathers Toru Akiyama, who was secretary-general of the organisation from 1967 to 1973. This award goes to the highest placed IAPH Sustainability Awards finalist runner-up from a least developed country or a small island developing state. The award was handed out to Fiji Ports Corporation, for its Green Port Initiative, alleviating climate impacts across the Fiji Islands. To conclude the gala awards, IAPH President Captain Subramaniam paid tribute to former IAPH president Santiago Garcia Milà and legal committee chairman and legal counsel Frans van Zoelen, for their long-term outstanding contribution to the work of the organisation. We congratulate all winners and special mentions, and we hope that members will be both inspired and motivated to join next year's IAPH Sustainability Awards competition. You can see the pictures of the Awards ceremony in the conference photo album and watch a full recording in the video below.
---
Successful Port Endeavor gameplay at #IAPH2022
On the very last session of the final day after the IAPH technical committees finished their work in Vancouver, twenty diehard registrants from the conference put themselves forward as volunteers to play three demonstration rounds of the IAPH World Ports Sustainability Program game Port Endeavor. A great time was had by all with ports from around the world represented as well as players from UNCTAD and The World Bank. The game was co-hosted by IAPH technical director Antonis Michael and chief of human resources development for UNCTAD's TrainForTrade Mark Assaf. TrainForTrade is the main global partner of IAPH for the game, together with IAPH associate member APEC Port Training. Port Endeavor is designed to increase awareness of port colleagues and the wider port communities on how ports integrate the UN Sustainable Development Goals (SDGs) into their business, using real examples of projects from the IAPH World Ports Sustainability Program. Every player has the chance to choose a specific sustainable activity for a certain price, which then rewards teams with specific SDGs, which count as one point each. The same SDGs are also used to counter major events that teams can get hit with in subsequent rounds if they happen to be unlucky when rolling a dice. In Vancouver some teams suffered an oil spill while others were hit by a pandemic. The team players were positive overall in the feedback afterwards, and the idea came up of a Port Endeavor Cup competition which should figure in the future, with different teams playing out a tournament in person, possibly at future World Ports Conferences. If you are interested in learning more about the game, get in touch with Antonis Michail. For a short excerpt of the fun, have a look at the video below.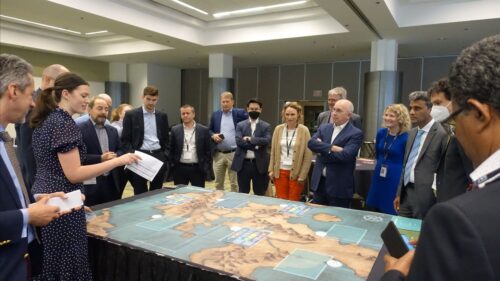 ---
Welcome to new members from USA and Singapore
We are pleased to welcome SSA Marine as a regular member and CrimsonLogic as an associate member. SSA Marine provides transportation services that include marine terminal and rail operations, equipment procurement, project management, personnel training, trucking, and warehousing. Founded in 1949 as Bellingham Stevedoring Company, it began the first cargo handling operations in Washington State. The company sought opportunities to expand terminal operations up and down the West Coast, US, and international markets. As a result, SSA Marine has become a global enterprise spanning more than 250 operations across five continents. Part of the PSA Group, the principal activity of CrimsonLogic is to develop software and applications, and the secondary activity is computer facilities management. CrimsonLogic is a trusted partner to governments and businesses globally. For 30 years, the company has partnered with customers to innovate sustainable world-class solutions, products, and services in trade facilitation, eJudiciary and digital government, enabling digital transformation that positively impacts lives and communities.

---
IAPH submissions endorsed at IMO FAL 46
The 46th meeting of the IMO Facilitation Committee (FAL 46) took place from 9 to 13 May. It was a successful meeting for IAPH with two submissions noted and approved by the Committee. Firstly, there was the paper by IAPH and co-sponsors BIMCO and IHMA proposing amendments to the Maritime Single Window Guidelines to include guidance on the port call process and the operational and nautical data that may be exchanged through a maritime single window. Secondly, IAPH had submitted a proposal inviting the Committee to note the first edition of the IAPH Cybersecurity Guidelines for Ports and Port Facilities and to consider promoting them as appropriate and referencing them in the next version of IMO's Guidelines on Maritime Cyber Risk Management. Both documents were met with appreciation from Member States and were approved accordingly. The FAL Committee also adopted amendments to the Facilitation Convention, which will make the Maritime Single Window (MSW) concept for data exchange mandatory in ports around the world, marking a significant step in improving digitalisation in shipping. Facilitating the implementation of the MSW obligation, which is expected to enter into force 1 January 2024, is a top priority for IAPH in the coming year. Members of the IAPH Data Collaboration Committee received a full report on the FAL meeting. The next meeting of the Facilitation Committee (FAL 47) is scheduled to take place from 19 to 23 June 2023.
---
Is the IMO reaching consensus on MBMs?
The 12th IMO Intersessional Working Group on GHG emissions (ISWG-GHG 12) met from 16 to 20 May to continue discussions on the mid-term measures of the IMO GHG strategy. The debate focused on both technical and economic measures, including market-based measures (MBMs). Agreement emerged to have a 'basket' of mid-term measures, with some of the options still left open. This basket would include both a GHG fuel standard and a market-based measure of sorts. Member States broadly agreed that pricing needs to be part of the basket of measures, which was marked as a kind of breakthrough, even though scepticism remains. Although five MBM proposals remain on the table, it appeared that most Member States would prefer a levy-based proposal, rather than an Emission Trading Scheme (ETS). This confirms earlier IMO discussions on the role of MBMs, which go back more than a decade. The development of mid-term measures is scheduled in accordance with the workplan that was adopted at the 76th session of the Marine Environment Protection Committee (MEPC 76), which foresees the assessment and selection of measures for the period spring 2022 – spring 2023. The report of the 12th IMO ISWG-GHG meeting will be presented to the 78th session of the Marine Environment Protection Committee (MEPC 78), which will take place from 6 to 10 June. MEPC 78 will also discuss fuel availability and equitable energy transition. Also on these critical topics, ISW-GHG 12 saw a more constructive discussion than before. Members of the IAPH Climate and Energy will shortly receive a detailed report on the main points concluded at ISWG-GHG 12 and the MEPC 78 agenda items relevant to ports.
---
P&H poll: should regional GHG measures prevail?
Whether IMO is reaching a breakthrough on global market-based measures seems to remain uncertain for now. The question whether it is right for maritime to proceed with regional emission reduction measures remains relevant therefore and so does our question for the next Ports & Harbors poll. Are you supporting the idea that regional measures, such as the inclusion of shipping in the EU emission trading scheme, will spur on decisions being made at the global regulatory level or do you think this will only lead to a piece meal of regulations that shipping has to adhere to? Have your say here!
---
Member Port News
In this edition's round up of member port news, you will find stories from the following IAPH members:
Africa and Europe region: Port Autonome de Dakar, Autoridad Portuaria de Sevilla, Gibraltar Port Authority, HAROPA Port, Belfast Harbour Commissioners, Hamburg Port Authority, Port of Amsterdam, Nigerian Ports Authority, Port of Rotterdam Authority, Port Autonome de San Pedro, Port of Antwerp-Bruges, Baku International Sea Trade Port, Bulgarian Ports Infrastructure Company, Freeport of Riga Authority, North Sea Port, Port Autonome de Conakry, Port of Rotterdam Authority, The National Ports Agency Morocco, Autoridad Portuaria de Santa Cruz de Tenerife, bremenports, Autoridad Portuaria de Huelva, Autoridad Portuaria de Valencia, Cyprus Ports Authority, Port Authority of Vigo, Port of Helsinki, Oslo Port Authority
America Region: Halifax Port Authority, Montreal Port Authority, Port Saint John, Port of Seattle, Port of Long Beach, Canaveral Port Authority, Companhia de Desenvolvimento do Complexo Industrial e Portuário do Pecém, Georgia Ports,Vancouver Fraser Port Authority, Autoridad Marítima de Panamá, National Port Administration Uruguay, Port of Los Angeles, Port of San Diego
Asia and Oceania Region: NSW Ports, Maritime and Port Authority of Singapore, Port of Brisbane, PSA International, PT Pelabuhan Indonesia, Lyttelton Port Company, Ports and Maritime Organization Iran, Guangzhou Port Authority, Solomon Islands Ports Authority, Taiwan International Ports Corporation, Sri Lanka Ports Authority, Port Klang Authority, Busan Port Authority, DP World, Gladstone Ports Corporation, Ashdod Port Company, Incheon Port Authority
Check out the full line up on our Member Port News page.
---
World Maritime News
These maritime news stories made the headlines over the past two weeks:
The situations and outlook for supply chain disruption
Container lines cut capacity for stabilizing rates
Port throughput masks losses in Shanghai
China grants cabotage container shipping to non-mainland Chinese carriers
The situation of labor talks on the US West Coast
IMO ISWGHG's discussion on MBMs
FMC seeks to standardize supply chain data flows
Banks help GSBN develop bill of lading finance tools
For details of each story, please visit the World Maritime News section on our website.
---
Calendar of Events
IAPH events and events where IAPH is represented