This edition of IAPH Insider covers:
---
This week's Insider highlights with MD Patrick Verhoeven
---
EU bans Russian ships from entering its ports
Similar to measures implemented in the UK and Canada and following a proposal of the European Commission, EU Member States have introduced a ban on any Russian-flagged vessels from entering EU ports, which has come into effect on 16 April. Noting the ease at which a vessel may alter its flag status, the ban also covers any vessel that has changed its Russian flag or registered to another country after 24 February 2022. This sanction also extends to energy imports, prohibiting the entry of all forms of Russian coal, as well as other products, ranging from cement and wood to spirits, coming from Belarus. The intention is to close potential loopholes between Russia and Belarus by also placing sanctions on Belarusian imports. Exemptions have been accounted for and will apply to vessels seeking refuge and for emergency circumstances relating to maritime safety and the wellbeing of seafarers. Additionally, the agreement also provides powers to relevant competent authorities to relax the ban for certain ships, if necessary, to purchase or transport certain goods, including coal and solid fossil fuels up until 10 August 2022. To support EU port authorities in applying these regulations, it is noted that the port ban will be monitored via SafeSeaNet, the EU Maritime Information and Exchange System, to facilitate the sharing of information and access to key data, such as the tracking of vessel movements in real-time. Further guidance for ports on how to identify Russian ships that have changed flag, or how to apply the agreed derogations for certain ships carrying essential goods have been provided. For the full guidance please follow this link.
---
#IAPH2022: hear what cargo owners expect from ports
Carriers, supply chain solution providers, terminal operators and forwarders are all competing for direct relationships with cargo owners, but what about ports? As importers, exporters and traders seek to solve their supply chain headaches, what do they expect from port authorities? At the 2022 World Ports Conference, you'll hear from Lori Fellmer, vice president of logistics and carrier management at the chemical company BassTech International, and chair of the ocean transportation committee of the U.S. National Industrial Transportation League. In this latter capacity Lori has been a vocal advocate of the U.S. 2022 Ocean Shipping Reform Act, which is seen as a crucial step toward addressing systemic issues contributing to the unprecedented disruption to the ocean shipping network. Lori will be interviewed by Peter Tirschwell, vice-president maritime, trade and supply chain at S&P global. The session follows the interview JOC senior technology editor Eric Johnson will have with FMC Commissioner Carl Bentzel, who is the principal architect of the Ocean Shipping Reform Act. Carl also launched the initiative to bring supply chain stakeholders together to identify data constraints that impede the flow of ocean cargo adding to supply chain inefficiencies in the USA, working towards a national freight data portal. Lori Fellmer and Carl Bentzel complete the impressive list of 60+ speakers that awaits you in Vancouver. With over 350 delegates registered to date, we have already exceeded our expectations, but there is room for more! Check out the full conference agenda here and book your seats today.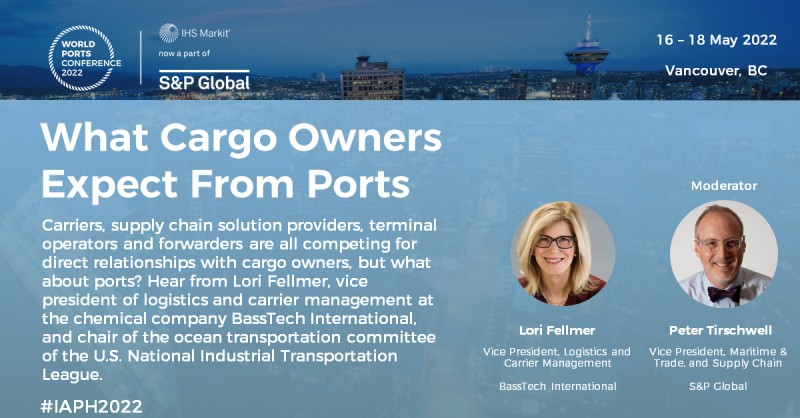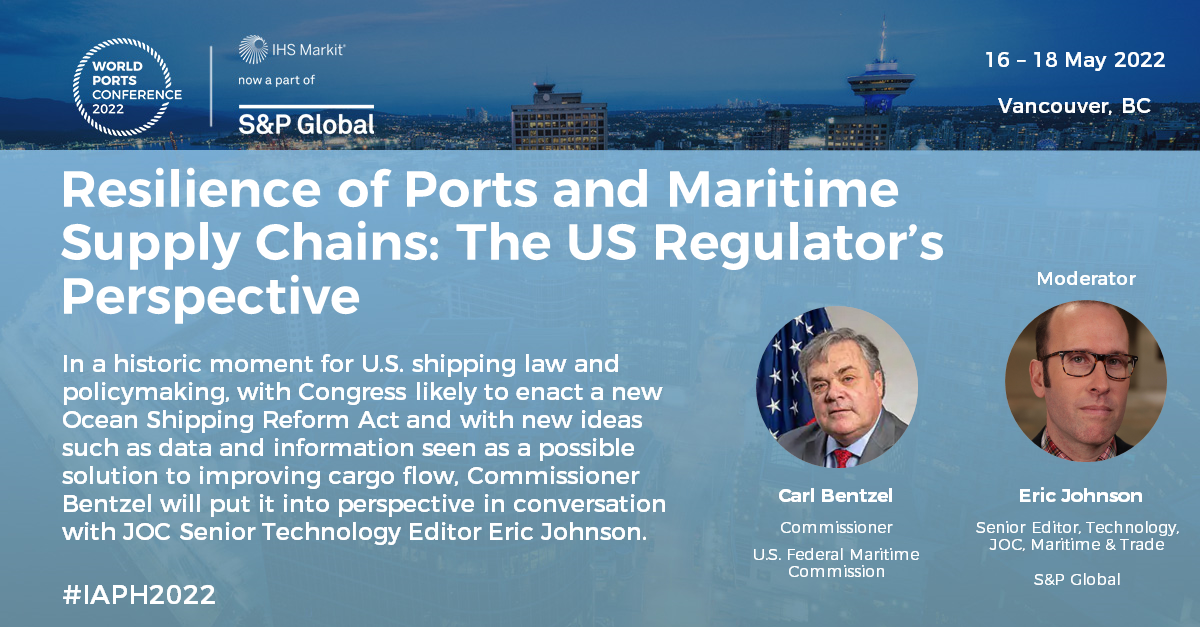 ---
#IAPH2022: CMF and ESI meetings
Next to the meetings of the IAPH Technical Committees, in-person meetings of the IAPH Clean Marine Fuels (CMF) and Environmental Ship Index (ESI) projects are also scheduled to be held in Vancouver. The CMF working group is meeting 12 and 13 May, with a plenary session discussing fuel timelines, the future CMF roadmap, promotion of new LNG bunker checklists and the all-fuels audit tool for bunker operations. This is followed by dedicated workstreams on safety and port empowerment. On 20 May, an ESI stakeholders' assembly and incentive providers meeting will be held. Incentive providers will be invited to discuss and adopt the proposed way forward regarding the development of ESI 2.0 and the ESI at-berth module. Members interested in having an update on the ESI project can attend the regional breakfast sessions which will be held on Monday 16 and Tuesday 17 May. The CMF work will be highlighted in the conference session on emerging bunkering ports for zero carbon fuels on 17 May.
---
#IAPH2022: P&H poll on closing the gaps
The regional pre-conference workshops that were held in February and March aimed to identify gaps in port operations, with the World Ports Conference aiming to #CloseTheGaps and issue a call to action. To help identify the main priorities for ports and their customers, the next edition of the IAPH membership magazine Ports & Harbors asks which of the suggested focus areas (connectivity and accessibility, port efficiency, cost of cargo shipping, regulatory environment, digitalisation, decarbonisation) do readers consider the most important one in need of improvement for their region. You can use this web link to submit your answer for this month's reader poll.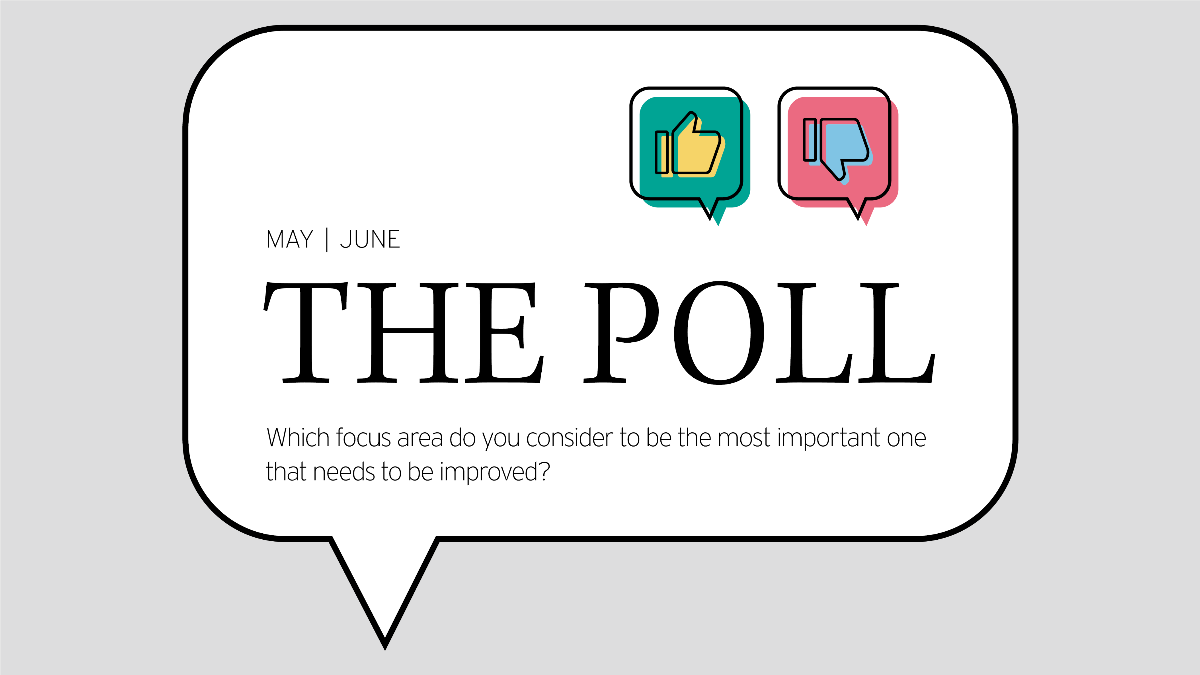 ---
Welcome to new associate member from Bangladesh
We are pleased to welcome Bangabandhu Sheikh Mujibur Rahman Maritime University as a new associate member. It was established in Dhaka in 2013 as the first maritime university in Bangladesh, with graduate and post-graduate courses in various maritime fields. Practical exploration and exploitation of marine resources are paramount toward the economic emancipation of the country in the 21st century. Bangabandhu Sheikh Mujibur Rahman Maritime University endeavours to emerge as a centre of excellence in maritime higher education. More information is available from the university's website.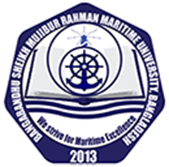 ---
Third meeting of IAPH DCC innovation group held
The third meeting of the innovation group of the IAPH Data Collaboration Committee was held 7 April, under the leadership of Gadi Benmoshe of Marinnovators, with support of Committee chairman Pascal Ollivier (Maritime Street). Members discussed ways to collectively support innovation covering common challenges that the port industry and their ultimate customers – cargo owners – are facing. In addition, the organisation of a series of targeted discussion platforms and white papers was envisaged. The next meetings of the innovation group are scheduled to be held online on 3 May and 16 June, both at 12.00 PM CEST.
---
IAPH at WCO SAFE working group meeting
The SAFE working group of the World Customs Organization (WCO) met virtually from 11 to 13 April. The chairman of the IAPH Data Collaboration Committee, Pascal Ollivier, attended the session on partnerships between customs and other government agencies, to update SAFE working group members on the development of the WCO-IAPH customs-port cooperation guidelines, which were initiated at the beginning of this year. The guidelines are to address the challenges of cooperation between customs and port authorities, by building trust, identifying operational and governance issues, compiling good practices and lessons learned, and developing a roadmap for cooperation. Publication is expected by mid-2023.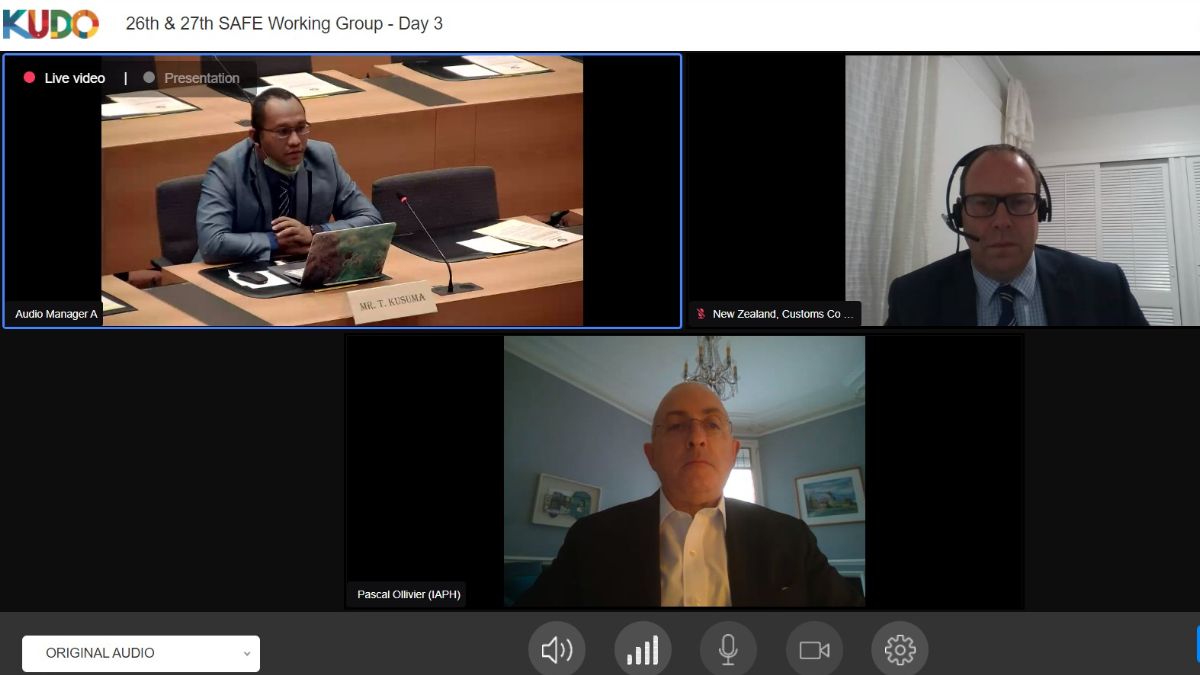 ---
North European network of green corridors in the making
Five ports in Northern Europe and the Baltic Sea have initiated a climate action partnership with the Mærsk Mc-Kinney Møller Center for Zero Carbon Shipping. Together, they will build the foundation of the European Green Corridors Network, which in its initial phase is set to establish green corridors in Northern Europe and the Baltic Sea. The Mærsk Mc-Kinney Møller Center for Zero Carbon Shipping kickstarts this initiative with the port authorities of Gdynia, Hamburg, Roenne, Rotterdam, and Tallinn. The project will demonstrate the early commercialisation of alternative fuel supply chains and provide a roadmap to scaling the supply chains and create a blueprint for rolling out green corridors in other locations. To achieve this, a phased approach has been planned. A pre-feasibility phase will identify the potential routes, vessel types and fuels to establish high impact green corridors in the region. This is followed by the feasibility phase, which will assess the technical, regulatory and commercial feasibility of the shortlisted routes. Finally, the implementation phase will implement the vision and establish green corridors in Northern Europe and the Baltic Sea. Additional public and private stakeholders will be onboarded along the way, activating the full value chain needed to realise the vision. Green corridors have been recognised as a key enabler for shipping's energy transition, and the consortium partners are proud to announce this initiative, which directly supports the Clydebank Declaration announced during COP-26 in Glasgow. More information can be found on the website of the Mærsk Mc-Kinney Møller Center for Zero Carbon Shipping.
---
New IMO initiatives on maritime decarbonisation
Singapore and the International Maritime Organization (IMO) have jointly launched NextGEN Connect, which aims to bring industry stakeholders, academia and global research centres together to offer inclusive solutions for maritime decarbonization for trials along specific shipping routes. The launch was made on 6 April, during the IMO-Singapore Future of Shipping Conference. Under NextGEN Connect, diverse stakeholders will be invited to propose robust methodologies to jointly develop, on a pilot basis, route-based action plans to reduce greenhouse gas (GHG) emissions between specific points along a shipping route in the Asia-Pacific region. These proposals can be submitted via nextgen.imo.org/challenge. Jointly introduced by IMO and the Maritime and Port Authority of Singapore, the NextGEN Connect Challenge is the next phase of the NextGEN initiative ('GEN' standing for 'Green and Efficient Navigation'). Launched in September 2021, the NextGEN database currently lists more than 150 decarbonisation projects with more than 500 stakeholders worldwide, including IMO member states, shipowners, technology developers, classification societies and non-governmental organisations. In addition to NextGEN Connect, the preparatory phase of the IMO Coordinated Actions to Reduce Emissions from Shipping (IMO CARES) Technical Cooperation Framework was also launched during the Singapore conference. This preparatory phase is financially supported by the Kingdom of Saudi Arabia. Once fully designed, IMO CARES will streamline existing programmes to drive green technologies and their global deployment in developing regions. IMO CARES is expected to be a long-term programme. It will support coordination to promote innovation, research and development collaboration, accelerate adoption of green technologies and facilitate their deployment in developing regions. During this preparatory phase, regional and global consultation workshops will be organised to help design the key elements and foundational framework of the global programme. The preparatory project will engage key stakeholders to be part of the long-term IMO CARES programme. Potential stakeholders include governments, donors, maritime technology cooperation centres, decarbonisation R&D centres, global industry alliances and financial institutions. You can watch the video on IMO CARES below. More information is available from the IMO CARES website.
---
IMO launches e-learning platform
IMO is adding e-learning to its portfolio of services.The first free to access course was launched during an online event on 7 April, in the margin of the IMO Pollution Prevention and Response (PPR) Sub-Committee meeting. IMO has developed several e-learning courses with the purpose of increasing the capacity of member states to effectively implement IMO instruments. Some courses are also available to anyone wishing to enhance their maritime knowledge. The first such course covers oil pollution preparedness, response and cooperation. It is designed to provide a basic introduction to those involved in, or that have an interest in, matters related to oil pollution preparedness and response, whether from within the oil spill response community or the maritime sector. The series of e-learning courses is being developed in collaboration with the World Maritime University. Distance learning has become key in meeting the changing educational needs in the maritime industry and IMO is offering students and maritime professionals around the world the possibility to boost their understanding of key maritime issues. Click here to visit the e-learning platform.
---
Training of trainers for ILO port worker programme
The International Labor Organization (ILO), through its Sectoral Policies Department (SECTOR), with the financial and technical contribution of the Republic of Korea, has developed a training package (Port Worker Development Programme in Bulk Terminals – PDP2), for the training of port workers, seafarers and their supervisors on safe working conditions and procedures covering the transport, handling and storage of bulk cargoes and bulk terminals. This is an extension of a previous PDP training package elaborated by ILO, which was targeting the safe working conditions and procedures in container terminals. The International Training Centre of the ILO and SECTOR are now organising a course to train instructors on the PDP2 programme. It is expected that successful participants in this course could become instructors to deliver the training sessions of PDP2 in their countries. The course will be given online in English, through an e-Campus platform and webinars. The course is aimed at personnel with managerial and/or instructional functions in the training of port workers and seafarers, belonging to relevant government departments or agencies, port authorities, training institutions, trade unions and private enterprises involved in port management and operations. It is also addressed at existing PDP instructors or chief instructors who wish to refresh and upgrade their knowledge and skills using the PDP 2 and revised PDP TOT materials. Candidates need to meet the following essential requirements: a working knowledge of spoken and written English, the ability to use and access a computer with internet, and the ability of time and the commitment to devote 100 hours of training in the period of 27 June – 29 July 2022. Thanks to the financial collaboration of the Republic of Korea, ILO can finance a number of full fellowships for participants from institutions and organisations in developing countries who fulfil the required participants' profile and requirements specified above. Fellowships would be assigned on a competitive basis among the candidates applying for them. Here you find the link for the application form of this course, which should be submitted not later than 31 May 2022.
---
Next edition of IAPH Insider on 12 May
The next edition of IAPH Insider will exceptionally appear three weeks from now, on Thursday 12 May. We jump the schedule with one week to accommodate public holidays in Japan and adjust publication timing to the World Ports Conference in Vancouver.
---
Member Port News
In this edition's round up of member port news, you will find stories from the following IAPH members:
Africa and Europe region: Port Authority of Douala, bremenports, Port Autonome de Conakry, HAROPA Port, Ports of Cabo Verde, Autoridad Portuaria de Bilbao, Kenya Ports Authority, Port Autonome de San Pedro, Autoridad Portuaria de Huelva, Baku International Sea Trade Port, Cyprus Ports Authority, Oslo Port Authority, Nigerian Ports Authority, Port Autonome d' Abidjan, Port of Bergen, Port of Helsinki, Port of Gdansk Authority, Port Authority of Genoa, Port of Amsterdam, Port Authority of Vigo, Port of Göteborg, Autoridad Portuaria de Santa Cruz de Tenerife, Grand Port Maritime de Marseille, Israel Ports Development and Assets Company, Port of Rotterdam Authority, Administração dos Portos de Sines e do Algarve, Ashdod Port Company, Autoridad Portuaria de Sevilla, Autoridad Portuaria de Valencia, Freeport of Riga Authority, North Sea Port, Belfast Harbour Commissioners, Autoridad Portuaria de la Bahìa de Algeciras
America Region: Autoridad Marítima de Panamá, Canaveral Port Authority, National Port Administration Uruguay, Port of Long Beach, Companhia de Desenvolvimento do Complexo Industrial e Portuário do Pecém, Vancouver Fraser Port Authority, Port of Los Angeles, Port of Seattle, Port of San Diego
Asia and Oceania Region: Ports and Maritime Organization Iran, Lyttelton Port Company, Busan Regional Office of Oceans and Fisheries, Westports Malaysia, Gladstone Ports Corporation, Guangzhou Port Authority, Marine and Water Bureau Government of Macau, PSA International, Solomon Islands Ports Authority, Incheon Port Authority, Incheon Regional Office of Oceans and Fisheries, Taiwan International Ports Corporation, Sri Lanka Ports Authority, Maritime and Port Authority of Singapore, Port of Duqm Company, Yeosu Gwangyang Port Authority
Check out the full line up on our Member Port News page.
---
World Maritime News
These maritime news stories made the headlines over the past two weeks:
Chinese measures against COVID-19 impact logistics
Risks surrounding the shipping industry
Carriers need to strike a balance between 'greener' and 'bigger'
OSRA leaves key questions on 'unreasonable' export denials unanswered
Inland container storage area project in California
Panama Canal looks to implement tolls for empty containers
Methane leaks from LNG ships caught on infrared camera
New fee to support zero-emission drayage fleet at LA-LB
For details of each story, please visit the World Maritime News section on our website.
---
Calendar of Events
IAPH events and events where IAPH is represented