This edition of IAPH Insider covers:
---
This week's Insider highlights with MD Patrick Verhoeven
---
#IAPH2022: last days for the Early Bird discount
The Early Bird ticket discount offer for the 2022 World Ports Conference has been extended until Sunday 16 January. This is your last chance to take advantage of the lowest priced tickets for our annual flagship event which will bring together leading port stakeholders to #ClosetheGaps in global seaport competitiveness, setting an agenda to raise the performance of the world's major port regions. Don't miss this opportunity to play a role in shaping the global port agenda. IAPH members enjoy special a reduction and we therefore invite you to contact the conference help desk to validate your membership and receive your discount code. The IAPH members' registration fee is at USD 1,380 till Sunday. Afterwards it will be at USD 1,590. Registration for #IAPH2022 will allow you to participate both in the actual conference 16-18 May in Vancouver and the preparatory online regional workshops, held in collaboration with The World Bank which will address gaps in connectivity, efficiency, shipping costs, digitalisation, carbon emissions, and the regulatory environment in which ports operate. You can find out more about the online regional workshops and dates here including the full list of moderators and experts. Next to various regional specialists from The World Bank, we are very happy to have the support of prominent names from IHS Markit, Hofstra University New York, University of Antwerp, National & Kapodistrian University of Athens, Integral Maritime, Nanyang Technological University Singapore, Maritime Review Africa, MundoMaritimo, Inter-American Development Bank, Intent Communications and Shanghai Maritime University. By having this broad range of experts onboard, we believe that the workshops will deliver on reporting the main gaps per region and generate priorities for the port sector to debate, which will shape the agenda points for discussion in Vancouver at the #IAPH2022 World Ports Conference between 16 and 18 May. Ultimately, we aim for those key conference discussions to culminate in a declaration of priorities for ports that IAPH shall address to global policy makers as well as top-level decision makers.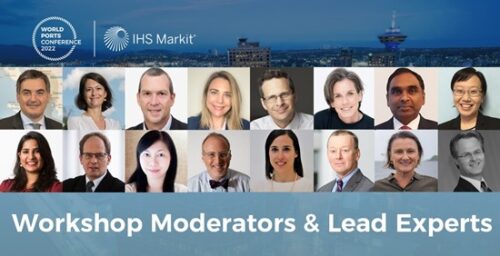 ---
Last days for 2022 IAPH Sustainability Awards entries
We have also extended the deadline for entries to the the fourth edition of the IAPH Sustainability Awards to 16 January. The 2022 edition will be recognising outstanding projects in six fully reviewed categories: (1) climate and energy; (2) infrastructure; (3) digitalisation; (4) community building; (5) environmental care; and (6) health, safety and security. IAPH regular port members and associate members acting on behalf of IAPH member port(s) as client, partner or collaborator can enter a project, submitting a simple online form. Once accepted, the project will automatically qualify as a potential award candidate. Here you will find a short video by our IAPH technical director Antonis Michail who explains how to submit a project. You can contact Antonis for more information at antonis.michail@sustainableworldports.org. The winners will be announced during the 2022 World Ports Conference.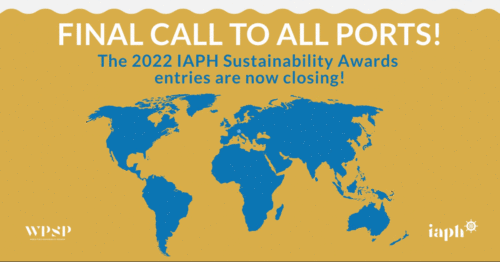 ---
Sign up for the second International Port Strategy course
Following the successful first edition last year, we are partnering again with our associate members APEC (Antwerp/Flanders Port Training Centre) and C-MAT (Centre for Maritime and Air Transport) in organising an executive course on the international aspects of port strategy and management. Geographical, ecological and environmental factors as well as technological innovations drive ports to change and evolve. The crucial function of ports for a country's welfare demands resilience and the need for an international strategy to sustain in times of crisis, trade wars and geopolitical shifts. Identifying the external environment, creating a unique competitive position, specifying an international port strategy, and implementing it in practice are essential to any port's global development. The course consists of six modules: 1) global macro-economic and geopolitical shifts; 2) reflections on climate change, energy transition and sustainability; 3) changes in the global supply chain; 4) perspective of supply chain actors; 5) regional evolutions in port development; and 6) port management and strategies. The course will be held fully online, from 31 January until 11 March. The total effort per week is approximately eight hours. The content is presented in live online sessions, as well as recorded content, all facilitated and guided by experts from international organisations such as IAPH, UNCTAD and The World Bank, from port authorities and private port sector actors, as well as from academic experts. You can discover the details here. Thanks to the partnership, IAPH members are offered a discount of 20% on the participation fee. You can address inquiries about the programme or application to Ms Tingting Yao at APEC: tingting.yao@portofantwerp.com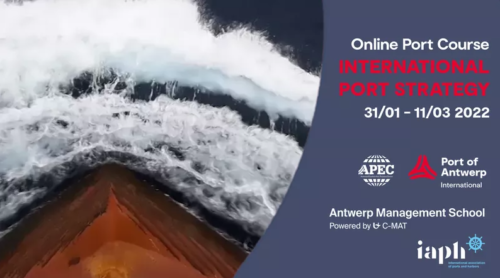 ---
January-February issue of Ports & Harbors is out
In the cover story of the first 2022 issue of Ports & Harbors, lead transport economist at The World Bank Martin Humphreys talks with IAPH managing director Patrick Verhoeven about advancing digitalisation and decarbonisation in ports and on what it takes to give developing countries a fair business opportunity. They look at how The World Bank and IAPH can jointly address challenges developing countries face on these two key areas moving ahead, closing the gaps on governance, social aspects and operational efficiency to improve overall competitiveness of global ports. All of these topics will be on the agenda at the planned regional workshops ahead of the IAPH 2022 World Ports Conference. Also featuring in this edition: Port of Amsterdam and its study on spatial needs for new fuels; a debate on readiness of ports during surge events; in-depth views of port developments in the Panama Canal and Chile as well as the threat faced by Port Sudan; a Smart Ports feature with PortBase; interviews with our North American vice-president Robin Silvester as well as with our newly-appointed VP for Central and South America José Firmo; an In Court special on conflicts when a spill happens in port; the debut of IAPH's Port Endeavor UN SDG sustainability game and much more!
---
New P&H poll: women at senior level roles in ports
Following on from similar initiatives to gauge the involvement of women within the maritime industry and quantify where they work, for our next Ports & Harbors poll we would like to hear about the number of women that occupy senior roles within global port administrations. For many organisations, this is still not a priority or a mere tick-box exercise. Having concrete data on the diversity of the workforce and how those that fare well in this regard compete against those that do not, is therefore important. It adds to the already well-known fact that an inclusive port industry is also a resilient, competitive, and future-proof one. So, our question for this month's reader poll is: have you seen women occupy senior C-Level and board member roles in your port or port-related organisation in the last three years? You can use this web link to submit your answer.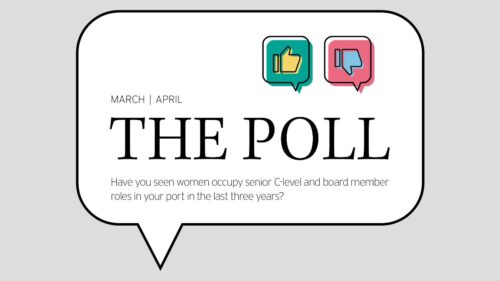 ---
Welcome to new members!
At the start of the New Year, we are delighted to welcome a new regular and a new associate member in the IAPH family. Located in the southern region of the Province of New Brunswick, Port Saint John is the largest port in Atlantic Canada by volume and has a diverse cargo base, including dry and liquid bulks, break bulk, and containers. Canada's first incorporated city is also the only city on the Bay of Fundy and home to the highest tides in the world. Located on Canada's eastern seaboard, Saint John is a standout stop for cruise visitors from around the world. The Vietnam Seaports Association was formally established in 1994 to promote mutual co-operation, alliance, support and assistance to promote port careers, improve business efficiency and protect the economic interests of members in the fields of port management, business and operations and on such basis to integrate in, co-ordinate and co-operate with similar activities of their colleagues in the world.

---
IAPH Data Collaboration Committee meets 18 January
Members of the IAPH Data Collaboration Committee will meet online Tuesday 18 January for their first meeting of the New Year. The agenda features the Committee's involvement in the IMO Facilitation (FAL) work, including submissions prepared for the next meeting of the IMO FAL Committee. Members will also discuss forthcoming guidelines on customs and ports cooperation and a new global study of The World Bank on port community systems. Other topics include implementation of port call optimisation, a survey on port automation and the creation of a working group on innovation. The meeting will be held from 7 to 9 AM CET. Members will be receiving the agenda and all supporting documentation this week.
---
World Customs Organization publishes new Data Model
The latest version of the World Customs Organization (WCO) Data Model was published just before Christmas. This version includes a new Message Implementation Guide (MIG), providing practical guidance for implementing part of the IMO Compendium on Facilitation and Electronic Business. The IMO FAL MIG provides additional technical information, in addition to semantic definitions, for implementing ship reporting formalities outlined in the Convention on Facilitation of International Maritime Traffic (FAL). The MIG has been developed following cooperation between the WCO and the IMO. The IMO Compendium is a tool for software developers that design the systems needed to support transmission, receipt, and response via electronic data exchange of information required for the arrival, stay, and departure of the ship, persons, and cargo to a port. The IMO Compendium consists of an IMO Data Set and IMO Reference Data Model agreed by the main organisations involved in the development of standards for the electronic exchange of information related to the FAL Convention: the WCO, the United Nations Economic Commission for Europe (UNECE) and International Organization for Standardization (ISO). You can watch a video about the standardisation work below. The WCO Data Model is a compilation of clearly structured, harmonised, standardised and reusable sets of data definitions and electronic messages designed to meet operational and legal requirements of cross-border regulatory agencies, including customs. The WCO Data Model package is published in a free-of-charge Data Model App.
---
ESI scores January 2022 published
The scores for the ships enrolled in the IAPH Environmental Ship Index (ESI) for the quarter starting 1 January 2022 were released last week. Compared to the previous quarter, the number of ships with a score of 20 or more in the database increased from 4,684 to 4,731 and the number of incentive providers rose from 60 to 61. The ESI was established in 2011 and it identifies seagoing ships that perform better in reducing air emissions than required by the current emission standards of the International Maritime Organization (IMO). Is your port already part of the ESI programme? If not, find out more on the ESI website or contact the ESI team at admin@environmentalshipindex.org.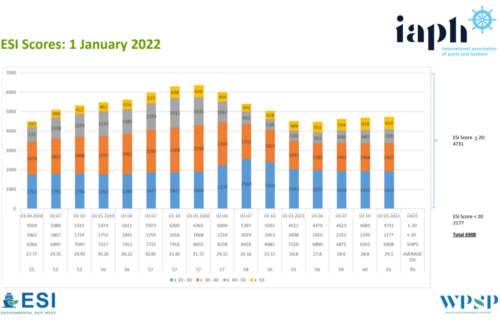 ---
IAPH signs Gulf of Guinea Declaration on Piracy
In response to growing concerns and increasing attacks in the region, a taskforce of stakeholders from across the shipping industry lead by BIMCO drafted the Gulf of Guinea Declaration on Suppression of Piracy. The declaration has been signed by organisations across the maritime industry including flag state administrations, ship owners, charterers, and shipping associations. IAPH joined the list of signatories, which now counts more than 500 organisations, making the Declaration a powerful instrument in the drive to protect seafarers from pirates. Earlier this year, BIMCO produced a short film about the life of seafarers and the various challenges they face, including piracy, which you can watch below. The purpose of the film is not only to raise public awareness about the invaluable role and plight of seafarers but also heralds the start of a campaign calling on governments to show support for seafarers. The film also highlights the importance of the Gulf of Guinea Declaration's aim to reduce the level of piracy, thus helping prevent future deaths of seafarers and kidnapping ordeals.
---
Global Maritime Forum summit report published
The Global Maritime Forum published the summary report of its Annual Summit 2021, which was held in London back in October. IAPH managing director Patrick Verhoeven joined the discussions, which focused on two key topics: shipping decarbonisation and the industry's license to operate. The report contains summaries of plenary discussions, learning sessions, and working group outcomes. The Global Maritime Forum looks forward to turning these valuable discussions into concrete actions in the year to come, thus making the efforts made during the Summit – and throughout the past year – a part of a shared commitment to shaping the future of global seaborne trade to increase sustainable long-term economic development and human wellbeing. You can download the report here.
---
Free online textbook on port economics
Renowned port economists Theo Notteboom (University of Antwerp, Ghent University and Maritime University Shanghai), Thanos Pallis (National and Kapodistrian University of Athens) and Jean-Paul Rodrigue (Hofstra University New York) published a free online textbook on port economics, management, and policy. It analyses the contemporary port industry and how ports are organised to serve the global economy and regional and local development needs. The book uses a conceptual background supported by extensive fieldwork and empirical observations, analysing trade flows, ports, and the strategies and policies articulating their dynamics. The port industry is comprehensively investigated in this unique compilation, with a multidisciplinary perspective relying on economics, geography, management science, and engineering. The text book includes an abundance of graphic elements such as maps, figures, photos, and tables. It focuses on the latest trends impacting the industry such as supply chain management, automation, digitalisation, and sustainability. It presents a multisector analysis including containers, bulk, break-bulk, and the cruise industry. The online textbook can be freely used for personal or classroom use.
---
New index on global supply chain pressure
Researchers at the New York Federal Reserve have a new way to measure the logistics chaos that is being partially blamed for consumer price inflation: the Global Supply Chain Pressure Index (GSCPI). The new measure aggregates 27 indicators — including two shipping indexes, the Baltic Dry Index (BDI) and Harpex index — into a standard deviation from the average since 1997. It is designed to provide a more comprehensive summary of potential disruptions affecting global supply chains. In October and November (the latest two months available), it measured 4.43 and 4.37 standard deviations above average, respectively, which points at an extremely exceptional situation. Following the onset of COVID, the GSCPI showed a sharp jump coinciding with the initial lockdowns in China, Europe and the U.S. Then came a second, even larger rise — one that's still underway — coinciding with the surge in consumer demand. The New York Fed researchers stated that more recently, the GSCPI seems to suggest that the global supply chain pressures, while still historically high, have peaked and might start to moderate somewhat going forward. You can find more information about the new index here.
---
Member Port News
In this edition's round up of member port news, you will find stories from the following IAPH members:
Africa and Europe region: Ports of Cabo Verde, North Sea Port, Autoridad Portuaria de Bilbao, Baku International Sea Trade Port, Port Autonome de Conakry, Port of Amsterdam, Port of Rotterdam Authority, Autoridad Portuaria de Santa Cruz de Tenerife, Nigerian Ports Authority, Freeport of Riga Authority, Antwerp Port Authority, Autoridad Portuaria de la Bahìa de Algeciras, Autoridad Portuaria de Huelva, Port Autonome de San Pedro, Autoridad Portuaria de Valencia, Port of Helsinki, Cyprus Ports Authority, Port Authority of Genoa, HAROPA (Harbours of Le Havre, Rouen and Paris), Hamburg Port Authority, Oslo Port Authority:
America Region: Autoridad Marítima de Panamá, Port Authority of the Cayman Islands, Canaveral Port Authority, Port of Los Angeles, Georgia Ports Authority, Companhia de Desenvolvimento do Complexo Industrial e Portuário do Pecém, Port of Seattle, Port of San Diego
Asia and Oceania Region: Marine and Water Bureau, Government of Macau, Ports and Maritime Organization (PMO) Iran, PSA International, Ulsan Port Authority, Maldives Ports, DP World, Maritime and Port Authority of Singapore, Incheon Port Authority, Sabah Ports, Sri Lanka Ports Authority, Yeosu Gwangyang Port, Guangzhou Port Authority, Gladstone Ports Corporation, Taiwan International Ports Corporation, Busan Port Authority
Check out the full line up on our Member Port News page.
---
World Maritime News
These maritime news stories made the headlines over the past two weeks:
Outlook for supply chain disruption in 2022
Measures for long dwelling containers in Los Angeles and Long Beach port
US urges lines to improve services for agricultural exports
The situation of US west and east coast ports
Container lines invest big money to switch focus from ships to shore
Ningbo port clogged by lockdown measures
New California task force shines a spotlight on port automation
TradeLens builds on Asia momentum with Pakistan Customs deal
For details of each story, please visit the World Maritime News section on our website.
---
Calendar of Events
IAPH events and events where IAPH is represented
18 January – IAPH Data Collaboration Committee
1 February – IAPH Climate and Energy Committee
8 February – IAPH pre-conference workshop North America
10 February – IAPH pre-conference workshop North Europe
15 February – IAPH pre-conference workshop Mediterranean/Black Sea
17 February – IAPH pre-conference workshop SE Asia/Oceania
15 March – IAPH pre-conference workshop Africa
22 March – IAPH pre-conference workshop South America
24 March – IAPH pre-conference workshop Middle/South Asia
29 March – IAPH pre-conference workshop East Asia
16-18 May – World Ports Conference Vancouver