This edition of IAPH Insider covers:
---
Three weeks left to join the IAPH Awards competition
31 December does not only mark the celebration of New Year's Eve, but it is also the deadline for IAPH members to submit their entries for the fourth edition of the IAPH Sustainability Awards. The 2022 edition will be recognising outstanding projects in six fully reviewed categories: (1) climate and energy; (2) infrastructure; (3) digitalisation; (4) community building; (5) environmental care; and (6) health, safety and security. IAPH regular port members and associate members acting on behalf of IAPH member port(s) as client, partner or collaborator can enter a project, submitting a simple online form. Once accepted, the project will automatically qualify as a potential award candidate. Here you will find a short video by our IAPH technical director Antonis Michail who explains how to submit a project. You can contact Antonis for more information by emailing him on antonis.michail@sustainableworldports.org. The winners will be announced during the 2022 World Ports Conference in Vancouver.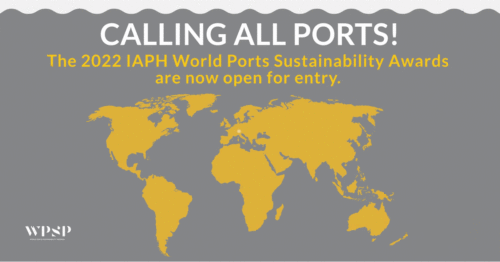 ---
Submit your hydrogen projects for the IAPH Awards
IAPH is currently upgrading its World Ports Sustainability Program portal and will be launching a special platform next week focussed on the Global Ports Hydrogen Coalition which it joined at its inaugural session in October. As part of its contribution to the coalition, IAPH will be integrating all hydrogen-related port projects to its WPSP database under a special platform, which will be dedicated to ports deploying current and future ammonia, methanol and other hydrogen-related projects as an integral part of their energy transition and future fuel supply provision. If your port has a project earmarked or is in development, submit your information here and it could become a finalist in the Climate and Energy category of the 2022 IAPH Sustainability Awards. As potential cornerstones for the adoption of hydrogen technologies, ports also can become the backbone infrastructure for hydrogen transport and trade. This opportunity to lead on energy transition as a coastal industrial cluster offers ports the potential to accelerate decarbonisation as well as becoming future bunker fuel hubs for zero carbon fuels. The Global Ports Hydrogen Coalition is part of the Hydrogen initiative (H2I) originating from the Clean Energy Ministerial (CEM) dedicated to support the scale-up of clean hydrogen in the global economy.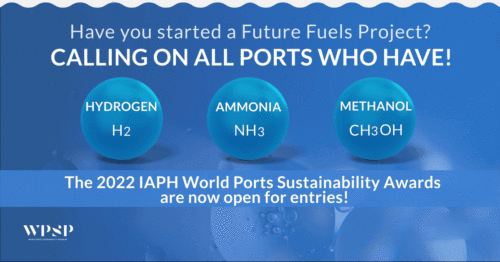 ---
Don't miss the Early Bird rate for #IAPH2022
The IAPH 2022 World Ports Conference has a new agenda-setting format! The ongoing supply chain crunch has exposed structural weaknesses in various components of maritime supply chains, including ports. #IAPH2022 will bring together leading port stakeholders to #ClosetheGaps in global seaport competitiveness, setting an agenda to raise the performance of the world's major port regions. Register today for #IAPH2022 to participate in pre-conference regional workshops in February and March and the IAPH 2022 World Ports Conference in Vancouver, 16-18 May. Don't miss this opportunity to play a role in setting the global port agenda. The online regional workshops will be held in collaboration with the World Bank, addressing specific factors that cause gaps in connectivity, efficiency, and the overall costs of shipping cargo. These workshops also will cover the regulatory environment in which ports operate, their scope of digitalisation, and their environmental performance. You'll learn more about the workshops in the below video, in which IAPH Managing Director Patrick Verhoeven explains why you should attend. Ultimately, #IAPH2022 aims to culminate in a declaration of priorities for ports based on the outcome of key conference discussions and workshops. Register before 2 January 2022 for the lowest available rates. IAPH members enjoy special a reduction and we therefore invite you to contact the conference help desk to validate your membership and receive your discount code.
---
Limited progress on GHG emissions at MEPC 77
The 77th session of the IMO Marine Environment Protection Committee (MEPC 77) took place virtually from 22 to 26 November. The main topics of interest to ports included the reduction of greenhouse gas (GHG) emissions from ships, water discharges of exhaust gas cleaning systems (also known as 'scrubbers') and marine plastic litter from ships. IAPH attended the meetings with a seven-person strong delegation of members led by technical director Antonis Michail. The reduction of GHG emissions from ships was the most significant point on the agenda. Only limited progress was achieved due to the fully packed agenda, the limited available time, and the strong and divergent views amongst Member States on key items related to decarbonisation of shipping. This often resulted in lengthy sequences of viewpoints and statements highlighting political priorities and concerns rather than a constructive dialogue over the proposals for mid- and long-term measures currently on the table. In the end it was decided that all proposals will be kept on the agenda for the time being, noting that a clear preference exists for a basket of measures including technical standards in combination with market-based measures. All relevant submissions will be forwarded to the 12th Intersessional Working Group on Greenhouse Gas emissions from ships (ISWG-GHG 12) which is scheduled to be held from 16 to 20 May, ahead of MEPC 78, which is provisionally scheduled for 6-10 June. MEPC 77 also considered proposals to strengthen the level of ambition of the IMO Initial Strategy that is currently set to at least 50% reduction of GHG emissions by 2050 in comparison to 2008 levels. The committee agreed to initiate the revision of the IMO Initial Strategy with a view to adopt a revised strategy at MEPC 80 in 2023. To that end, the Committee invited interested Member States and international organisations to work together and submit concrete proposals to MEPC 78 for consideration. Members of the IAPH Climate and Energy Committee received a detailed report on the results of the meeting. The next meeting of the IAPH committee is planned for 1 February nextyear.
---
What's next for shipping after COP 26 and MEPC 77?
The Getting to Zero Coalition, an industry partnership that aims at accelerating maritime shipping's decarbonisation, organised a webinar earlier this week to take stock of the implications for shipping of the 26th UN Climate Change Conference (COP 26) and the 77th meeting of the IMO Marine Environment Protection Committee (MEPC 77). IAPH is a supporting organisation of the coalition and managing director Patrick Verhoeven joined the interactive discussion on the outcomes and the opportunities arising from these two milestone events. In his intervention, he said that the divide between developed and developing economies in the IMO needs to be resolved before any real progress on instruments like market-based measures can be seen. In line with the submission that IAPH made for MEPC 77, Patrick suggested that bringing in the infrastructure component may help addressing the problem, as the most significant investments to decarbonise shipping will have to be made in the wider fuel supply chain. Earmarking revenue from a market-based measure to invest in fuel supply chains of developing countries may therefore be a means to resolve the current deadlock. Aside from the regulatory framework at IMO, Patrick also encouraged ports to work together with customers and industry partners to put the 'Green Corridors' concept in practice. You can watch the recording of the one-hour session in the video below.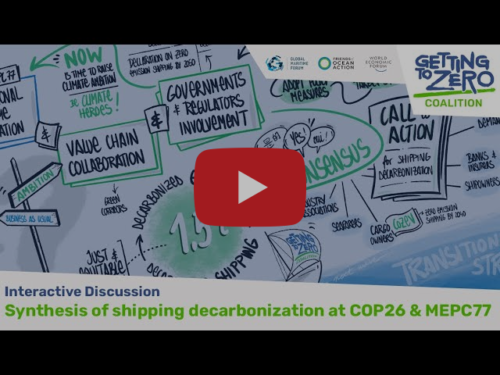 ---
Webinar on lifecycle analysis of GHG for marine fuels
On 15 December, the Getting to Zero Coalition will be organising an insight briefing webinar on the lifecycle analysis of greenhouse gasses for marine fuels. Shipping's fuel transition needs to mobilise large scale investment into the long-run scalable solutions across the value chain, including fuel production, supply chain and fleet. Over the past few years, synthetic fuels have been referred to as 'green' or 'blue' depending on whether their energy source is from renewable sources of fossil fuels using carbon capture and storage (CCS), respectively. However, this general classification is insufficient in the face of the technical and supply chain complexity of bunker fuel supply. For this reason, an analysis framework on emissions coupled with clear methodology is needed: the lifecycle assessment. As the transition will likely include a diversity of different fuels, there is a need for a clear regulatory lead, however there is also a need for investment to move before any guidelines or regulations at IMO are implemented. This webinar will explore the consequences and robustness of different pathways and investments as the different types of colours, the limits of this classification and how to overcome them. The webinar is held from 1 to 2 PM CET and you can sign up for it here.
---
IAPH president interviewed for ICS Leadership Insights
IAPH president Capt Subramaniam was interviewed for the December issue of Leadership Insights, the monthly newsletter of the International Chamber of Shipping (ICS). In the interview Capt Subra talks priorities for ports and the supply chain, plus updates on the coronavirus pandemic, the outcomes of COP 26 and MEPC 77 and more. You can read the full interview here.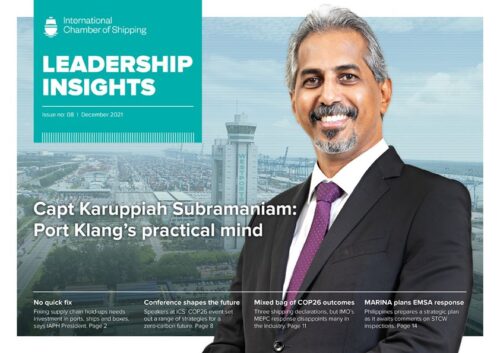 ---
IAPH participated in PMAWCA meetings in Douala
The Port Management Association of West and Central Africa (PMAWCA) held its 41st Annual Council meeting and 16th Round Table of Managing Directors in Douala last week. IAPH managing director Patrick Verhoeven joined the opening session online with a welcome address. The main topic discussed at the Round Table was digitalisation. Pascal Ollivier, the chairman of the IAPH Data Collaboration Committee and president of Maritime Street, personally attended the Douala meeting and gave participants an overview of recent initiatives of IAPH in accelerating digitalisation, including the advancement of maritime single windows, port call optimisation, cybersecurity and port-customs collaboration. He encouraged PMAWCA members to play an active role in the Data Collaboration Committee and join the 2022 World Ports Conference in Vancouver. In the video below you can follow the session on cybersecurity that was held during the meeting.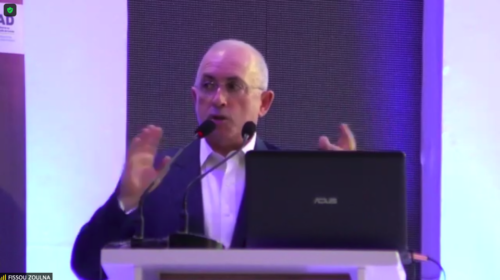 ---
IAPH facilitated Japanese-Taiwanese port webinar
On 30 November, IAPH facilitated an online dialogue between Japanese member ports Tokyo, Kawasaki, Yokohama, Nagoya, Osaka, Kobe, and Hakata and Taiwan International Port Corporation (TIPC). Young Japanese port officers and TIPC officers, including assistant vice-president Cheng Shu-Hui joined the seminar interpreted between Japanese and Mandarin. Participants enjoyed presentations on the following topics: port management systems in Japan, TIPC background and cooperation with locals, application of automation and artificial intelligence to mitigate container terminal congestion, new visions for smart ports, de-carbonization in ports and port industry, sustainable port development and port infrastructure for offshore wind energy development. Each presentation was followed by an interactive discussion.
---
IAPH Risk & Resilience Committee meets 14 December
Members of the IAPH Risk and Resilience Committee will meet in online format on 14 December, from 7 to 9 AM CET, under the leadership of the Committee's new chair and vice-chair, Ann Yuan Yue (Port of Guangzhou) and Niels Vanlaer (Port of Antwerp). The agenda features the development of the World Ports Tracker, which is the successor of the IAPH COVID-19 economic impact barometer that will report on both economic and broader sustainability performance of ports. In addition, the Committee will be redefining the content and structure of IAPH guidelines for business continuity policy and risk preparedness. Members will also be updated on initiatives regarding climate resilience and maritime corruption and will discuss the Committee's work programme for next year. Committee members will be receiving the documentation for the meeting this week.
---
Our P&H poll: how resilient do you think your port is?
The current supply chain crunch is partly caused by structural factors, including port infrastructure quality. With infrastructure updates in ports taking years to come online, we want to talk about the resilience and adaptability of the maritime industry during unexpected events such as a pandemic or other disruptive crises in the next edition of the IAPH membership magazine Ports & Harbors, which will be published early January. For our poll, we would like to know how prepared do you think your country's port system is to handle these events? Share your answer through this link.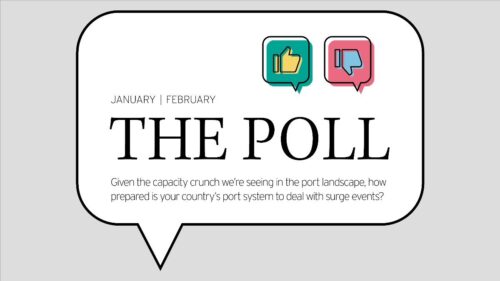 ---
ISO TC started on administrative data standards
The inaugural meeting of the ISO Technical Committee 8 on administrative data standards took place 1 December at Schiphol Airport in the Netherlands. The meeting was attended in person by eight people including the hosts from the Digital Container Shipping Association (DCSA), ISO Key Coordinator Ørnulf Jan Rødseth and the Chair of the International Taskforce Port Call Optimization (ITPCO) Captain Ben Van Scherpenzeel (furthest to the right in photo). The meeting, which was called following the invitation of nine industry NGOs including IAPH, had input as well as virtual attendance from 29 different maritime organisations and companies. The aim of the ISO Technical Committee 8 is to continue the work on the alignment of ISO 28005-2 data model to the IMO Compendium, and develop a new, minimum standard for generic ship-shore information exchange needs which could be used for a port call. This builds upon several years of work by ITPCO which IAPH has endorsed alongside ChainPort, BIMCO, ICS, ICHCA, IHMA, IHO and other organisations with IAPH members that have taken part as partners including Busan Port Authority, Port of Rotterdam, Port of Algeciras, Port of Gothenburg, Port of Auckland, Ningbo Zhoushan Port Group and the Hamburg Vessel Coordination Center. Shipowners who have actively worked on ITPCO include Maersk, MSC, CMA-CGM, Shell, Torm, and Vopak. This work is being conducted in parallel with the IMO Expert Group on Data Harmonisation (EGDH) following the IMO Ports Resolution originally initiated by IAPH and the government of Canada to encourage voluntary cooperation between the port and shipping sectors to contribute to reducing GHG emissions from ships. The ultimate aim of improving ship-shore data collaboration is key to that cooperation.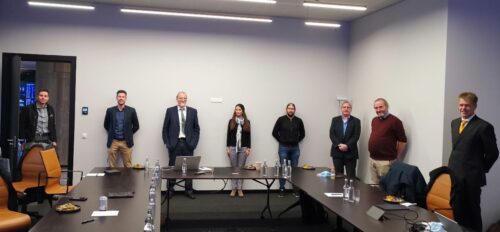 ---
DCSA launches 'Ideas Hub' and e-book
The Digital Container Shipping Association (DCSA), an IAPH associate member, announced the launch of its 'Ideas Hub', an online public forum gathering insights into the needs of all industry stakeholders. The online public forum gives any person with an interest in container shipping the opportunity to suggest and vote for topics they would like the association of container lines to work on. Collaboration is critical in driving digital transformation of any industry to improve the customer experience. By inviting active participation from industry stakeholders through the Ideas Hub, DCSA and its carrier members aim to gain valuable insight into market needs that will help shape the DCSA roadmap. DCSA also published a new e-book on the role the association plays in the digital transformation of container shipping. This new DCSA publication examines the role of another standards body, the International Air Transport Association (IATA), in transforming the airline industry. In comparing IATA's work to DCSA, the e-book demonstrates the potential benefits – from cost savings to improved customer experience – available if the container shipping industry comes together to collaborate on digital standards. You can access the e-book here.
---
C-MAT maritime master classes announced
As of January next year, IAPH associate member C-MAT, the Centre for Maritime and Air Transport Management of the University of Antwerp and Antwerp Management School will again be hosting its maritime master classes to both students and professionals. All classes are offered in two-week blocks, with a mixture of academic and business contributions. The series starts with the master class on Port Economics and Business from 11 to 22 January. This is followed by the master class on Maritime Economics and Business from 11 to 22 February and the master class on Maritime Supply Chains from 14 to 25 March. All master classes can also be followed as online modules under hybrid teaching, at a reduced tariff.

---
Port of Rotterdam white paper on social transition
In today's fast-changing world, various disruptions are creating sizeable challenges for ports across the globe. Macro-economic shifts such as globalisation, digitalisation and the energy transition can offer tremendous opportunities for innovation and growth. To become a futureproof port, the Port of Rotterdam believes that ports need a 'social transition'. It has produced a white paper on the subject in which René van der Plas, director of Port of Rotterdam International and Renée Rotmans from the social innovation team of Port of Rotterdam Authority share their thoughts on the social transition and the importance of international collaboration. This white paper zooms in on improving the investment climate through social innovation, the importance of international collaboration and education as a driver for innovation. It can be freely obtained here.
---
Member Port News
In this edition's round up of member port news, you will find stories from the following IAPH members:
Europe and Africa region: Bulgarian Ports Infrastructure Company, Port Authority of Douala, Baku International Sea Trade Port, Port Authority of Genoa, Ashdod Port Company, Autoridad Portuaria de Bilbao, Autoridad Portuaria de Santa Cruz de Tenerife, Autoridad Portuaria de Huelva, Administração dos Portos de Sines e do Algarve, HAROPA (Harbours of Le Havre, Rouen and Paris), Hamburg Port Authority, North Sea Port, Oslo Port Authority, Ports of Cabo Verde, Nigerian Ports Authority, Authority for Transport in Malta, Bremenports, Freeport of Riga Authority, Port of Amsterdam, Port of Rotterdam Authority, National Ports Agency Morocco, Cyprus Ports Authority, Autoridad Portuaria de Valencia, Port of Bergen, Autoridad Portuaria de la Bahìa de Algeciras,
America Region: Halifax Port Authority, Montreal Port Authority, Port of San Diego, Panama Maritime Authority, National Port Administration Uruguay, Port of Los Angeles, Port Authority of the Cayman Islands, Canaveral Port Authority, Companhia de Desenvolvimento do Complexo Industrial e Portuário do Pecém (CIPP)
Asia and Oceania Region: PT Pelabuhan Indonesia, Maritime and Port Authority of Singapore, Solomon Islands Ports Authority, Guangzhou Port Authority, Ports and Maritime Organization Iran, DP World, Gladstone Ports Corporation, Lyttelton Port Company, PSA International, Sri Lanka Ports Authority, Taiwan International Ports Corporation, Ulsan Port Authority, Marine and Water Bureau Government of Macau, Busan Port Authority, Incheon Regional Office of Oceans and Fisheries, Sabah Ports, Busan Regional Office of Oceans and Fisheries, Philippine Ports Authority, Port Nelson, Incheon Port Authority, Ministry of Oceans and Fisheries Korea, Yeosu Gwangyang Port Authority
Check out the full line up on our Member Port News page.
---
World Maritime News
These maritime news stories made the headlines over the past two weeks:
Measures against supply chain crisis and issues in LA/LB ports
Outlook for congestion in LA/LB ports
ILWU rejected the extension of the US labor contract
Business expansion of a terminal operator and shipping lines
Suspension of South China feeder service before Chinese New Year
Omicron impact on container shipping hinges on the political response
IMO Discussions on zero-emission resolution and Green R&D fund
For details of each story, please visit the World Maritime News section on our website.
---
Calendar of Events
IAPH events and events where IAPH is represented
14 December – Risk and Resilience Committee meeting
15 December – UNCTAD Expert Meeting on Supply Chain Crisis
16 December – IAPH Board meeting
18 January – IAPH Data Collaboration Committee meeting
1 February 2022 – IAPH Climate and Energy Committee meeting
16-18 May 2022 – World Ports Conference Vancouver