This edition of IAPH Insider covers:
---
This week's Insider highlights with MD Patrick Verhoeven
---
World Bank to support preparations #IAPH2022
With the current congestion crisis severely impacting global trade and damaging economies, ports belong to the much wider discussion on how to improve efficiency and secure end-to-end resilience in global supply chains. With that in mind, the process leading up to the #IAPH2022 World Ports Conference in Vancouver next year will be based on the theme #ClosetheGaps. The theme addresses the competitiveness of ports worldwide. It will look at gaps that exist between ports between different parts of the world but also within different regions. Firstly, we will map out exactly what these gaps are. This research effort will shape the debate with the aim of discussing how to address those gaps at international, regional and national levels. We shall then be organising a series of regional workshops in February-March next year to articulate specific factors that cause these gaps between ports and how to solve them. Factors that shape their competitiveness. Namely, ports' connectivity, their efficiency and the overall costs of shipping cargo in their region. Also the regulatory environment they operate in, their level of digitalisation as well as their overall environmental performance. We are delighted and very proud to announce that we shall be conducting these consultation workshops in collaboration with the World Bank. By having the World Bank's support and participation in this process, we believe that the workshops will deliver on reporting the main gaps per region and generate priorities for the port sector to debate, which will shape the agenda points for discussion in Vancouver during our main conference between 16 and 18 May. Ultimately, we aim for those key conference discussions to culminate in a declaration of priorities for ports that IAPH shall address to global policy makers as well as top-level decision makers. We very much look forward to working together with Lead Transport Economist Martin Humphreys and his World Bank team in getting the right expertise around the table for these workshops and look forward to having ports as well as a broader range of stakeholders participating in the process. Registration for the 2022 World Ports Conference is scheduled to open next week. Meanwhile, we encourage you to sign up here to receive updates and information about the conference, including information about registration, sponsorship opportunities, updates to the agenda and speakers, who's attending and more!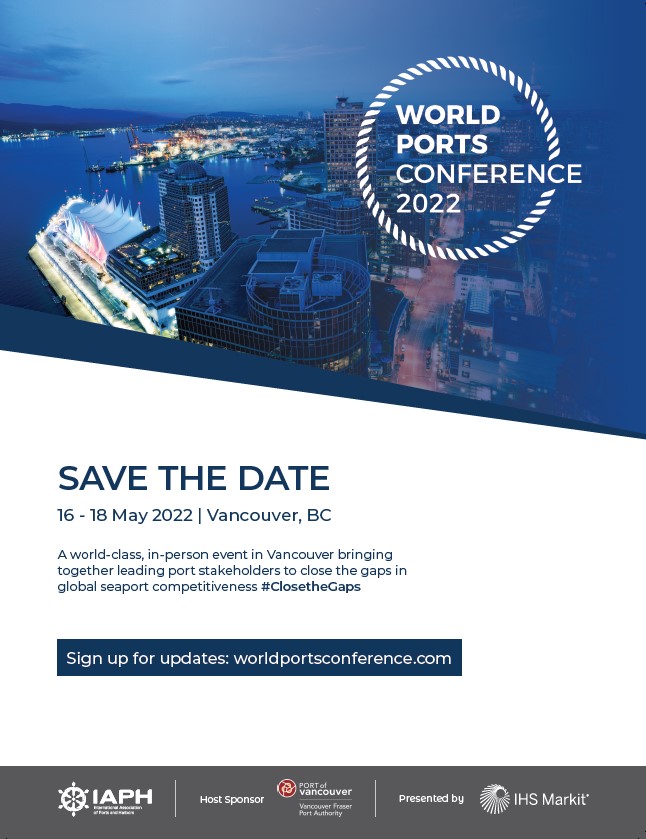 ---
2022 IAPH Sustainability Awards competition opens
We are pleased to announce the call for entries for the fourth edition of the IAPH World Ports Sustainability Awards. The Awards first took place at the IAPH 2019 Conference live in Guangzhou, China and have subsequently been transmitted online for the last two years, including a televised virtual ceremony during the IAPH 2021 World Ports Conference which took place this year in the month of June. As in the previous edition, the 2022 winners and runners-up will be selected by an expert, fully-independent jury and by the voting public, who cast over 10,000 votes in 2021 across all categories that eventually counted towards 30% of the final results to determine the winners. This year IAPH will be recognising outstanding projects in the following six categories: (1) Climate and Energy: greenhouse gas emission reduction initiatives by ports, as well as specific emerging low and zero carbon energy transition projects; (2) Infrastructure: building sustainable physical infrastructure to combat climate change, improve efficiency and increase port resilience; (3) Digitalisation: new category, for the most innovative port projects that deliver on the aims of IAPH's industry call to action to inclusively accelerate digitalisation throughout the maritime transport chain; (4) Community building: new category, which includes social community outreach projects as well as governance best practices; (5) Environmental care: new category, which brings together innovative projects which improve air quality, reduce pollution and noise emissions, encourage recycling/reuse and which enhance local ecosystems, biospheres and habitats; and (6) Health, safety and security: projects which improve safety and security in and around ports, as well as projects having a positive impact on the health and well-being of the port community workforce and users of the port. These adjustments were made to reflect the type of projects we received in record numbers for the 2021 Awards edition and the increasing trend of the many ports now focusing on new areas of interest such as digitalisation and sustainable physical infrastructure developments to improve resilience. IAPH regular port members and associate members acting on behalf of IAPH member port(s) as client, partner or collaborator can enter a project, submitting a simple online form. Once accepted, the project will automatically qualify as a potential award candidate. The deadline for project submissions is Friday 31 December 2021. A short 'how to' video by our technical director Antonis Michail lasting four minutes on how to make your submission can be found here. You can contact Antonis for more information by emailing him on antonis.michail@sustainableworldports.org. The winners of the 2022 IAPH World Ports Sustainability Awards will be announced at next year's World Ports Conference.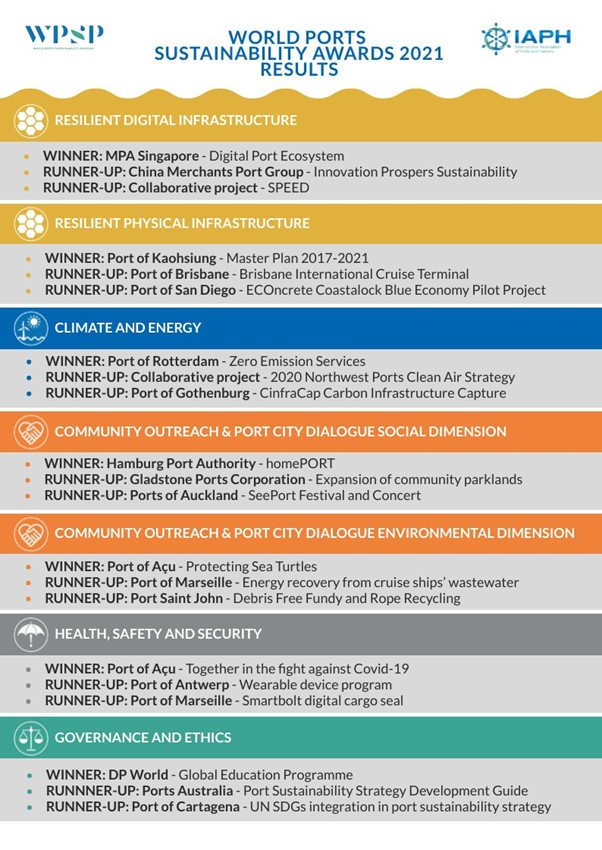 ---
COP26: 14 governments back zero shipping GHG goal
Fourteen governments have backed a goal to reduce emissions by the global maritime sector to zero by 2050. The initiative, led by Denmark and announced in the margins of the United Nations COP26 climate summit in Glasgow, Scotland, aims to build support among countries for the goal to be adopted at the International Maritime Organization. Belgium, Britain, Finland, France, Germany, Honduras, Hungary, Iceland, the Marshall Islands, Norway, Panama, Sweden and the United States also signed the maritime sector declaration. It commits countries to work at IMO to also adopt goals for 2030 and 2040 that place the sector on a pathway to full decarbonisation by 2050, and to adopt the measures to help achieving these goals. In 2018 the IMO agreed on the objective to halve international shipping emissions by 2050 from 2008 levels. That would still fall far short of the net zero CO2 emissions that scientists say the world must achieve by 2050 to avoid the most calamitous impacts of climate change. Decarbonising the sector will require huge investments to scale up production of green fuels and launch clean ships this decade. The call of the fourteen government tails on the Getting to Zero Coalition's Call to Action to accelerate decarbonisation of shipping. Of the 160 companies that originally signed up to the call, twenty are port authorities, making them the second biggest company category – and the category alongside shipowners that is really engaged in all necessary actions to support decarbonisation. IAPH also signed the call as a supporting organisation of the Getting to Zero Coalition.
---
COP26: first green shipping corridor announced
The commitment of port authorities to facilitate decarbonisation of shipping was also demonstrated during COP26 by the ports of Antwerp and Montreal, who signed a cooperation agreement in Glasgow to support the creation of the first green shipping corridor in the North Atlantic. Through this agreement, the two ports pledge to mobilise their respective public- and private-sector partners alike in the assessment, identification, development and adoption of shared or complementary solutions and infrastructures. Together, they intend to facilitate the trade of green fuels and the supply of renewable fuels and clean technologies to vessels. By pooling their respective expertise and building on a framework partnership in place since 2013, the Port of Antwerp and the Port of Montreal, both signatories of the Getting to Zero Coalition's Call to Action for Shipping Decarbonisation, intend to actively contribute to the achievement of international objectives while creating economic opportunities for their respective markets. On the topic of green shipping corridors, the Getting to Zero Coalition presented at COP26 a new study, 'The Next Wave: Green Corridors', which discusses how specific trade routes between major port hubs where zero-emission solutions are demonstrated and supported can be conceived, prioritised, and designed to accelerate the speed of shipping's transition. The study shows that green corridors can leverage favourable conditions for accelerated industry action and allow policy makers to create an enabling ecosystem with targeted regulatory measures, financial incentives, and safety regulations. In these contexts, the mutually reinforcing actions needed from industry and policymakers to decarbonise shipping become more straightforward, creating end-to-end solutions that can be replicated globally.
---
COP26: ICS calls for increased investment in R&D
At the 'Shaping the Future of Shipping' conference, organised by the International Chamber of Shipping (ICS) during COP26, industry leaders sounded a warning that lack of investment in developing green technologies is the biggest threat to achieving decarbonisation targets. Attendees to the conference identified ways to increase investment in R&D and discussed several projects already underway to reduce the GHG emissions from international shipping, which is currently responsible for nearly 3% of global emissions. The conference highlighted findings from a tracking report of the International Energy Agency, which show that under current policy framework scenarios, low and zero-carbon fuels will make up less than 3% of shipping's total energy consumption by 2030 and roughly one third by 2050. This would fall significantly short of industry's 2050 net-zero carbon target. To inform the discussion, ICS has published a zero emissions blueprint for shipping identifying 265 example projects that could kickstart the acceleration of innovation to decarbonise the maritime sector. An option to fund such projects, is the creation of a 5 billion USD R&D fund paid for by shipowners to accelerate investment in these new zero emissions technologies. The shipping industry recently joined the commitment to reducing carbon emissions to net zero by 2050, doubling the IMO's existing target. ICS and others have also pushed for a global carbon price in the form of a market-based measure to be introduced as soon as possible.
---
COP26: P&H cover interview with EU MEP Jutta Paulus
The November-December edition of our membership magazine Ports & Harbors looks at the impact of climate change on ports and shipping and how the industry and ports in particular will need to adapt in order to retain their licenses to operate. The cover interview features Jutta Paulus, member of the European Parliament and rapporteur for the revision of the EU emissions reporting regulation, who discusses expectations around maritime and the EU Emission Trading Scheme. With COP26 coming together in Glasgow and the crucial MEPC77 meeting at the IMO end November, Ms Paulus and IAPH MD Patrick Verhoeven take a long view on what is needed to decarbonise the sector. Other stories in the latest edition of Ports & Harbors include simplifying carbon insetting and reporting; examples of how ports can switch to low-carbon building materials; the Corvus battery CEO on electrifying maritime and editor Ines Nastali with a standpoint on Bill Gates' musings on maritime in his bestseller 'How to avoid a climate disaster'.
---
New P&H poll: how resilient is your port system?
The past months have seen surge events in imports, resulting in capacity crunches not only in ports in Asia, but also the United States and Europe. With infrastructure updates in ports taking years to come online, we want to talk about the resilience and adaptability of the maritime industry during unexpected events such as a pandemic or other disruptive crises. For the next edition of P&H, we would like to know how prepared do you think your country's port system is to handle these events? Share your answer through this link.
---
2020-2021 IAPH Annual Report is published
The 2020-2021 edition of the IAPH Annual Report has been published. Presented in a new format, anticipating the launch of the new IAPH brand next month, the report provides an overview of our activities from the past twelve months, including the work of our technical committees, the implementation of the World Ports Sustainability Program, our outreach initiatives and events as well as internal developments. Printed copies are being distributed with the November-December issue of Ports & Harbors. The PDF version can be downloaded from the IAPH website.
---
José Firmo elected IAPH VP Central & South America
We are pleased to announce that José Firmo, CEO of Porto do Açu, Brazil, was elected vice-president for our America Central & South Region. His mandate begins today and runs until the Annual General Meeting that will be held during the 2023 IAPH World Ports Conference. José brings over 30 years of experience in the energy and maritime industries. Since 1992 when he joined Schlumberger, he has worked in numerous positions ranging from testing & wireline field engineer offshore Brasil, field manager positions in North and South America, segment global human resources director, vice-president of operations Latin America and president of Schlumberger Brasil. José was also western hemisphere senior vice-president of Seadrill Operations from 2014 to 2019, president of the Brazilian Petroleum, Gas and Biofuels Institute from 2017 to 2019 and president of the Brazilian Oil and Gas Association of Service Companies from 2016 to 2017. We warmly welcome José in the IAPH team and wish him a successful term of office.
---
Jens Meier to temporarily coordinate IAPH Africa region
Due to the temporary incapacity of Hadiza Bala Usman, Managing Director of the Nigerian Ports Authority to fulfil her role as Vice-President of the Africa region, the IAPH Board has entrusted Jens Meier, Vice-President for Europe and CEO of Hamburg Port Authority, to coordinate the activities of the African region for the time being. Members of the Africa region will be duly informed in writing of the temporary leadership change.
---
IAPH MD interviewed for the Shipping Podcast
The Shipping Podcast is an initiative of the well-known Swedish maritime media guru Lena Göthberg. It puts people working in the shipping sector centre-stage, putting faces to the industry and thus making it more visible. The podcast first aired six years ago, and Lena has interviewed over 170 maritime personalities since. IAPH managing director Patrick Verhoeven was interviewed for the 172nd edition, in which he speaks about the strategic focus areas of IAPH and the future agenda for world ports. You can listen to the podcast here. Make sure to also tune in to the recent podcasts with Ley Hoon Quah, chief executive of the Maritime and Port Authority of Singapore, and Jeanine Drummond, managing director at Integral Maritime and former chair of the IAPH Women's Forum.
---
Don't miss our workshop on customs and ports
We have teamed up with the World Customs Organization (WCO) to hold a workshop on customs and ports collaboration to accelerate digitalisation for trade and transport facilitation and supply chain security. The workshop is planned to be held virtually on 23 November. The workshop is being held to enable the sharing of experience, best practices, and challenges in establishing and strengthening close collaboration between customs and port authorities. These are two parties that play key roles in international border crossing procedures. Yet, there is a lack of collaboration between the two authorities resulting in silos, redundant and un-coordinated processes, particularly in emerging or developing countries. Such a lack of cooperation could result from the lack of trust or mutual understanding. The need to remove barriers and overcome challenges to build efficient collaboration is therefore apparent. To this end, IAPH and WCO are exploring ways to strengthen cooperation by identifying potential work areas, benefits, challenges, lessons to learn, good practices, and the need for developing guidelines in this area. The workshop invites several pairs of high-level speakers, which consist of senior management level officials in customs administrations and port authorities, to speak and share their country's experience. The workshop is exclusive for IAPH and WCO members, who have got a direct invitation by email to register. If you did not receive it and you would like to participate, please contact Fabienne Van Loo at fabienne.vanloo@iaphworldports.org.
---
IAPH presented at TOC Connect
Over the last three weeks, IAPH members have taken an active part in TOC Connect, both virtually and in person. Two weeks ago Pascal Ollivier, chairman of the IAPH Data Collaboration Committee and president of Maritime Street, Machiel Noijen from Port of Amsterdam and IAPH's Legal Committee chairman Frans van Zoelen from the event's host Port of Rotterdam joined TOC Europe in person to present on the different cybersecurity levels within the supply chain and how port and terminal communities can effectively implement best practices. A week earlier Pascal was joined by Mark de Pater from Port of Rotterdam and Max Bobys from IAPH associate member HudsonAnalytix at the TOC Americas virtual session also on the recently published IAPH Cybersecurity Guidelines for Ports and Port Facilities, this time focusing on strategic business and risk management approaches to counter cyber threat actors. And, finally, last week on the global virtual platform, IAPH technical director Antonis Michail joined the TOC Leaders Forum on Decarbonisation and Sustainability, which discussed a roadmap with experts from Moffat & Nichol, AP Moller-Maersk, the Port of Rotterdam and our WPSP Awards jury member Jan Hoffmann from UNCTAD.
---
Port of Barcelona hosts third edition of SmartPorts
Smart Ports: Piers of the Future 2021 is back. Held virtually, SmartPorts will be livestreamed from smartports.tv and, once again, it will be part of the Smart City Expo World Congress event, held 16-17 November. The agenda will revolve around the SMART concept: Sustainability, Multimodal, Agility, Resilience and Transparency. SmartPorts unites some of the world's largest and most influential ports: Antwerp, Barcelona, Busan, Hamburg, Los Angeles, Montreal and Rotterdam, as they share their strategic plans to address present and future sustainable development and digital transformation challenges. IAPH managing director Patrick Verhoeven will participate in a panel debate on energy transition and will also join IAPH immediate past president Santiago Garcia Milà in a conversation about the future of the global port landscape. You can reserve your free ticket for the event here and join debates, interactive panels and gain practical insight from some of the world's leading ports' on their latest and most innovative projects.
---
Member Port News
In this edition's round up of member port news, you will find stories from the following IAPH members:
Europe and Africa region: Port Autonome d' Abidjan, HAROPA (Harbours of Le Havre, Rouen and Paris), Hamburg Port Authority, Ports of Cabo Verde, Administração dos Portos de Sines e do Algarve, Autoridad Portuaria de Huelva, Autoridad Portuaria de Santa Cruz de Tenerife, Authority for Transport in Malta, Port Authority of Genoa, North Sea Port, Antwerp Port Authority, Autoridad Portuaria de Bilbao, JadeWeserPort, Port Authority of Douala, Port of Beirut, Port of Helsinki, Freeport of Riga Authority, n-Nigerian Ports Authority, Port of Amsterdam, Cyprus Ports Authority, Port of Göteborg, Port of Rotterdam Authority, Port of Gdansk Authority, Autoridad Portuaria de la Bahìa de Algeciras, Autoridad Portuaria de Valencia, Ghana Ports and Harbours Authority, bremenports, Ashdod Port Company, Gibraltar Port Authority, National Ports Agency (Morocco)
America Region: Port of Los Angeles, Port of Seattle, Montreal Port Authority, Autoridad Marítima de Panamá, Port of San Diego
Asia and Oceania Region: Marine and Water Bureau, Government of Macau, Sri Lanka Ports Authority, Subic Bay Metropolitan Authority, Maldives Ports, Maritime and Port Authority of Singapore, Port Nelson, Westports Malaysia, Lyttelton Port Company, Philippine Ports Authority, South Port New Zealand, Taiwan International Ports Corporation, DP World, Abu Dhabi Ports, Busan Regional Office of Oceans and Fisheries, China Merchants Port Holdings Company, Guangzhou Port Authority, Incheon Port Authority, Busan Port Authority, Marine Department Hong Kong, Yeosu Gwangyang Port Authority, Ministry of Oceans and Fisheries Korea, Sabah Ports
---
World Maritime News
These maritime news stories made the headlines over the past two weeks:
Ports of Los Angeles and Long Beach charge for lingering containers
Port Congestion stresses global supply chains
Outlook for the inventory-to-sales ratio in the US
Freight rates wobble, but they don't fall down
Box Carriers return to mid-size tonnage for fleet renewal
COP26: Calling for zero emissions from shipping by 2050
Many states and the shipping industry support carbon levies.
Opinion for excluding shipping from EU climate change rules
---
Calendar of Events
IAPH events and events where IAPH is represented